Disclaimer: Some of the links in this article may be affiliate links; we will earn a commision, at no additional cost to you, if you make a purchase through one of our links.
For most people, a reliable vacuum cleaner is essential to keeping the house in pristine condition. These handy home appliances have been around for the past 100 years, sucking up dust, dirt, and clumps of pet hair wherever they go.
Over time, vacuums have evolved from large, heavy, and corded structures to the light and convenient devices that they are today. Yet, with so many vacuums in the market, it can be quite a challenge to find an affordable one that meets your needs and your pet's.
That's why we've put together this list of the best cordless vacuum for pet hair under $200. The great quality, stylish design, and impressive features of these devices will make you want to take one home right away!
| Image | Product | Detail | Price |
| --- | --- | --- | --- |
| | Tineco A11 Hero | | Price |
| | Black + Decker Powerseries Extreme | | Price |
| | Jashen V16 Cordless Vacuum Cleaner | | Price |
Best Cordless Vacuum for Pet Hair Under $200
To select the best products, we reviewed the latest and most highly-rated models from reputable vacuum brands. We performed an analysis of buyer reviews, product descriptions/specs, special features, and customer criticism as well.
The vacuums were evaluated on their effectiveness on pet hair and other debris, battery sufficiency, as well as ease of use. We also ranked them based on other significant factors, such as filtration, noise level, and price point.
With that in mind, here are our top picks:
1. Tineco A11 Hero Cordless Lightweight Stick Vacuum – Best Overall
Best Overall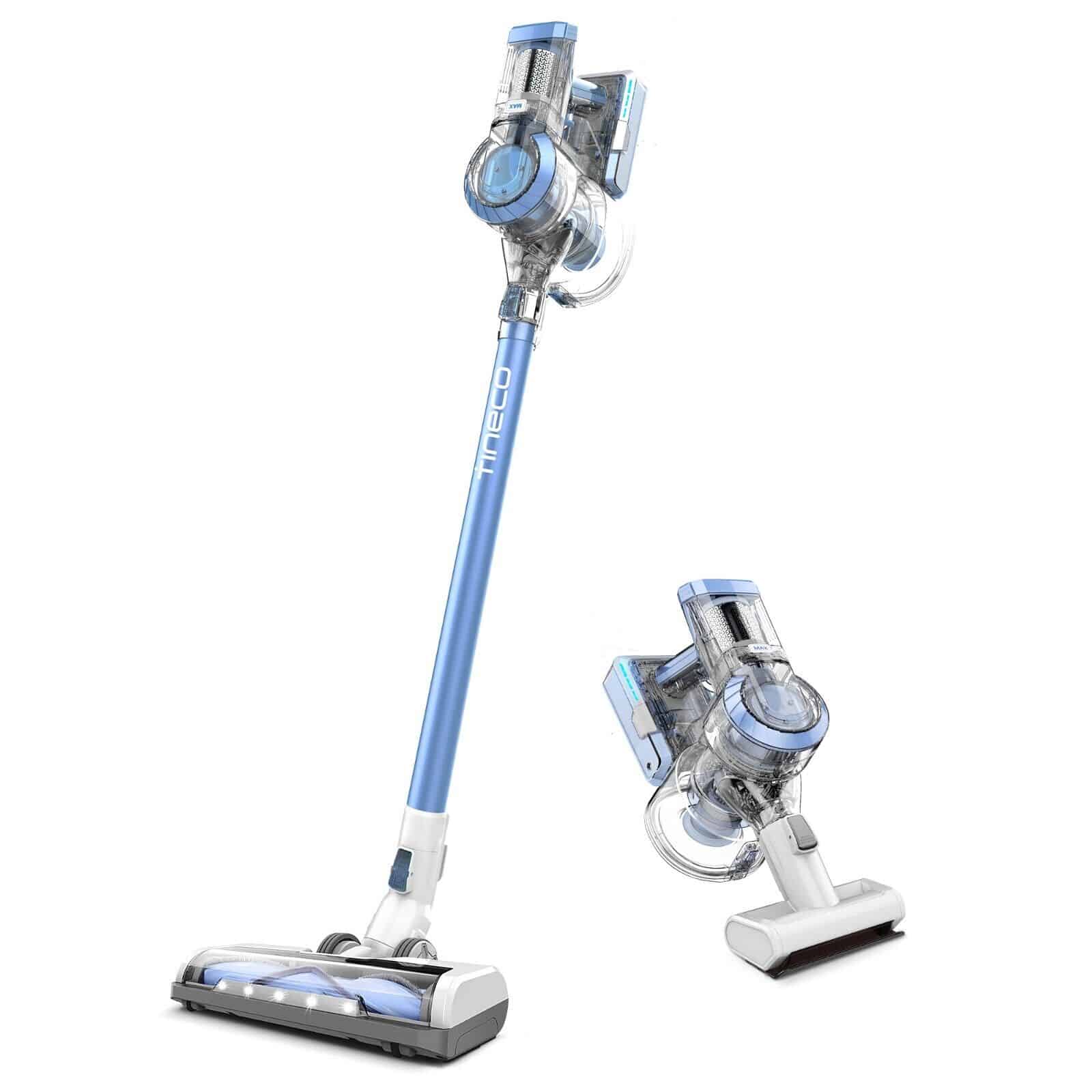 Pros
Continuous power mode means no need to hold down the power button while cleaning
Washable filter can be reused multiple times
Wall mount for storage helps save space
Detachable battery for easy replacement
Cons
Plastic components may break when the unit falls down
Has numerous parts so it can be time-consuming to clean and assemble them
Powerful suction power, lengthy battery life, and convenience are all important qualities in a vacuum cleaner for pet hair. The Tineco A11 Hero has all of those, plus a modern design and a budget-friendly price tag. Win-win!
Its max power mode offers great results when deep cleaning your carpets from dog or cat hair. Alternatively, gentle mode and daily mode are suitable for quick regular cleanups.
This reliable vacuum's lightweight structure allows you to lift it up when cleaning high areas. The product can transform into a hand vacuum for small and tight spaces as well.
Other impressive features include front LED lights, four-stage filtration, and a full 40 minutes of runtime. This vacuum doesn't just remove pet hair from your floors. It also traps and seals dust and pollen for cleaner and healthier air.
We have reviewed the top 5 Tineco cordless vacuums in this article.
2. Black + Decker Powerseries Extreme Cordless Vacuum – Runner Up
Runner Up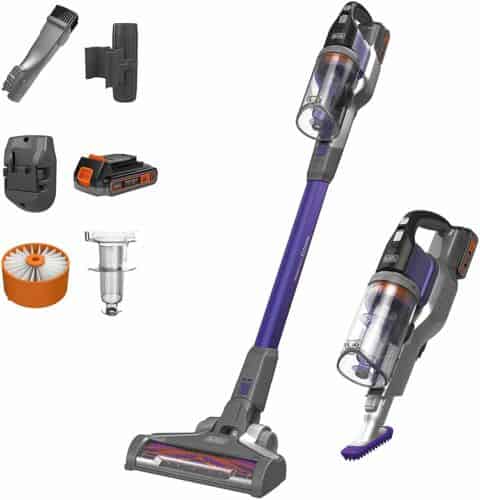 Pros
Self-standing design for hassle-free storage
LED floorhead lights to illuminate the cleaning area
Interchangeable battery with other Black + Decker tools
Flip-up brush for high areas
Cons
Requires frequent filter maintenance
No crevice tool included
This top-performing vacuum was specifically designed to deal with persistent pet hair. It uses a patented brush bar with rubber bristles to effectively eliminate hair strands and other types of debris.
You'll find Black + Decker's cleaning system efficient and easy to use. Its angled floorhead can be used on multiple surfaces, with three-speed options to choose from.
This vacuum also has an anti-tangle brush, so say goodbye to manually untangling stubborn pet hair after every cleaning session. Plus, it has a 750 mL front-facing dustbin for convenient dust disposal.
On top of that, this device can run for an impressive 55 minutes. It comes with a removable battery, a 3-in-1 multi-way charger, and a wall mount for storage.
All these features at an affordable price make Black + Decker another outstanding option for a cleaning partner.
3. Jashen V16 Cordless Vacuum Cleaner – Best Budget Choice
Best Budget Pick
Pros
Wall mount for storage to maximize space
Aesthetic color scheme and design
LED lights to spot hidden dust particles
Comes with a crevice tool and brush
Cons
Air vent placement directs air toward the user
Some customers report dirt falling out of the unit
A Jashen Vacuum packs together some highly impressive features at an unbeatable price. It has an intelligent LED screen that'll show you the power mode and how much running time you have left.
Jashen has a built-in filter sensor as well. It'll send you an alert when it's time to clean your filter for optimum performance.
You can choose from min, mid, and max modes when cleaning your home. Its four-stage filtration system can capture most small particles, including fine pet hair.
This efficient vacuum allows you to switch between hard floor mode and carpet mode, too. All you have to do is adjust the bumper and install the designated roller for each mode. The total runtime for this device is 40 minutes.
4. Bissell Featherweight Cordless Stick Vacuum
Bissell Featherweight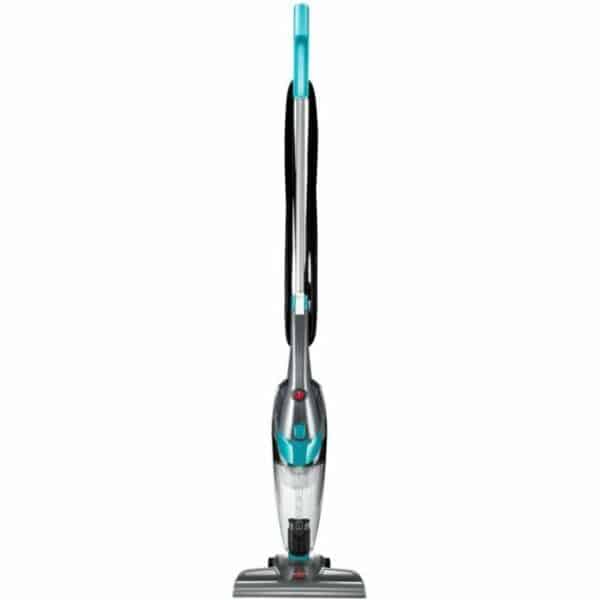 Pros
Multi-surface compatibility for both hard floors and soft carpets
Easy empty dirt bin for convenient dust disposal
Washable filter can be cleaned and reused as necessary
The upholstery brush is designed with felt for cleaning soft surfaces
Cons
Long pet hair can cause clogging
Customers report limited suction power on carpets
Bissell is another excellent vacuum cleaner that won't break the bank. Its lightweight feature makes it easy to maneuver and won't strain your hands while cleaning.
This cordless vacuum comes in stick form, but it doubles as a hand vacuum as well. It also comes with a crevice tool and an upholstery brush which are ideal for cleaning pet hair from hard-to-reach spaces.
Another useful feature is its two-way folding handle, which makes it easy to vacuum underneath heavy furniture. It makes storage effortless, too.
Related: The top Moosoo cordless vacuums reviewed
Additionally, this product's lithium-ion battery is rechargeable, which is a big plus! You can use it for up to 20 minutes after 4.5 hours of charging time.
It's also worth mentioning that every purchase of Bissell Stick Vacuum supports the Bissell Foundation for homeless pets. Save a pet while keeping your home spotless!
5. Wyze Cordless Vacuum Cleaner
Wyze Cordless Vacuum Cleaner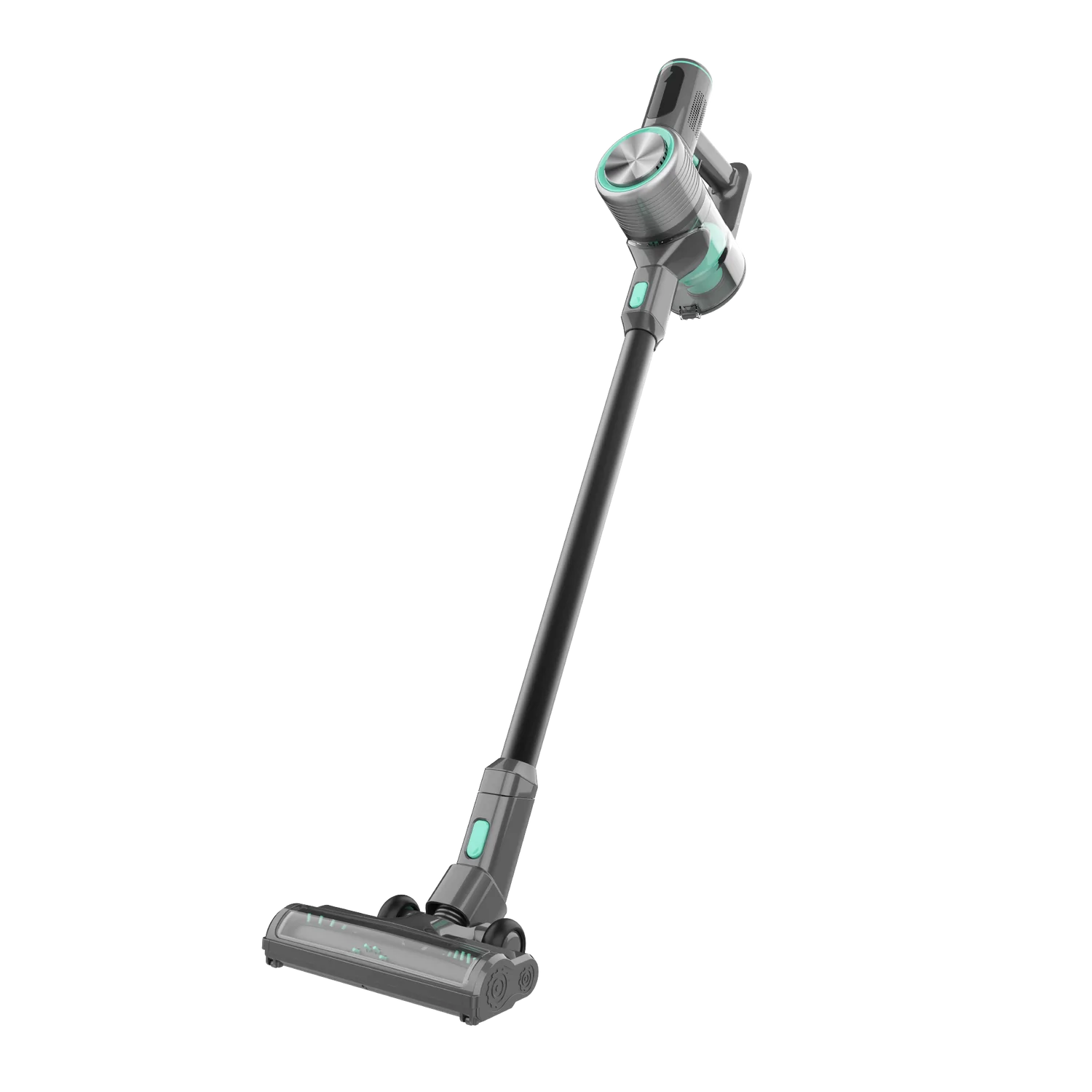 Pros
The easy-empty cup needs only one finger to release dust
Can switch to a handheld vacuum
HEPA washable filter can be reused multiple times
A crevice tool and two brushes included
Cons
Five-hour charging time
Unable to stand upright on its own
If battery life is one of your top priorities in a vacuum, you might want to try Wyze. It'll provide you with up to 50 minutes of uninterrupted cleaning time.
What's more, an additional battery pack can extend runtime to a total of 100 minutes. Imagine all the pet hair you can grab in that amount of time!
While charging, this techy vacuum has a screen that'll show you the battery percentage level. You can also select from a variety of suction levels, such as eco, medium, and turbo.
Wyze uses two powerful motors and six LED lights to pick up every strand of your pet's mane. Yet, it remains as lightweight (2.8 lbs) as a fluffy puppy. All these features make this vacuum a valuable addition to your set of household cleaners.
6. INSE Cordless Vacuum Cleaner
INSE Cordless Vacuum Cleaner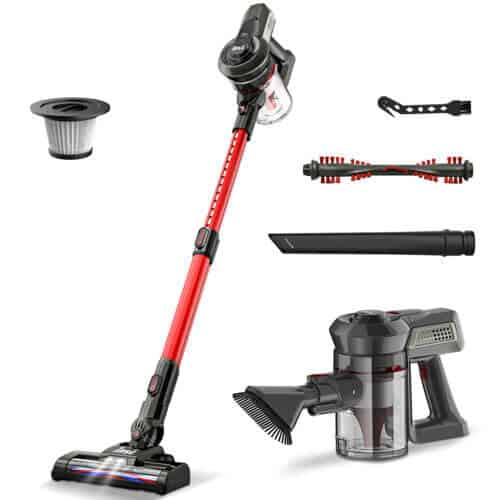 Pros
Ultra-quiet operation
Lightweight
LED lights illuminate dark spots and corners
Two HEPA filters included
Cons
The power button is hidden inside the handle grip
Some customers experience product overheating
This top-rated vacuum is part of INSE's lineup of cleaners and sweepers, which has sold over eight million units worldwide. You can use it in standard mode for daily use, or max mode for tougher clean-ups.
To effectively control dust and pet hair, it uses a fully sealed filtration system with a sponge filter, HEPA filter, pre-filter, stainless steel strainer, and a strong cyclone component.
It comes with a stiff roller brush to tackle pet hair that's stuck in your carpets. For hardwood or tile floors, you can opt for its carbon fiber soft roller instead.
Additional features include a retractable wand for different heights, a wall mount for easy storage, and a 150° rotating cleaner head. This cleaning partner can run for 45 minutes with a 3–4 hour charging time.
7. Eureka RapidClean Pro Lightweight Cordless Vacuum Cleaner
Eureka RapidClean Pro Lightweight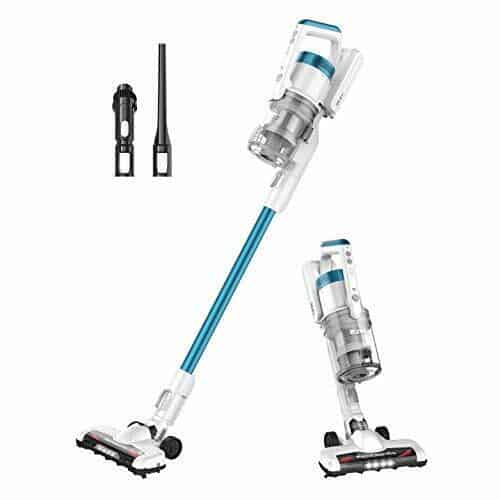 Pros
An efficient cyclone filtration system to trap and seal dust
Easy-reach fingertip controls
Extra large size dust cup to hold pet hair and other debris
Quick and simple assembly process
Cons
Customers report having hair tangled in the roller
Parts can break when the vacuum falls over
With over 100 years in the cleaning industry, Eureka is an experienced and reputable vacuum brand in the market. Its RapidClean Pro models are specifically designed to be lightweight and convenient to use on various surfaces.
It has LED lights, two cleaning modes, and two additional brushes to help with the cleanup. Eureka also has a wall mount and an easy-rest handle for convenient storage.
This vacuum can run for 40 minutes at a time. Its design is flat and slender, allowing you to remove pet hair underneath furniture.
To vacuum below your couch, simply use Eureka's swivel steering and slim nozzle to reach all corners from various angles. It can also clean rugs, upholstery, and carpets. To remove dust and dirt from turntables and record covers, you might want to check out this cleaning guide.
8. Kenmore DS4095 Brushless Cordless Stick Vacuum
Kenmore DS4095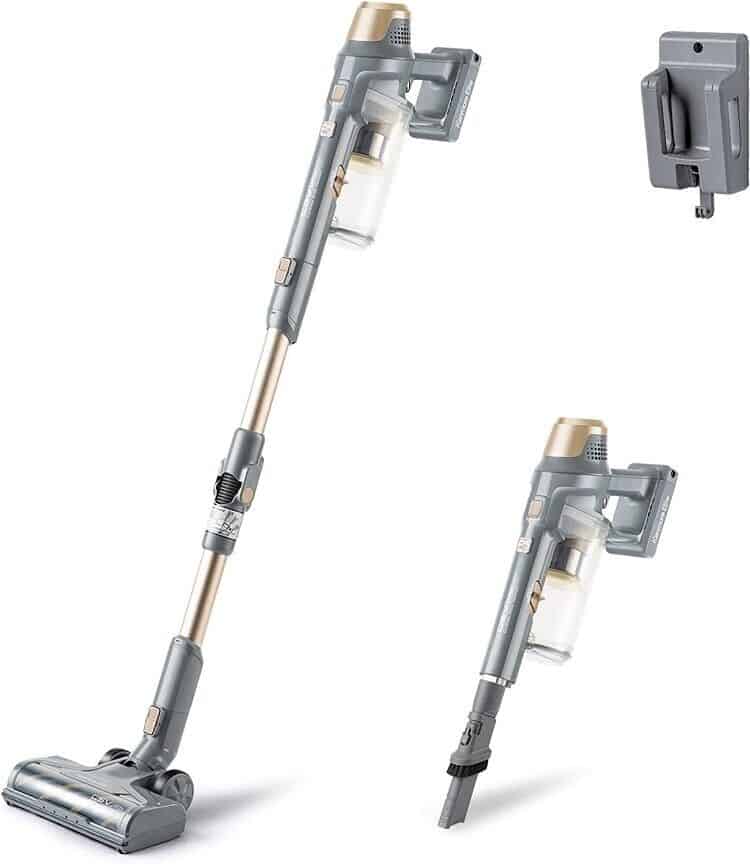 Pros
Low and high-speed settings for different cleaning jobs
HEPA filtration to prevent tiny particles from escaping the unit
Rechargeable battery eliminates the need for frequent replacement
Less than four hours of charging time
Cons
Slightly heavier than other vacuums
Some customers report instances of dirt falling out
One of Kenmore's many special features is its easy-reach wand. You only need to push a button for this vacuum to fold into an L-shape.
This will allow you to clean pet hair underneath furniture without having to bend down or get on your knees. This device has a colorful battery meter that displays its charge level and motor speed as well.
Some other notable features include a brushless motor, a large dust cup, an LED headlight, and a handy swivel steering nozzle. Kenmore also converts to a hand vac, which is helpful for cleaning vehicles and tight spaces. Nice!
This budget-friendly and versatile vacuum is suitable for hard floors, tile, linoleum, and carpets. On a single charge, it can clean for 40 minutes straight, making it perfect for daily use.
9. ZokerLife Stick Cordless Vacuum Cleaner
ZokerLife Stick Cordless Vacuum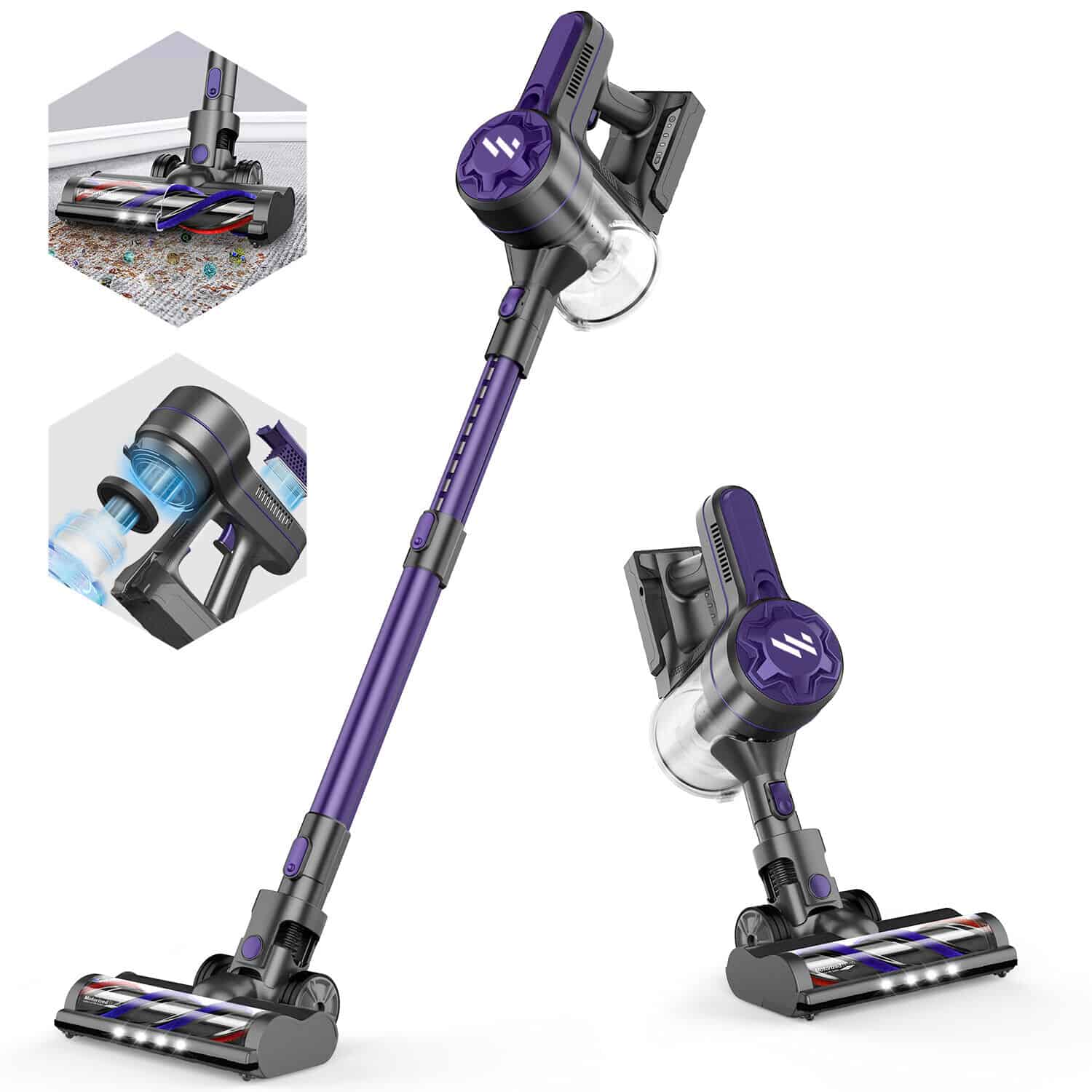 Pros
Detachable and rechargeable battery for convenient replacement and charging
Large dust cup to hold pet hair and debris
Low noise level
Anti-tangle brush design
Cons
It can take up to five hours to charge
Customers mention a lack of suction power on carpets
If you were to describe this vacuum cleaner in one word, it would definitely be versatile. ZokerLife allows you to switch between a soft brush, a long crevice brush, and a 2-in-1 roller brush depending on your needs.
Its floor brush rotates 90° up or down and 180° on all sides, perfect for narrow spots, stairs, and ceilings. With its four LED lights, your dog or cat's hair has nowhere to hide.
This high-performing vacuum cleaner runs for 35 minutes per charge. It has a five-stage filtration system, a turbo mode, and a regular mode. These features are great for sucking up pet hair, litter, dog food, and other dirt particles.
What's more, ZokerLife can be used on hardwood floors, tiles, carpets, and marble. It can also clean your sofa, desk, keyboard, and computer table. However, if you're looking for something to clean your vinyl records, there might be other vacuums more suited for the job.
FAQs
What Are The Most Common Cordless Vacuum Problems?
Cordless vacuum owners frequently report loss of suction, clogged filters, tangled brushes, and battery charging problems with their devices.
Additionally, some owners complain of burning smells and high-pitched squeaking noises coming from their vacuum. Lastly, broken parts, faulty buttons, and overheating are some of the more serious problems.
Can Cordless Vacuum Batteries Be Replaced?
Yes, they can! Most manufacturers offer replacement batteries for their cordless vacuums.
Some brands even have interchangeable batteries that can be used on all their tools and appliances. Replacement batteries are usually available at your vacuum manufacturer's official website or physical store.
How Long Does A Cordless Vacuum Battery Last?
On average, a cordless vacuum battery lasts for 15-40 minutes before needing to be recharged. Charging times also vary, ranging from 2-16 hours. Depending on the brand and usage, your battery might last for about 3-4 years before needing to be replaced.
Wrapping Up
Choosing the best vacuum cleaner for your household is no easy task. The right cleaning partner has to be affordable, user-friendly, and capable of handling all the dirt and debris that accumulates in your home daily.
Tineco A11 Hero is our top pick for the job. Its outstanding overall performance and fair price point make this vacuum the ideal cleaning companion. Winner!
On the other hand, the Black + Decker Powerseries Vacuum comes in at a close second due to its powerful battery, high-quality brushes, and self-standing design. For a less expensive option, Jashen V16 offers similar features at a lower price.
Hopefully, this guide on the best cordless vacuum for pet hair under $200 will help you make the right choice for your home and pets. Give one a try to get cleaner floors and say bye-bye to pesky pet hair!