Disclaimer: Some of the links in this article may be affiliate links; we will earn a commision, at no additional cost to you, if you make a purchase through one of our links.
The way to a man's heart is through his stomach. Well, that applies to your feline furballs too! The road to a healthy relationship between you and your pet, especially a cat, starts with providing the ultimate care to its quality of food.
Maintaining your cat's health at an optimum level includes regular check-ups at the vet, providing a happy and loving environment around your cat, and of course, watching its diet and food intake.
This can be easier said than done, as when it comes to finding the best type of low sodium cat food, you feel like searching for a needle in a haystack with lots of brands, and lots of options for your cat's diet
With that said, in this article, we'll be explaining everything you need to know about sodium in cat food as well as reviewing the best products available out there.
In a hurry? Here are our top picks:
| Image | Product | Details | Price |
| --- | --- | --- | --- |
| | HILL'S Prescription Diet k/d Kidney Care – The Best Low Sodium Cat Food | Top Pick | Check Price |
| | Purina Veterinary Diets Savory Selects OM Canned Cat Food | Runner-Up | Check Price |
| | Hill's Science Diet Dry Cat Food, Adult, Sensitive Stomach & Skin | Budget Pick | Check Price |
Sodium and Cat's Diet
Sodium is an alkali metal element that plays a huge role in cats and human health alike. It's found as in a cation (Na+) form.
It's one of the essential elements for cats' health. It has a crucial role in regulating its blood pressure. It also possesses a balancing effect on volumes and osmolarity of different fluids in the cat's body.
How Much Sodium Does a Cat Need?
A healthy cat should have its plasma sodium concentration level kept at around 145 to 155 mEq/L to maintain the osmolarity of extracellular fluids in a range of 320 mOsm/L.
The lower concentration in the levels of sodium in the blood's serum is known as osmolar hyponatremia. This can cause many symptoms such as lethargy and weakness.
However, higher sodium levels are often the more popular issue with cats. This is called feline osmolar hypernatremia, and it can cause a lot of symptoms that we'll be discussing later on.
Moreover, the Association of American Feed Control Officials (AAFCO) suggests that there should be a minimum of 0.2% sodium in cat food to help in maintaining a healthy level of sodium in its body.
Did You Know That: excessive furniture scratching or peeing outside the litter box are signs of cat anxiety. One way to ease this stress is to use Feliway products; read on this comprehensive Feliway Diffuser review to learn exactly what this brand offers and whether it actually works or not. Alternatively, here's another good way to stop your feline friend from peeing outside the litter box.
Why Would You Go For a Low Sodium Diet?
Healthy adult cats can utilize and manage the excretion of sodium out of their body correctly. However, with some diseases and aging conditions, some cats lose this natural ability to deal with their sodium levels.
In that case, despite being a very important element for your cat's health, you'll find your vet recommending lower sodium intake in your cat's diet.
A lower diet of sodium can help with some health issues. Here are some of them.
Save 35% on All Pet Supplies from Chewy
You will also get $20 off your first order on Chewy (plus free shipping). I personally think Chewy provides the best prices and offers, especially when it comes to my regular pet supply needs.
Feline Cardiomyopathy
Cardiomyopathy is a heart muscle disease that can affect cats. Although its main cause remains unknown, it has been linked with a genetic mutation in certain species of cats such as ragdolls and north American Maine coons.
This disease causes weakness in the heart muscles, which causes the thickness of its walls. This leads to poor blood circulation and enlargement of the heart; making cardiomyopathy one of the most serious diseases in cats.
Cutting down sodium intake can help greatly in slowing down cardiomyopathy's worst complication, which is congestive heart failure.
Congestive heart failure occurs when the heart isn't able to pump the blood due to its severe weakness. Sodium has some water retentive properties, in which it increases the volume of water and consequently the blood in the cat's body.
When this happens, the cat's go through a compensatory enlargement of the heart in an attempt to push the blood through blood vessels which in turn weakens the heart muscles with time.
Less sodium means less blood volume, which eventually decreases the workload needed by the cat's heart to distribute the blood adequately through other organs.
Feline Hypertension
Just like humans, sodium restriction is a must for cats with high blood pressure. Sodium has a direct effect on activating the Renin-Angiotensin-Aldosterone System (RAAS).
RAAS is responsible for the production of the blood pressure raising hormone aldosterone. According to many studies, high sodium consumption has a linear negative effect on cats' blood pressure and cardiovascular health.
Kidney Disorders
Cats' kidney disorders are also related to the Renin-Angiotensin System; in which it causes constriction to the blood vessels of the kidney's microfilters called glomerulus.
Just like when pinching a hose intensifies its water output, the vasoconstriction also increases the pressure of the blood in the kidney. This causes long-term damage to the kidney that goes as far as kidney failure.
Related: Our Favorite Low Magnesium Cat Food on The Market
Osteoporosis
All electrolytes are connected in a cat's body. Sodium is one of these electrolytes and its increase will always cause a disturbance in some other mineral or electrolyte.
In the case of excessive sodium intake in the cat's diet, blood calcium replaces sodium in urine (which is known as calciuria). This urges the body to draw calcium from the bones to compensate for the blood calcium loss.
Dehydration
Last but not least, excessive sodium intake leads to greater water loss through urination. Our bodies can deal with dehydration simply by making us feel thirsty so we drink water.
However, dehydration can be more problematic for cats; as cats have much less urge to drink water than humans. Dehydrated cats will always look weak, have a lower appetite, and usually suffers from higher heart rates that can turn into a cardiac disorder.
Our Favorite Low Sodium Cat Food
Recently due to increased demands, many cat food producers went for making specialized low sodium cat food. In the following list, we'll be thoroughly reviewing our top picks.
Before we start, you need to know that health prescription diet products require a veterinarian recommendation. This is why you need a green light from your vet before getting any prescription diet products.
Although ordering the product online requires no prescription in most places, you should still ask your vet before trying it out.
Kicking off our review with Hills Prescription wet food canned cat food. Hills are known to produce some of the best custom made diet food for cats.
Hills Prescription k/d canned food helps aging cats and cats who are recently diagnosed with a kidney disorder. Hill canned food is made in their US-based establishment.
The food is made of real ingredients such as chicken, pork liver, carrots, pea proteins, and fish oil. In addition to real ingredients, it's also fortified with essential minerals, amino acids, and vitamins such as vitamin B, E, and C.
As the case with many types of cat food, they're a matter of debate when it comes to their reception and palatability by cats. Some cats love it, and some cats just don't.
Fortunately, Hills diet products have a lot of flavors to try from including tuna, chicken, tuna and vegetable stew, and chicken and tuna stew.
The formula of hills prescription cat food can help with aching kidneys, higher blood pressure, lack of appetite, and improve mobility significantly in about a month.
Being a bit costly is one of its main drawbacks. However, the fact that it actually gets the job done all the while tasting great for many cats isn't going to keep Hill's prescription diet products short of buyers anytime soon.
Pros
Tastes great for many cats
Rich nutritional formula
Made in the United States with natural ingredients
Cons
The can is small compared to its price
Another great manufacturer who takes great care in providing the best for cats is Purina. Unlike hill's k/d, this canned cat food is low in calories and fats yet rich in proteins and fibers.
High sodium levels can cause many complications. Cats tend to be weaker and slower. The lack of movement can develop some weight issues for many cats, and this is where Purina's formula shines.
In addition to its low sodium levels, Purina's OM cat food also helps overweight cats to lose the extra weight and regain their mobility and their ability to run and jump again.
It also helps with dehydration and shortness of breath because of the amount of water in the can.
However, Purina's savory selects OM canned cat food is relatively more expensive than other products.
Pros
Aids in weight loss
Hydrates the cats with its water content
Fortified with vitamins A, D, E, K, and, B
Cons
Fairly more expensive than many other products
Related: Here are the top elevated cat feeding stations on the market for this year.
The final product we have is Hill's Science dry cat food for sensitive skin and stomach. Hill's dry food formula is easy to digest and has no wheat or corn in its ingredients.
The new formula by Hill's is more likely to improve cats' digestion by supporting the bacterial flora in the cat's gut. This allows for better cleaning of the litterbox and less cat puking.
The formula is also fortified with a wide variety of essential elements such as vitamins A, B, D, and E. This all comes in addition to omega 6 fatty acids which are great antioxidants that fight cat aging and enhance their skin and hair health.
Moreover, the ingredients are all-natural including salmon, chicken, yellow peas, potato protein, and natural chicken liver flavor.
Although there isn't much of a change between the old and new formula, some cats that may not like the new one. However, most cats loved the new formula even more!
Pros
Helps in managing itchy cat's skin condition
Facilitates the litterbox cleaning
Comes at a good price
Cons
Some cats may not enjoy the new formula
Top 3 Low Sodium Cat Food Brands on The Market
While there are many brands that offer regular cat food, there aren't many brands that produce specialized diet food.
To make things easier for you, here are some of the top brands that offer low sodium cat food.
HILL'S Prescription Diet
Hill's Prescription Diet might be one of the oldest brands in the field. In the late 30s, the company's Co-founder, Dr. Morris, started making specialized diets for pets who suffered from malnutrition.
The success of Dr. Morris's formulas led to an agreement between him and the other co-founder, Burton Hill, in Topeka, Kansas.
In the company's lab, Dr. Morris produced several prescription diets in 1951. Today, after 70 years of experience, the company still produces some of the best formulas on the market.
Hill's produces wet and dry low sodium diets under the K/D sub-brand. Among the best low sodium cat food it offers is Hill's Prescription Diet k/d Kidney Care Cat Food as mentioned earlier.
Obviously, you'd need a prescription to use this food. If you don't have one, you can check out our favorite nonprescription k/d cat food alternatives on the market.
Purina
Although Purina has been in business since 1894, the company started making commercial cat food in 1963. Its first product was Purina Cat Chow.
Nestle acquired the company in December 2001, so you can expect its products to have Purina's experience and Nestle's quality.
The company's formulas are characterized by their good taste. Purina's Pro Plan cat food has controlled levels of sodium and phosphorus. Additionally, it has moderate levels of protein to keep the meal nutritious.
Purina also adds several vital ingredients to its specialized food. These include vitamins, antioxidants, minerals, and omega 3 fatty acids. Purina Veterinary Diets OM Savory Selects Cat Food is an example of the company's prescription food that's low in sodium.
Blue Buffalo
Blue Buffalo specializes in all kinds of prescription pet diets, including low sodium cat food. It also produces delicious regular cat food.
Besides maintaining Blue Buffalo's signature taste, it has limited amounts of sodium and phosphorus in the cat food.
Moreover, it has a moderate amount of proteins to keep the cat's kidney in the best shape. Blue Buffalo also adds important nutrients that boost the cat's health, such as chondroitin and glucosamine.
You can find low sodium cat food under the grain-free Natural Veterinary Diet Kidney + Mobility Support Cat Food.
FAQs
Can low sodium cat food prevent diseases?
By lowering the sodium content in cat's diet, you can slow down and even prevent some health problems.
Here are some of the diseases that you can prevent by replacing normal cat food with low sodium alternatives:
– Kidney Disorders
– Feline Cardiomyopathy
– Feline Hypertension
– Osteoporosis
– Dehydration
What food can you add to a low sodium cat diet?
Besides opting for low sodium food alternatives, you can also make homemade cat food that has low levels of sodium.
While leaving the task to a reputable brand is always better, making your own cat food can be beneficial and budget-friendly sometimes.
Here are some foods that have a naturally low amount of sodium, so you can add them to your cat's meal:
– Potatoes
– Brown rice
– Unsalted chicken
– Unsalted Lean beef
– Bones
What are the signs that a cat has high levels of sodium?
When a cat is suffering from higher levels of sodium, it manifests some symptoms that you should be aware of.
If you notice any of the following signs, you should pay your vet a visit immediately:
– Leathery (general weakness)
– Excessive thirst
– Seizures
Can a cat recover from kidney failure?
Unfortunately, kidney failure isn't reversible. However, if you monitor your cat's sodium levels, a cat can live for many years with a decent quality of life.
The Verdict
Cats with special diets require some extra care when it comes to choosing their food. For that reason, Hill's Prescription k/d canned food is our favorite low sodium cat food on the market.
Not only because cats love and eat it, but also because it has a great formula that could help improve the kidney condition of your cat by lowering its sodium intake.
Hill's Prescription k/d canned food is also rich in all the additional nutritional vitamins and minerals that your cat needs for improving their energy and focus.
However, if you're on a budget, Hill's Science dry cat food for sensitive stomach and skin would also do the trick for you.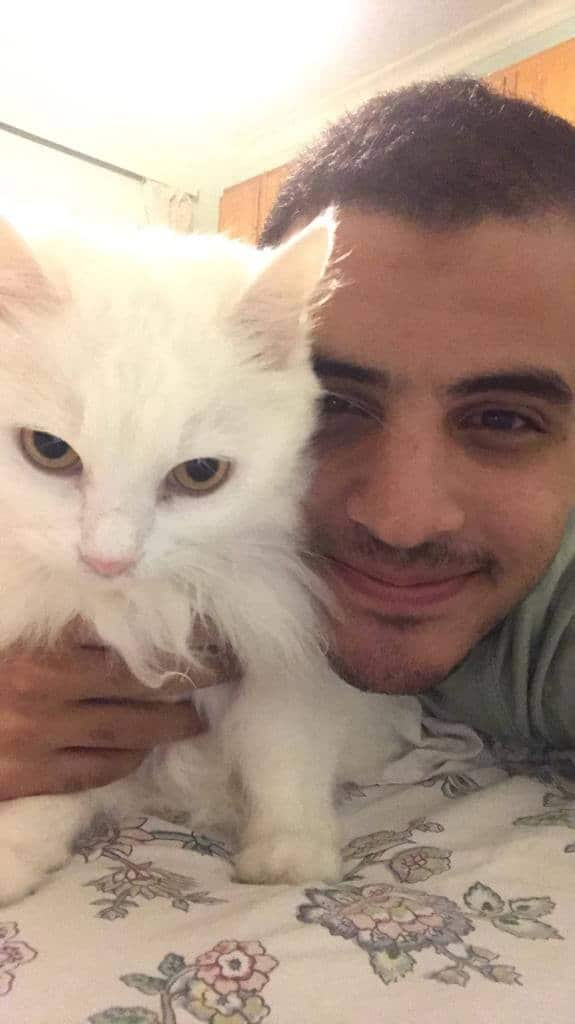 I've been living with cats since 2008 and I can confidently say I have more feline friends than humans lol. I currently live with 5 cats in different life stages; two of them are less than one year old, one is 2-ish years old and the oldest two are 9-ish years old. I've developed a strong bond with cats over the years and I'm eager to share my experience through this blog. You can learn more about my cats here.