Disclaimer: Some of the links in this article may be affiliate links; we will earn a commision, at no additional cost to you, if you make a purchase through one of our links.
If you're looking for low-iodine cat food for your senior feline friend who's a victim of hyperthyroidism, you've probably landed on the most updated article of 2023.
In the following article, we'll walk you through everything you need to know before picking the ideal cat food option for you.
Here's a Summary of Our Top Picks:
| Image | Product | Details | Price |
| --- | --- | --- | --- |
| | Hill's Prescription Diet y/d Feline Thyroid Health Canned Cat Food | Top Pick | Check Price |
| | Hill's Prescription Diet Y/D Feline Thyroid Health Dry Cat Food | Runner-Up | Check Price |
| | Blue Buffalo Wilderness High Protein Grain Free | Budget Pick | Check Price |
Top 3 Low Iodine Food Picks for Hyperthyroidism
Finding good quality cat food can be quite overwhelming with all the options on the market, let alone if you're narrowing it down to low iodine levels as well.
To make the search process easier for you, we've compiled a review list of the best low-sodium cat foods that you may find out there. Let's have a quick look at each one of them!
Kicking off the list with one of the best low iodine options on the market. Hill's Prescription Diet y/d is a specialized formula that is specifically formulated for cats suffering from hyperthyroidism.
Must Read: best Royal Canin Ultamino cat alternatives
According to Hill's, this formula is extremely low in iodine and you'll be able to notice an improvement in the thyroid health of your cat in 3 weeks.
The low concentration of iodine will deplete all the resources needed by the thyroid gland to produce more thyroid hormones, causing it to stop. This makes it an excellent alternative to medications and radiotherapy.
However, you need to know that your cat will have to stick to that diet for life to prevent the thyroid gland from relapsing.
Save 35% on All Pet Supplies from Chewy
You will also get $20 off your first order on Chewy (plus free shipping). I personally think Chewy provides the best prices and offers, especially when it comes to my regular pet supply needs.
Luckily, this canned wet food has a meaty flavor because it contains liver, pork and its by-products, chicken as well as water and cornflour. This means that your cat will enjoy eating it.
In addition to the good flavor, the formula is also rich with multiple types of vitamins and minerals. These elements help the cat's body to maintain a healthy bladder, heart, kidney, and even skin.
It has a decent protein concentration of about 27%, which is important for the cat to maintain its muscle mass as it gets older. This can help the senior cats avoid the muscle-wasting syndrome that comes with hyperthyroidism.
What We Liked
Extremely low in iodine
An ideal alternative to radiotherapy and medication
Beef-rich formula
What We Didn't Like
Requires a vet's prescription
If you enjoyed Hill's Prescription y/d canned food but you're looking for an alternative that doesn't need a prescription from your cat's vet, this one is a great option to go for. It's also a great option for cats that love kibbles.
Although you don't need a vet's prescription to get this type of food, it's still preferable to only go for it when it's recommended by them.
Similar to the prescription diet, this one is also extremely low in iodine, which is great for low and medium-level hyperthyroidism.
However, this one doesn't contain the same ingredients. While the wet y/d version is rich in pork and chicken, this one is mainly corn gluten meal, whole grain corn, pork fat, soybean mill run, and egg products.
Similar to the wet y/d version, this one is also able to improve the health of the thyroid gland in three weeks, which is clinically proven.
Since your cat has to only consume this food for it to work, Hill's made sure that the product is rich in all the ingredients needed for a healthy life. For example, it's formulated with Hill's S+OXSHIELD, which prevents the formation of urinary crystals.
The formula is also rich in omega-3 and fatty acids, which are essential for inflammatory relief, especially in senior cats.
What We Liked
An ideal alternative to prescription diets with very low iodine
The S+OXSHIELD formula is great for bladder health
Rich in ingredients that are important for senior cats' health
What We Didn't Like
While it has protein, it lacks the meaty value
Unfortunately, prescription diets that care specifically for hyperthyroidism can get easily expensive.
Also, they only work if you only use them, which can be quite difficult to maintain if you're on a budget.
Luckily, this excellent formula from Blue Buffalo is a great solution to many of these problems.
While it contains traces of potassium iodide, the formula is still much lower in iodine than other formulas on the market.
Moreover, the formula is low in carbs and very high in proteins. This means that it won't promote insulin tolerance while fighting the wasting symptoms accompanied by hyperthyroidism.
What We Liked
Ideal for buyers on a budget
Requires no prescription
Has a very high concentration of proteins
Rich in minerals and vitamins
What We Didn't Like
Relatively higher iodine than prescription diets
Visitors also read: our in-depth Hartz Cat Litter Review
Why Choose a Low Iodine Cat Food?
Iodine is a natural element that is present in a lot of nutritional sources. In fact, iodine is a major component in many enzymes and hormones in both humans' and cats' bodies.
However, when a cat gets older, it becomes more prone to a disease known as "hyperthyroidism". This condition happens when the thyroid glands in cats start secreting too much "thyroxine" hormone.
This gland is located in the neck and it's responsible for the metabolism in the cat's body. Luckily, there are many treatment options for hyperthyroid cats, including:
Iodine restriction
Radioactive iodine therapy
Certain medications
As a rule of thumb, most vets will suggest that you start with the first option, as it's the easiest method.
How Low Iodine Diets Works
So why do they work in the first place?
Well, as you already know, the cat's body needs its supply of iodine in order to produce thyroxine hormone. Also, cats can't create iodine in their bodies on their own, which is why food is their only source of iodine.
So, by consuming foods that are low in iodine, you'll be able to prevent the thyroid gland from making the hormone.
This logical explanation is even supported by a one-year evaluation research. In this study, 8 moderate to severe hyperthyroid cats were observed over the course of 12 months. The aim of the study was to evaluate the efficacy of iodine restrictions in the cats' diets.
The treatment method was a success for 6 out of 8 cats, noting that the two remaining cats had the highest initial thyroxine levels.
However, you need to know that food restriction in diets won't fully cure hyperthyroidism. Instead, the right low-iodine diet can help your feline friend to reduce the impact of the symptoms that comes with hyperthyroidism, which I'll address in the following section.
Related: All You Need to Know About Heritage Ranch Cat Food
What Are the Complications of Hyperthyroidism in Cats?
To fully treat a cat from hyperthyroidism, you need to do one of the following:
Surgically remove certain parts of the thyroid gland (thyroidectomy)
Use radioactive therapy (radioiodine)
Maintain a lifelong drug therapy (often accompanied by iodine restriction)
Unfortunately, hyperthyroidism is a highly progressive disease that can even be fatal. The high production of thyroxine hormone has a lot of effects on various parts of the body.
These centers include the central nervous system, the heart, the liver, the kidneys, and the gastrointestinal system.
Also, with the continuously high metabolism, the cat will burn more resources than it builds up with feeding. This leads to a severe case of muscle wasting and emaciation.
Not only that, but it'll also lead to a much higher level of blood sugar in the cat. This can easily cause glucose tolerance and make body cells resistant to insulin, which is known as "pre-diabetes".
If this condition is left untreated it'll quickly advance into becoming a full state of feline diabetes mellitus.
How Much Iodine Does a Normal Cat Need Per Day?
This depends on each cat. According to Hill's research, a cat needs about 0.46 parts per million (ppm) of iodine every day. However, in other studies, the results suggested about 1.3 ppm.
This means that any cat food with a lower concentration of iodine can work as an iodine-restricted diet if used alone.
Top Low Iodine Cat Food Brands
To treat the symptoms of hyperthyroidism, these brands offer some of the best cat food options.
Purina
Purina is one of the oldest brands in the world of the cat food industry. Founded in 1894, this brand offers several food varieties to meet all the dietary needs of cats and dogs. Most of the meat used in Purina food formulas is sourced from the USA, except their lamb, which is sourced from New Zealand.
These formulas are approved by the USDA and FDA to keep your cat in excellent condition. Several food types are available to help your cat stay in great health, even if it has special dietary needs.
Purina offers 15 different lines of food and cat-related products to make sure that your feline baby will be in perfect health. Ten of these lines offer high-quality food.
The Beyond line offers natural snacks without meat by-products, grain, or soy.
The Pro Plan offers different food types with meat as the first ingredient to target special health issues like the formation of hairballs and the health of the urinary tract.
The Fancy Feast line offers fancy entrees, pates, and savory broths that keep your cat well-hydrated if it's a picky eater.
The One line offers premium ingredients if your cat suffers from special health issues.
The Purina Pro Plan Veterinary Diets line is only available with a vet's prescription.
The Friskies line offers wet and dry food, in addition to snacks and treats.
The Deli-Cat line offers plant-based dry food at a discounted price.
The Muse line offers delicious recipes with the "clean plate" guarantee.
The Chow line offers special food types tailored to meet your cat's needs at different stages of life.
The Kit & Kaboodle line offers dry food for adult cats.
However, in 2011 some cat food batches were recalled due to salmonella contamination. In 2016 Purina's dog food was also recalled due to the presence of inadequate levels of minerals and vitamins.
Hill's Pet Nutrition
Listed as one of the most popular and best low-iodine cat food brands, Hill's Pet Nutrition offers several varieties from multiple lines to meet all the dietary needs of cats. The brand also offers different types of dog food.
You can buy the Ideal Balance line which offers natural ingredients that support your cat's health during different life stages. The Science Diet offers various formulas and textures to suit all picky eaters.
Hill's offers 2 more lines that are only available with a vet's prescription; the Hill's Prescription Diet and Hill's Healthy Advantage. Hill's Prescription Diet is designed to meet the needs of cats that suffer from specific health conditions like IBD and diabetes. Low-iodine cat food formulas are available from this line to treat hyperthyroidism.
Hill's Health Advantage formulas are designed to target 5 areas that affect the cat's overall health. The food is formulated to manage the cat's weight, improve the function of the immune system, protect the urinary tract from infections, facilitate better digestion, and keep the skin and coat in excellent condition.
Cat owners like Hill's food formulas because they rely on real animal proteins to cover cats' dietary needs at different stages of life. There are unique formulas that can suit your feline baby regardless of its age or health condition, and the food is available in dry and wet textures to guarantee that your cat will be in perfect health.
However, some of Hill's formulas contain high levels of carbohydrates. Although cats need carbs to stay healthy and active, high carbs can cause weight gain. In 2019, their dog food was recalled due to toxicity concerns.
Blue Buffalo
Blue Buffalo offers several budget-friendly cat food options through 5 different lines. The Original Blue line offers excellent food varieties that suit cats of all ages and breeds. Blue Freedom is an exclusive line that contains no grains to help cats with digestive problems.
If your cat has a sensitive stomach or suffers from food allergies, you can choose your cat's favorite food from the Blue Basics line which offers limited ingredients to help you rule out the allergy-causing ingredients. The Blue Wilderness line is rich in meat to support the growth of lean muscles and keep all organs healthy. Blue Natural is a unique line that is only available with a vet's prescription.
With multiple varieties of wet and dry food, you will be able to find the right formula for your feline baby. The recipes don't contain protein by-products, fillers, or additives that can affect your cat's health. The main protein ingredients are chicken, beef, lamb, fish, turkey, or duck, so you will be able to find the right one that appeals to your picky eater.
Most of the formulas are supplemented with extra minerals, vitamins, and antioxidants to keep your cat in perfect health. Blue Buffalo also offers several types of dog food.
However, Blue Buffalo's food formulas were recalled several times. In 2007, their cat food was recalled because it contained melamine, and in 2010, there was a recall because some food batches contained an excessive level of vitamin D.
FAQs
What are the drawbacks of low-iodine diets on cats?
Iodine is only utilized in the body in the production of thyroid hormone almost exclusively. That's why a cat with hyperthyroidism shouldn't suffer from any further complications while on that diet.
Can a cat consume dietary supplements while eating low-iodine cat food?
In most cases, dietary supplements might also include iodine. In that case, it shouldn't be consumed. However, it's ok to consume vet-approved dietary supplements that don't have iodine.
What are the symptoms of hyperthyroidism?
There are many symptoms that come with hyperthyroidism, such as:
– Noticeable weight loss
– Fast heart rate
– Increased appetite
– Increased activity
– Poor hair coat health
Conclusion
There you have it. A complete guide with everything you need to know about low-iodine cat food and hyperthyroidism in cats.
As you can see, iodine-restricted diets are proven clinically to enhance thyroid health. However, you need to remember that it won't fully cure your cat.
Yet, it's a perfect alternative to invasive surgeries and radiotherapy, especially for a senior cat.
We recommend Hill's Prescription Diet y/d Feline Thyroid Health Canned Cat Food as the best low-iodine cat food on the market. The formula is made by expert vets and it's guaranteed to boost the health of the thyroid gland.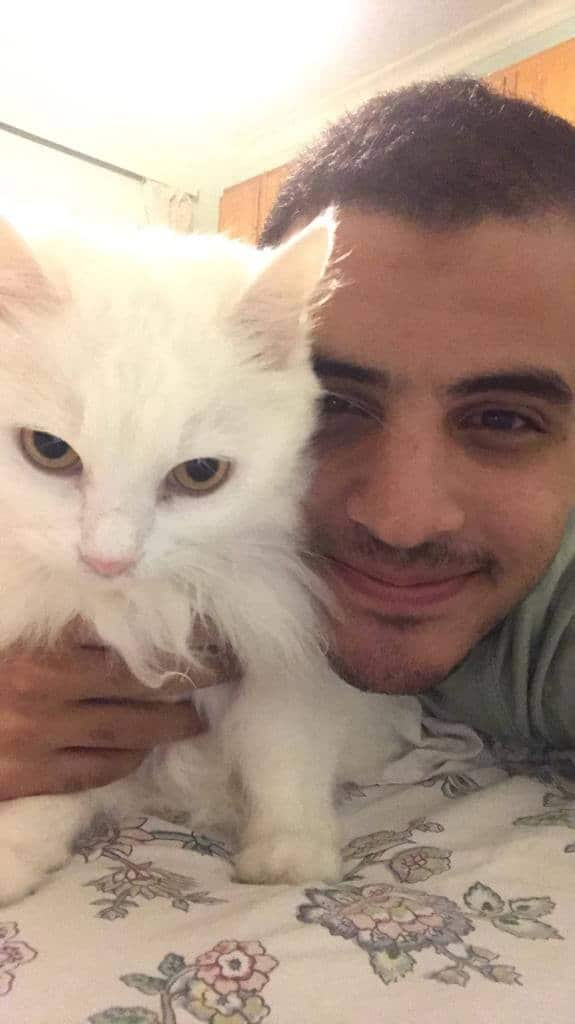 I've been living with cats since 2008 and I can confidently say I have more feline friends than humans lol. I currently live with 5 cats in different life stages; two of them are less than one year old, one is 2-ish years old and the oldest two are 9-ish years old. I've developed a strong bond with cats over the years and I'm eager to share my experience through this blog. You can learn more about my cats here.