Disclaimer: Some of the links in this article may be affiliate links; we will earn a commision, at no additional cost to you, if you make a purchase through one of our links.
In this article, I'll give you all the information you need to know about Hartz Cat Litter. I'll go through the full review of the product including:
What does Hartz offer?
Description of Hartz Cat Litter
What makes the Hartz Cat Litter a good pick
The answers to some FAQs
If you think of buying cat litter and haven't made up your mind yet, then hopefully this Hartz Cat Litter review will help you make a decision.
Let's see what it's all about.
Hartz Cat Litter Review: A Quick Overview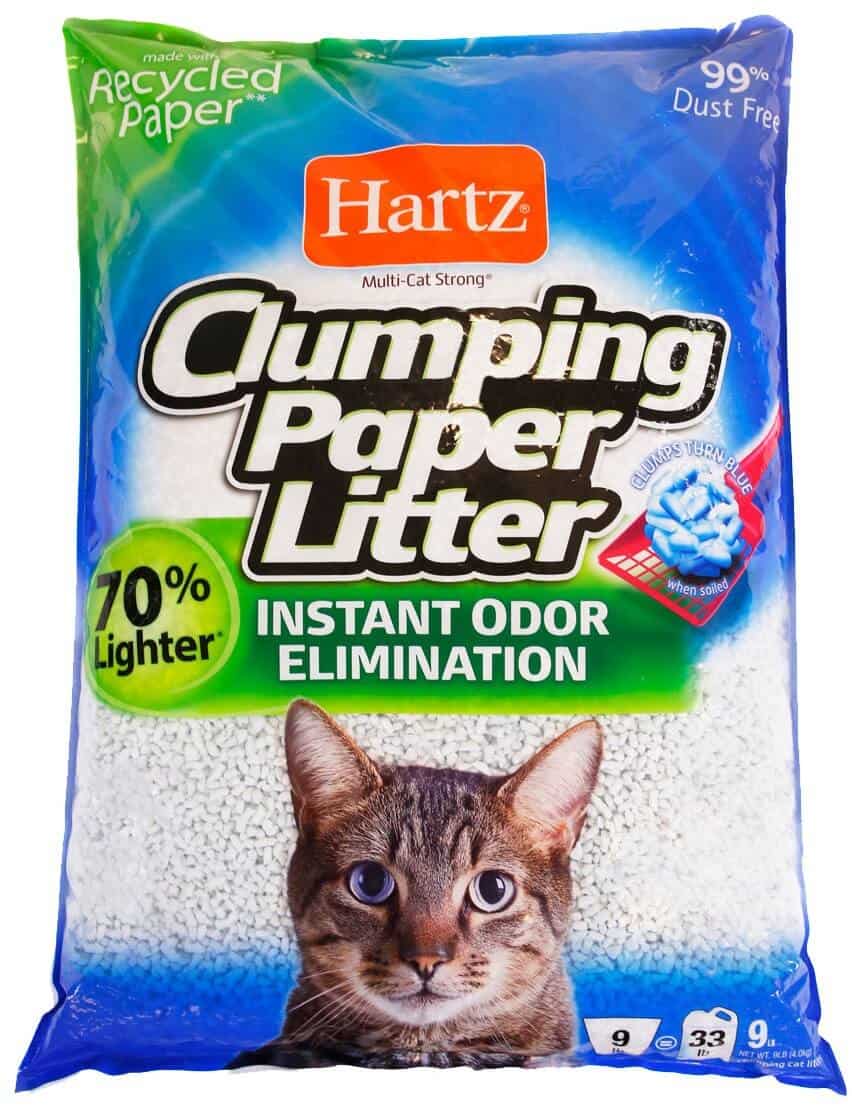 Hartz produces everything you might need for your pet. This includes dogs, cats, birds, fish, and even reptiles. They offer toys, treats, accessories, litter, and grooming brushes. The company is known for helping pet parents and pets without harming the environment.
The Hartz Cat Litter is easy to handle, safe for your cats, and eco-friendly. Currently, Hartz offers two sizes: 4.3 pounds and 9 pounds.
Perks of Paper Pellet-Like Cat Litter
The Hartz litter is made from paper, which makes it dust-free. You can say goodbye to all the dust that clings to your cat or your clothes.
Another important benefit of paper pellets is that they're scent-free, which is perfect if your cat can't stand fragrances. Moreover, paper pellets are more absorbent when compared with shredded paper or clay litter.
Finally, the Hartz Cat Litter is lighter than most of the clay litter, which makes it convenient for refilling whenever you want. That's an essential perk if you have more than one litter box at home.
How It Compares to Other Cat Litter
Paper litter is usually non-clumping, like Purina's or ökocat's bags. However, this cat litter has clumping features: When the pellets are soiled, they clump and turn blue, making them easier to spot and remove.
Unfortunately, in terms of affordability, Hartz isn't the most affordable paper litter on the market, but it's still more affordable than ökocat.
Drawbacks
Every rose has its thorn. Despite the outstanding features of Hartz Cat Litter, there have been some complaints.
The main issue is the price. It isn't an affordable product; however, I think it's worth the money for what it offers.
Another issue is with the clumping. It works as advertised with the cat's pee, but some pet parents state that it doesn't work perfectly with solid feces, neither does it eliminate their odor.
The last drawback is related to the litter's weight. I know that being lightweight is perfect in terms of convenience. Nevertheless, the unsoaked pellets are so light that they get stuck to the cat's fur. As your cat moves, the pellets will spread all over the house, leaving quite a mess.
Here's how to stop your cat from spraying or peeing outside its litter box.
Why Should You Buy Hartz Cat Litter?
How does Hartz Cat Litter stand out? 3 main reasons make it a convenient option for your cat, for you, and the environment.
1- It's Clumping
That's the main feature I love about this cat litter. When I wanted to opt for paper pellets, I was concerned about the cleaning process. However, Hartz made those paper pellets easy-to-clean by featuring a clumping design.
You might wonder, "how does paper clump anyway?" It's simple. Hartz paper pellets have 20% polymer and starch. These are absorbent ingredients, which allow the paper pellets to clump, locking in the scent as well.
Keep in mind that they might not remove the odor of solid feces since these won't clump in the first place.
On the positive side, when the pellets are clumped, they turn blue. I like that because spotting the clumps has never been easier.
Another perk is that the clumps are scoopable and they don't stick to the litter box. All you'll need is a scoop with holes to lift off the soiled clumps without any hassle.
Related: Tidy Cats Instant Action vs 24/7 Performance Litter full comparison
2- It's Eco-friendly
What's better than a product that doesn't harm the environment? Hartz Cat Litter is made out of 80% recycled paper, to reduce the ecological footprint.
Not only is it safe for the environment, but it's also safe for cats since it's 99% dust-free. This is an important aspect because neither I nor my cat will breathe in any dust.
3- It's Lightweight
Last but not least, Hartz Cat Litter is 70% lighter than most of the other litter, which should make the 4.3-pound pack equivalent to a 16-pound pack of clay litter.
Its weight makes it easy to maneuver while carrying or refilling. Moreover, the pellets are gentle on cats' paws, so it should be the perfect pick for sensitive cats or those with deformed paws.
FAQs
If you have further questions on Hartz Cat Litter, you might find the answer here.
Q: Does the 4.3-pound bag fill up one standard litter box?
A: The 4.3 pack is a lot for a regular litter box. When you fill the box, make sure you add litter up to 3 or 4 inches of depth. That depth should be ideal if your cat likes to scratch the bottom of the litter box.
Try to maintain the same depth by adding more litter after scooping the clumps. All in all, I'd recommend changing the whole litter once a month.
Related: Litter-Robot vs Catlink full comparison
Q: Is it flushable?
A: No, it's not. The package explicitly says not to flush or even throw in gutters or storm drains. This makes sense because the pellets clump after coming in contact with water, which can clog the pipes.
Q: Is scented litter bad for your cat?
A: Cats have a strong sense of smell, and sometimes they won't enjoy using the litter box if it has a distinct odor. That being said, it's always better to go for unscented litter. Luckily, Hartz Cat Litter is unscented, so it shouldn't annoy your cat.
Final Thoughts
Hartz outdid themselves when they produced paper cat litter that can clump too. I found this to be a nice product with more than one quality. It's eco-friendly, lightweight, and most importantly, easy to clean.
I hope that this review gave you all you need to know about Hartz Cat Litter.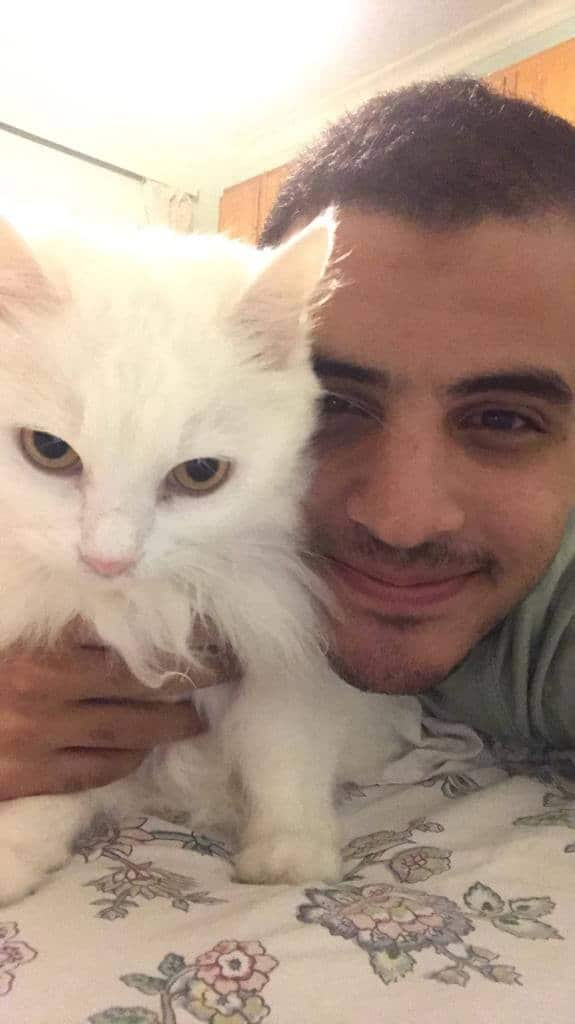 I've been living with cats since 2008 and I can confidently say I have more feline friends than humans lol. I currently live with 5 cats in different life stages; two of them are less than one year old, one is 2-ish years old and the oldest two are 9-ish years old. I've developed a strong bond with cats over the years and I'm eager to share my experience through this blog. You can learn more about my cats here.