Disclaimer: Some of the links in this article may be affiliate links; we will earn a commision, at no additional cost to you, if you make a purchase through one of our links.
Every cat owner would go to the moon and back for their beloved furry baby. However, you might not be fond of your cat getting too enthusiastic scratching your furniture, ripping curtains, and ruining your bedding. This is what the best cat scratching post to file nails is made for.
Scratching various surfaces is a natural thing for cats, and although you might repeatedly show your kitty that you're upset, there's a little chance that they will stop scratching. Filing the nails using a scratching post keeps the claws in good condition and protects various surfaces in the house from your cat's scratches.
In this article, we'll review some of the best scratching posts and help you choose the best one. Keep on reading to pick the best scratching post for your kitty.
In a Hurry? Here's a Quick Summary:
| Image | Product | Details | Price |
| --- | --- | --- | --- |
| | SmartCat Pioneer Pet Ultimate Scratching Post | Best Overall | Check Price |
| | AmazonBasics Cat Scratching Post and Hammock | Runner-Up | Check Price |
| | AmazonBasics Medium Cat Scratching Post | Best Budget Pick | Check Price |
| | 4CLAWS Wall Mounted Scratching Post | Best for Kittens | Check Price |
Reviews of the Best Cat Scratching Posts to File Nails
Scratching is vital for your cat's physical and mental well-being. However, this perfectly natural behavior can be considered annoying or even destructive by their humans. Check out our top scratching posts.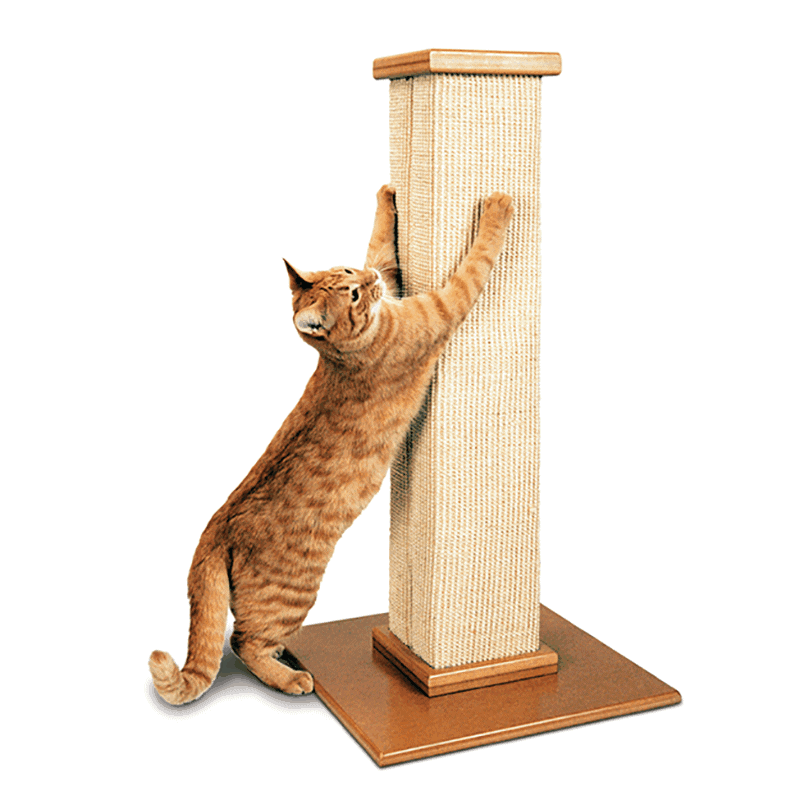 Thanks to the 16X16 inch base, this post will stay in place and won't wobble as your kitty scratches it. Even a bigger enthusiastic cat won't be able to tip it over while they're scratching vigorously.
The fibrous woven sisal fabric is designed to encourage scratching. This is a long post that measures 32 inches high and allows even a larger cat to stretch and tone their muscles.
You will also love this scratching post because the neutral earthy tones fit any décor well. It comes with 2 screws that allow for easy assembly. You might need to put duct tape or felt on the screws to make sure that they won't scratch your hard floors.
What We Like
Sturdy base
Long scratching post
Fibrous sisal fabric to encourage scratching
Easy assembly
Fits any décor
What We Don't Like
Might scratch hardwood floors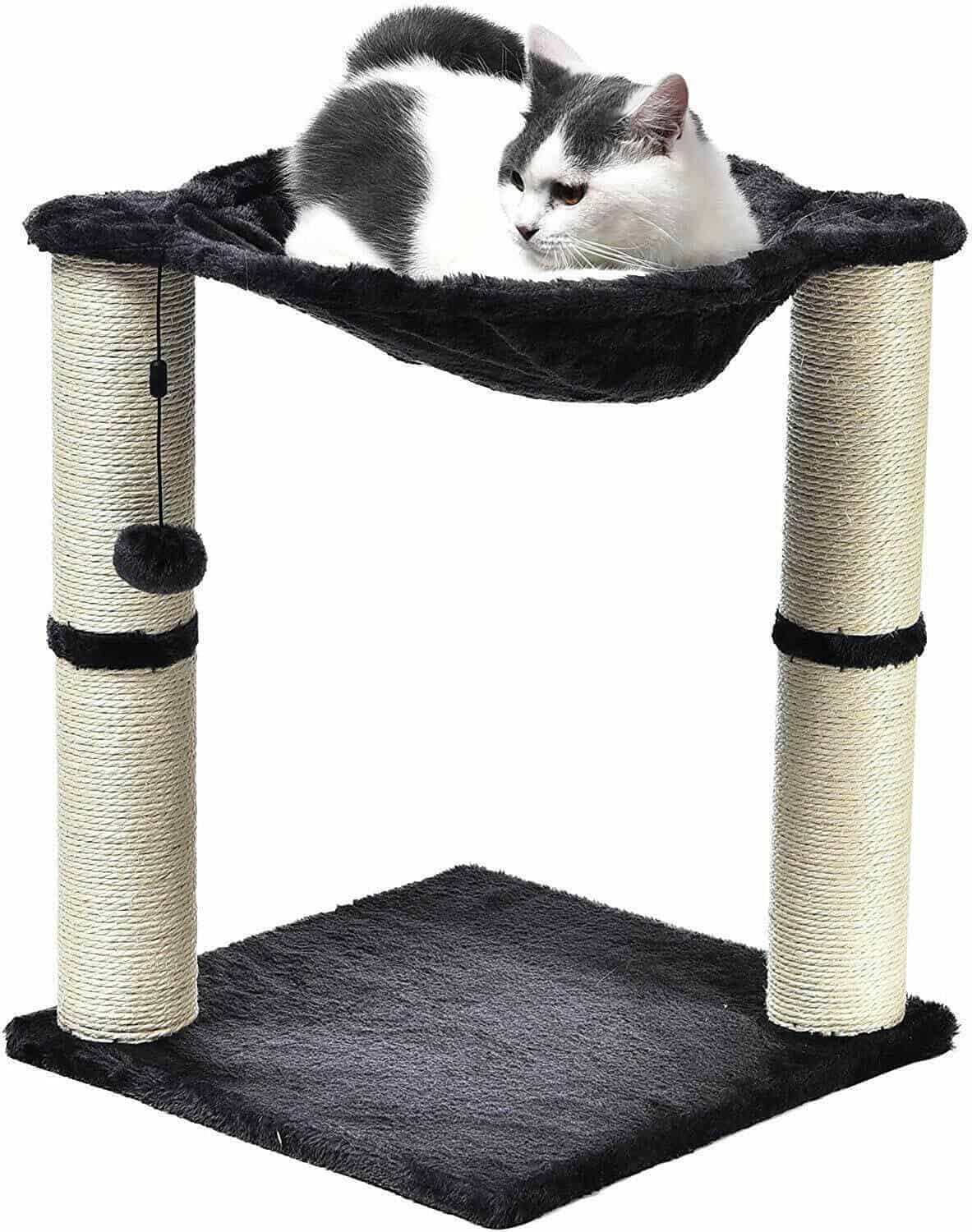 Give your cats something extra to play with when you buy this scratching post. If you have multiple cats in the house, you can buy this structure because it features 2 posts that your 2 enthusiastic cats can scratch at the same time. Having 2 posts means that your cats won't compete or fight, and if you have one kitty, this will only mean that they have more to play with.
On top of the 2 posts, there's a comfortable plush hammock that your cat will enjoy napping and snoozing in for long hours. It's designed to satisfy your cat's natural instinct to jump. Cats will enjoy sitting in a private personal space that provides a bird's eye view of their surroundings.
Once you buy this scratching post, you will notice that your cat is less interested in scratching furniture and carpets because the natural jute fabric will give them something to play with. It's designed to stimulate the nails and keep them healthy. Each post measures 20 inches high.
Moreover, there's a dangling toy that can keep a curious cat occupied for hours. Although the construction is pretty sturdy and easy to assemble, the plush hammock and base tend to shed.
What We Like
2 scratching posts in a single construction
Natural jute fabric
Has a relaxing plush hammock on top
Features a dangling toy to keep your cat occupied
Satisfies your cat's natural instincts to play, scratch, and climb
What We Don't Like
The plush fabric tends to shed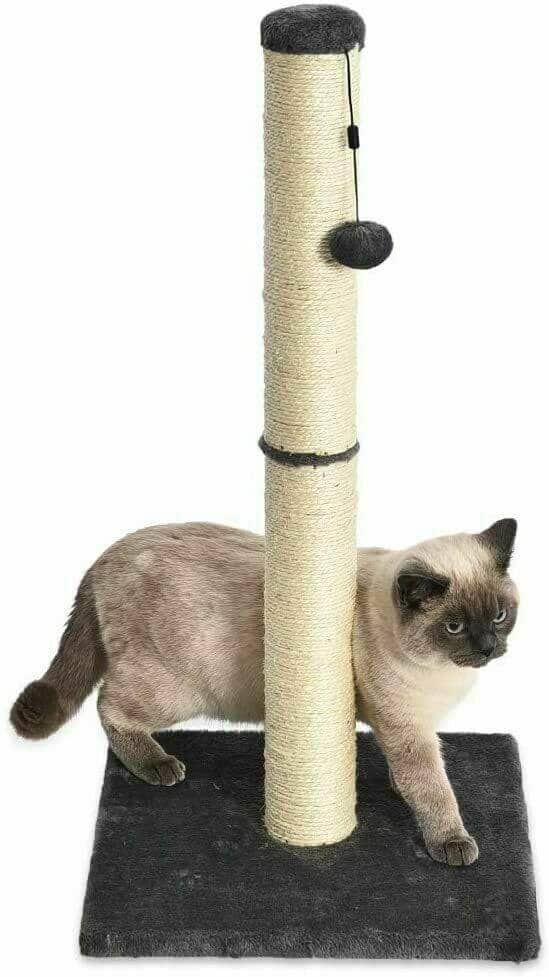 Encourage your cat to start scratching with the help of this scratching post. It features a sturdy base that prevents the post from tipping and wobbling, even when your cat spends long hours playing with it. The post measures 31.5 inches high, so it will be suitable for kittens, medium-sized, and larger cats.
It features natural jute fiber that keeps the nails healthy and discourages your kitty from scratching furniture, carpets, rugs and other materials in the house. As a bonus, this post comes with a dangling toy that is guaranteed to keep your cat occupied for hours.
You can set this post up in any room because the natural earthy tones will fit any décor. However, you might need to drill extra holes in the bottom to better secure the post, especially if you have multiple cats in the house.
What We Like
Sturdy base
Height is suitable for most cats
Natural fiber encourages scratching
Comes with a dangling toy to entertain your cat
Elegant earthy tones
What We Don't Like
Needs more screws at the bottom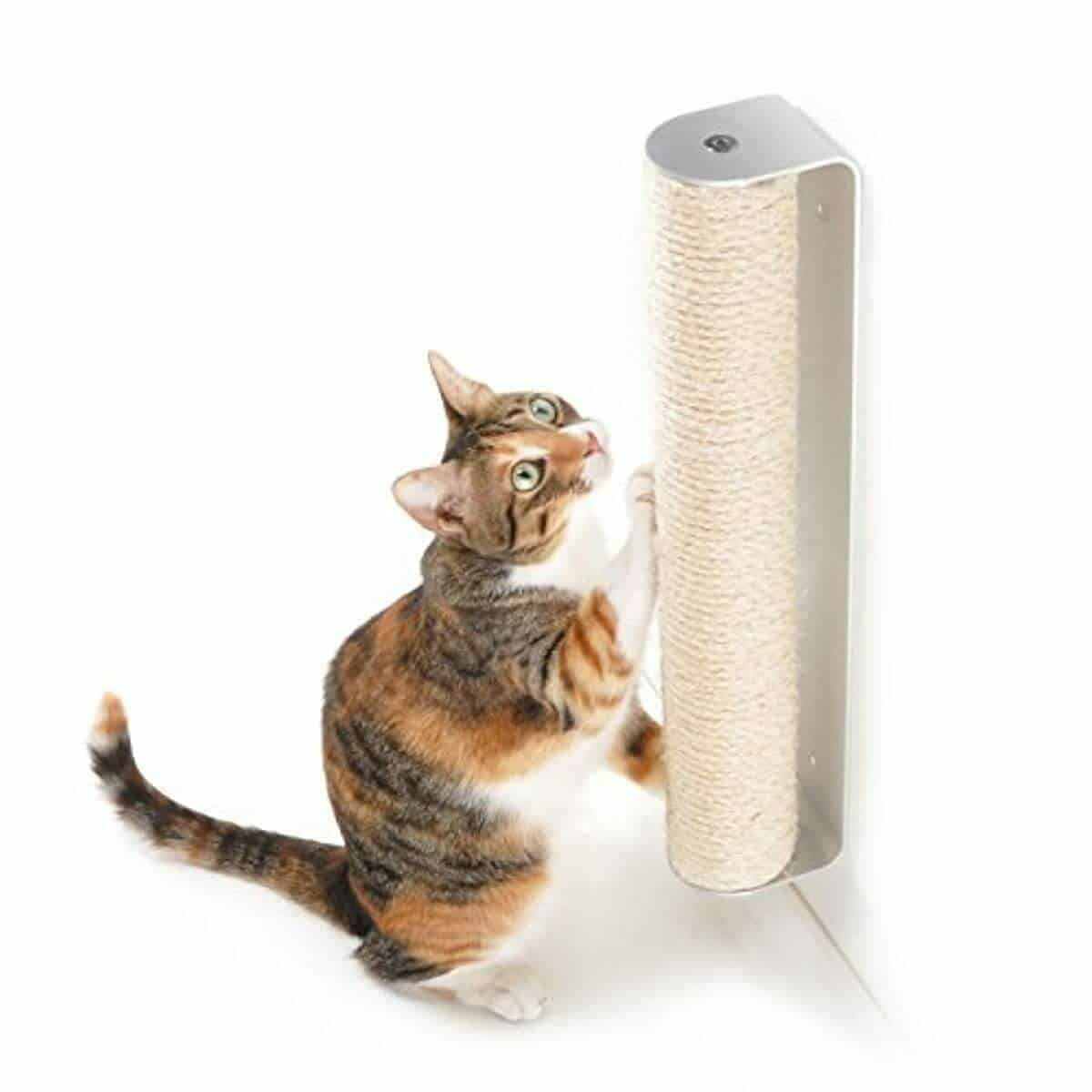 If you're worried about your scratching post tipping over, you should take a look at this wall-mounted one. It features a sturdy aluminum frame with an anodized finish for extra durability. Once you install this scratching post, you can rest assured that it won't move or break, even if your cat gets too enthusiastic.
The minimalist design is suitable for smaller spaces and has a small footprint, so you can keep a comfortable kitty bed nearby. Although this post measures 18 inches high, you can mount it low or high depending on your cat's size. You can even mount it horizontally if you want to give your younger kittens a special gift.
Your cat will love to scratch on the sisal rope because it helps keep the nails in excellent condition. The rope is environmentally-friendly, and the whole post comes in a neutral earthy tone, so you can install it in any room.
However, the rope can easily slide up and down as your cat plays with the post. Moreover, it tends to wear faster than fabric, so it will get damaged faster than other scratching posts. However, if a kitten uses it, it will probably last for a long time.
What We Like
Wall-mounted scratching post
Durable aluminum design
Can be hanged high or low, depending on the size of your cat
Covered with environmentally-friendly rope
Suitable for kittens
What We Don't Like
Rope wears faster than fabric
The rope can slide up and down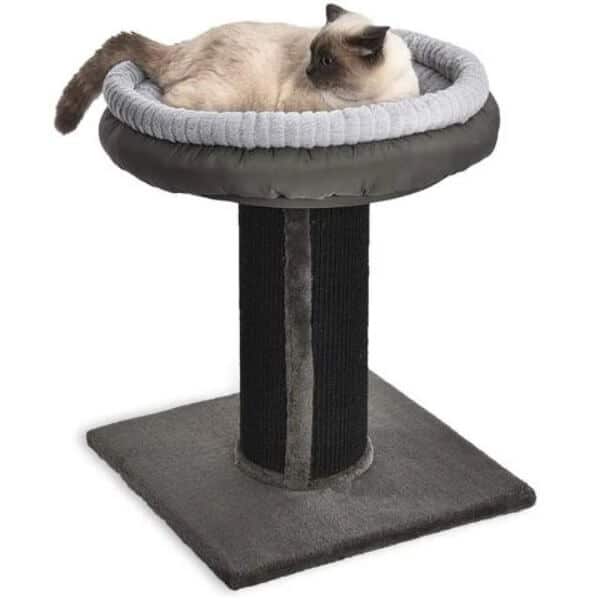 Give your cat a place to play and rest by installing this scratching post. Your cat will love to relax on the plush and comfortable bed, so you will be giving them a special spot. The elevated bed will be your kitty's favorite place because they can watch their space and keep an eye on everyone.
The natural jute fiber encourages your cat to scratch the post instead of damaging your upholstery, carpets, and curtains. The long-lasting construction prevents the post from tipping over, in case your cat gets a little bit too enthusiastic.
Thanks to its compact design, this will be an excellent choice for a smaller room. However, the post measures 25.6 inches high, so it might not be suitable for a bigger cat.
What We Like
Elevated comfortable bed
Scratching post with natural jute fabric
Sturdy construction
Compact design
What We Don't Like
Not suitable for a bigger cat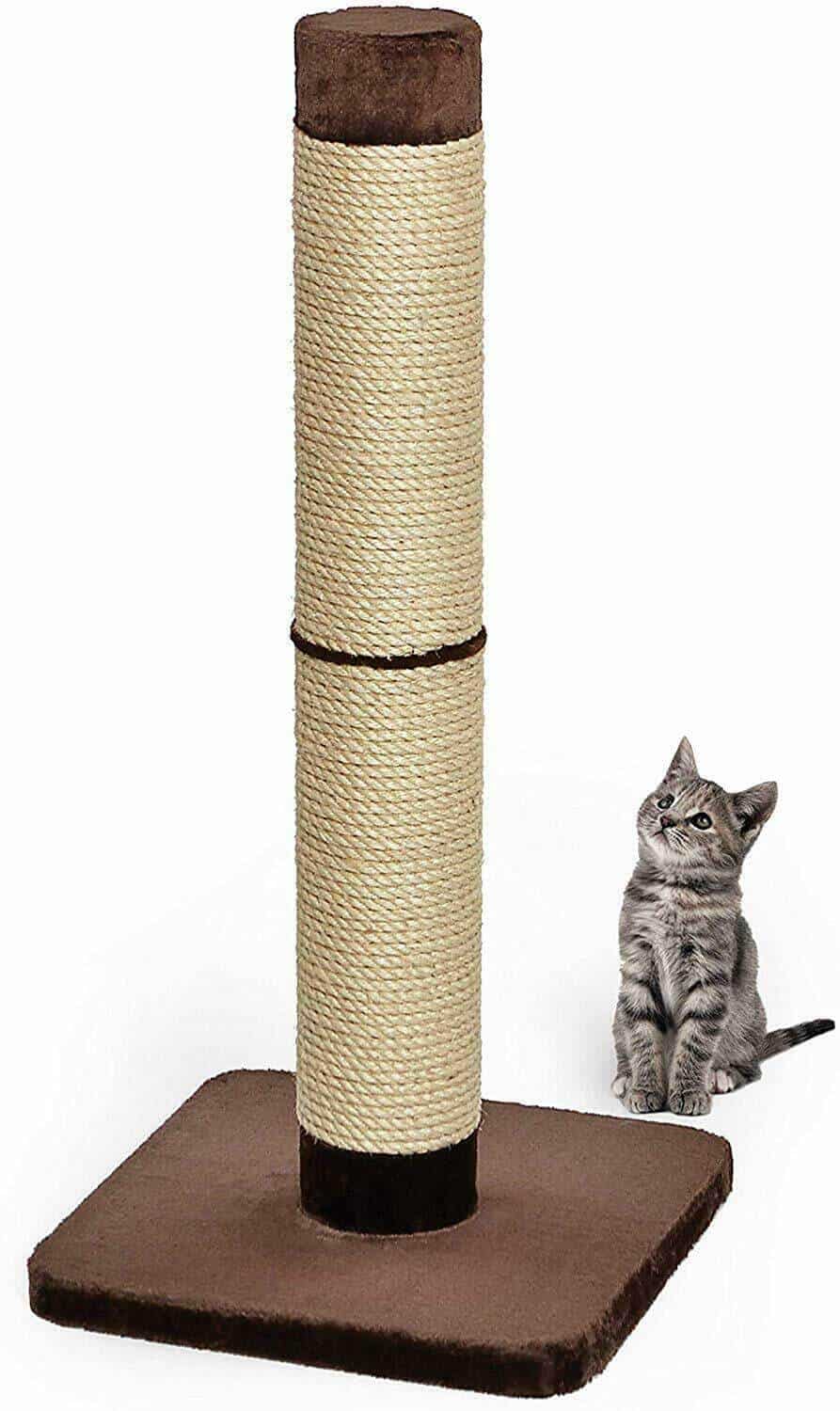 Measuring 41 inches high, this post is suitable for enthusiastic kitties. The sturdy base measures 19 X 19 inches, guaranteeing that the post will stay stable even when your cat plays with it for long hours. The neutral earthy tones will match any décor.
It features a durable and rough sisal rope that encourages your cat to scratch the post instead of scratching and damaging your expensive furniture. The rope is resilient and doesn't show any signs of wear even if your feline babies play with it all the time.
The post is easy to build and is sturdy enough to withstand your cat's weight and enthusiasm. However, it might have an annoying chemical odor that puts your cat off. Moreover, the rope is less durable than fabric.
What We Like
Long post for a big cat
Comfortable bed
Resilient fabric to withstand scratching
Easy to build
What We Don't Like
Has a chemical odor
The rope is less durable than fabric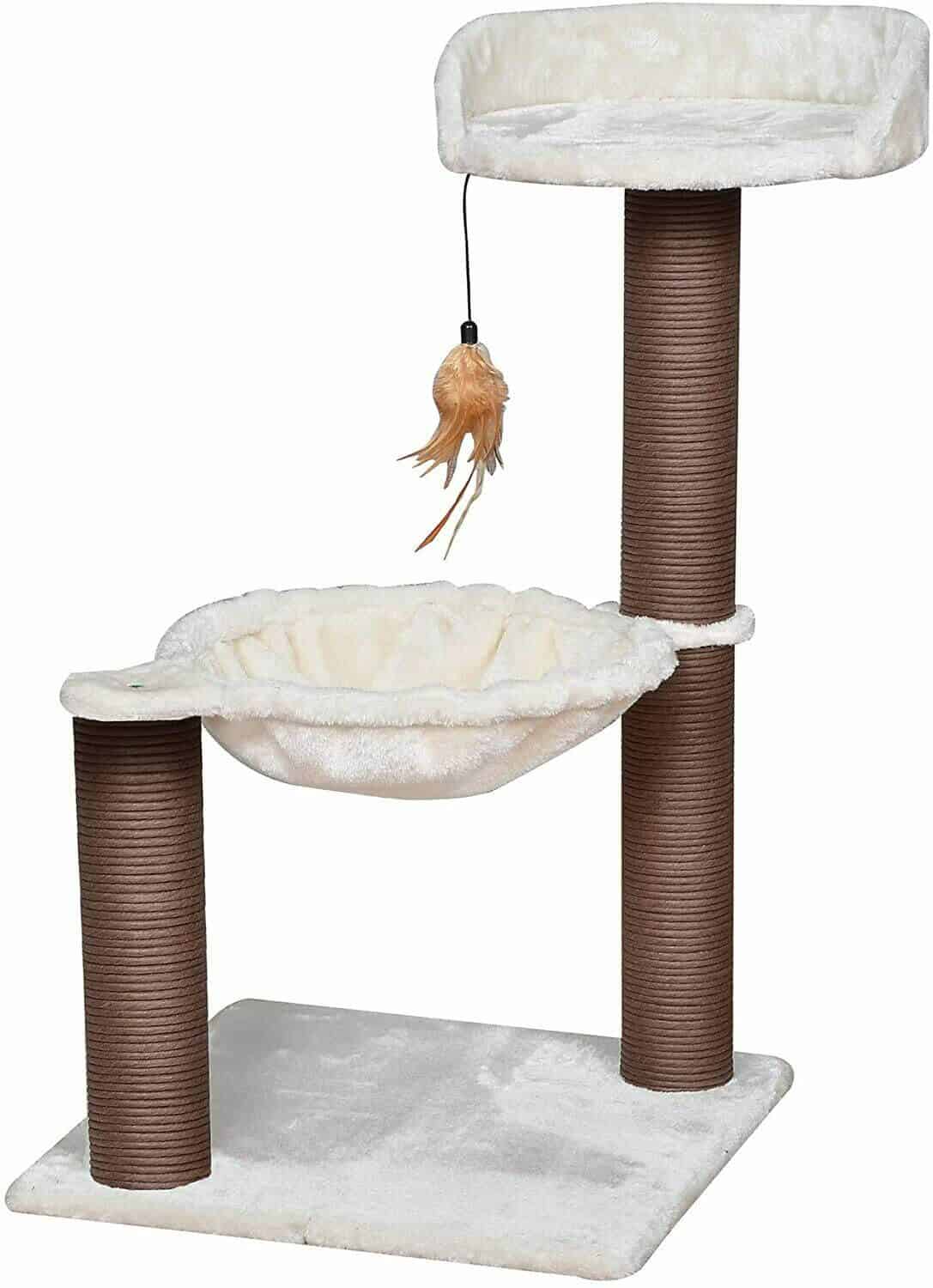 Give your cats something to keep them occupied and entertained for hours as this scratching post offers a lot of fun. This can be the relaxing and fun spot for 2 cats as it features a bed and a hammock where your cats can snooze while quietly watching everything.
Assembly is needed, but this scratching post comes with all the necessary tools and assembly instructions. The base measures 19X15 inches and will stay stable as your cats play and scratch their nails.
The longer post measures 28 inches high, and both beds are 12 inches wide, providing enough room for your cat. If you have one kitty, they will love to jump from one bed to the other. This scratching post satisfies the cat's natural instincts to climb, jump, and scratch, while protecting your upholstery and carpets from their sharp nails.
At the same time, it comes with a dangling feather that your kitty will chase for hours, keeping them occupied. This 3-level play station is covered with warm fleece, and the posts are covered with natural paper rope. It's recommended that you use this post for smaller cats because it's not tip-proof.
What We Like
Play station for 2 cats
Features a bed and a hammock
Covered in fleece and paper rope
Satisfies the cat's natural instincts of jumping, climbing, chasing objects, and scratching
What We Don't Like
Not recommended for bigger cats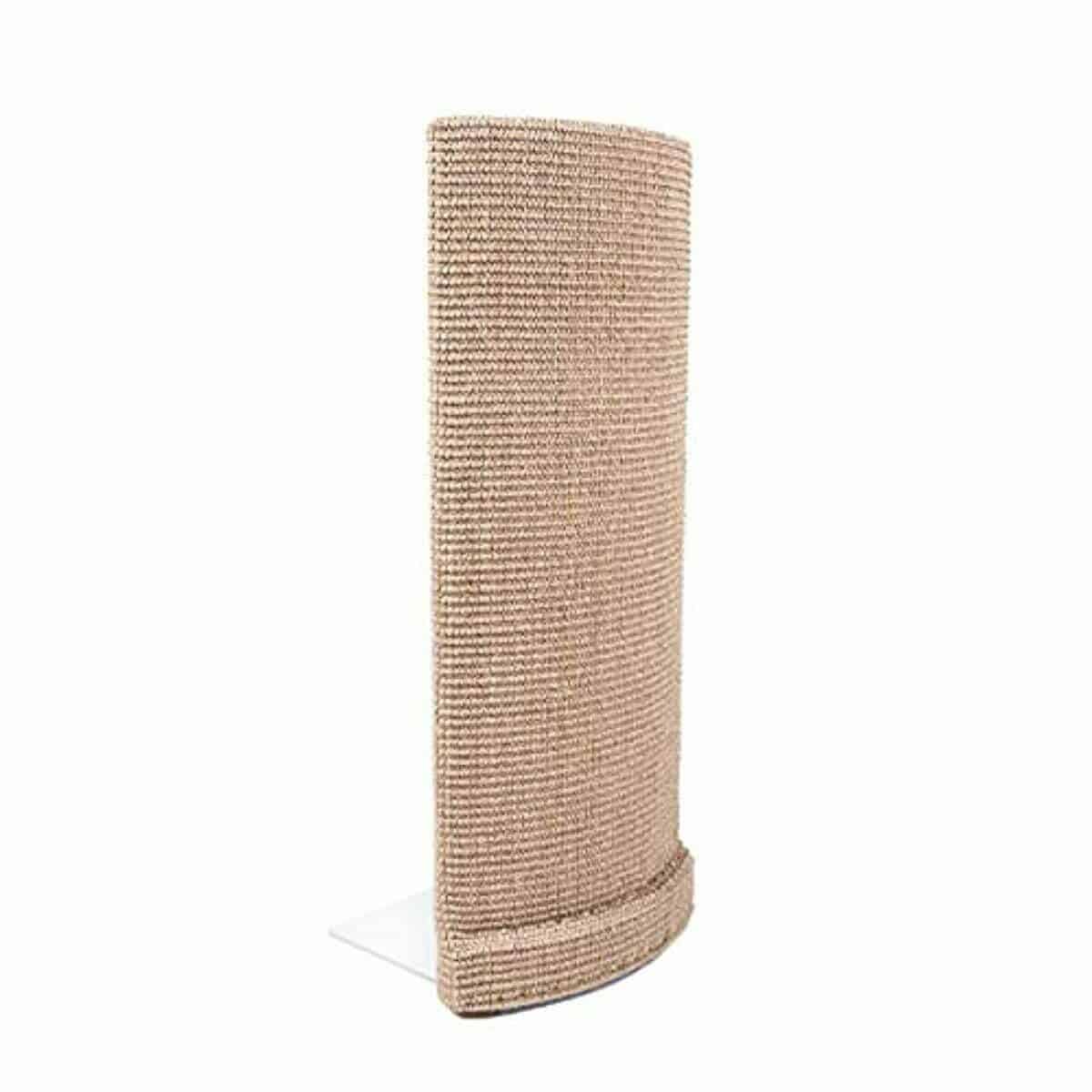 If you can't tempt your cat to stay away from your furniture, you can install this scratching post to the couch's side. It protects the surface of the sofa from scratches that tear the fabric, and at the same time, keeps the kitty entertained because they're used to this spot.
The post is 10 inches wide and 24 inches high, so it will keep your couch protected. It features an ultra-thin base that can be placed under the sofa's legs to keep it stable. The post is covered with sisal fabric that your cat will absolutely love. The back of the post is covered with felt to protect the surface of your sofa or couch.
You won't spend much time installing this post because it comes with 3 easy to secure screws. It comes in several colors, so you can choose the one that matches your furniture. However, it won't work with all couch and sofa designs, as the surfaces might not align.
What We Like
Allows your cat to scratch at their favorite spot
Ultra-thin base that stays under the legs of your sofa or couch
Back is covered with felt to protect the surface of your furniture
Easy to install
What We Don't Like
Doesn't fit all sofas or couches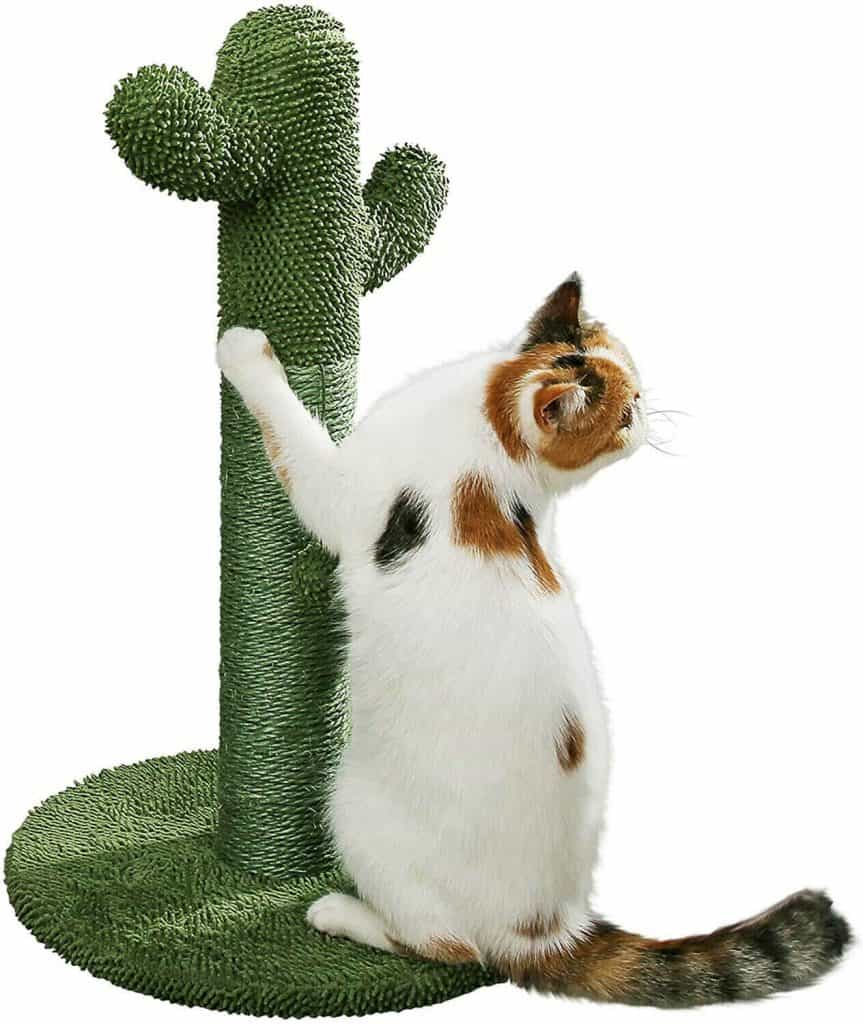 This scratching post will be your cat's favorite playing station, but will also be an interesting piece to add to any room because it looks like a cactus. The post is covered with sisal rope to encourage your kitty to scratch the post, instead of scratching your furniture and carpets.
It has a small footprint and is relatively easy to assemble, so you can set it up in no time. The platform is stable enough for your kitty to play and climb.
There's a hanging ball that provides your enthusiastic cat with hours of fun. The whole construction helps your cat satisfy their natural instincts of climbing, scratching, and chasing objects. The post measures 25.6 inches high, so it works for most cats.
However, the scratchable part covers only half of the tree. This post isn't suitable for larger cats.
What We Like
Looks like a cactus
Has a small footprint
Easy to assemble
Features a dangling ball for more fun
What We Don't Like
Not suitable for larger cats
The scratchable part covers only half of the post
Why Do You Need to Buy a Scratching Post for Your Cat?
Although you love your pet, there are certain things that your cat might do but would drive you mad at times. One of them would be scratching carpets, furniture pieces, bedding, rugs, and curtains. You love to see your cat having fun, but damaging your furniture can be a real problem. Cats scratch different objects for several reasons.
Cats love to play by scratching different surfaces.
Cats scratch various surfaces to sharpen their claws and remove the old layer of worn and frayed claws.
They stretch their bodies while scratching, so their bodies feel healthier when they scratch.
Cats intuitively scratch surfaces to mark their territories. This is common when there are multiple cats in the house.
If your cats are competing with each other, they will scratch surfaces to send a warning signal to the other kitties.
You can't and shouldn't stop your kitty from scratching surfaces, but you can offer them a scratching post that they can scratch peacefully. Here are some benefits of buying a scratching post to file nails.
Kittens have a lot of energy, and a scratching post will allow them to channel this energy without destroying your furniture. Kittens can jump, stretch, and play so they can easily adjust to your home. They might be too stressed because they're not used to the new environment, and a post with dangling toys will provide hours of fun.
Without a scratching post, cats will scratch anything they can get. This will include rugs, carpets, curtains, bedding, and furniture. If you buy a scratching post and use treats and toys and lure your kitty into playing with it, you will save a lot of money that you would spend on maintaining and replacing your valuable furniture.
A scratching post is good for your cat's health because it will help them keep their nails sharp. This resembles the cat's natural behavior in the wild, so it will improve their physical and emotional well-being.
Cats will also stretch as they play with the post and any toys that come with it. If there's a bed or a hammock, your cat will love to sleep and snooze in their special spot without being disturbed.
Cats don't leave the house as much as dogs. Although you might take your dog for a walk every day, your cat might spend most of the day snoozing and relaxing at home. The scratching post provides them with enough physical stimulation to keep them healthy.
Cats can be stressed or anxious for different reasons. Scratching is an intuitive behavior that helps them to deal with their anxiety and soothes discomfort or fear.
If you have multiple cats in the house, a scratching post might give them the opportunity to interact and play together. All cats love to scratch and play, and they will interact with others while doing so. If your cats are too competitive, you might want to get them multiple posts to prevent them from fighting.
How to Choose the Best Cat Scratching Post to File Nails
There are lots of good scratching posts on the market, and choosing the right one for your kitty will guarantee that they won't be interested in ripping your furniture or rugs. Here are a few things to think about before picking the best scratching post to file nails.
Size
Scratching posts come in different heights. Longer posts are more suitable for bigger cats because they will allow them to fully stretch their bodies. If you have a cat that loves to jump, you need to make sure that you have picked a post that is long enough for them.
Most posts can work for kittens and medium-sized cats. If there's a hammock or bed at the top, you need to make sure that your cat is able to reach it; otherwise, they will be extremely frustrated.
You should also pay attention to the size of the base that keeps the post in place. A bigger base guarantees that the post will be stable. However, if you don't have enough space to set up a big scratching post, you need to look for a model that has a small footprint.
Moreover, you need to check the diameter of the post as this refers to the surface area available for scratching. If you have multiple cats, you need to make sure that there's enough room for each one of them.
Material
Scratching posts are usually made of rough woven jute fabric that will tempt the cat to scratch. Natural fibers are more desirable because they are safe for your cat and won't have a chemical smell that might put off your kitty. In most cases, these natural fibers come in a neutral earthy color, so they will fit any décor.
Sisal ropes are also quite common, and cats love to play with them. However, they're less durable than rough fabric and might slide up or down if they're not properly glued to the post.
The post's base can be covered in felt or fleece to give your kitties a soft and plush surface that they can play with. In some cases, it can be made of plastic and will only stabilize the post.
Assembly
You need to pick a scratching post that is relatively easy to put together. Look for a good model that comes with all the needed screws and instructions for installation. If you feel that your post is still flimsy, you might need to add a few more screws.
If you have a naughty cat or multiple cats that usually compete over the scratching post, you might want to choose a wall-mounted model. This will be stable enough and won't move even if your kitty gets too enthusiastic while they're playing vigorously.
Safety
Picking a cheap post without paying attention to the quality of material can be a serious hazard. Some materials can cause snagging and will hurt your cat if the frayed ends of their claws get accidentally trapped in the fibers. This will cause the cat a lot of discomfort and pain and might put them off from using the post later on.
In severe cases, the whole nail might be removed. This is an extremely painful experience for your kitty, and you will need to head to the vet to make sure that your cat is alright.
FAQs
1. Should you Punish a Cat for Scratching Furniture?
No, you shouldn't. It's quite normal for cats to scratch different surfaces to relieve stress or sharpen their nails.
Some people try to fix this problem by punishing their cats, and their pets never react positively towards negative behavior. As a matter of fact, this can traumatize your cat and make them extremely distressed. Moreover, it makes the problem worse.
Other people send their cats outside to scratch the ground. They might be relieved, but house cats are subject to a lot of dangers when they're outside. Declawing is another practice, which is considered to be a crime. It's like the amputation of your cat's digits, and it's extremely brutal.
Instead, you should buy a scratching post to protect your furniture from ripping. There are several good models on the market, and you can choose a suitable one to keep your kitty entertained.
2. Why Is My Cat Scratching Too Much?
Your cat might be excessively scratching if it's too stressed. Cats usually scratch furniture, carpets, and other surfaces, but if you feel that they're doing this too much, then you need to keep an eye on their diet and behavior.
3. How to Encourage Your Cat to Use the Scratching Post?
If your cat has been scratching furniture for a long time, they might not be interested in the scratching post. However, there are a few things that you can do to encourage them to use the scratching post.
Place the post in a place that your cat is familiar with. Choosing the right spot will encourage the cat to climb and play with the post.
If your cat has a favorite toy, place it next to the post. Cats are curious, and your kitty is likely to explore the scratching post.
You can use catnip to scent the scratching post. Cats are always attracted to catnip, and this will encourage them to explore the scratching post and play with it.
Discourage your cat from scratching furniture by covering the exposed parts with double-sided duct tape. Place a scratching post next to your cat's most favorite spot.
Wrap Up
You can't stop your cat from scratching, but you can help redirect this behavior to control damage towards your furniture, carpets, and curtains. We chose the SmartCat Pioneer Pet Ultimate Scratching Post as our top pick because it's designed to last for a long time. The post is long enough to accommodate a bigger cat. It's easy to install and will stay in place, so you can rest assured that your kitty will be safe while having fun.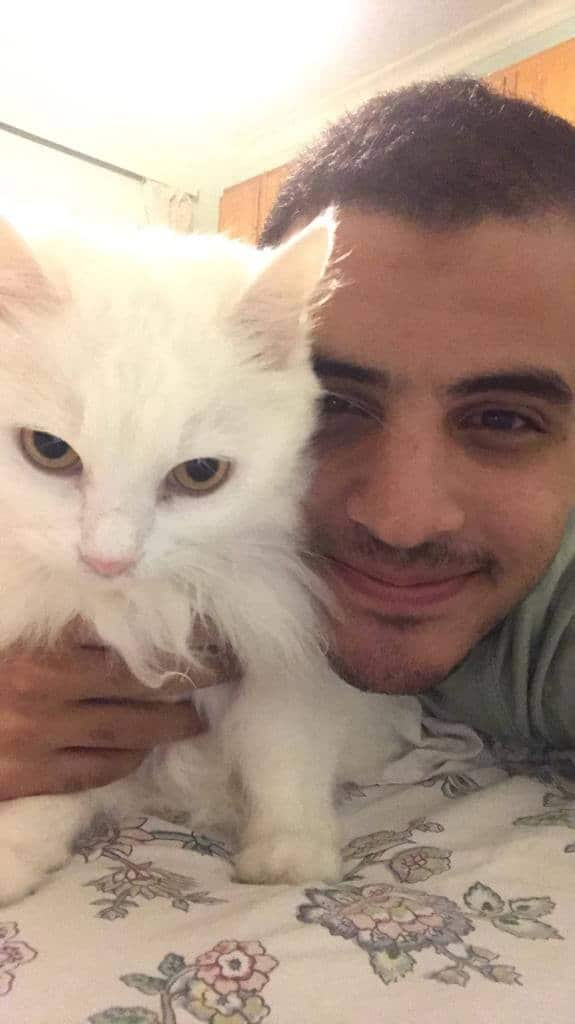 I've been living with cats since 2008 and I can confidently say I have more feline friends than humans lol. I currently live with 5 cats in different life stages; two of them are less than one year old, one is 2-ish years old and the oldest two are 9-ish years old. I've developed a strong bond with cats over the years and I'm eager to share my experience through this blog. You can learn more about my cats here.