Disclaimer: Some of the links in this article may be affiliate links; we will earn a commision, at no additional cost to you, if you make a purchase through one of our links.
We all know how frustrating it can be to clean after our pets, especially when it comes to hair. The fur gets everywhere, and even vacuums have a hard time getting rid of it.
If you're looking for a solution, you've come to the right place. In this article, we'll walk you through the best Moosoo cordless vacuum for pet hair.
Let's take a look at some of the available models and their features.
| Image | Product | Detail | Price |
| --- | --- | --- | --- |
| | Moosoo K3 Pro | | Price |
| | Moosoo XL-618A X6 Red Stick | | Price |
| | Moosoo M8-Plus | | Price |
Choosing the Best Moosoo Cordless Vacuum for Pet Hair
There are hundreds of cordless vacuums on the market. To help you decide which one is best for you, there are a few features you should be aware of.
Vacuum Type
When picking out a vacuum, there are a few types to choose from. That includes:
Canister
Upright
Handheld
Smart
Canisters are arguably the most common type of vacuum. These models have a separate tank that houses the motor and dustbin.
A close second in terms of popularity is the upright variety. This device is slightly lighter than the canister option but can deliver just as much power.
Moving on, the handheld iteration is the miniature version of the upright vacuum. That makes it ideal for cleaning small spaces on the go.
Finally, the smart, or robot option doesn't need any help from the user to clean. As soon as you power it on, the device will run around the house and pick up dust.
Typically, the best type for removing pet hair is the upright option. It provides excellent suction and is nimble enough to maneuver easily.
Size and Weight
Cordless vacuums come in a wide variety of sizes. Generally, the heavier a device is, the more power it can deliver.
Although, as the mass increases, the operation becomes a little challenging. You won't be able to pick up the gadget or move it from one place to another easily.
This will also come into play with storage. How big your vacuum can be will depend on how much space you have in your house.
That means you need to find a happy medium between power, size, and weight.
Battery Runtime
With any cordless device, battery capacity is crucial. This will determine how often you need to charge your vacuum.
Most of the time, people can take anywhere between 20 and 60 minutes to clean a space. Therefore, you have to ensure that your vacuum can last at least that long.
Other than that, it's also a good idea to check out how the gadget replenishes its power store. For example, there are a few models that rely on wall mounts to charge.
On the other hand, some vacuums use a simple cord. So, make sure to pick a vacuum that matches your preferences.
Recommended: The best Tineco cordless vacuums on the market
Dustbin Capacity
We all know the struggle of having to empty out the dustbin in the middle of vacuuming. It takes you a few minutes to unlatch the tank.
Then, as you tip the debris out, half of it goes flying everywhere.
To make your life slightly easier, it's best to skip this process completely. You can do that by choosing a dustbin capacity that works for you.
That way, you only have to clean the vacuum after you're done with the house.
Engine
When picking out a vacuum, you have to inspect the motor. This will tell you how much power the device consumes and the suction force it can create.
Power consumption is crucial if you're on a budget. High-energy motors can run up your electric bill in no time.
Other than that, the suction force will determine the reach of your vacuum. Usually, a higher number indicates that the device will be able to clear up hair and dust faster.
5 Best Moosoo Cordless Vacuum for Pet Hair
Now that you have a little background, we can take a look at some of the devices on the market. Let's dive into some of the most popular Moosoo cordless vacuums.
Top Pick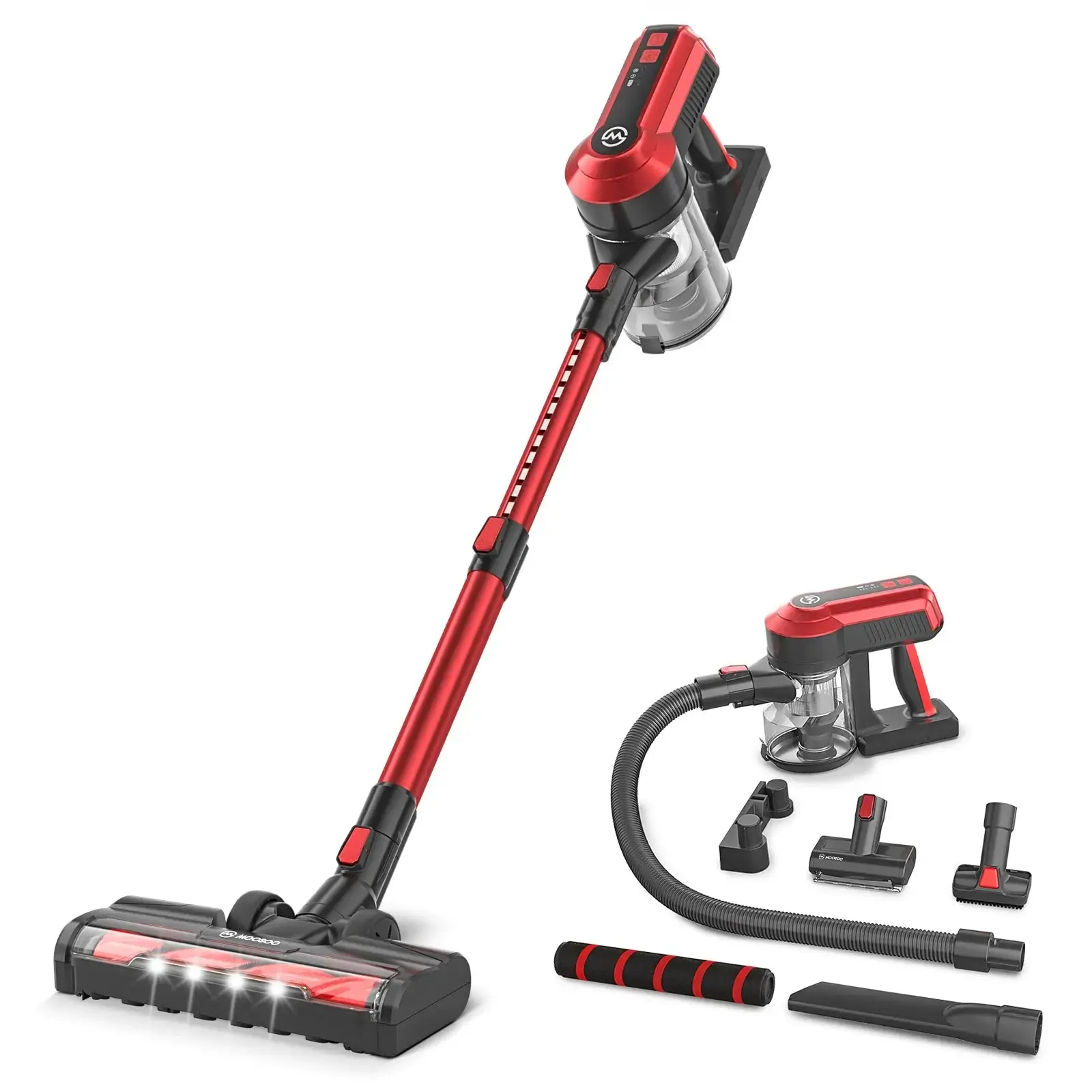 Specifications
Length: 29.92 in.
Width: 12.99 in.
Height: 5.91 in.
Weight: 5.28 lb.
Type: Upright
Motor power: 300 W.
Suction power: 23 KPa.
Tank capacity: 1 L.
Battery runtime: Up to 35 minutes
Pros
Incredibly powerful motor to suction hair with ease
Comes with two attachments that can reach tough spots
Easy to disassemble for cleaning
Cons
Operation is a little noisy
Reassembly can be tricky at first
Overview
Our top pick is the Moosoo K3 Pro. The company designed this device specifically for pet hair. So, it comes with a few special features that help it do its job.
Right out of the box, you get the device and two attachments. These accessories will make it easier to reach tight spots, like under furniture.
On top of that, with a 300-watt motor, this vacuum should have no issues capturing all the flyaway fur.
The K3 Pro also comes with a wall mount to ensure the device doesn't take up much room. All you have to do is attach the device to the dock to store it.
Moving on, if you inspect the main brush, you'll find dual rollers inside. These can glide on top of any surface with ease.
Plus, they're removable, which makes untangling loose hair simpler.
While removing the rollers may be a piece of cake, putting them back in place is a bit more challenging. It can take some time to figure out where each part goes and how they fit together.
Besides that, the battery runtime is average compared to other models.
Runner-Up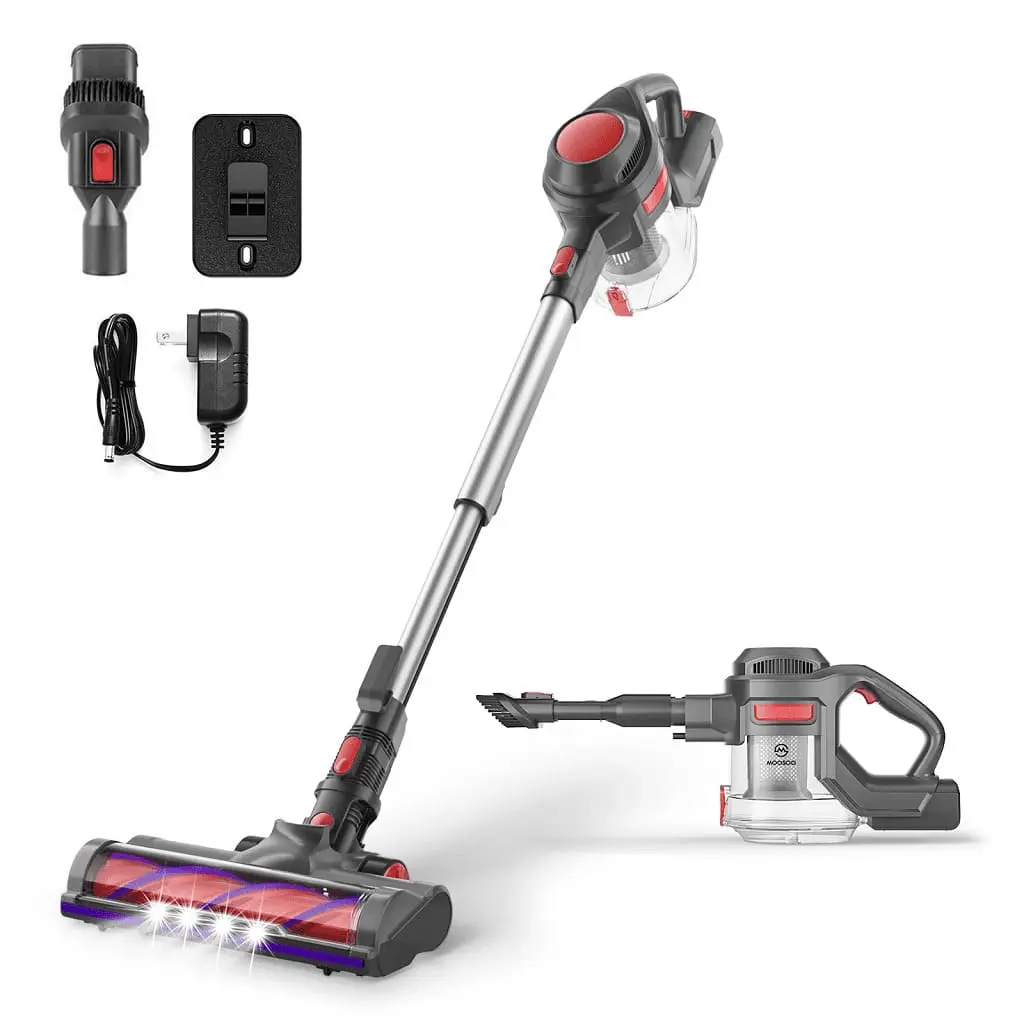 Specifications
Length: 44.1 in.
Width: 9 in.
Height: 10.2 in.
Weight: 3.3 lb.
Type: Upright
Motor power: 120 W.
Suction power: 12 KPa.
Tank capacity: 1.3 L.
Battery runtime: Up to 35 minutes
Pros
Comes with a powerful brushless motor that's almost completely silent
Has a large tank to collect a lot of hair and dust at once
Includes a filtration system to purify the air
Cons
Quick charge time is around five hours
Doesn't come with any accessories
Overview
The Moosoo XL-618A is one of the best-selling options on the company's website. That's because this device comes with all you need to get rid of pet hair in a flash.
For starters, the vacuum has a 120-watt brushless motor. Not only can this engine supply plenty of power, but it's also virtually silent.
This makes cleaning around your furry friends a breeze.
In addition, the XL-618A comes with a giant 1.3-liter tank. That means you should be able to vacuum all the fur in the house without emptying the dustbin.
Another impressive feature is the Cyclone filtration system. It can help purify your air as you vacuum.
For that reason, the XL-618A is especially useful for people with allergies.
Sadly, the downside to this gadget is the charging time. It needs about five hours to fill up the battery reserves but only runs for around 35 minutes.
This means it'll struggle to clean large spaces on one charge.
Best Budget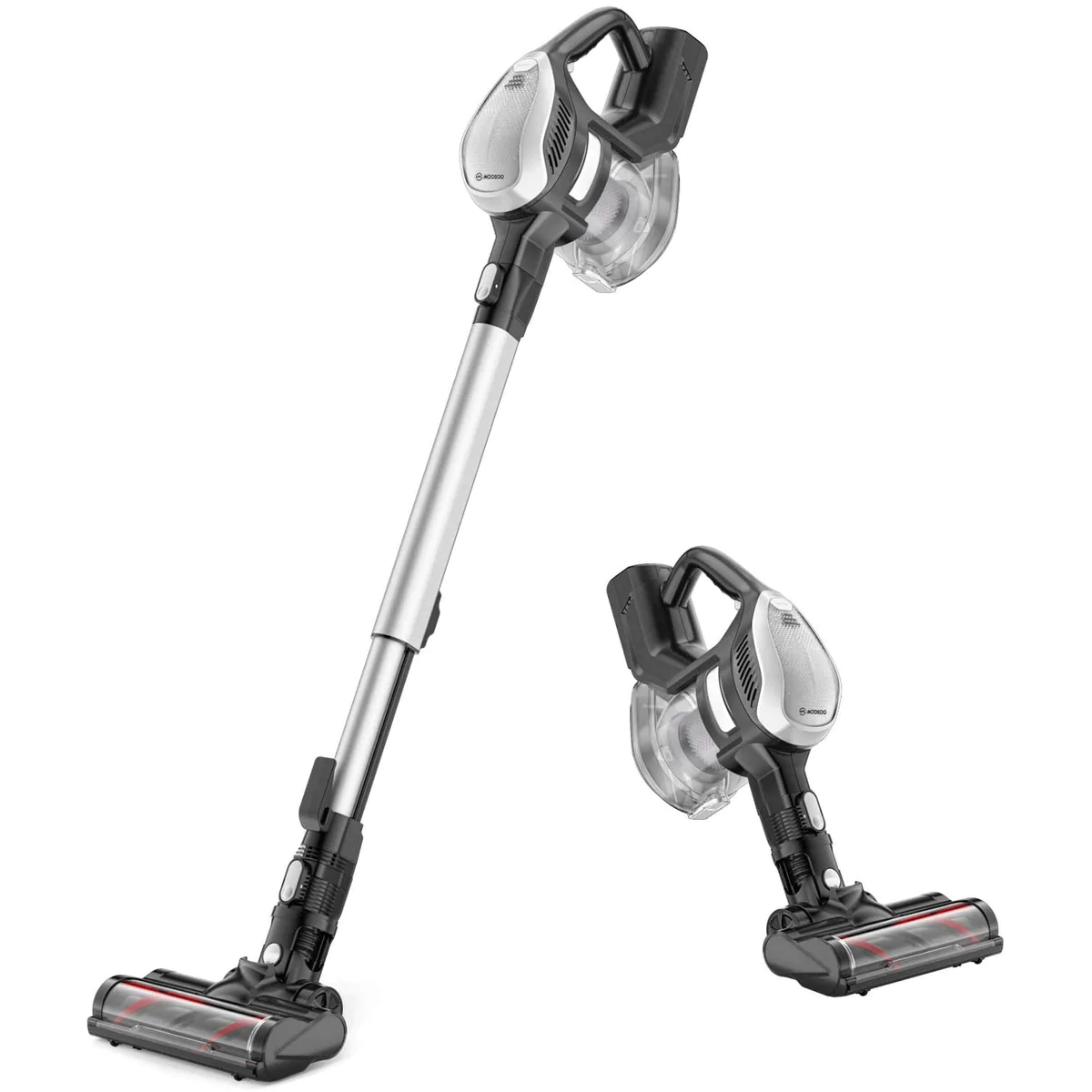 Specifications
Length: 17.32 in.
Width: 12.99 in.
Height: 7.48 in.
Weight: 5.18 lb.
Type: Upright
Motor power: 150 W.
Suction power: 14 KPa.
Tank capacity: 1.2 L.
Battery runtime: Up to 30 minutes
Pros
Turbine brush can untangle pet hair while you vacuum it
Excellent motor with powerful suction
One of the most budget-friendly devices on our list
Cons
Slightly heavy, which makes carrying it around difficult
Comes with a basic HEPA filter
Overview
If you're on a tight budget, check out the Moosoo M8-Plus. It's one of the most affordable models on our list, yet delivers excellent performance.
The M8 boasts many features that make it stand out. For example, it comes with a turbine brush that spins around when the vacuum is on.
This allows the device to untangle pet fur automatically as you collect it. Other than that, the rollers can rotate freely to make maneuvering easier.
At first glance, you'll notice that it's similar to the XL-618A. Both of them have comparable motors and suction power.
That said, there are quite a few differences.
For starters, the M8 comes with a standard HEPA filter instead of the Cyclone system. That means this device may struggle with purifying the air.
In addition, the M8 is slightly heavier, so carrying it around may be a little challenging.
Best Handheld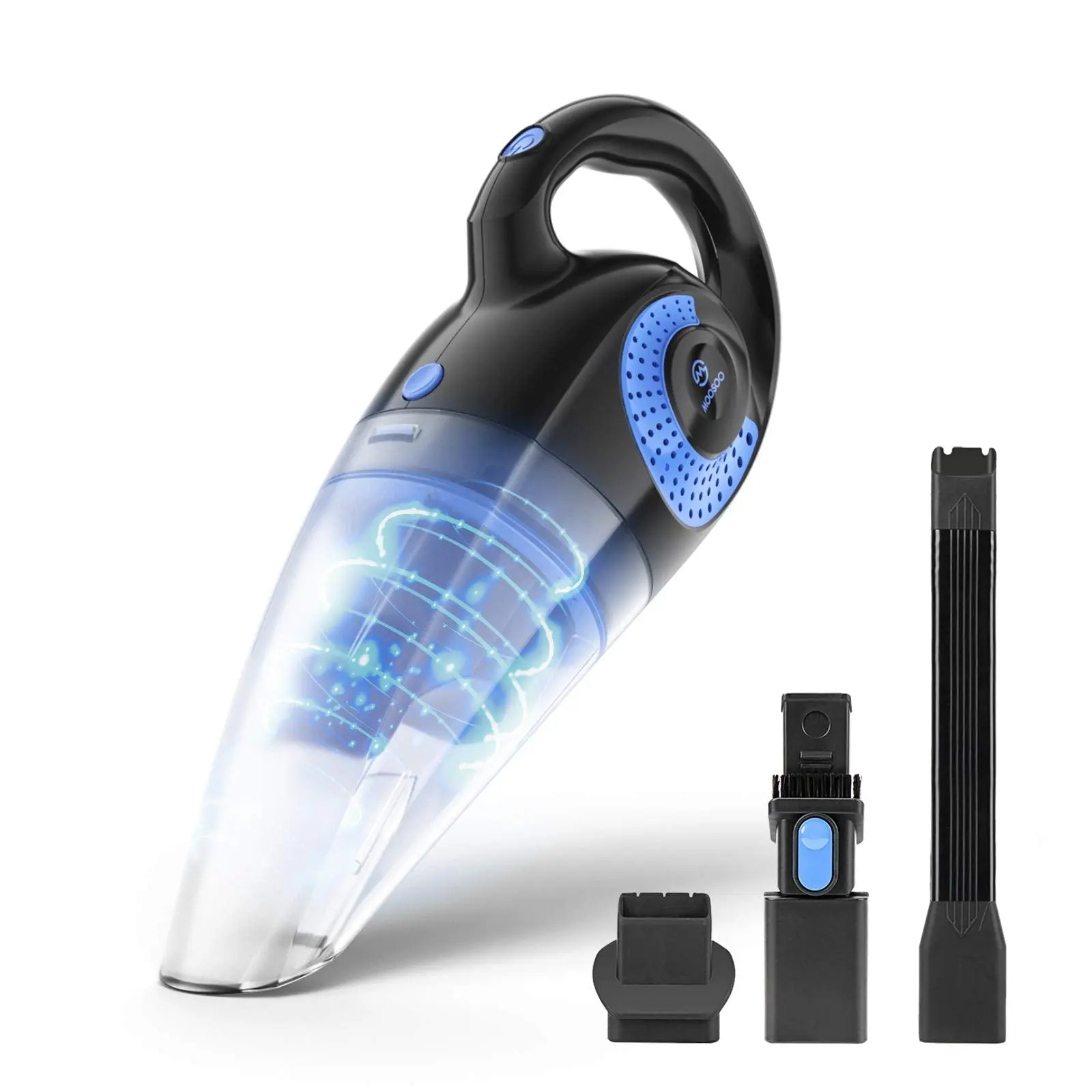 Specifications
Length: 15.8 in.
Width: 14.4 in.
Height: 5.8 in.
Weight: 3.5 lb.
Type: Handheld
Motor power: 80 W.
Suction power: 8.5 KPa.
Tank capacity: 0.45 L.
Battery runtime: Up to 25 minutes
Pros
Small size makes it convenient for everyday use
Can perform similarly to other more powerful devices
Incredibly durable and can handle plenty of wear and tear
Cons
Small tank capacity, so you may have to empty the dustbin often
Battery life is short compared to other handheld models
Overview
If your pet sheds often, an upright vacuum isn't ideal. Having to bring out a large device every day may be inconvenient.
In that case, you may want to try a handheld model, like the Moosoo M4. As the name suggests, this gadget is small compared to the others on our list.
However, it still packs quite a punch. Even though the motor isn't as powerful as the XL-618A, the suction power is similar.
That means both devices can perform on the same level.
Other than that, because of the small frame, the M4 is incredibly easy to carry around. You can reach tough spots and even take the vacuum with you when you travel.
Unfortunately, this gadget has a tiny dustbin. So, you may have to empty the tank a few times as you clean.
On top of that, the M4 can only run for a maximum of about 25 minutes.
Best Upgrade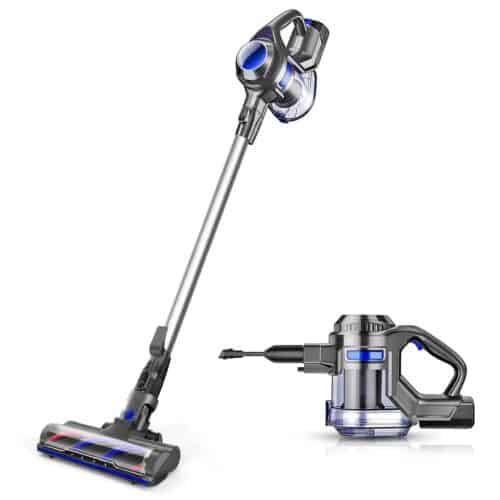 Specifications
Length: 17.4 in.
Width: 11.6 in.
Height: 7.1 in.
Weight: 2.83 lb.
Type: Upright
Motor power: 200 W.
Suction power: 23 KPa.
Tank capacity: 0.5 L.
Battery runtime: Up to 30 minutes
Pros
Brush LEDs make it possible to see what you're cleaning
Comes with both HEPA and Cyclone filters
Works on almost any surface
Cons
Smaller than average tank capacity
Slightly pricey and may break the bank
Overview
When in the market for an upgraded vacuum, you may want to check out the Moosoo K17G. This is one of the most advanced models on the company's roster.
It comes with an electric floor brush that has built-in LEDs. The operation of this component allows the device to work on almost any surface.
That includes hardwood floors, tiles, and even carpets. In addition, the brush rotates all the way around to make reaching tough spots possible.
Other than that, the LEDs light up the area around the brush. That way, you know exactly what you're vacuuming up as you clean.
To top it off, the K17G has both Cyclone and HEPA filters to keep your house and the air clean.
Sadly, the main disadvantage of this device is the minimal tank capacity. Although, with the quick-clean feature, this shouldn't be much of an issue.
To empty the dustbin, all you have to do is push a button.
FAQs
Are Moosoo Vacuums Worth The Investment?
Moosoo vacuums are some of the most sophisticated devices on the market. They come with many features and at a reasonably affordable price.
In addition, they tend to be lighter than most other brand-name vacuums.
How Long Do Moosoo Vacuums Last?
On average, a Moosoo vacuum can function perfectly for a few years. Although, many people have complained about the charging element faltering early.
Luckily, the company offers extended warranty and replacement components.
What's The Best Way To Store Moosoo Vacuums?
Ideally, it's best to use the wall mount that comes with your Moosoo vacuum. If that's not an option, then pick a room that's dry and away from the sun.
This will ensure that the device stays intact for as long as possible. An empty closet should do the trick.