Disclaimer: Some of the links in this article may be affiliate links; we will earn a commision, at no additional cost to you, if you make a purchase through one of our links.
Every pet owner knows that cleaning after your pet is a must. But pet hair is sometimes impossible to remove. It sticks to the furniture, rugs, and curtains. Pet hair can cause allergic reactions and make you feel that the house is never clean even though you've spent a significant amount of time wiping every corner.
This is why you should buy the best cordless vacuum for pet hair. It will allow you to reach all the crevices and hidden corners where the pet hair is likely to pile up.
In this article, we'll review some of the best vacuum cleaners that can help you maintain the cleanliness of your household, and we'll share tips for choosing the most suitable model.
Best Cordless Vacuums for Pet Hair on The Market Right Now
No matter what you do, pets will shed hair and getting rid of this hair is a challenging task. A reliable cordless vacuum will help make your job easier. Here are our top picks.
If pet hair is hard to get rid of, then you should consider this cordless model from Dyson. It features stiff nylon bristles that drive deep into the rugs to catch all pet hair and dust particles to keep your house clean.
Switching between tools is never a problem as it features a 2-in-1 cleaning tool so you can easily clean multiple surfaces. Moreover, there's a soft brush that you can use to remove dust and pet hair off your laptop, TV, and other hard surfaces.
The mini motorized tool is the right one to use if you want to clean pet hair and dust off tight places and the crevice tool is what you need to clean around the gaps and corners. There's a docking station that allows you to easily store and charge the cleaner so it's always ready for use.
Using a single click, you can change this vacuum cleaner into a handheld device to clean above cupboards. However, this model isn't as lightweight as other models on the market as it weighs 5.28 pounds.
Check out our favorite Tineco cordless vacuums that are perfect for pet hair.
No need to touch the dirt as you empty the dirt bin. The vacuum cleaner requires charging for 3.5 hours to clean for up to 30 minutes, making it a suitable cleaner for bigger households. It works up to 6 minutes using the maximum cleaning power for thorough vacuuming.
This machine doesn't suit users who are on a tight budget as it's more expensive than other models on the market. No button would keep the vacuum on until you're done cleaning, which means that your hand might get sore while using it.
Pros
Stiff nylon bristles for hard to reach pet hair
2-in-1 tool to switch between surfaces
Mini motorized tool and crevices cleaning tool for corners
Can be transformed into a handheld device in a single click
Cons
Can strain the arm because it's a bit heavy
More expensive than other models
Dyson designed this vacuum cleaner for people who value powerful suction over anything else. It runs longer than most models on the market and features 3 power modes for more versatility. This is a suitable cleaner for a big household with several pets that shed hair all the time.
Thanks to the improved motor, this cleaner will remove 25% more dust particles and pet hair than previous models offered by the same manufacturer. The soft roller cleaner is gentle on hard floors and causes no damage, while the static carbon fiber filaments remove the finest particles of dust and pet hair for thorough cleaning.
Although this is a small appliance, the powerful motor spins at 125,000 rpm resembling a strong motor of a full-size vacuum cleaner. Using a single button click, you'll be able to transform it into a handheld model to clean the car interior or anywhere where you'd like to get rid of the annoying pet hair.
After charging it for less than 4 hours, the cleaner will work up to 60 minutes in the standard mode and up to 40 minutes using the soft cleaner head in suction mode 2. Once you're done, it's easily dropped into the wall-mounted dock where you can recharge your cleaner and store it for the next cleaning session.
The bin size is large, saving you the hassle of regular emptying while you're still cleaning the house. The cleaner comes with a special crevice tool for tight corners and a mini soft dusting brush for expensive and delicate surfaces.
It weighs 5.88 pounds so it might strain your arm if you're trying to clean above cupboards and shelves. It's more expensive than other models on the market.
Pros
Powerful motor with 3 suction modes for versatile cleaning.
Up to 60 minutes of cleaning.
Soft roller cleaner to remove the finest debris.
Big dirt bin.
Cons
Expensive model.
Heavier than other models.

If you don't have lots of storage space, then you'll probably appreciate the foldable design of this cordless vacuum cleaner from Shark. It provides flexible reach to the most challenging spots under the beds, couches, and cupboards, and then folds easily for convenient storage once you're done.
It features the dual cleaning technology that combines the power of stiff bristles and a soft roller to remove big and small particles off multiple surfaces. This cleaner will help you get rid of stubborn pet hair in your rug, as well as dust and other particles that accumulate on your hard floors and tiles.
Unlike other models, you won't have to stop and recharge your cleaner. It keeps on charging the extra battery while you're cleaning so it's a great option for people who have bigger households or need a vacuum cleaner that lasts for long. However, it comes with a rather hefty price tag.
Thanks to the free-standing technology, this vacuum cleaner will maintain an upright position wherever you choose to leave it, even when the battery is charging somewhere else. However, the battery runs for only 11 minutes on maximum power and 23 minutes in extend runtime mode.
This cleaner can be extended to clean above the floor but it will most probably strain your hand as it weighs 8.7 pounds. You can bend the wand to access hard to reach spots under different pieces of furniture to guarantee that you've cleaned every spot in the house. Moving it backward is a bit difficult, especially when you're using it to clean carpets and rugs.
Using a straightforward button, you can change the cleaning mode on this user-friendly vacuum. Cleaning the heads and the wheels using a pair of scissors is necessary as the pet hair is likely to get tangled on them.
Pros
User-friendly machine with multiple cleaning options.
2 rechargeable batteries.
Foldable design for easy storage.
Dual cleaning technology for floors and carpets.
Wand can bend to reach under pieces of furniture.
Cons
Heavyweight model with a high price tag.
Low run time.

For those on a tight budget, Shark offers this corded model so you can keep on cleaning without running out of charge. The dual brush roll allows for triple particle cleaning, so you can get rid of all the big and small particles. It's an excellent choice for removing pet hair as it never loses suction power.
This model deep cleanses your carpets using the bristles on the brush to remove the hard to reach pet hair. It also removes stuck-on debris to give your hard floors a polished finish. The cord length measures 30 feet, so it will probably reach every single corner of your house thanks to the long and practical cord.
It can be converted into a handheld vacuum cleaner. However, it weighs 9.9 pounds so it's not that lightweight or portable. On the nozzle, there are LED lights that help you locate the hidden debris so you can clean every spot in the house in no time.
There's a special pet multi-tool that is specifically designed to remove the stuck pet hair. It's easy to switch between different power levels and cleaning modes so you can clean every surface in the house. There's a long crevice tool with an attachment brush which will allow you to reach the toughest and most challenging corners.
Since this is a corded model, it lacks the versatility offered by other cordless models. It doesn't stand up on its own, so you'll need to find a suitable spot to store it.
Pros
Multiple power levels and cleaning modes.
Gets rid of all small and big particles.
Special tool for pet hair.
Long cord.
LED lights and a special tool for crevices.
Cons
Corded model.
Heavyweight and doesn't stand on its own.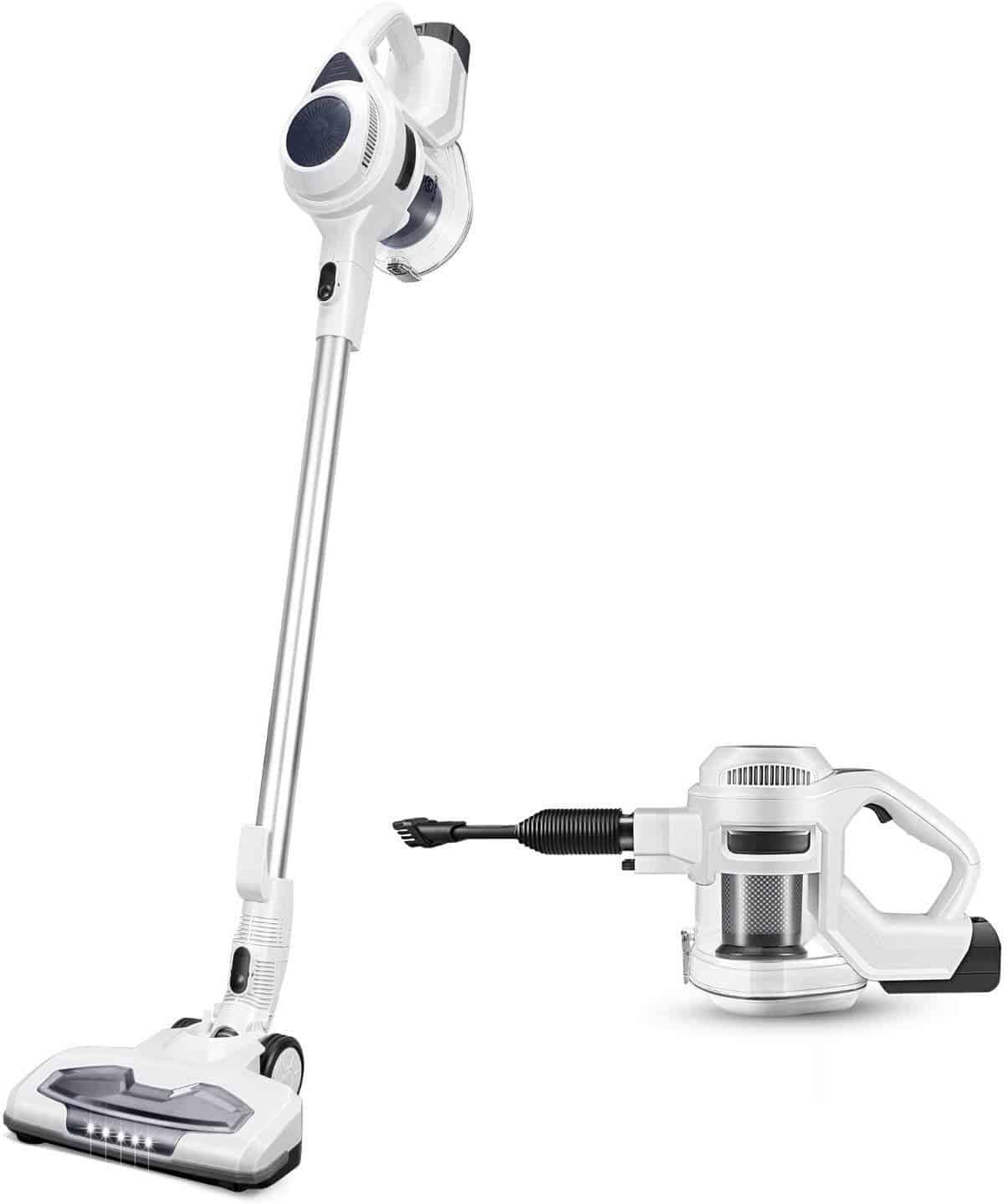 Moosoo offers another budget-friendly option with a brushless motor that lasts 150 hours longer than brushed motors, working for almost 800 hours. It features a rechargeable lithium battery that works up to 30 minutes of cleaning on a single charge with a suction power of 15 kpa.
The main body of this cleaner weighs 3.5 pounds so it's quite easy to maneuver, even if you choose to clean the ceilings and above cupboards. It's made of sturdy and lightweight aluminum alloy so it can withstand everyday use. This is a suitable tool for one-hand cleaning because it's user-friendly.
Related: The top Moosoo cordless vacuums on the market
You can take a look at the battery indicator to know how long your battery is going to last. You can also buy an extra battery to charge separately if you want to clean for longer.
It has LED lights so you can clean the dark and hidden places effectively. There's a washable HEPA filter that keeps your house clean but it should be replaced every 2 months. It catches 99.99% of all the allergens to prevent health issues.
There's a 2-in-1 cleaning brush to remove the smallest particles and pet hair. The cleaner comes with a soft brush for cleaning furniture and there's a special tool that cuts the trapped pet and human hair that wraps around the roller.
You'll have to hold the trigger to keep the vacuum going, which is a bit inconvenient, especially if you have to clean a big room. It can be wall-mounted, but it doesn't have a special tool for cleaning the tight corners.
Pros
Lightweight and affordable vacuum cleaner.
Convenient suction power up to 30 minutes.
Special soft brush for cleaning furniture pieces.
2-in-1 cleaning tool.
Special tool to cut the wrapped hair.
Cons
You'll have to hold the trigger to keep the vacuum cleaner going.
Doesn't have a special tool for crevices.
This is another practical option from Dyson that transforms into a handheld tool in no time. After recharging the battery for 3.5 hours, this machine will last up to 30 minutes. This cleaner features 15 cyclones arranged across 2 tiers to produce more air suction.
The head sits low so you can clean under pieces of furniture. You can empty the dust in a single hassle-free action so you won't worry about your hand getting in touch with the dirt.
In a minute, you can extend this machine to clean the vents, curtains, and above cupboards. Unlike other models, this one comes with 2 only attachments; one to clean hard floors and another for carpets. It doesn't have a special tool to clean the crevices.
It weighs 5.3 pounds and you can store it in the wall-docking station. However, with the high price of the vacuum cleaner, you should expect to receive more cleaning attachments.
You'll have to keep on holding the button to finish a single cleaning session, which will eventually put a strain on your hands. Your arm might get a bit sore if you use it to clean cobwebs in high corners because it's not as lightweight as other models on the market.
Pros
Powerful suction.
Lasts up to 30 minutes.
Emptying the dust bin is hassle-free.
Stored in the wall-docking station.
Cons
Doesn't come with multiple tools given its high price.
You'll have to keep on pressing the button to keep the cleaner going.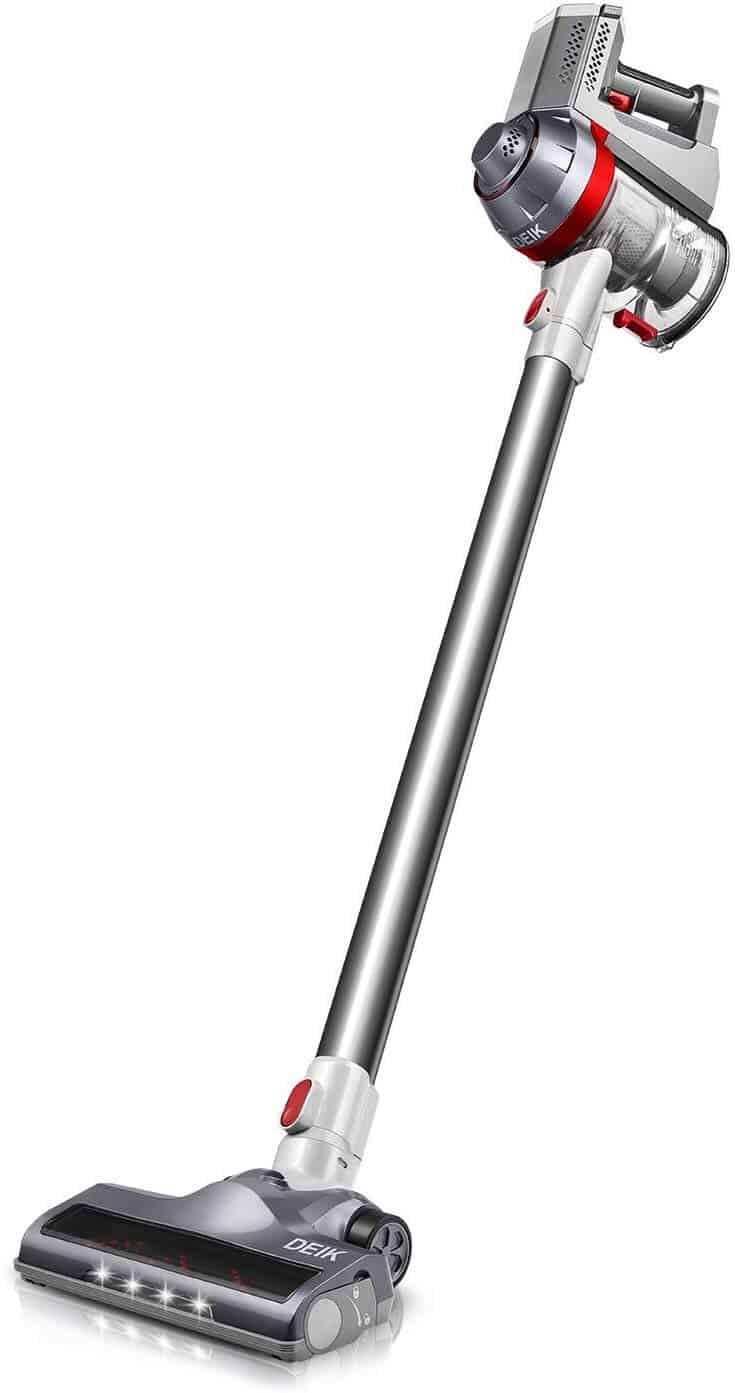 This cleaner from Deik comes at an affordable price to provide 25 minutes of cleaning. The suction power of 7 kpa is enough to pick up the dirt and pet hair off different surfaces in your house or car.
Versatility is guaranteed thanks to the practical design that allows you to clean all surfaces, in addition to walls and ceilings. The LED lights will help you locate the hidden dust particle and pet hair so you can clean the spots that you can't see in the dark.
Thanks to the 4-stage filtration system and HEPA filter, your house will always smell fresh and clean after you're done using the cleaner. It traps even the smallest particles to prevent allergies. After using the cleaner, you can hang all the tools on the wall mount for a clutter-free home.
It's made of corrosion-resistant aluminum and weighs about 3 pounds so you can use it as a handheld model for cleaning corners after buying the crevices tool. The trigger mode allows for quick cleaning and the continuous power keeps the cleaner working even if you don't press the button so it won't strain your hands.
You don't have to touch the dust while cleaning this machine. However, the dust bin is rather small so you'll have to empty it regularly. It's louder than other models on the market.
Pros
Portable and affordable vacuum cleaner.
Works on multiple surfaces.
Can be transformed into a handheld design to clean corners.
4-stage filtration system.
Continuous cleaning mode.
Cons
Louder than other models.
Dust bin is small.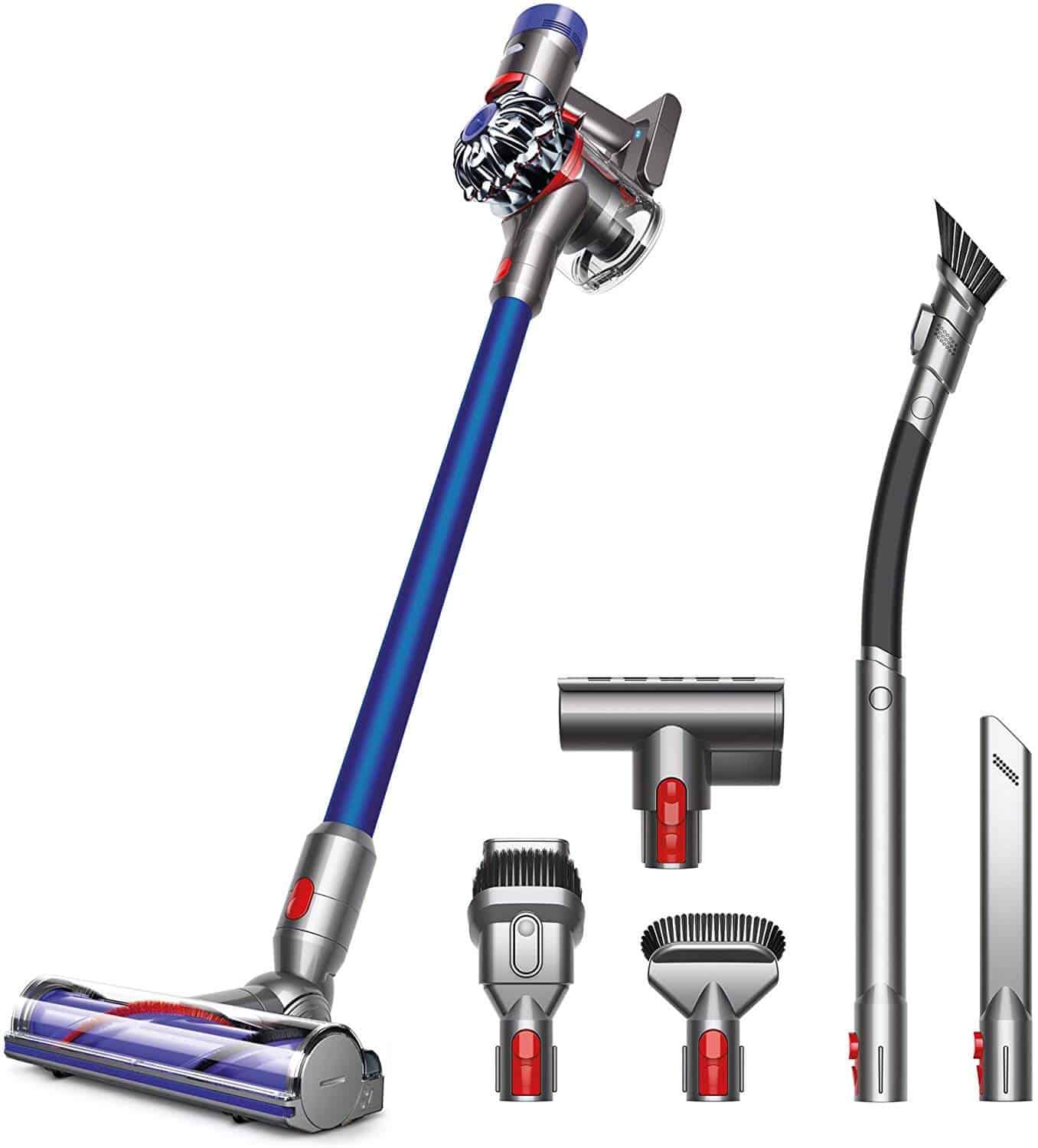 This upgraded model from Dyson comes with multiple accessories, allowing you to clean your home in no time. These include the mini motorized tool, flexi crevice tool, stubborn dirt brush, crevice tool, direct-drive cleaner head, combination tool, and docking station.
If you choose to use the maximum suction power, it will last for 6 minutes. It can run up to 30 minutes, but the time varies according to the suction power and attachments used.
Your appliance can easily be converted into a handheld model and the number of attachments gives you more versatility than most cleaners on the market. This vacuum cleaner will clean all types of surfaces, under pieces of furniture and above them to make sure that your house is dust and pet hair-free.
The mini motorized tool is specifically designed to target the pet hair that gets stuck to upholstery and piles up in tight corners. The hygienic dirt ejector allows you to empty the bin in a single click, while the filtration system will capture 99.97% of the allergens in the house.
You can use the stubborn dirt brush to target high-traffic rugs and carpets, while the direct-drive cleaner will remove the stuck and hard to remove dust particles and debris. The flexi tool bends so you won't miss any spot in the house.
When you're done cleaning, you'll use the docking station to store your cleaner and all attachments for future use. The vacuum cleaner isn't that portable as it weighs more than 11 pounds and comes with a high price tag. The battery run time is quite low, given the price of the model.
Pros
Versatile cleaning with multiple attachments.
Filtration system to keep your house free of allergens.
Can remove stuck dirt.
Special docking station to store the cleaner and all attachments.
Cons
Expensive and heavyweight model.
Battery run time is low.
Why Should You Buy the Best Cordless Vacuum Cleaner for Pet Hair?
Although their operation time is limited by the power of the battery, cordless vacuum cleaners come with several advantages. Here are some reasons why you should buy one.
They won't limit your movement as you can move you cleaner to clean any corner inside and outside the house.
You don't have to search for a power source to keep your cleaner going.
They allow you to save on power consumption as they're not always plugged to a power source.
Cordless vacuum cleaners offer more flexibility as you won't have to keep the cord out of the way while cleaning different areas.
These models are usually lightweight and portable so you can use them to clean ceilings, walls, and vents.
They're easier to maneuver so you can easily target the tightest corners to remove all the dirt, dust, and pet hair.
Most of them have docking stations for charging and storage so you can keep your home clutter-free.
How to Choose the Best Cordless Vacuum for Pet Hair?
All households have different floor types and surfaces that you should frequently clean to remove all the pet hair. A reliable cordless vacuum cleaner can help you do that. Here are a few things to think about before buying one.
Suction Power
This will guarantee that you've removed all the dirt particles as well as pet hair as you're cleaning the house. Some vacuum cleaners will allow you to switch between different power modes. This versatility will help you clean multiple surfaces conveniently.
Battery Run Time
To make sure that you've cleaned every spot in the house, you'll have to choose a model that can last for long. Some vacuum cleaners can clean up to 60 minutes, while others can run for only 20 minutes. Your choice depends on the size of the house and how frequent you're likely to use the cleaner.
The run time is usually affected by the suction power and the type of attachments used on the machine. In some cases, you can buy an extra battery that charges while you're using the machine. This will give you double the run time so you can continue your cleaning session without being interrupted. If you feel that batteries don't run for enough time so you can clean every corner in the house, then you should probably consider going for a corded model.
Weight
The weight of the vacuum cleaner plays a significant role when you're trying to use it as a handheld model or to clean higher spots in the house. If you have a heavyweight model, it will be a bit straining to use it off the floor. These heavyweight cleaners might be durable but they're not that versatile.
Depending on your cleaning needs, you should pick a machine of a suitable weight. Make sure that you consider the weight of the machine with all the cleaning accessories that you're likely to use.
Cleaning Tools
Making sure that your cleaner will work on multiple surfaces is a must. It should be able to remove all the dust particles of hard floors as well as rugs and carpets.
You need to buy a cleaner that features a special brush for removing pet hair off rugs because it's likely to get tangled in the fibers. Moreover, there should be a special head that you can use to target the tight corners. This will help you reach under behind furniture pieces and other tight corners where the normal head wouldn't fit.
Cleaning and maintaining your brushes is a must, especially if you're using the cleaner to pick up pet hair. The hair will get tangled on the brush, affecting its performance if you don't clean it after every use.
Other cleaning accessories include special heads for hard floors, hard surfaces in the house, and upholstery furniture. You might be able to buy some special tools separately, but these will add to the overall cost of the machine.
Filtration System
A potent filtration system will maintain the cleanliness of your house as it traps all the dust particles and other contaminants and allergens. These spread in the house when you're cleaning, triggering allergies and other health issues.
HEPA filters block 99% of the dust particles but they need to be washed every few uses. After using the cleaner for two or three months, you'll have to replace the HEPA filter. Not doing so, will affect the suction power of the machine and make your house smell bad while you're using the cleaner.
Versatile Cleaning
A cordless vacuum cleaner can be used to clean different spots in the house, even when you're not close to a power source. Some models can be extended to reach the ceilings and vents. In this case, you should make sure that you've picked a lightweight model that won't strain your hand.
Having a flexible head that bends and swivels will allow you to clean in all directions. You won't miss a spot under tables, beds, and other pieces of furniture because the cleaner will be able to reach all the challenging areas.
Wrap Up
Maintaining the cleanliness of your house is easy if you choose the best cordless vacuum cleaner for pet hair. We chose the Dyson V7 Animal as our top pick thanks to its high-quality design and convenient suction power. This cleaner will be able to clean every area in the house to make sure that your home is pet hair-free.
Cordless vacuum cleaners offer more versatility than corded models. However, you'll always be limited by the run time of the battery. To make sure that your battery will last enough to clean the whole house, try to use the cleaner as frequently as possible. This will cut down on the time you spend on every cleaning session because there won't be lots of pet hair to get rid of.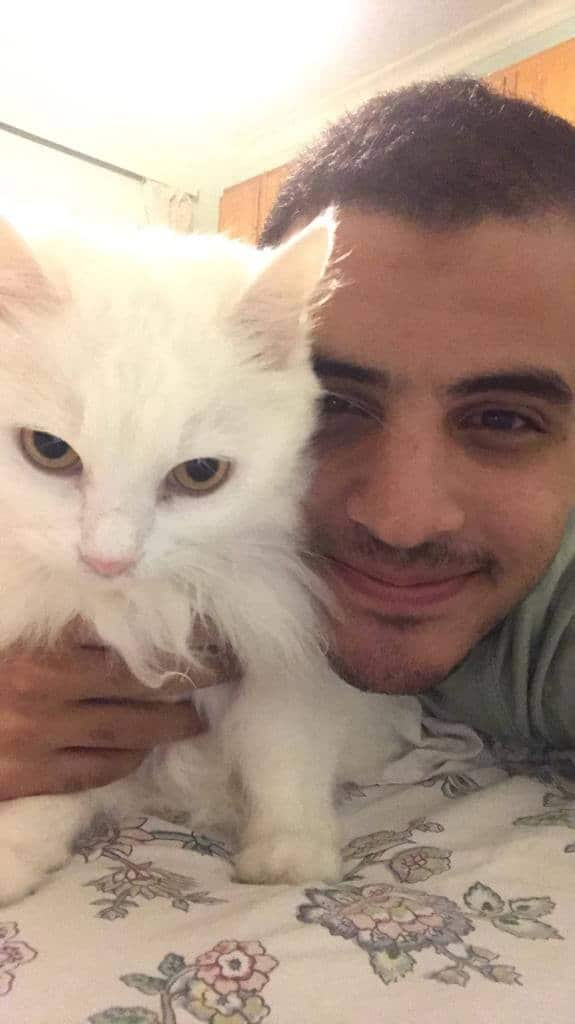 I've been living with cats since 2008 and I can confidently say I have more feline friends than humans lol. I currently live with 5 cats in different life stages; two of them are less than one year old, one is 2-ish years old and the oldest two are 9-ish years old. I've developed a strong bond with cats over the years and I'm eager to share my experience through this blog. You can learn more about my cats here.