Disclaimer: Some of the links in this article may be affiliate links; we will earn a commision, at no additional cost to you, if you make a purchase through one of our links.
Attention all cat owners! It's time to upgrade your feline's food game. With so many options on the market, making the right choice for your furry friend can be paw-sitively overwhelming. But don't worry, we've got your back!
In this Heartland Farms cat food review, we'll explore the buzz around the brand, based on the opinions of fellow cat lovers.
So, ready to find out if Heartland Farms Naturals is the purr-fect food for your fur baby? Let's dig in and see whether it's worth ditching your current cat food brand!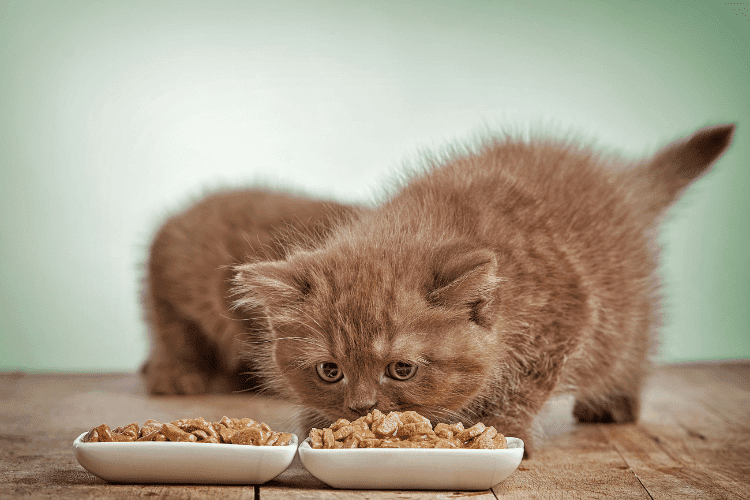 Heartland Farms Cat Food Review
Heartland Cat Food is a brand that offers a wide variety of formulas with both wet and dry options. The best part, you ask? It's super affordable! However, it's a bit lacking when it comes to nutrients.
Key Features of Heartland Cat Food
When shopping for a new product for ourselves, we tend to take a closer look at the ingredients list. The same goes for our feline companions to ensure they get the best nutrition. So, let's break down the key- components of Heartland Farms Cat Food.
Protein
Want to know a fun fact about your feline friend's health? Protein is a must-have in their diet. It's like the superhero of nutrients, powering up their muscles and helping them grow strong.
Heartland Farms cat food primarily consists of chicken by-products as the first ingredient, which may not be enough to cover your cat's need for protein. It's also difficult to digest.
On top of that, Heartland Farms uses the bones, skin, and other chicken waste as filler ingredients, which results in hardened and difficult-to-chew food.
Related: Naked Essentials cat food review
Gluten
Heartland Farms food includes corn gluten, another filler ingredient that lacks nutritional value and can potentially harm the cat's health. Additionally, the presence of soy in the food may lead to hormonal imbalances in cats.
Vitamins & Minerals
While the food contains some vitamins and minerals, the amounts are insufficient to meet a cat's daily nutritional needs.
Pros and cons of Heartland Farms Cat Food
Pros
Affordable price: Heartland Cat Food is available at reasonable prices, which is a bonus
Wide range of formulas: Heartland Cat Food is available in wet and dry formulas.
Cons
The taste: While some cats might enjoy the taste of Heartland Farms Cat Food, the majority seem to dislike the taste.
Food hardness: This brand may not be the best option for cats with denture problems as the food may be hard to chew.
Low-quality ingredients: As we previously mentioned, the brand's main ingredients are chicken bones and skins, which have little to no nutritional value at all.
Rating
Ease-of-use: 5/5 – The package is easily opened and the food is easily served.
Ingredient quality: 2.5/5 – The ingredients serve little to no nutrients to cats.
Value of money: 3.5/5 – The price of this brand is affordable and meets expectations.
Packaging quality: 5/5 – The package is durable and the bag isn't easily torn.
Feeding Guidelines for Heartland Farms Cat Food
The appropriate daily feeding amount for cats varies based on their age, as their nutritional needs change as they mature. While adult cats require less energy, protein, and fat, kittens have higher energy needs to keep them active and playful.
Adult Cats:
Feed adult cats their food once or twice daily, either dry or moistened with water for cats that have difficulty chewing.
Kittens:
1.5–4 months: ½ cup per 2 lbs of body weight
4–7 months: ⅓ cup per 2 lbs of body weight
7–12 months: ¼ cup per 2 lbs of body weight
Alternatives For Heartland Farms Cat Food
Although Heartland Farms cat food is affordable, its nutrients may not be enough for all cats. It's a good option for emergencies or if you're on a tight budget, but it's not a long-term solution because it doesn't give the cats all the nutrients they need to grow.
So, if you're looking for alternatives, here are highly nutritious options:
Because your furball deserves nothing but the best! Luvsome is a Kroger brand, made with love and the finest ingredients fit for feline royalty. Imagine a feast of 100% fish and poultry protein, topped with a sprinkling of essential vitamins, minerals, and juicy fruits! It's like a magic potion for healthy growth and vitality.
Recommended: Best alternatives to hydrolyzed cat foods for sensitive stomachs and food allergies
The epitome of fancy cat food! Royal Canin's ingredients are of the highest quality, and their recipes are meticulously crafted with a Ph.D.-level understanding of feline nutrition.
They offer a variety of products to suit cats of all breeds, sizes, and lifestyles. With real meat, chicken, and poultry as the star ingredients, you can trust that your cat is getting the best possible nourishment.
Ready for a wild and scrumptious ride? Unleash your cat's inner adventurer with Taste Of The Wild Cat Food! With both wet and dry options, it's like a safari minus the bug bites and elephant stampedes.
And with a balanced blend of vital vitamins and minerals, your kitty will be living like a king or queen, hunting down their meals with the strength and grace of a lion.
Recommended: Bench And Field full cat food review
Just like Luvsome and Royal Canin, this brand packs a punch of balanced nutrition, with just the right amount of protein, vitamins, and minerals to keep your furry friend at the top of their game. So why settle for anything less than royalty?
Verdict
Heartland Farms Naturals Cat Food is a buzz-worthy option for cat owners looking for an affordable option. But based on reviews, scientific facts, and research, Heartland Cat Food isn't your go-to if you're looking for a highly nutritious option.
As we previously discussed, Heartland's cat food ingredients are mainly chicken skin, bones, and poultry waste, which don't offer enough protein. There are other cat foods with a better list of ingredients.
That's why we provided alternatives in this article to help you have better insights on what should and should not get into your pet's tummy.