Disclaimer: Some of the links in this article may be affiliate links; we will earn a commision, at no additional cost to you, if you make a purchase through one of our links.
Trying to find out what's causing your cat's food allergy can be a difficult process. While food allergies are rare in cats, they can develop suddenly and at any age.
Nonetheless, we know that proteins are the most common cause of allergies in cats. That's why vets usually prescribe switching to hydrolyzed protein cat food to reduce and manage allergies in cats.
What if, for any reason, hydrolyzed food isn't suitable for your cat, though?
Luckily, there are some equally safe and effective options, so stick around. We'll provide you with our top picks for the best alternatives to hydrolyzed cat food.
In a hurry? Here are our top picks:
Image
Product
Detail
Price

Orijen High-Protein Grain-Free

Price

Ziwi Peak Air-Dried Venison Recipe Cat Food

Runner-Up
On The Pricier End of The Market

Price

Natural Balance Grain-Free Dry Adult Cat Food

Budget Pick
Not Suitable for Diabetic Cats

Price
How to Choose the Best Alternative to Hydrolyzed Cat Food
Cats are often prescribed hydrolyzed protein cat food when they develop food allergies or intolerances. Vets may also prescribe switching to hydrolyzed cat food for cats with inflammatory bowel disease.
In any of these cases, a cat's body begins to misinterpret protein molecules as antigens or allergens. Even though these molecules aren't harmful, they trigger an immune response and thus an allergic reaction.
So, feeding a cat hydrolyzed food, which has small protein particles, subsides the allergic reaction. It also allows you or your vet to determine which food caused the allergic reaction in the first place.
While hydrolyzed cat food has numerous benefits, it's not always a viable option. To begin with, high-quality, reputable hydrolyzed cat food can be costly. If you choose a budget-friendly option, you risk feeding your cat ingredients that aren't listed on the label.
Not to mention that the hydrolysis process can make hydrolyzed cat food taste bitter, which your cat may not like.
What Are We Looking For?
For an alternative to hydrolyzed cat food, we're looking for a high-quality, balanced, grain-free, ultra-limited ingredient novel protein cat food. These qualities should ensure that the cat food is hypoallergenic, mitigating rather than exacerbating your cat's allergies and intolerances.
We want to avoid cat foods that contain:
Synthetic vitamins and minerals
Meat byproducts
Preservatives, artificial flavoring, and coloring
Low-quality ingredient fillers
Just keep in mind that it may take some trial and error before you find a suitable option for your cat. So, if you're purchasing over the counter, it's best to consult with and involve your vet when picking out an alternative to hydrolyzed cat food.
Top 3 Alternatives to Hydrolyzed Cat Food
Even when you know what you're looking for, the market is overflowing with options. So, we've curated a brief list of the top three alternatives to hydrolyzed cat food:
1. Best Overall: Orijen High-Protein Grain-Free Six Fish Dry Cat Food
Pros
Contains six premium fish species as a protein source
Provides carbs and fiber from high-quality fruits, veggies, and nuts
Loaded with omega fatty acids
The Orijen Six Fish is a highly nutritious, delicious dry food that's suitable for all cat life stages.
85–90% of this nourishing cat food comes from six whole premium fish species. 2/3 of the fish is used either fresh or raw. The remaining third is used after gentle drying to create a more concentrated source of protein.
Orijen also contains infused freeze-dried Cod liver, which means the dry food is brimming with protein and omega fatty acids.
Save 35% on All Pet Supplies from Chewy
You will also get $20 off your first order on Chewy (plus free shipping). I personally think Chewy provides the best prices and offers, especially when it comes to my regular pet supply needs.
Not to mention that Orijen Six Fish is free of low-quality fillers like corn, tapioca, or soy. Instead, the other 15% contains pumpkin seeds, juniper berries, red lentils, carrots, chickpeas, kale, and a slew of other nutritious ingredients.
This impressive ingredient list provides all of your cat's nutritional needs but avoids common allergens. What's more, most cats, even picky eaters, enjoy the flavor.
Perhaps the only downside of Orijen Six Fish is its smell. You'll smell fish as soon as you open the bag. So, you may need to cover your nose when feeding your cat. You'll also need to hide it somewhere where the smell won't reach your cat's nose.
2. Runner Up: Ziwi Peak Air-Dried Venison Recipe Cat Food
Pros
Mostly made from animal sources
Exceptionally high in protein
Extremely low in carbs
Another fantastic hydrolyzed food alternative is this Ziwi Peak air-dried cat food. It's made up of 96% venison organs, meat, and bone, making it one of the most nutrient-dense high-protein cat foods on the market.
The remaining 3% comes from New Zealand green mussels, organic kelp, and green tripe. All of these ingredients are cat superfoods that promote overall health.
Recommended: the top Royal Canin Ultamino alternatives
What's more, Ziwi Peak cat food is produced using a two-part drying process. So, it provides your cat with the same nutrition as a biologically appropriate raw diet. It also means that this limited-ingredient food is free of artificial preservatives or fillers.
While Ziwi Peak is excellent for cats with food sensitivities, it's also an excellent option for diabetic cats because it's air-dried and contains only 3.8% carbs.
Still, one issue you might have with this Ziwi Peak dry food is its jerky-like texture, which some cats don't like. Luckily, Ziwi Peak also doubles as a topper that you can add to your cat's main meal for extra nutrition.
3. Best Budget Choice: Natural Balance L.I.D. Green Pea & Duck Grain-Free Dry Adult Cat Food
Pros
Widely available in pet stores
Short ingredient list
Fortified with vitamins and minerals
Cons
Not suitable for diabetic cats
Another up-to-par hypoallergenic cat food is the Natural Balance L.I.D. dry food line. It's a high-protein formula that's vitamin, mineral, and essential taurine fortified.
Like the Orijen and Ziwi Peak, Natural Balance L.I.D. is free of grains, gluten, soy, and any other filler ingredients. It also doesn't contain any artificial flavors or colors.
Natural Balance L.I.D. follows an ultra-limited-ingredient recipe. It contains only one source of animal protein: real duck, which makes up around 30% of the recipe. There's also a Venison option if your cat ate duck before.
Recommended: Friskies vs. Purina Pro Plan
What's more, this dry food has a single carb source: green peas, which are also a grain-free fiber source. As for the fat source, Natural Balance L.I.D. contains salmon oil, providing your cat with omega-3 fatty acids.
That said, it's worth noting that this dry food contains around 63% carbs. So, it's not suitable for diabetic cats. However, for cats with food sensitivities or allergies, it's a budget-friendly choice that can provide them with a complete and balanced meal without common allergens.
Need more cat food options for managing allergies? Here are the top z/d cat food alternatives for
Frequently Asked Questions About Hydrolyzed Cat Food
What Is Hydrolyzed Food For Cats?
Hydrolyzed cat food contains proteins that have been broken down into amino acids and peptides.
Most cat food allergies are due to an abnormal reaction to intact proteins. So, the purpose of the hydrolysis process is to eliminate the protein tags so that the cat's immune system doesn't detect them.
Your cat's body will recognize that it's digesting protein but won't be able to distinguish which meat product the protein is from. This helps mitigate food allergies, sensitivities, and intolerances.
Is Hydrolyzed Cat Food Good For Cats?
In general, hydrolyzed cat food is safe for cats. It's balanced and complete, with all of the nutrients a cat needs. However, unless prescribed by your vet, you shouldn't switch your cat to a hydrolyzed protein diet.
Your vet should first evaluate your cat's medical situation to see whether a hydrolyzed protein diet is suitable for your cat. This is why hydrolyzed protein cat foods are only available with a prescription.
Can Hydrolyzed Cat Food Cause Diarrhea?
While hydrolyzed cat food increases digestibility, it draws more water into the intestines as well. As a result, some cats may experience diarrhea or loose stools after eating hydrolyzed cat food.
Not to mention that abruptly changing a cat's diet to a new one can cause diarrhea and stomach upset.
What Can I Substitute For Wet Cat Food?
You can substitute wet food with dry food because it's more nutritionally dense than wet food. If your cat can't chew dry food, you can moisten it with a little water to soften the consistency.
Plain meat-based baby food with no additives or seasonings is a great alternative as well. You can use it to moisten the dry food to give your cat the nutrients she needs.
In Conclusion
Unfortunately, food allergies in cats can't be cured. So, the only way to prevent flare-ups is to manage them and avoid any food triggers. While switching to a hydrolyzed diet is the most common solution, there are other viable options.
If we had to pick one of the alternatives to hydrolyzed cat food, it'd be Orijen's Six Fish dry food.
Overall, it checks most, if not all, boxes for what constitutes hypoallergenic cat food. It's also high in protein and omega fatty acids, with just enough nutritious carbs and fiber. The best part is that even fussy eaters love the taste.
Be warned, though: the moment you open the bag, a fishy odor pervades the air. So, keep the food well hidden and out of your cat's reach.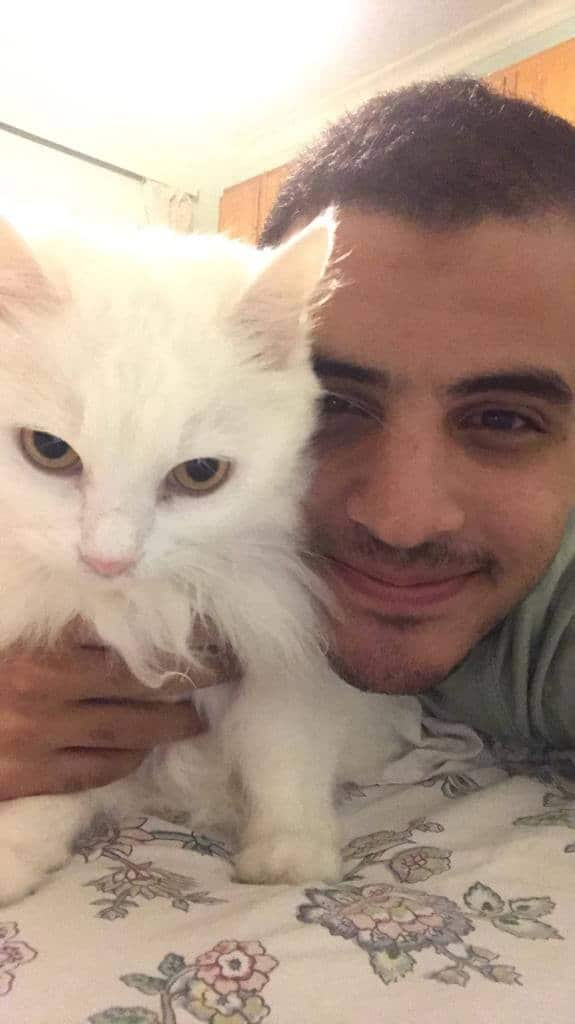 I've been living with cats since 2008 and I can confidently say I have more feline friends than humans lol. I currently live with 5 cats in different life stages; two of them are less than one year old, one is 2-ish years old and the oldest two are 9-ish years old. I've developed a strong bond with cats over the years and I'm eager to share my experience through this blog. You can learn more about my cats here.