Disclaimer: Some of the links in this article may be affiliate links; we will earn a commision, at no additional cost to you, if you make a purchase through one of our links.
Having a cat with food allergies is a real problem. In this article, we'll help you find the best z/d cat food alternative to manage your cat's food allergy symptoms.
Cats can develop food allergies at any stage of their lives. Some of these allergies can also be related to environmental factors like stress, but following the right diet and vet's orders will help relieve these symptoms. Keep on reading to offer your kitty the healthiest food.
Here's a Summary of Our Top Picks:
| Image | Product | Details | Price |
| --- | --- | --- | --- |
| | Purina Pro Plan Allergen Reducing Adult Dry Cat Food | Best Overall | Check Price |
| | Royal Canin Feline Health Nutrition Digest Sensitive Thin Slices in Gravy Canned Cat Food | Runner-Up | Check Price |
| | CRAVE Grain Free High Protein Dry Cat Food | Best Budget Choice | Check Price |
Reviews of the Best z/d Cat Food Alternatives
These alternatives contain healthy ingredients that you can find in the prescription formula. However, they're easier to get and cheaper to buy, especially if you have multiple pets in the house. Check out our top choices.
This formula is designed to suit cats with food allergies and sensitive stomachs. It's considered to be the first allergen-reducing cat food with natural probiotics that improve the health of the digestive system by creating the right environment for healthy bacteria to flourish in the intestines and promote better digestion.
Did You Know: Canned Pumpkin helps in easing your cat's digestive system issues
The main ingredient is turkey meat that contains no allergens and is easy to digest. Consuming this food will reduce the allergens in the cat's dander and hair. The second ingredient is oatmeal, which is gentle on the digestive system. The formula is rich in omega-6 fatty acids and vitamin A to nourish the coat and keep the skin in excellent condition.
Cats naturally produce an allergen called Fel D1 in their saliva. This dry food formula is formulated with egg-based protein to neutralize this allergen. By the third week of daily feeding, you will notice a decline by 47% in allergens in the cat's hair and dander.
Your cat will definitely fall in love with this healthy and rich formula because it doesn't contain any additives or artificial fillers. However, this food is more expensive than other formulas on the market.
What We Like
Easy to digest formula with natural turkey meat and oatmeal
Rich in omega-6 fatty acids and vitamin A to improve the condition of the coat and skin
Reduces the allergens in the dander and hair
Contains egg-based protein to neutralize allergens
Infused with probiotics that promote better digestion
What We Don't Like
More expensive than other types
If your cat is fond of wet food, you need to check out this option. It's suitable for cats 1 year and older, especially the ones with sensitive stomachs. The thin slices are canned in delicious gravy and are easy to digest.
Consuming this food will provide your cat with all the needed nutrients. The proteins are easy to absorb, providing the cat with the required nutrients while reducing the foul smell of stool. It contains a potent blend of vitamins and minerals that your cat needs to stay in perfect health.
Save 35% on All Pet Supplies from Chewy
You will also get $20 off your first order on Chewy (plus free shipping). I personally think Chewy provides the best prices and offers, especially when it comes to my regular pet supply needs.
Once your cat starts eating this formula, you will notice the changes in the skin and coat, as they will become healthier and shinier. It targets several digestive issues like hairball formation and protects your furry baby from gaining weight. Moreover, the formula promotes better dental health by reducing the buildup of plaque and tartar.
Some cats might not like the texture of the large chunks, so they might not like the food. Older cats with digestion problems might continue to throw up after eating this food.
What We Like
Suitable for all cats 1 year and older
Easy to absorb proteins
Contains several minerals and vitamins to promote better health
Targets several digestive issues like hairball formation
Promotes better dental health
What We Don't Like
Some cats won't like the texture of the larger chunks, so they will only lick the juice
Some cats might still throw up when they eat this food
This dry food is formulated from real chicken in a unique formula designed for adult cats. There's a special formula for kittens, so you can have your cat's needs covered during different life stages. It's more affordable than other options on the market.
Eating this food will provide your cat with all the necessary ingredients, thanks to the natural protein source. Moreover, it contains healthy carbohydrates that provide your furry baby with energy. This formula aids in building muscles, improves digestion and supports a healthy immune system.
It improves the condition of stool and other symptoms related to bad digestion. Moreover, you will notice that your cat has healthier skin with a shiny coat.
Unlike other formulas, it contains no chicken by-product meal, wheat, corn, or soy protein, so it's the perfect solution for cats with food allergies. It protects your cat from gaining weight, so your furry baby will stay active all day long without suffering from any annoying symptoms.
If you're worried about your cat getting used to this food, you can start by mixing it with the old food. It has a strong smell, so some cats might not like it.
What We Like
Affordable dry food with high protein
Natural chicken with all the necessary ingredients
Rich in carbohydrates to provide the needed energy and contains no grains
Improves the condition of stool and keeps the skin and coat in excellent shape
What We Don't Like
Cats usually take time to get adjusted to this new food
Some cats don't like its smell and won't touch it
How to Choose the Best z/d Cat Food Alternative
Food allergies are quite common in cats and have several annoying symptoms. Choosing the right food for your pet can prevent potential allergy issues and help your furry baby recover. Here are a few factors to consider while picking the right formula for your cat.
Wet or Dry
Offering your cat a balanced diet is crucial for the health of the immune system. Wet food can be used to provide cats with the needed hydration, instead of drinking water. Wet food can protect the cat from urinary tract infections as it lowers the concentration of inflammatory components in the urine. However, it usually has lower calorie content, so it might not suit kittens and cats that need more energy.
Dry food is easier to use and can promote better dental health by preventing the formation of plaque. It's more popular than wet food because it can be left for longer periods, allowing the cats to eat according to their pace, rather than at the specified mealtime.
Here are the top hydrolyzed cat food alternatives to fight food allergies.
Protein Intake
The main ingredient in the cat's food should be proteins. Popular choices include chicken, turkey, fish, and meat. These will provide the cat with the needed nutrients to promote better digestion and improve the functions of the immune system.
Grains and other protein by-products should be avoided, or consumed in very small amounts, as they can worsen the symptoms of food allergies. They might take a longer time to be absorbed by the stomach and digestive system, increasing the frequency of vomiting and affecting the smell and texture of stool.
Added Nutrients
In most cases, the food you buy for your kitty will be supplemented with other nutrients to protect the cat and improve its health. Omega fatty acids are essential for your cat's health because they regulate inflammation and promote healthy growth and development. They also improve the condition of the skin and coat, promoting the recovery of the coat after hair loss, a common symptom of food allergies.
Probiotics can also be added to the formula to improve digestion. They will reduce the symptoms of diarrhea and improper digestion.
How to Feed a Cat with a Sensitive Stomach
If your cat always vomits or suffers from diarrhea, you need to choose a special formula that addresses these problems. Here is what you can do to help your furry baby overcome this problem.
Talk to your vet. The vet will run several lab tests to rule out any other health issues and make sure that your cat is suffering from food allergies.
Start a trial diet by switching to high-quality food that contains no preservatives or fillers. It should also have other nutrients like omega fatty acids and probiotics to improve digestion and reduce the symptoms of food allergy.
Pick food formulas with limited protein sources to identify the allergy-causing ingredient. You can also switch to a formula with hydrolyzed protein where the protein particles have been broken too small, so they won't be recognized by the immune system.
Switch the feeding routine. Cats might vomit after eating a large meal, so you can start switching to smaller and more frequent meals.
FAQs
How do I know that my cat has a food allergy?
There are several symptoms that show that your cat is allergic to food. These include vomiting, diarrhea, continuous scratching, hair loss, excessive gassing, and having red and inflamed skin. If your cat has these symptoms, you should take them to the vet to see what's wrong.
Can cats develop food allergies at any age?
Yes, they can. Some cats are allergic to a certain type of food since birth. However, other environmental factors like stress can cause an allergy to a specific type of food.
What are the best cats for people with allergies?
If you or one of your family members suffer from cat allergy, read on cause I'll let you know what breeds you can get without having any trouble with your health concern.
1- Oriental Shorthair
2- Javanese
3- Devon Rex
4- Sphynx
5- Siberian
The aforementioned breeds usually don't trigger cat allergic people as their fur isn't as long as other cat breeds.
Wrap Up
If you feel that your cat isn't feeling healthy and is vomiting all over the place, it's time to switch to a special kind of food that suits cats with food allergies. We chose the Purina Pro Plan Allergen Reducing Adult Dry Cat Food as our top choice because it contains no allergens, and is easy to digest. It's the first allergen-reducing food with natural probiotics, so it will reduce the allergens in the dander and hair by 47%.
Luckily, there are other good options on our list that you can try if your kitty isn't fond of this type. You should keep an eye on your cat and see how the symptoms get better.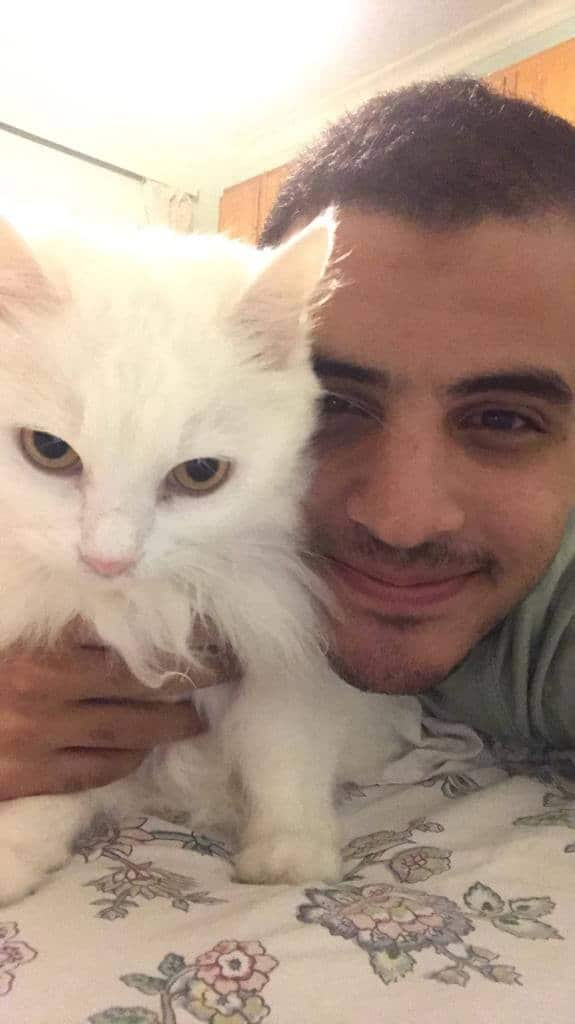 I've been living with cats since 2008 and I can confidently say I have more feline friends than humans lol. I currently live with 5 cats in different life stages; two of them are less than one year old, one is 2-ish years old and the oldest two are 9-ish years old. I've developed a strong bond with cats over the years and I'm eager to share my experience through this blog. You can learn more about my cats here.