Disclaimer: Some of the links in this article may be affiliate links; we will earn a commision, at no additional cost to you, if you make a purchase through one of our links.
Pumpkin's a flavorful treat that seasons most of our fall holidays. If you've ever wondered whether your feline friend may enjoy it with you, the answer is yes. Still, every cat lover should ask if pumpkin is safe for cats, where to buy canned pumpkin for cats? And how much is safe?
Where to Buy Canned Pumpkin for Cats?
Pumpkin's not only an enjoyable treat for your cat, but also a great nutritional choice that may resolve many of its health problems. The best choice of pumpkin for felines is plain served straight from the can. You may find in your local supermarket several brands such as Weruva, Nummy Tum Tum, Kin+Kind, and Fruitables.
| Image | Product | Details | Price |
| --- | --- | --- | --- |
| | Weruva Pumpkin Patch Up | Best Pick | Check Price |
| | Nummy Tum Tum Organic Pumpkin | Runner-Up | Check Price |
| | Fruitable Pumpkin Digestive Supplement | Budget Pick | Check Price |
Top 4 Canned Pumpkin for Cats
This product contains plain pureed pumpkin and water. It's locally grown and processed in human food processing facilities, giving your feline the same quality of your food. With only two ingredients, Weruva Pumpkin is one of the healthiest choices for your furry friend.
This product comes in an easy-open, non-BPA container to ensure the highest level of safety for your pet. Weruva's free of grain, potato, gluten, GMO, MSG, starch, and carrageenan.
Pros
Plain, pureed pumpkin with no additives
Doesn't contain grain, starch, or artificial ingredients
Guarantees the same level of quality as human food
Cons
A bit watery
A bit expensive for its size
Every can of this product includes only plain pumpkin with no additives. It's made from locally-grown premium-quality pumpkins from local markets in a certified USDA organic facility.
Nummy Tum Tum Organic Pumpkin's a natural temporary supplement ideal for your cat's digestive problems. You can mix it with dry food for a delicious meal or serve it frozen as a frosty treat for your furry friend.
Pros
Pure pumpkin
Comes in a 12-pack
Improves cats' digestion
Cons
Not for a tight budget
When opened, it gets spoiled after three days unless frozen.
Every can of Kin+Kind contains a blend of pumpkin, coconut, turmeric, and flax seeds. It features a balanced source of fiber and digestive enzymes that provide your pet with a strong gut and healthy digestion. Every ingredient is approved by a vet to offer your cat the best nutrition naturally.
This supplement includes powerful superfoods with no GMOs or grains. You can sprinkle it on any type of cat food. Kin+Kind is recommended for every breed size of cats six weeks and older.
Pros
Vet formulated
Comes in two different sizes
No harmful chemicals
Cons
Somewhat pricey
Not the best smell
Fruitable includes a mix of fibers, herbs, and vitamins. Calming herbs like ginger and spearmint with fruit and vegetable fibers help soothe your pet's upset stomach. Its three main ingredients: pumpkin, tomatoes, and spinach help control bowel movements.
This supplement also contains Vitamins B (5, 6, 9, and 12) that stimulate cells to produce energy, support immunity, and metabolize proteins and fat.
With no wheat, corn, soy protein, or artificial flavors and colors, this product is an ideal all-natural daily supplement for your pet's digestive issues.
Pros
Great fruit and veggie supplement for raw food diets
A perfect nutritional boost for daily meals
Vet approved
Affordable
Cons
Not strictly pure pumpkin
Not the best flavor
Why Canned Pumpkin for Cats?
According to the Pet Poison Helpline, plain pumpkin's not only safe for cars but also good for their digestion if given in moderation.
As a rich source of fiber and water, pumpkin can relieve both diarrhea and constipation for your furry buddy. The Animal Emergency & Referral Center of Minnesota explains that fiber cures diarrhea by reducing the extra moisture in the digestive tract while water remedies constipation.
Pumpkin's a low-calorie veggie that can also reduce your cat's weight. Its rich fiber content makes your feline buddy feel satiated for longer periods. Adding pumpkin to your feline's diet may also prevent painful anal sac problems and reduce hairballs in its GI system.
Canned or Homemade Pumpkin for Cats?
Many vets recommend plain canned pumpkin because it's cooked down to its most digestible form with no additives. Canned pumpkin's safer than raw and home-cooked pumpkin.
Raw pumpkin's hard on your cat's stomach to digest. Home-cooked pumpkin may contain an unfavorable part such as the stem, skin, or the remaining of the jack-o'-lantern, which has most probably rotted out during the holiday season.
Serving Pumpkin to Cats
If your furry buddy craves pumpkin, it's best to serve it straight out of the can. It's healthier to choose pure pumpkin products with no added sugar or flavors. Remember that pumpkin's a treat, not a meal on its own. You may mix plain canned pumpkin with your pet's wet or dry food or simply offer it as an appetizer at mealtimes.
The Top Four Brands of Canned Pumpkin for Cat
Kin+Kind's an American company that specializes in producing pet care products. It's a certified USDA organic facility with a mission to protect both pets and the planet. All kin+kind products are made from simple ingredients that harness the power of nature. It guarantees vet-formulated products that are GMO-free, hand-mixed in the US, and done without animal testing.
This company honors its passion for innovation and advanced nutrition by supporting significant university studies that have made breakthroughs in pet obesity and satiety. The brand relies primarily on fresh ingredients to provide the best nutrition for pets.
Nummy Tum Tum's an American company established in 2006 by a family of farmers. They started making pureed pumpkin for humans in 1985. It was established after a vet recommended their pumpkin puree on national television to promote pet health.
Weruva's a family-owned BRC certified company. It was established in 2006 mainly to create healthy food for the family rescued cats. Their products are processed in human food processing facilities, providing your pet with the same quality offered to humans. Products in this brand maintain a natural look and texture so that the ingredients are recognizable.
FAQ
How Much Pumpkin Is Good For My Cat?
It's best to consult with your vet for the exact amount because it differs according to the cat's weight, health needs, and allergies.
Can I Give My Cat Pumpkin Pie Filling?
Try to avoid seasoned pumpkin that contains cinnamon, ginger, nutmeg, or sugar, which may cause severe health problems for cats.
Can Pumpkin Upset My Cat's Stomach?
Though unlikely, the pumpkin's fiber and water content may cause diarrhea or constipation if taken excessively.
To Wrap Up
So, where to buy canned pumpkin for cats? Our favorite canned pumpkin products for cats are Weruva Pumpkin Patch Up, Nummy Tum Tum Organic Pumpkin, Kin+Kind Healthy Poops, and Fruitable Food Supplement. Finally a healthy treat to pamper your furry friend.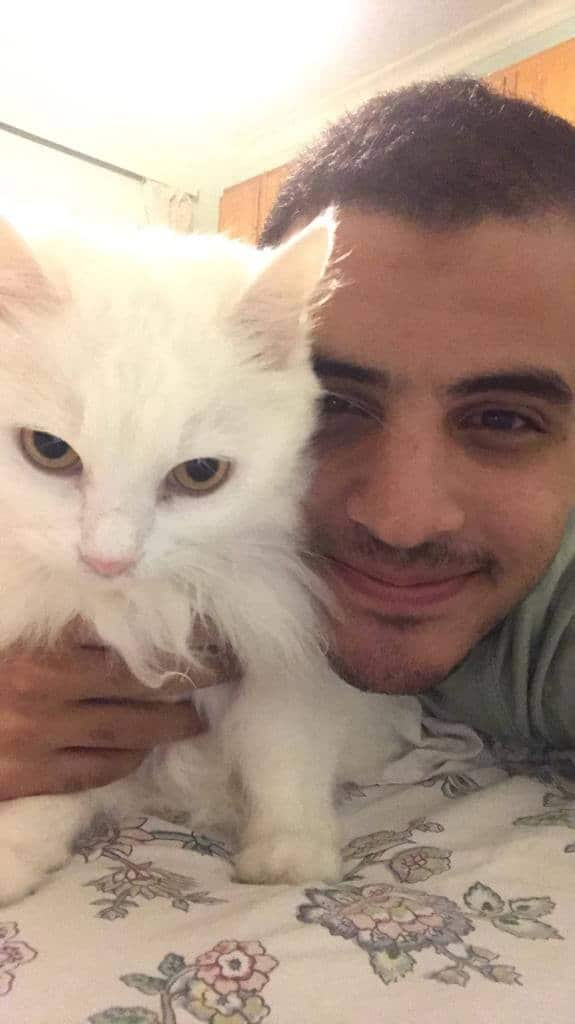 I've been living with cats since 2008 and I can confidently say I have more feline friends than humans lol. I currently live with 5 cats in different life stages; two of them are less than one year old, one is 2-ish years old and the oldest two are 9-ish years old. I've developed a strong bond with cats over the years and I'm eager to share my experience through this blog. You can learn more about my cats here.