Disclaimer: Some of the links in this article may be affiliate links; we will earn a commision, at no additional cost to you, if you make a purchase through one of our links.
As a cat owner, you probably know the burden of finding your feline buddies new foods they like once they get picky. For that reason, it's better to be prepared and search the market for other cat food options.
One thing to bear in mind is to look for brands that offer high protein content from animal and animal-based products. Being on the affordable side is also a plus.
This article will walk you through a detailed Heritage Ranch cat food review, which has both perks. We'll also provide two cat food alternatives to give you a pool of options to choose from. So, stick around!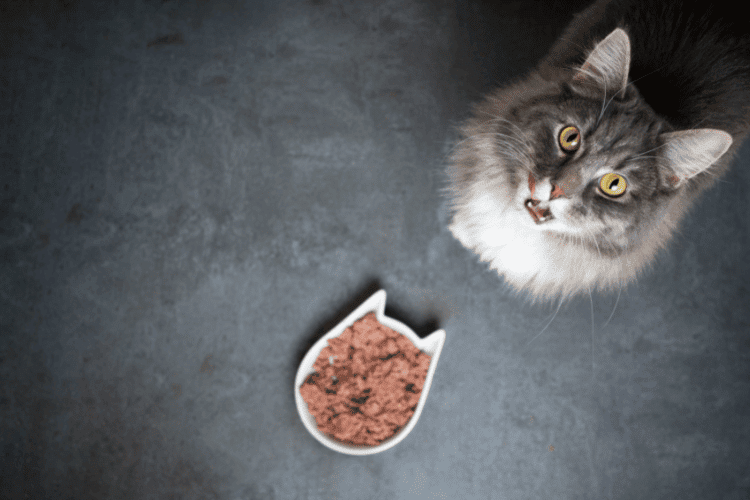 Heritage Ranch Cat Food: Overview
Heritage Ranch offers some decent-quality cat food, even though it's affordable. The primary ingredients are poultry, beef, fish, and their derived products.
This cat food also contains carbohydrates from vegetables, grains, and legumes. While that might not be optimal for allergic and obese cats, both the dry and wet food still cover the needed nutrients for felines.
Pros
High protein content, mainly from meat as the first ingredient
No preservatives or added flavors
High value for money
No-grain options
Added fibers that help in digestion
Resealable dry food packages
Cons
Weak packaging material
Contains carbohydrates
Save 35% on All Pet Supplies from Chewy
You will also get $20 off your first order on Chewy (plus free shipping). I personally think Chewy provides the best prices and offers, especially when it comes to my regular pet supply needs.
Key Features of Heritage Ranch Cat Food
Let's discuss the key features of Heritage Ranch cat food in detail!
Proteins
On a dry matter basis, cat food should contain a minimum of 30% crude protein for healthy growth. Adult cats, on the other hand, need 26% crude protein for each meal. You'll typically find that in Heritage Ranch cat foods, regardless of the flavor.
Heritage Ranch dry food contains between 33% and 40% crude proteins. Likewise, protein makes up a large portion of Heritage's wet cat food ingredients. Some flavors, like chicken crock-pot pate, contain 40% crude protein.
That reasonable protein percentage comes from all sorts of animals, like chicken, turkey, beef, salmon, and meat meal.
H.E.B, the company, doesn't use poultry by-products like bones and organs. Still, some of their kibbles contain turkey and chicken meals.
Related: Top High Iron Cat Foods on The Market
While those ingredients are protein sources, meat meal components usually have little to no lean meat—all of which reduces the quality of the food.
Carbohydrates
Although Heritage Ranch has no-grain products, that doesn't guarantee the food is low in carbs. Fruit and vegetable grain alternatives, like potatoes and legumes, are also carbohydrate sources.
Heritage Ranch cat food uses potatoes, sweet potatoes, peas, and chickpeas in some dry food products. You can also find grains like oatmeal and brown rice, which make up around 40% or more of the food content.
However, a small amount of carbohydrates in cat food is fine as long as the carb intake doesn't exceed 10% of your cat's daily caloric need. In fact, the result of carbohydrate metabolism, glucose, is essential for various physiological functions in cats.
Fibers
Digestible carbohydrates aren't the only form of carbs found in Heritage Ranch cat food. They add fiber ingredients, like cellulose, pea fiber, and beet pulp—all of which aid digestion.
Fats
Most fat sources in Heritage Ranch come from meat ingredients, like poultry, beef, and fish. Although, some Heritage products contain added fat, such as chicken fat and fish oil.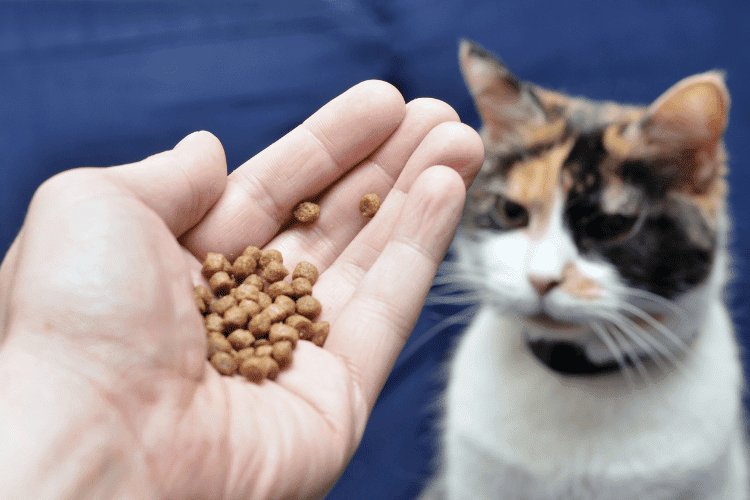 As a result, some of H.E.B's cat food is slightly high in fat, between 10% and 15%. That percentage exceeds the minimum fat content needed in cat food, which is 9% of dry matter.
Vitamins and Minerals
Heritage Ranch cat food provides many essential minerals derived mainly from meat, like calcium and phosphorous, and trace minerals, like zinc, selenium, and iron. This H.E.B product also contains vitamin and mineral supplements to increase the food's nutritional value.
Must Read: Our top picks for the best outdoor automatic cat feeders
Additives and Preservatives
You'll find no artificial flavors or preservatives in Heritage Ranch cat food.
As mentioned earlier, those H.E.B food products contain vitamin E and ascorbic acid (vitamin C). Not only are these vitamins important for health, but they also act as natural preservatives, thanks to their antioxidant properties.
Flavors
Heritage Ranch offers six flavors of dry cat food, mostly made of chicken or salmon combined with legumes and grains.
On the other hand, Heritage Ranch wet food has over 10 flavors, mixing chicken, beef, and fish. They also offer interesting flavors, like grandma's beef casserole pate.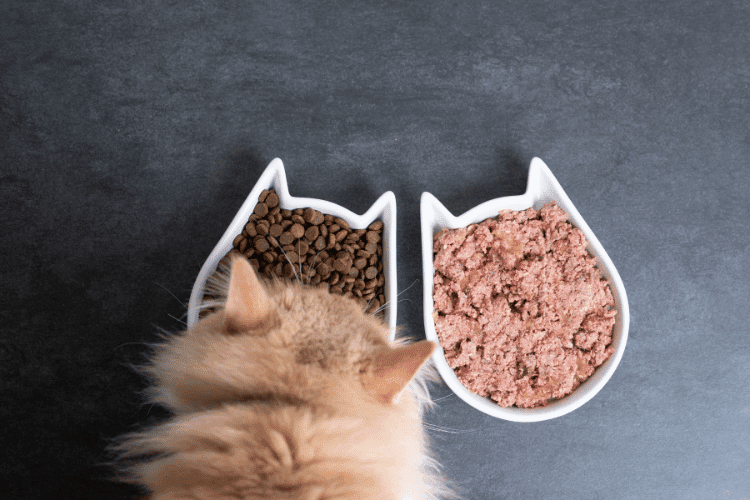 Size and Packaging
You can get the dry food in four sizes, which are 1, 6, 11, and 15 pounds. For wet food, Heritage Ranch offers only two sizes: 2 and 3-oz cans.
Both Heritage wet and dry cat foods come in standard metal cans and plastic bag packaging. However, the dry kibble package is resealable for convenience and to preserve the food. That said, the plastic bag tears easily. Plus, it isn't recyclable.
Rating
Ease-of-use: 4.5/5
Ingredient quality: 4/5
Value for money: 4.5/5
Packaging quality: 3.5/5
Alternatives to Heritage Ranch Cat Food
Here are two Heritage cat food alternatives if you can't find them in the market:
Iams Proactive Health Adult Dry Cat Food
Although slightly more expensive, Iams Proactive Health dry cat food is a close alternative to Heritage Ranch cat food.
Like the H.E.B product, Iams cat food uses chicken and chicken meal as the primary ingredient. The product contains around 32% crude proteins, a similar fat content, and fibers. Iams cat food also has high carbohydrates, making up about 44% of the ingredients.
Related: The Best 3 z/d Cat Food Alternatives
However, unlike Heritage Ranch, Iams dry cat food uses corn as the carb source. It also adds caramel color.
Purina Beyond Simply Natural Adult Dry Cat Food
Like Heritage Ranch, chicken and chicken-derived products are the primary protein sources in Purina Beyond dry cat food. It also has a similar nutritional analysis with 30% crude protein, 40% carbs, and 15% crude fat. The fiber content is slightly less, making up 4%.
However, Purina Beyond cat food is slightly more expensive compared to Heritage Ranch and Iams. Still, it doesn't contain artificial ingredients.
Verdict
Overall, Heritage Ranch cat food balances affordability with decent quality. It offers high protein content, fat, minerals, and vitamins from lean meat and its products.
Combine that with the lack of artificial ingredients and an affordable price, and you get all the key features you should look for when buying cat food.