Disclaimer: Some of the links in this article may be affiliate links; we will earn a commision, at no additional cost to you, if you make a purchase through one of our links.
Are you frequently away from home for a few hours? Too tired or lazy after a long day at work?
There are several reasons why you may not be able to feed your cat all the time.
If your cat is outdoorsy and you're often out of the house, buying an outdoor automatic feeder could be an excellent choice.
To help you choose one, we've rounded up a list of the best outdoor automatic cat feeders.
Let's check it out!
Here's a Summary of Our Top Picks:
| Image | Product | Details | Price |
| --- | --- | --- | --- |
| | PetSafe Healthy Automatic Dispenser | Best Overall | Check Price |
| | Wopet Automatic Food Dispenser | Best Feeder with Timer | Check Price |
| | PETKIT Automatic Cat Feeder | Best Wifi-enabled Outdoor Cat Feeder | Check Price |
| | Sure Petcare Microchip feeder | Best Outdoor Microchip Cat Feeder | Check Price |
Our Top Picks for The Best Outdoor Automatic Cat Feeder
In this section, we'll take a look at some of our favorites.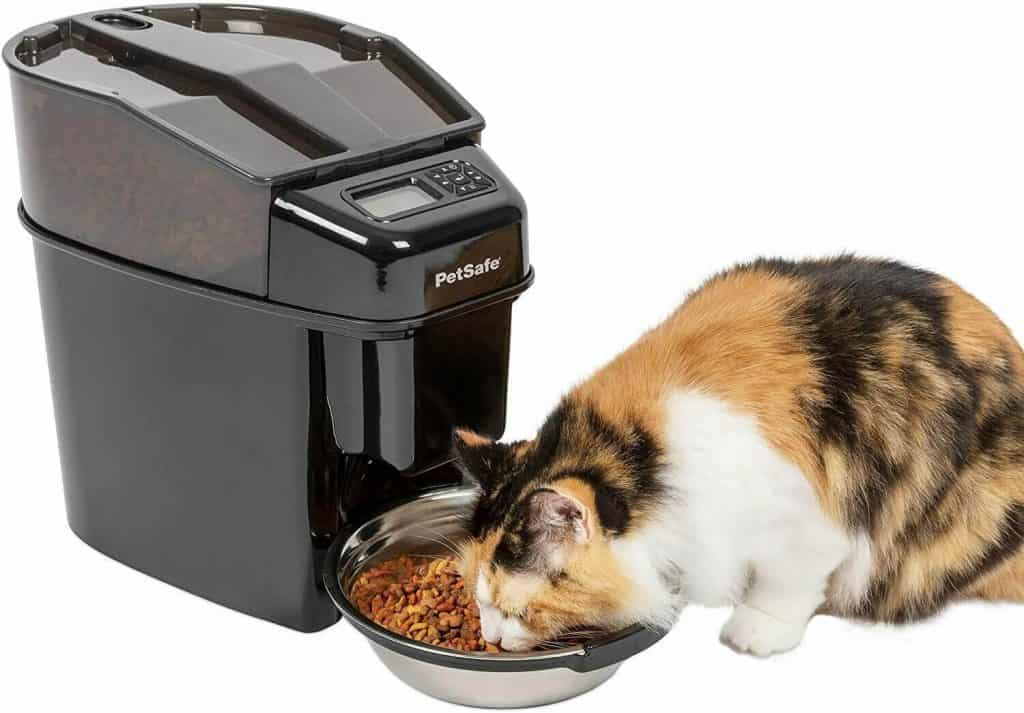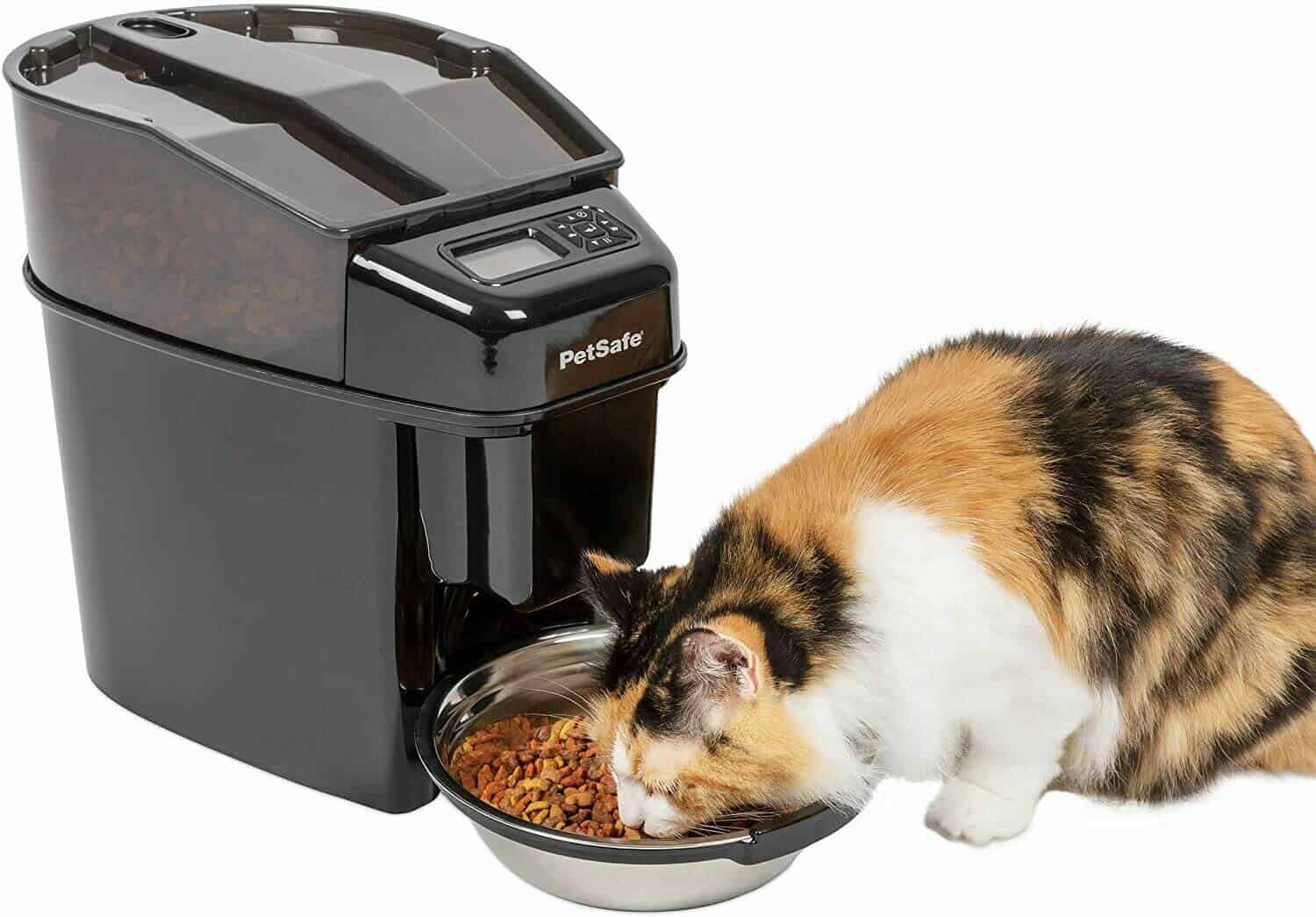 12 is a huge number when it comes to the times you can schedule your cat's meals for the day. This is what this automatic feeder does. For each meal, you can choose the amount of dry food that you'd like to dispense. This ranges from ⅛ a cup to 4 cups, depending on your needs.
It can hold up to 24 cups at a time. Because it has such large storage capacity, the time between each filling could be a few weeks apart. You could fill it up with most types of dry food, whether semi-dry or completely dry.
There's a slow-dispensing feature that dispenses the food through the course of 15 minutes. That's great for pets that eat too quickly and end up still hungry after their meal.
It's made out of stainless steel, which makes it easy to clean and durable. This also means that it's pet-proof. Your cat won't be able to get to the dry food inside the food container as long as it's not feeding time yet.
What We Like
24 cups storage capacity
4 cups bowl capacity
Could schedule 12 feeding times
Durable
Easy to clean
Slow-dispensing system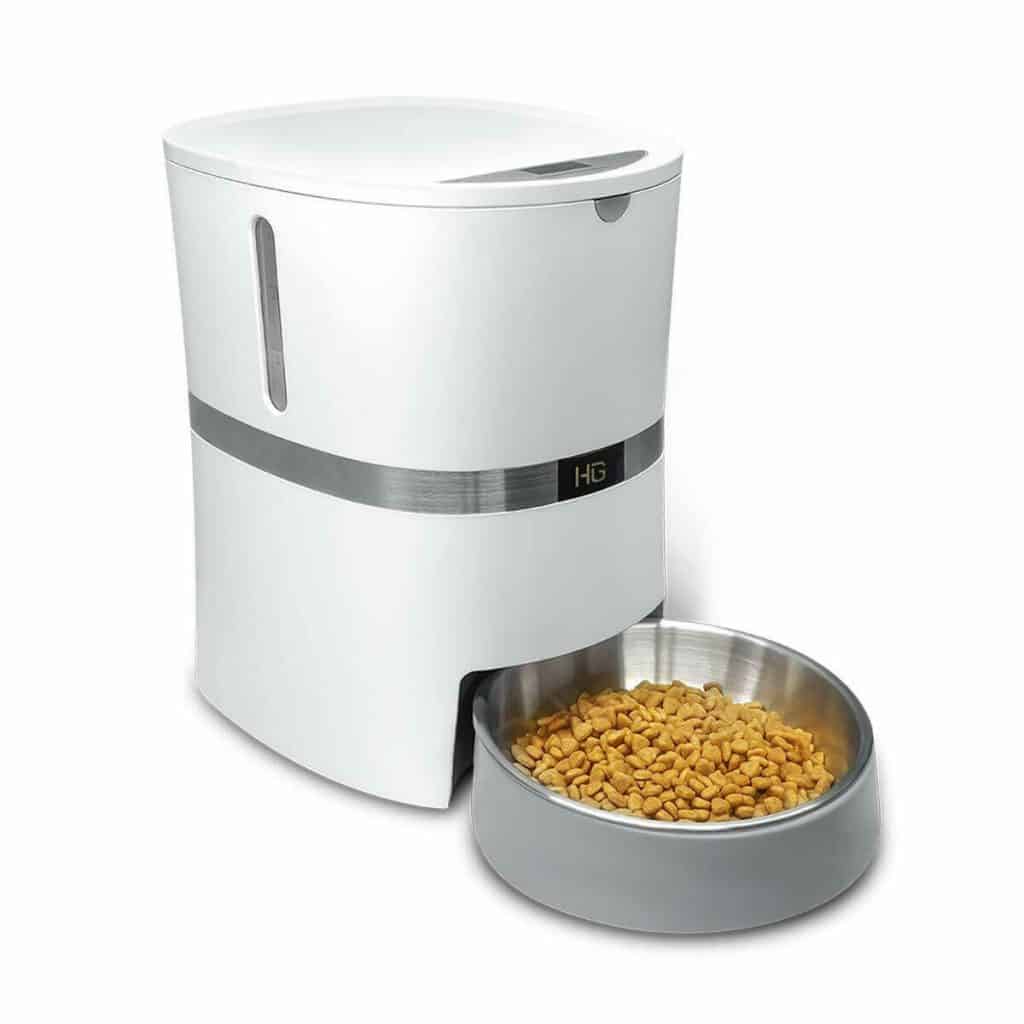 It's unlikely that this dispenser will have any food stuck in the food channel because of the motor inversion. This means that when food gets stuck, the motor will rotate and release the stuck-on food.
It won't get stuck as long as the kibble size isn't above 0.47 inches. It also lets you know when the food level in the container is low. When that happens, the LED light will flash blue. It also has infrared sensors to let you know when you've put excess food into the food container.
You can fill it with up to 13 cups of dry food inside of the food container. The capacity of the bowl itself is 3 cups.
You can schedule the dispenser to feed your cat for up to 6 times a day. You could also record a 10-second message that the feeder plays to your cat when it's feeding time. That way, your cat would feel as if you're there.
What We Like
Sensors for food levels
Motor inversion to prevent food from getting stuck
Up to 6 feeding times
Voice recorded message
Made from stainless steel
Easy to clean and dishwasher friendly
What We Don't Like
Doesn't work with kibbles larger than 0.6 inches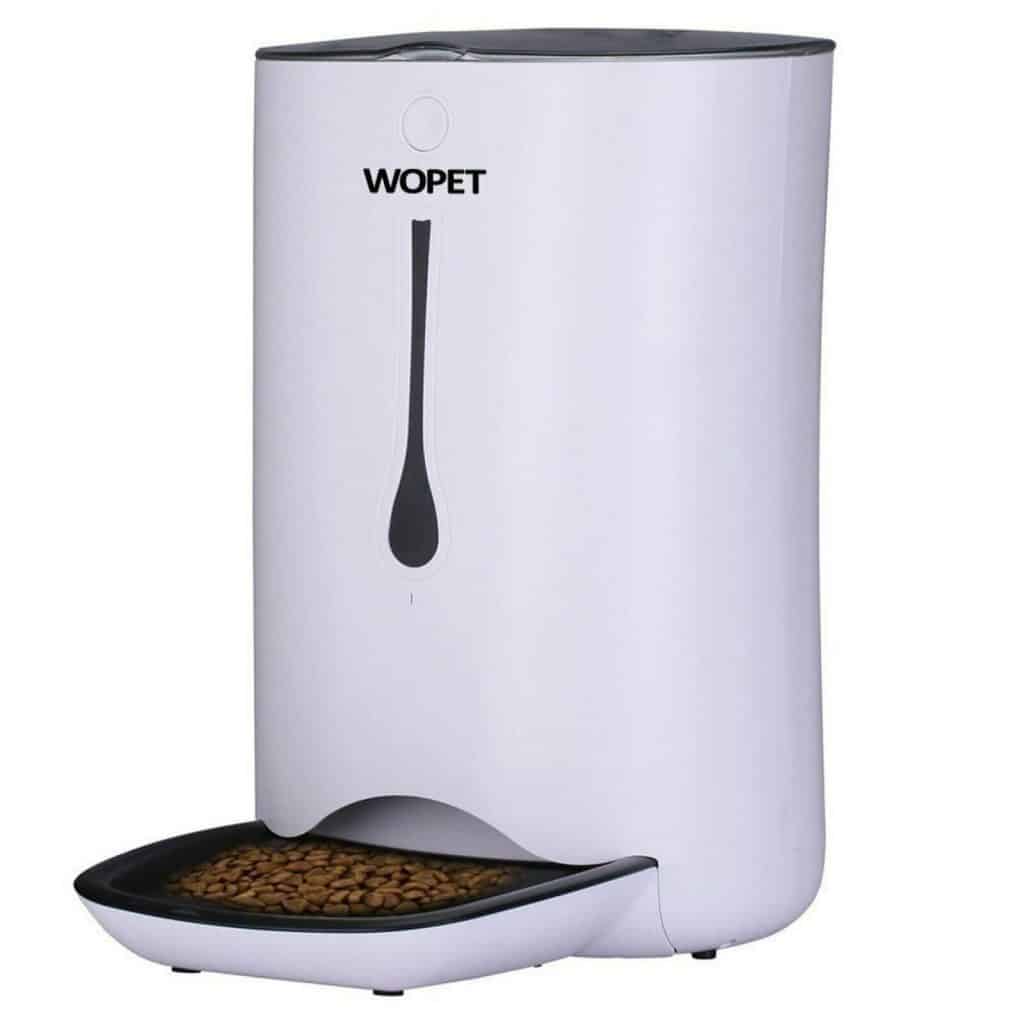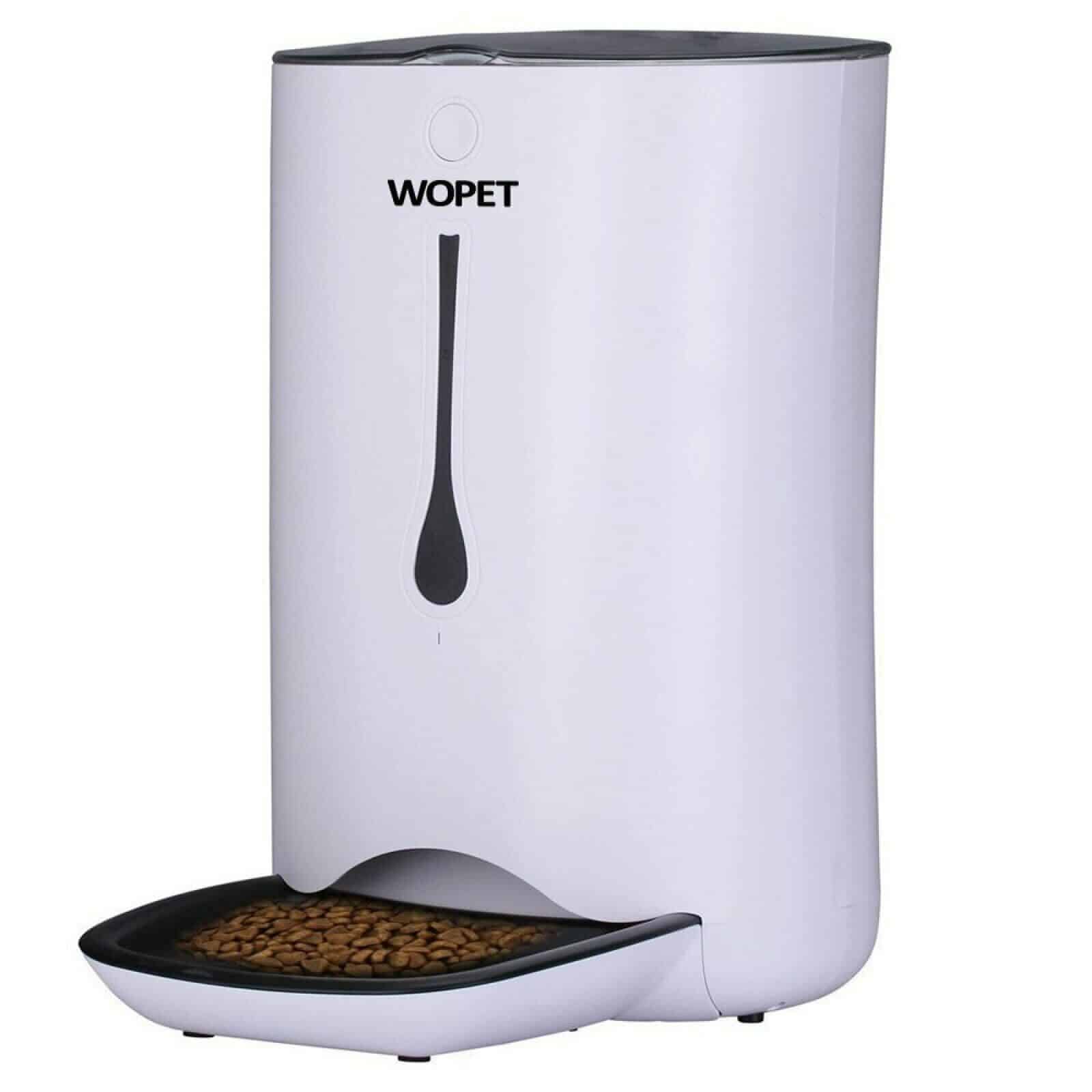 The first thing that caught our eye is the dispenser's design. Its white design looks elegant and chic. It's not just the looks that we have to consider, though.
The Wopet dispenser could be scheduled for 4 feeding sessions throughout the day. You can only use dry kibbles for this dispenser. Their diameter should be 0.2 to 0.6 inches to reduce the risk of the food getting stuck.
It holds up to 20 cups of dry food while the feeding bowl holds 4.5 cups. You could choose to make a meal 2 teaspoons all the way to 4.5 cups.
The backup battery system allows the dispenser to work for the longest time possible. It's basically a backup for when the dispenser runs out of power. This is essential since it's going to be used outside, it needs to be on all the time.
You could record voice messages to keep your pet excited about mealtime. Hearing your voice will make them feel less lonely too.
What We Like
20 cup capacity
Control portion of the meal
Back-up battery system
Recorded voice message
Programmable timer
Elegant design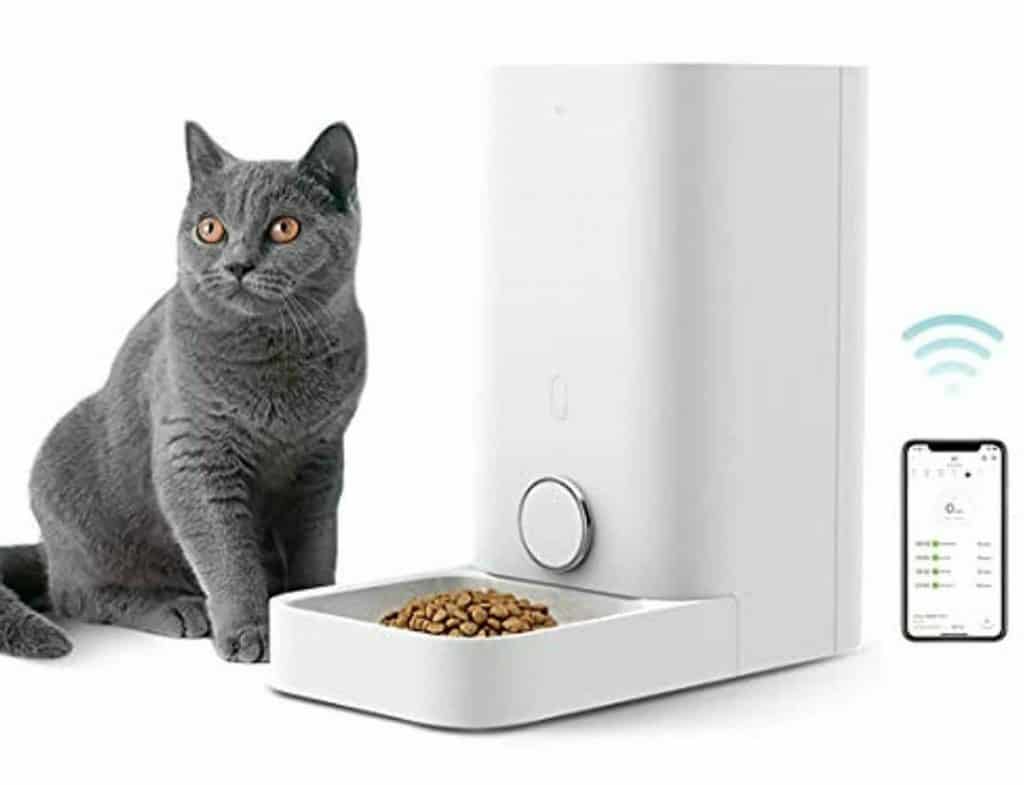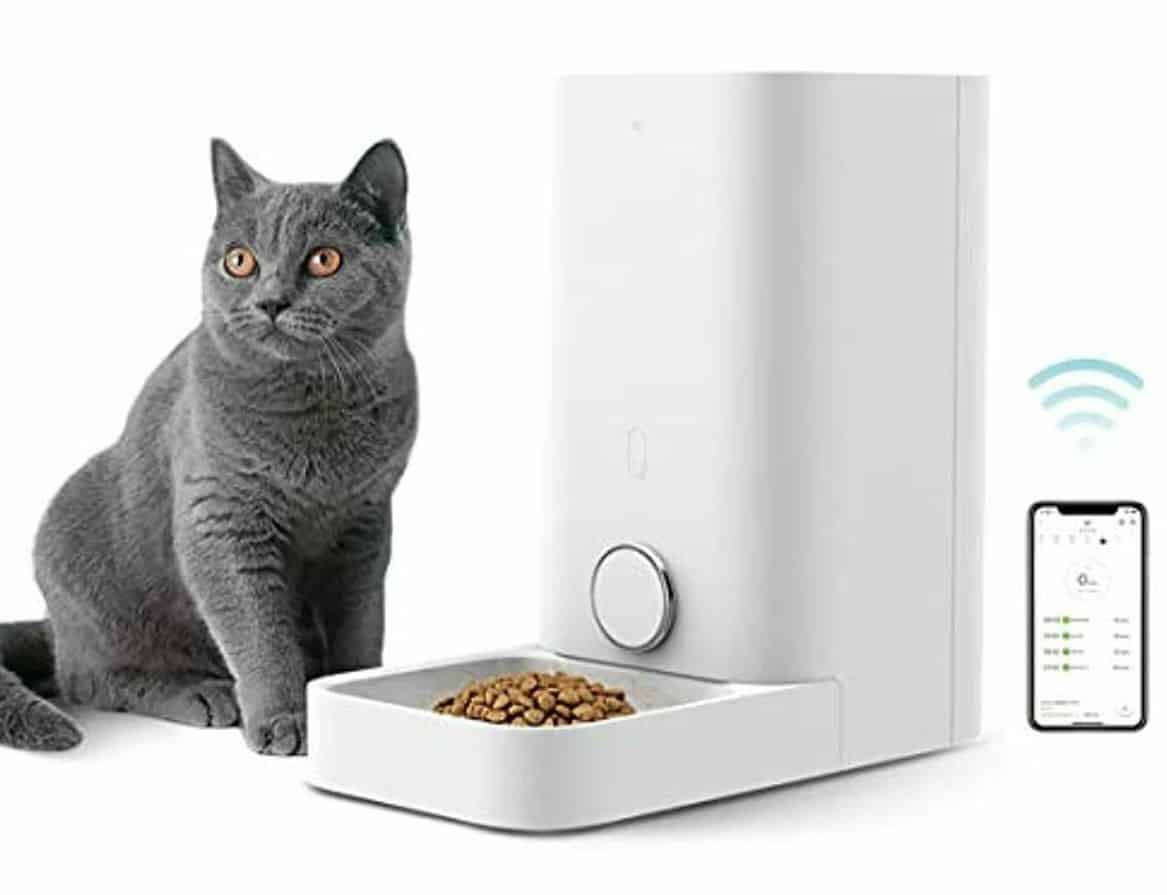 Looking for a feeder that you can connect to your phone? This could be the one for you.
You don't need to be connected to the internet or the app all the time of course, just when you're setting the feeder program.
The app allows you to connect with other pet owners. You can benefit from others' experiences with their pets and the feeder, and even make a few friends along the way.
You can program the PETKIT feeder so that it dispenses 1/20 of a cup to ½ a cup. The serving size is small compared to the other feeders, but you can schedule up to 10 feedings per day. That makes up for the small serving size.
The storage capacity is 3.3 pounds, which is again lower than than the other dispenser's capacity. However, the double lock on this dispenser keeps the food fresh for a long time and prevents mildew from forming.
If the food level is low, you'll be notified via the app, ensuring that your feline friend never runs out of food. In case of a power outage, the dispenser is equipped with a back-up battery system.
What We Like
Associated app
Back-up battery system
Easy programming
Food-level sensor
10 feedings a day
What We Don't Like
Low storage capacity
Small servings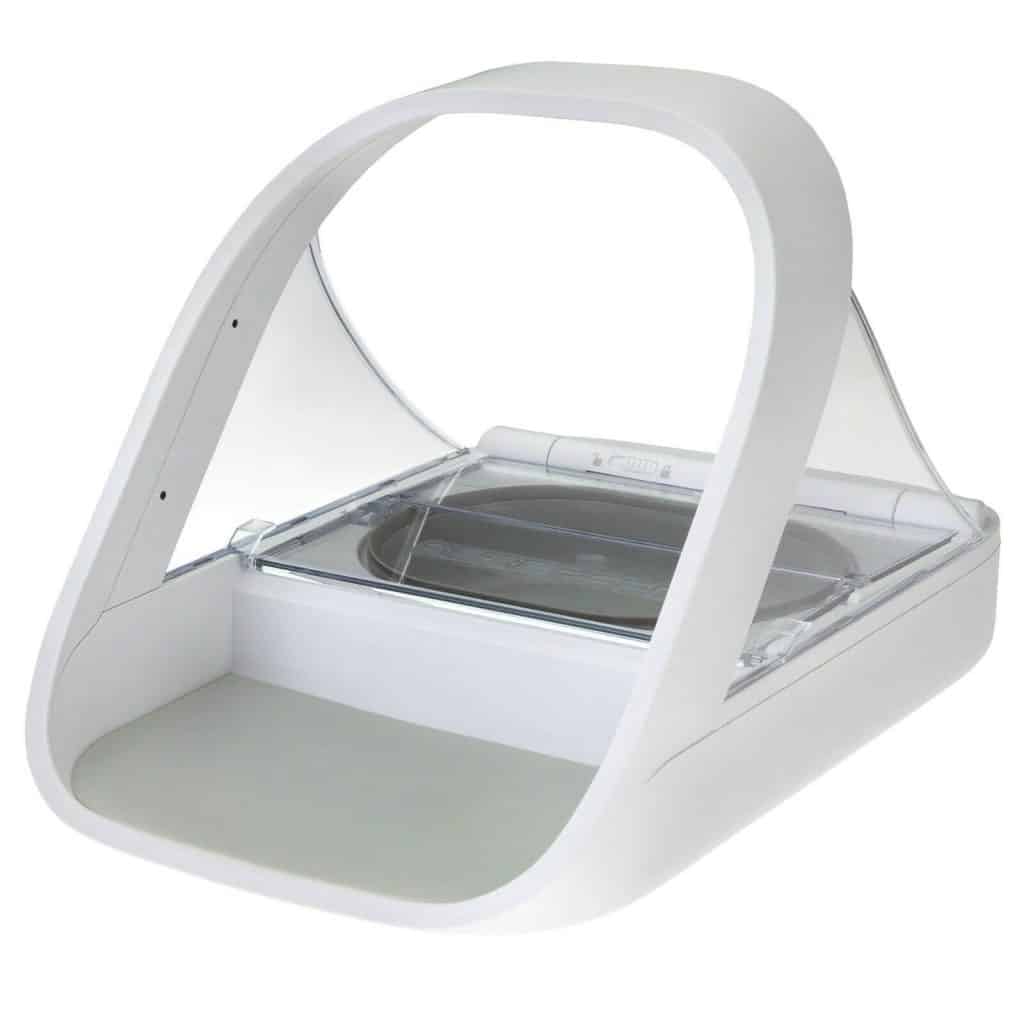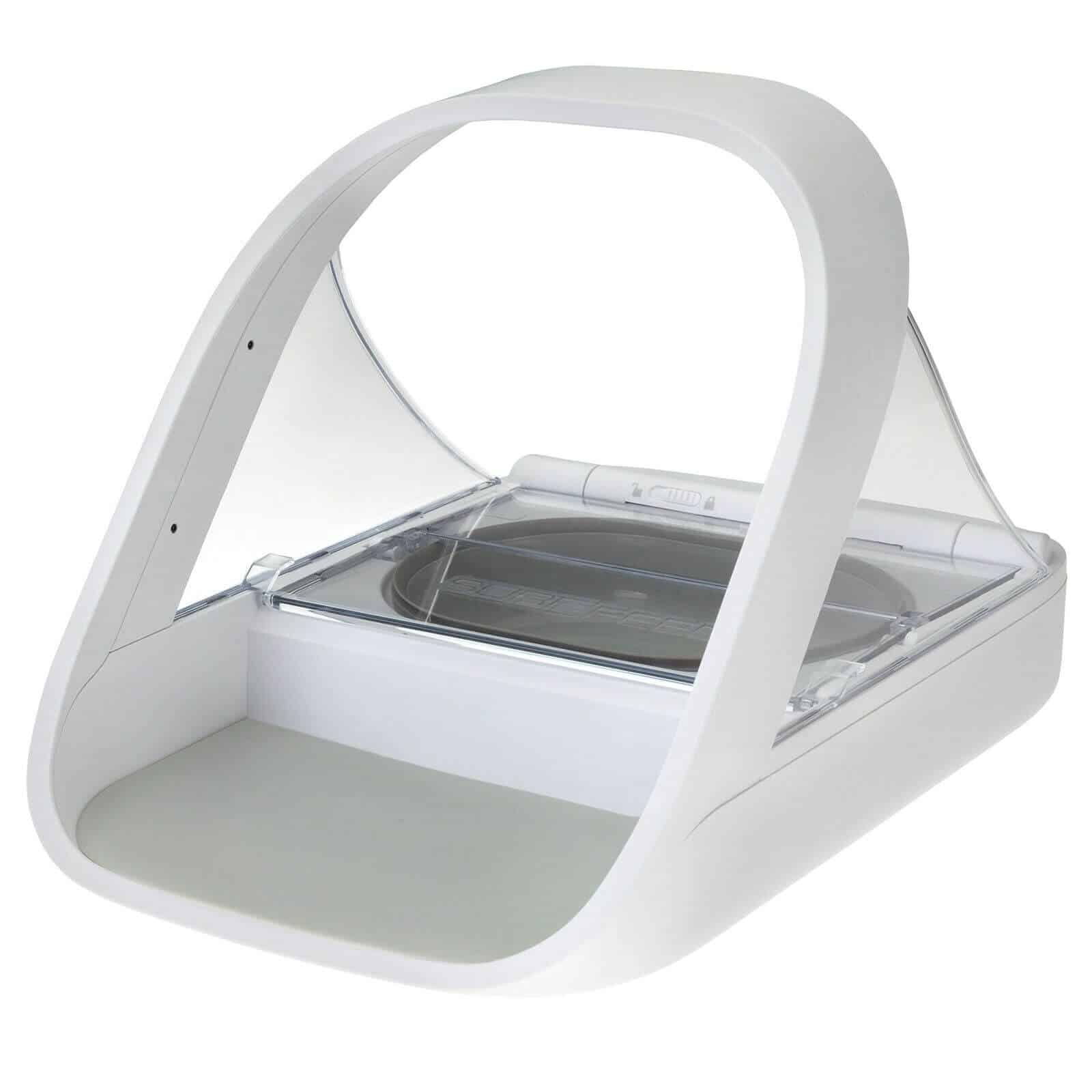 This feeder is an excellent choice if you have more than one cat. It uses the ID Microchip or the RFID collar that's available at Sure Petcare. Keep in mind that the microchip is sold separately, though.
The feeder could recognize up to 32 cats. You can also use this dispenser if your cat is following a certain diet.
If your cats tend to fight or steal each other's food, this microchip feeder is probably going to stop that. It only dispenses food when it recognizes the cat's microchip or RFID.
To keep the food fresh for the longest time possible, the feeder seals in the food. On top of that, the seal is made out of neoprene lip, which helps preserve the food.
What We Like
Could be used for wet and dry food
Microchip recognition
Great for multiple cats and cats on a diet
What We Don't
AC adapter sold separately
RFID collar sold separately, which adds to cost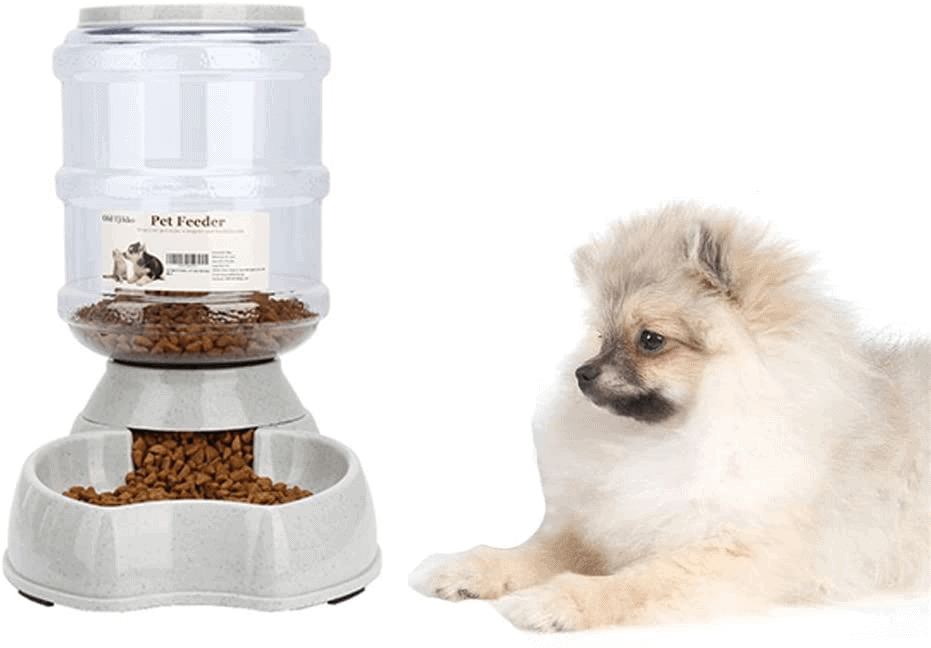 We had to include a feeder that works using gravity. You could buy this feeder along with a water fountain or just the feeder alone, but we recommend both.
The bottom of this dispenser is made out of rubber so it's anti-skid. It won't move around when your curious pet decides to push it around. This is especially important with the water fountain. If the water spills, it makes a perfect environment for bacteria and mildew to grow.
Regardless, bacteria could grow anywhere so be careful. Wash the feeder at least once a week by hand. It's not dishwasher friendly.
You shouldn't face a problem using it, it's easy to take apart and put back together. The food container has a capacity of 3.8 liters.
What We Like
Budget-friendly
Large capacity
Doesn't require electricity
Anti-skid
What We Don't Like
Limited features
Needs to be cleaned by hand
Types of Outdoor Automatic Cat Feeders
There are two types of automatic cat feeders. We've included examples of both of them.
Electronic feeders have a wider range of capabilities and features. That could be setting timers, portion sizes, recording voice messages, and food level alerts.
A gravity feeder works by dispensing food when your cat eats.
This might be a problem for cats that like to eat a lot since it could lead to overfeeding. If your cat doesn't eat a lot, a gravity feeder would be great.
Things to Consider Before Buying
Before choosing the best outdoor automatic cat feeder, you need to consider several points.
Material
Plastic is a common material used in making pet bowls, but is it the best? There are several pros and cons to using plastic.
Plastic is lightweight. It makes moving the feeder much easier. Using plastic for the body of the feeder could be great in terms of mobility.
Plastic is also less costly than steel or other materials. Because of this, the price of the feeder decreases, making it more affordable.
On the flip side, if your cat likes scratching a little too much, scratches could develop all around the bowl.
In these scratches, there'll be a bacterial build-up. It then becomes hard to clean or remove this bacteria.
Stainless steel is an excellent alternative. It's durable and your cat wouldn't be interested in chewing on it, of course. It's also easy to clean and dishwasher safe.
Stainless steel can be a bit more expensive than plastic, making the feeder's price high.
Voice Recording
It's great that your pet gets to hear your voice even when you're not around.
Feeders that have the voice recording feature make it more likely that your pet will notice that the food is served. That way you can ensure that your cat eats at the time you planned for meals.
Timers
Timers are very important if you're used to feeding your cat at certain times. If the food is always there for them, they probably won't eat healthily, either too much or too little.
By setting feeding times, your cat will know when to expect to be fed. Sometimes, you could forget these times or your circumstances don't allow you to feed your cat at those times.
That's what makes feeders with timers a practical choice.
Capacity
Since we're talking about dry food, the more the feeder can take, the better.
Dry food doesn't go bad quickly, it could take a couple of weeks before you have to change the food. The less you have to do this, the better.
Kibble Size
The size of each individual kibble is important to consider before buying a feeder. If your cat is used to a certain type of dry food then you need to find out if it's compatible with the feeder or not.
The best you could do is to buy a feeder compatible with all kibble sizes, that way you can change the brand as you wish without it ruining the feeder.
Easy to Clean
You need to make sure that the food that your cat ingests is always clean and germ-free. To do this, the feeder should always be clean. You don't have to thoroughly clean all the feeder's compartments every day, just make sure to clean the feeding bowl every evening.
Some feeders are dishwasher-friendly. Be sure to check whether the feeder you're going to buy is one of them or not.
Elevation
Some feeders have elevated bowls so that larger pets could easily eat without lowering their head. These feeders work well for senior pets or pets with painful joints.
Since we're talking about cats, elevation won't be all that necessary. They're too short to reach an elevated bowl so steer clear from elevated bowls.
I would only suggest getting one if you have a hyperactive cat. If you can control when the feeding bowl is elevated, it would be great. That way your cat can't make a mess with all the food in front of it.
Power Source
If you have a place to plug in your dispenser, that's great. If you don't, then your choices will be limited. There are some dispensers that work by gravity that won't require plugging in or charging or anything of the sort.
Some of the choices mentioned above have a back-up battery system that allows you to use the feeder when you have no electricity. These could be great for outdoor use.
However, these types of food dispensers have limited features. Those that work with electricity have far more uses than the one that uses gravity.
Try to place the feeder on the porch where there's a plug. That way you can benefit from all the features these types of automatic cat feeders have.
Frequently Asked Questions
Here are the answers to some questions that might have been going through your head.
How do I train my cat to use the feeder?
At first, your cat may be a little worried or curious about the feeder. Place it next to your cat's bowl and let it inspect it for some time. Once your cat is comfortable enough with the feeder, it'll start eating food from it.
Can two or more cats share the feeder?
Yes, some feeders even have dividers and different portions for each cat. Even if the automatic feeder you have doesn't provide these features, it's okay for the cats to share. Most of these automatic feeders are filled with dry food.
Cats nibble on dry food when they feel like it, so the possibility of them fighting over the food in the feeder is low.
What is the best outdoor automatic cat feeder with a timer?
The best automatic cat feeder with a timer is Wopet Automatic Food Dispenser. This feeder has some amazing features like a programmable timer and a distribution alarm. It can also function normally if there's an unexpected power outage using 3 D-size batteries.
Best Automatic Cat Feeder Brands
Here's a quick look at some of the best brands in the business.
PetSafe
PetSafe is an all-round great pet supply business. It was established in 1991 and has sold products to 52 countries all around the world.
Wopet
Wopet was founded in 2015 and currently has 36 stores. Its main focus is innovative products to help pet owners conveniently feed their furry friends.
PETKIT
PETKIT specializes in making wifi-enabled, BlueTooth-enabled, and non-connected dog and cat feeders. It was first launched in North America back in 2016, now it's based in Asia.
Sure Petcare
This brand has revolutionized the way that feeders work. Founded in 2007, Sure Petcare uses microchip technology to recognize your pets.
The Final Verdict
Feeding your cat properly is essential for maintaining good health. There are several reasons you can't feed your pet. Maybe it's because you're away most of the time or because it's roaming outside in your backyard for the majority of the day. In all cases, you might find an outdoor automatic cat feeder.
I recommend trying out the PetSafe Healthy Automatic Dispenser. On top of its big 12-cup capacity, you could schedule 12 feeding a day for your cat. Although it's on the expensive end, it's well worth the price.
If you're looking for a more affordable alternative, consider the Blessed Family Automatic Cat Feeder. Besides being budget-friendly, it's also non-skid and has a large food capacity.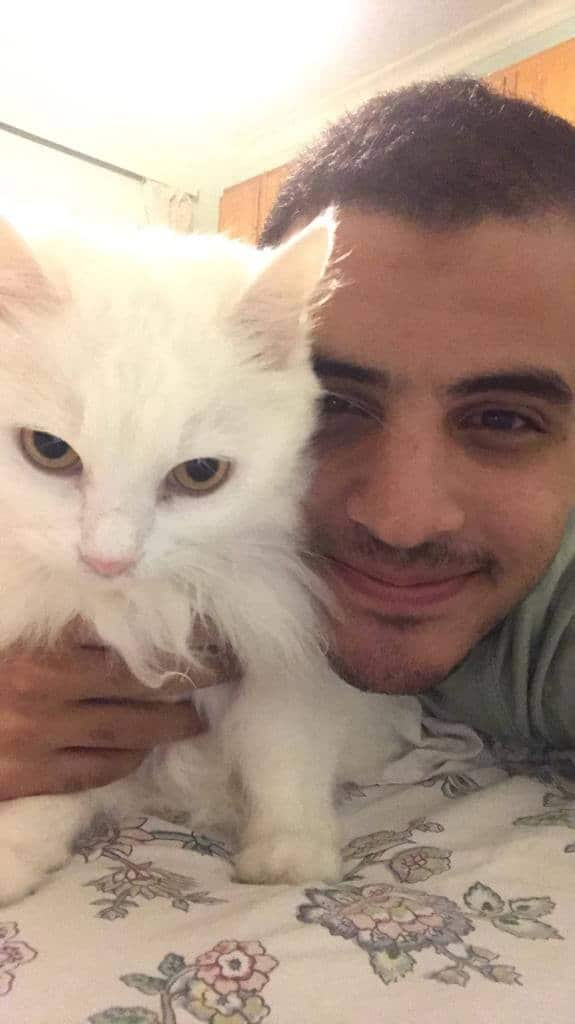 I've been living with cats since 2008 and I can confidently say I have more feline friends than humans lol. I currently live with 5 cats in different life stages; two of them are less than one year old, one is 2-ish years old and the oldest two are 9-ish years old. I've developed a strong bond with cats over the years and I'm eager to share my experience through this blog. You can learn more about my cats here.