Disclaimer: Some of the links in this article may be affiliate links; we will earn a commision, at no additional cost to you, if you make a purchase through one of our links.
With Halloween just around the corner, you might be looking for unique ideas to carve some pumpkins. And what's a better way to celebrate the spookiest day of the year than with cat-themed pumpkins?
Whether you're a seasoned pumpkin carver or doing it for the first time, this guide has got you covered with a unique collection of pumpkin cat carving ideas. So without further ado, let's dive right in!
Pumpkin Cat Carving Ideas
1. Kitty Jack-O-Lantern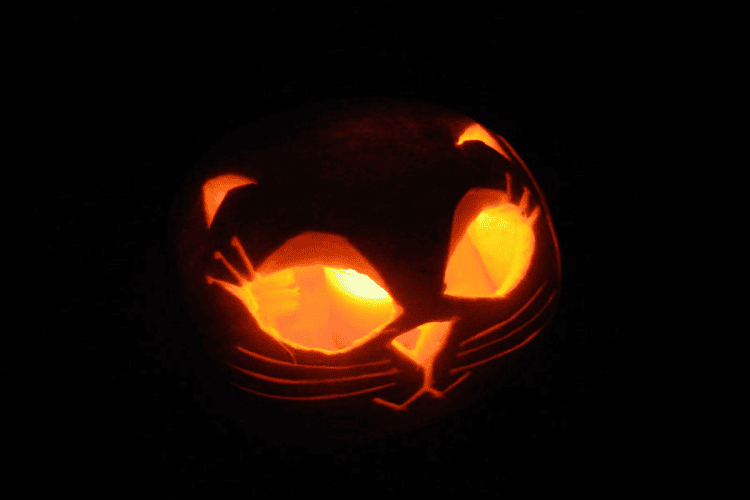 Kicking off the list with one of the best ways to introduce an element of feline cuteness to your Halloween decorations.
What makes this pumpkin carving special is that it strikes a perfect balance between spooky and adorable.
The carving shows the large, beautiful eyes of a cat, along with some of the most distinctive features, such as the ears and whiskers.
Among the best features of this pumpkin carving idea are the eyelashes and the hooded eyelids, made by partially carving the pumpkin to pass the light at different intensities.
This can be a bit challenging for a beginner, so you have to be extra careful while carving them.
2. Toothpick Whiskers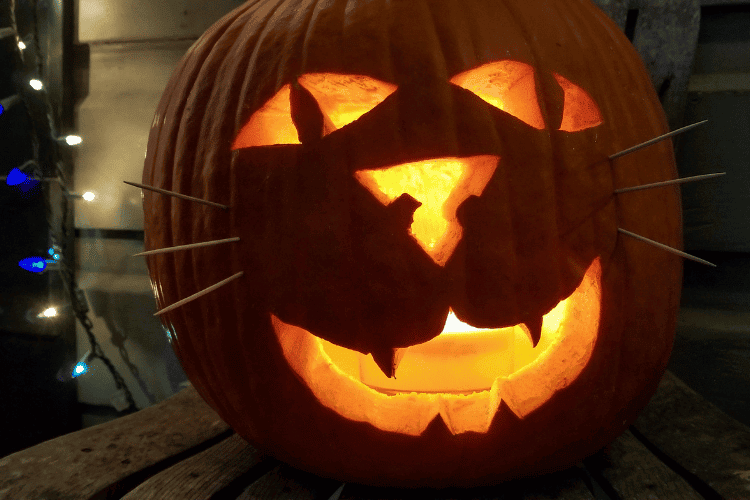 One of the trickiest parts about carving a pumpkin is getting the thinner lines right, especially if you need to do multiple ones, and that's where this carving idea comes in handy!
In this design, you'll simply add some toothpicks to the carved cat features to give the impression of the whiskers.
Besides saving you a lot of time (especially if you're carving many pumpkins), it also gives a special 3D effect to the lanterns, which makes them stand out with minimal effort!
Check Also: 8 Homemade DIY Small Cat Room Ideas
3. The Spooky Cat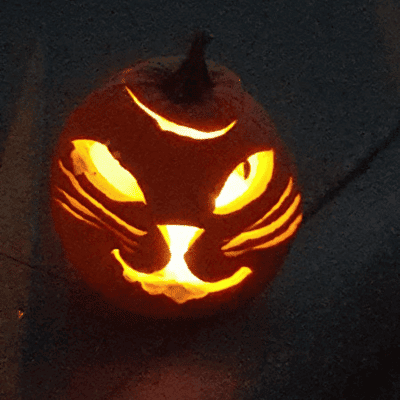 Many people have second thoughts about going with cat-themed Jack-O-Lanterns because they don't want them to look imperfect.
However, one of the best things about pumpkin cat carvings is that imperfections can be easily embraced, and this picture above is an excellent example!
As you can see, the jagged edges while carving the lines give the lantern a remarkably spooky vibe, especially when you leave the top of the pumpkin on. 
Leaving a bit of the pumpkin in the middle of the eye is an excellent way to recreate cat eyes when they're in hunting mode.
4. Cats and Spiders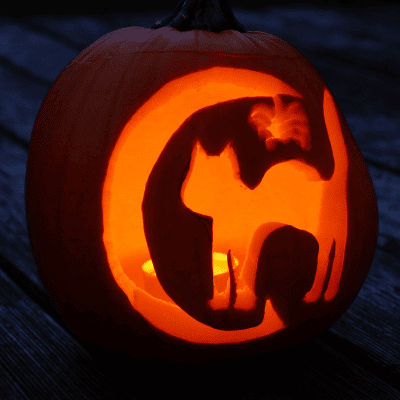 If you want to add an extra touch of spooky to your pumpkins, you should consider carving some spiders along with your cats.
That being said, you should keep in mind that spiders might be a little challenging for beginners because they require carving multiple lines near each other with high precision.
One of the best ways to master spider carving on your cat-themed lantern is to partially carve their background first.
This makes it easy to keep your lines straight while providing a clear, contrasting backdrop while lighting it up.
5. Hello Kitty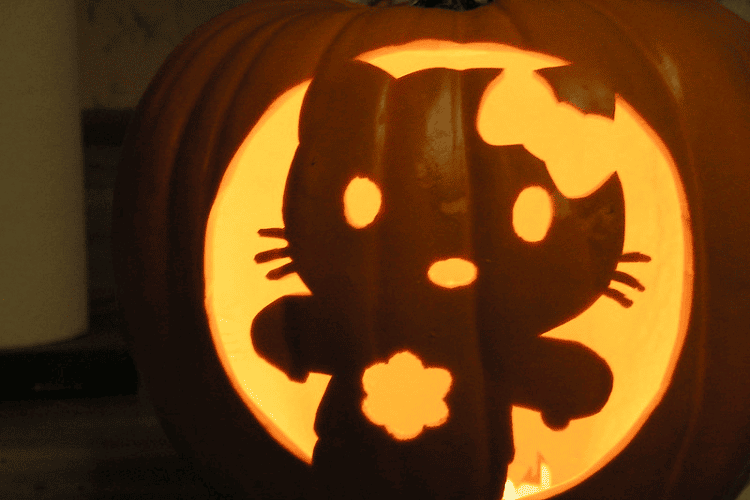 If you like carving pumpkins but you want to keep them tame in terms of spookiness, this idea would be perfect for you.
Hello Kitty is an incredibly adorable and instantly recognizable character, which can be a perfect choice if adorable Halloween is what you're going after.
The best part about carving Hello Kitty is that it's much easier than you think. In fact, with the right tools, even a beginner can get excellent results while attempting to carve this one!
Recommended: 19 Cat Drawing Ideas
6. Double Face Jack-O-Lantern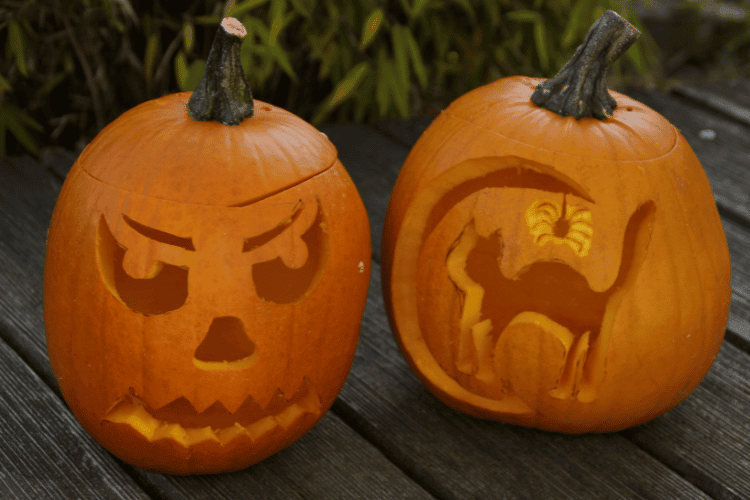 Whether you have a limited number of pumpkins or you want to mix things up throughout Halloween, you should consider this idea in mind.
Carving a pumpkin on both sides can be an excellent way to keep your lanterns visible from all angles.
It's also an awesome idea if you want to quickly switch the theme of your carvings. For instance, you can carve a good/evil version of the same characters, to quickly switch the "evil" mode on Halloween.
7. The Evil Cat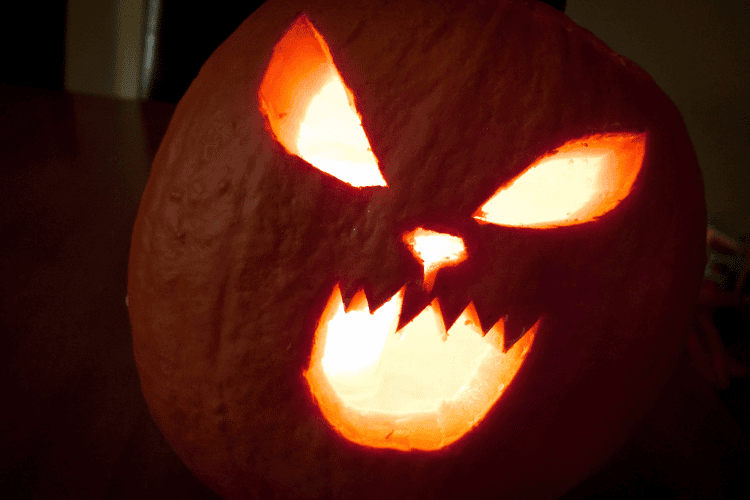 If you're going for a super spooky look, this one might be exactly what you're looking for. This lantern adds a kitty nose to the regular pumpkin carvings to give them a cat appearance.
As you can see, this one is ideal if you're a beginner or in a hurry, as you'll not need to worry about carving whiskers or ears like other ideas, although adding them can greatly add to the overall look of the Jack-O-Lantern.
8. Silhouette Kitty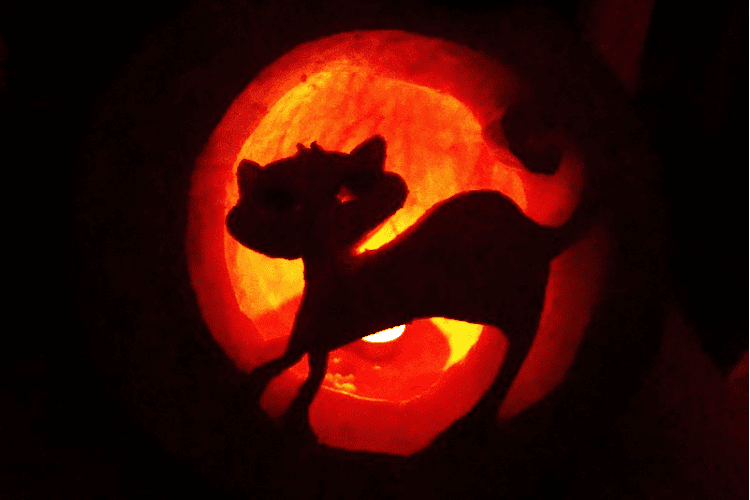 If you have the right set of skills and are looking for a challenge, this one might be exactly what you're in the market for!
This one will require some decent carving tools as well, as you'll need a stencil to follow the outline and carve a large round part around it.
While carving out the silhouette, make sure that you leave it connected to the main body of the pumpkin through multiple points to protect it from collapsing.
9. Kitty in the Shadow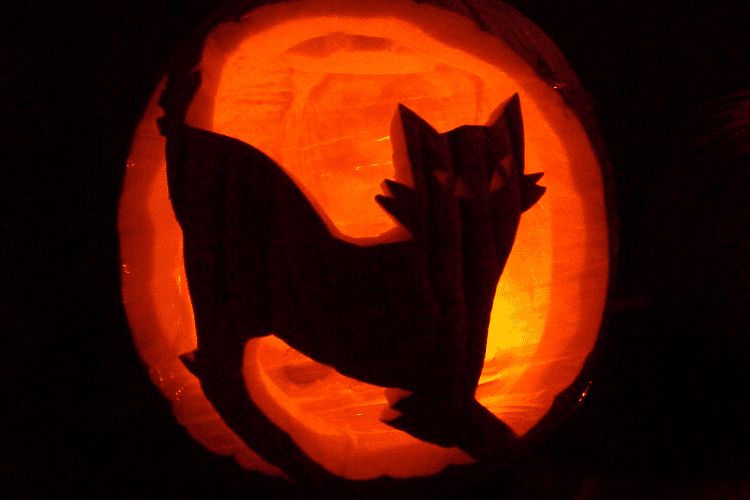 This one is a special variation of the previous idea that adds a bit more detail to the cat silhouette, such as whiskers and eyes.
You can also take this idea a step further by carving out almond-shaped eyes completely rather than partially, but make sure that you do this carefully so that your silhouette doesn't break apart.
10. The Witch's Little Helper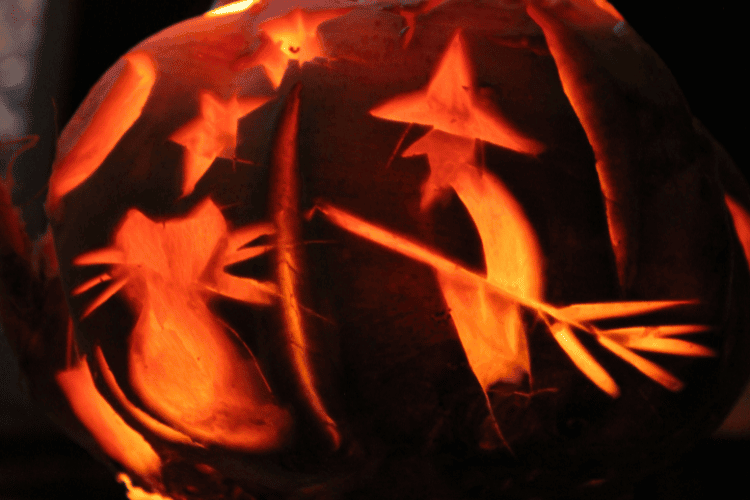 Lastly, if you want to create a full theme on the pumpkin, you try out this one. This idea features a witch riding a broom along with a little cat.
The best part about this idea is that it's fairly easy to recreate, as you don't need to fully carve all parts of the outline. You can also adjust various elements of the design to suit your liking better.
Related: The Best 3 Cat Cone Collar Alternatives (+ DIY Guide)
Final Thoughts
There you have it! A simple guide that walks you through some amazing pumpkin cat carving ideas for the next Halloween.
As you can see, with a few simple steps, you can create a spooky and festive cat-themed pumpkin that will be the envy of your neighborhood!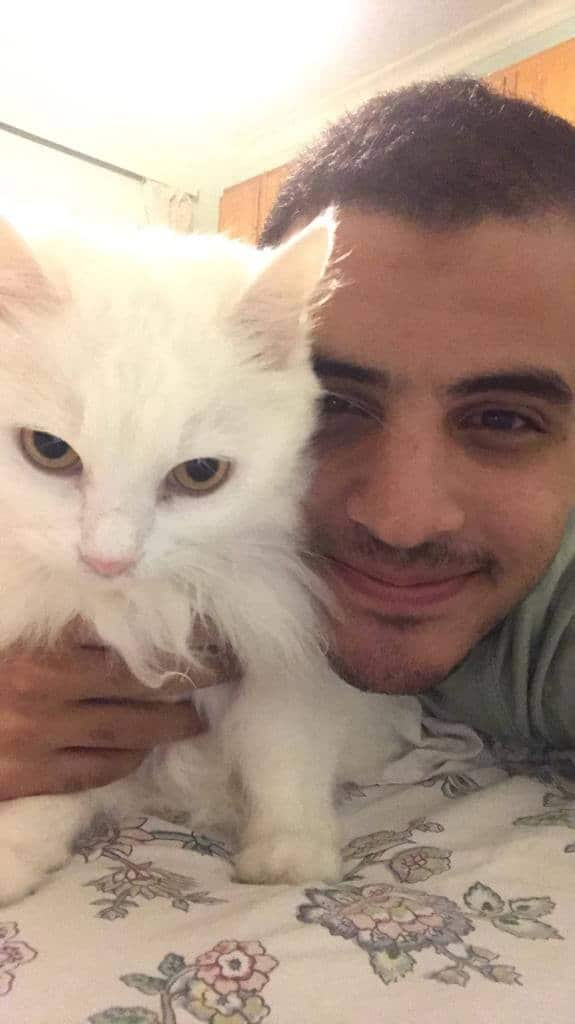 I've been living with cats since 2008 and I can confidently say I have more feline friends than humans lol. I currently live with 5 cats in different life stages; two of them are less than one year old, one is 2-ish years old and the oldest two are 9-ish years old. I've developed a strong bond with cats over the years and I'm eager to share my experience through this blog. You can learn more about my cats here.