Disclaimer: Some of the links in this article may be affiliate links; we will earn a commision, at no additional cost to you, if you make a purchase through one of our links.
Many cat parents search for Feliway alternatives for different reasons. Some are looking for a more affordable option. Others seek an all-natural substitute. A third team just wants a more effective solution.
Luckily, the calming aids market is full of options that can replace Feliway. Still, you need to be well-educated about that world to be able to choose your ideal product.
In a hurry? Here are our top picks:
| Image | Product | Detail | Price |
| --- | --- | --- | --- |
| | Comfort Zone Scratch Deterrent Spray | | Price |
| | Beaphar Cat Calming Spot-On | | Price |
| | Comfort Zone Cat Calming Diffuser | | Price |
In this post, we'll provide 5 perfect Feliway alternatives and what is the edge each has over Feliway.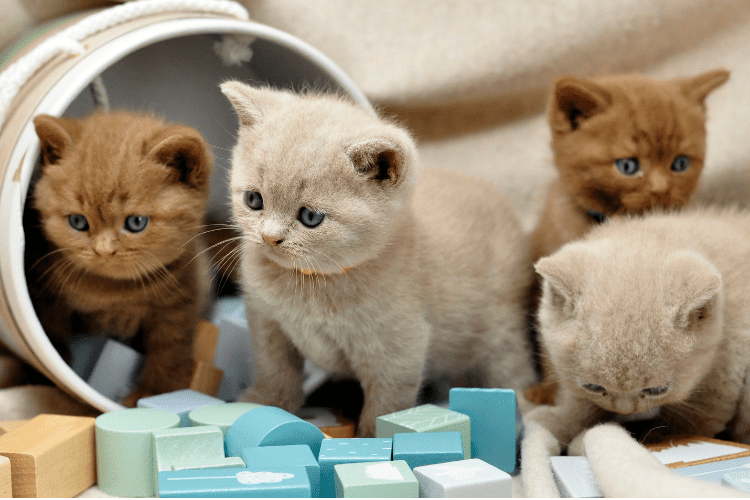 The 5 Best Feliway Alternatives on the Market
Here's a list of the top choices you can pick from instead of Feliway products:
1. Best Overall Alternative: Comfort Zone Scratch Deterrent and Cat Calming Spray
Top Pick: Comfort Zone Scratch Deterrent Spray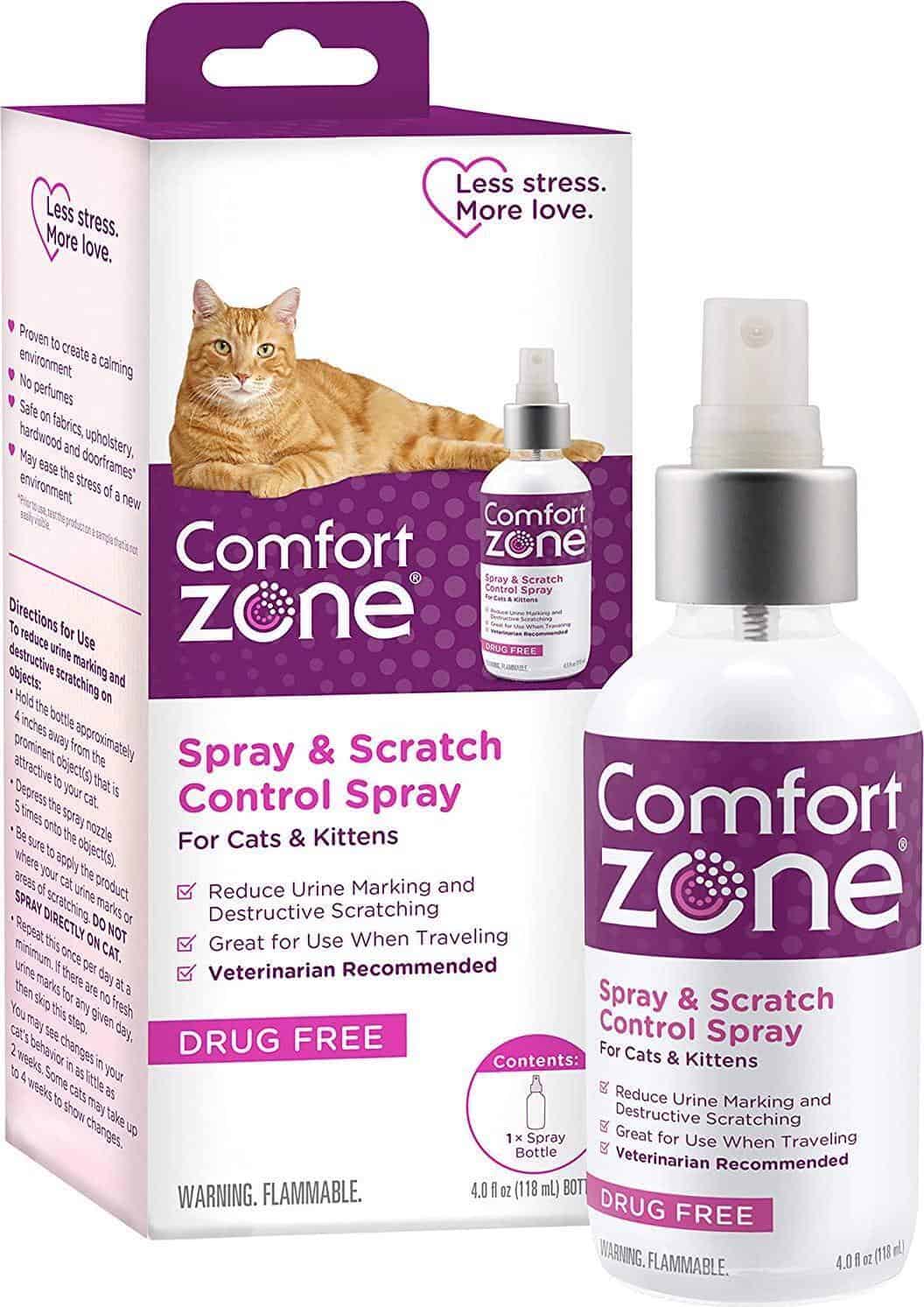 Pros
Provides a money-back guarantee if the product provides unsatisfying results
Odorless so that you won't notice any inconvenient change
Can be used on different surfaces like door frames, upholstery, hardwood, and even fabrics
Cons
The spray nozzle is slightly weak, so you need to cautiously use it
Although it's cheaper than Feliway's product, you can expect exactly the same quality. Comfort Zone spray is made mainly from artificial feline pheromones.
It's pretty easy to use indoors or outdoors. So, you can employ it for a wide range of purposes. For example, to welcome a new stressed cat, to soothe your kitty during travel, or to prevent cat spraying.
After only a couple of weeks of using it, you'll start noticing how your cat's behavior changes.
This product is also odorless, so it won't bother you or any other home pet. The most important thing is that it's completely safe and vet-recommended.
Recommended: The full Feliway vs Comfort Zone comparison
2. Runner-Up: Beaphar Cat Calming Spot-On
Beaphar Cat Calming Spot-On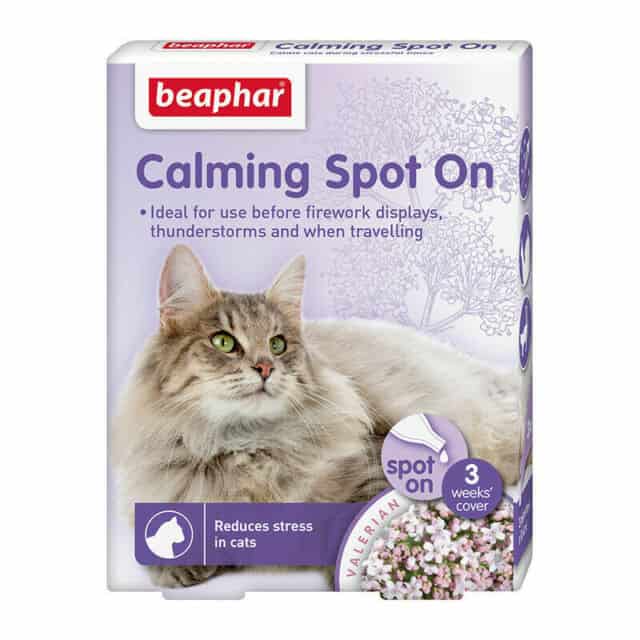 Pros
Fast effect within only two hours
Made of natural ingredients
Leaves no stains or marks on the cat's hair
Cons
Can cause allergies in some cats
Beaphar spot-on is made mainly of Valerian extract, known for its calming effect on both humans and cats. So, these drops work as a fast soother for your cat.
Apply one pipette of it between your cat's ears, and you'll see your nervous feline become calm, within just one to two hours.
Better still, one dose's soothing effect lasts up to five days. Given that the one pack contains three pipettes, it'll provide your cat a full 15 days of tension-free experience.
Beaphar can be used to alleviate your kitty in various situations. For example, vet visits, travels, or when there are new visitors in the home.
3. Best Budget Alternative: Comfort Zone Cat Calming Diffuser
Comfort Zone Cat Calming Diffuser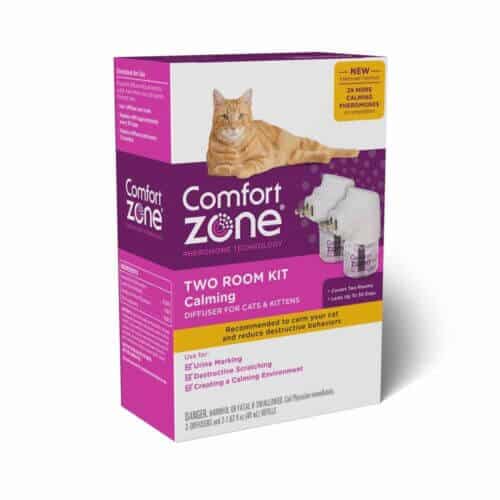 Pros
The diffuser can be used for one year without change and has simple operations costs
Odorless, so you won't even notice it
Has a long-lasting effect as it provides continuous results for extended periods
Cons
The outlet needs to be swapped weekly as the diffuser might leave some residue
Comfort Zone diffuser offers 30 days of continuous calmness and relaxation for your cats at a cost considerably cheaper than most alternatives.
The product is easy to use. All you need to do is to plug in the diffuser to your power outlet and watch it calm down your cats.
The diffuser works on spreading artificial facial pheromones, which gives cats a feeling of safety and comfort. So, you'll start noticing the good changes in your cat's behavior within 2 days.
Further, it covers up to around 650 square feet, which equals three small rooms. The device's soothing effect will continue for 30 days as long as you keep plugging in the diffuser.
By the end of the month, if you want to use it for another period, you'll need to refill it.
4. Best Treats Alternative: Vetriscience Composure Calming Treats for Cats
Vetriscience Composure Calming Treats for Cats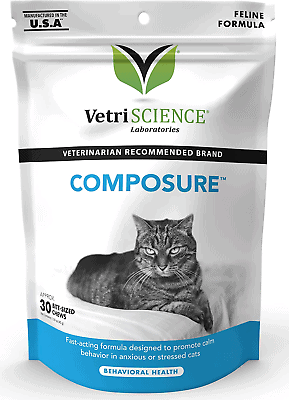 Pros
Highly proven, natural ingredients
Fast effect, which makes it ideal for urgent events
Its flavor is enticing for cats
Cons
Its hard texture makes it difficult for some cats to eat
Give your cat a piece of delectable VetriScience treats, and in only 20-30 minutes your aggressive, stressed, or anxious cat will turn into a calm and friendly kitty. These treats' effect lasts for about four hours.
The treats come in the chicken liver flavor with a soft texture, making it highly appealing to your kitty. Each pack consists of 30 chews.
The product is mainly made of three natural, highly-proven ingredients: L-theanine, Thiamine, and Colostrum.
More interestingly, the manufacturer offers a 100% satisfaction guarantee. This means if you're not satisfied with the results, you'll be fully refunded, or you can replace the product.
5. Best Supplement Alternative: Vetoquinol Zylkene Behavior Support Capsules
Vetoquinol Zylkene Behavior Support Capsules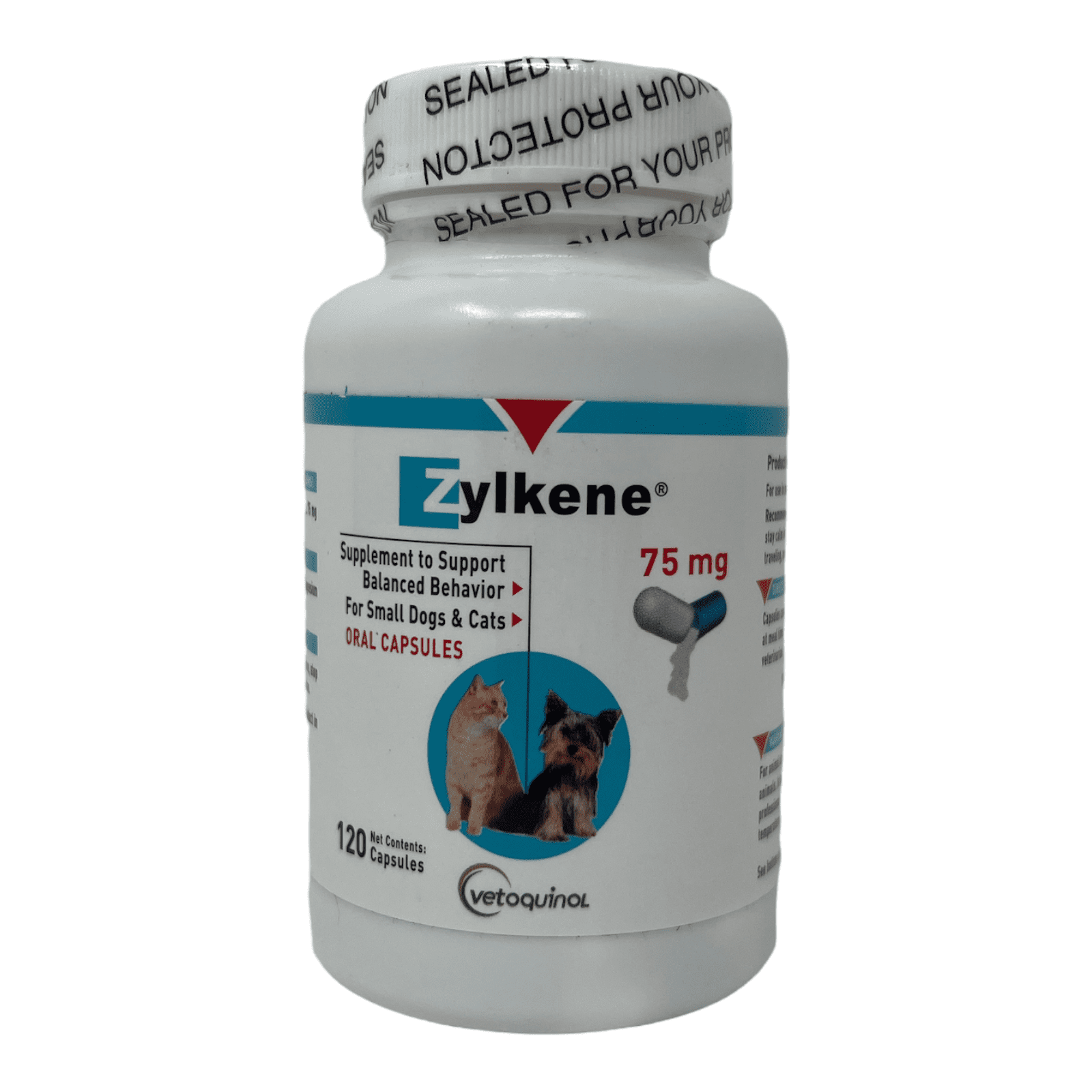 Pros
Desirable flavor to cats
Produced under NASC supervision
Straightforward use, only empty the capsule into some wet food
Cons
Takes a relatively long time to start working, around 12 hours
To tone down your cat's aggressive behavior, give your cat one or two capsules of Vetoquinol Zylkene supplement a few days before any stressful event.
The main ingredient of this product is alpha-casozepine, an extract from cow's milk. This substance is well-known for its effectiveness in reducing cats' anxiety in unfamiliar situations.
Additionally, the calming effect of this supplement lasts for about 12 hours. To keep the result, give your pet another capsule. You can use the product for a short time or over a long period.
These capsules are produced according to National Animal Supplement Council rules. So, they're completely safe and of top-notch quality.
How Did We Pick the List of Recommended Products?
To bring you the best possible Feliway alternatives, we used the following criteria to ensure the quality of the choices. Here are the factors we've used:
The Form of the Product
Cat calming aids come in plentiful forms, yet the safest and most practical are: sprays, plug-ins, treats, collars, and capsules.
Although all these forms can deliver excellent results, they differ in how your cat may react to each one. Generally, cat parents report more positive reactions when using sprays, plug-ins, or capsules.
On the flip side, some cats may get nervous with collars on, especially if they're not used to wearing one. Similarly, calming treats usually have an unpleasant taste that cats won't love. So, we paid a lot of attention to the taste of the treats on the list.
Portability
Your cats need to get calm in various situations indoors and outdoors. While diffusers and supplements work perfectly inside, they can't be an option outside.
Conversely, sprays, drops, and treats are practical options anywhere. Thus, they got higher points for that.
Level of Effectiveness
Calming solutions have different effects depending on the individual pet. What's incredibly effective for a cat may not impact the other.
Nevertheless, in the upcoming list, we've chosen products that have a consensus among most users about their effectiveness.
Vet Recommendation
Your cat's health is a priority. So, when it comes to products that directly impact your little ones, it's necessary that they're vet-approved.
That way, you ensure the maximum safety of the products on your pet. Given that, all the products listed are recommended by vets and show no side effects.
Why Didn't We Recommend Collars?
Despite being a cheaper option than our alternatives below, we don't recommend calming collars.
That's because they come with many unignorable downsides that can be highly inappropriate for your pet.
Here are their most common cons:
Many users report that their pets suffered from allergies when they used collars.
If your cat doesn't like its collar, it might hurt itself trying to get rid of it.
Your cat may scratch or hurt you when putting the collar on or taking it off.
FAQs
Are Feliway And Comfort Zone The Same?
Both Feliway and Comfort Zone work almost the same way. The two products spread a form of synthetic pheromones to calm down the kitties.
The difference between the two brands is the concentration of the ingredients. Some Comfort Zone products contain more concentrated pheromones and vice versa.
However, there's no proven evidence that a higher concentration level of a product can have better effectiveness. So, all indicators so far tell that both products are the same.
Is There A Natural Alternative To Feliway?
There are multiple natural alternatives to Feliway. As mentioned above, Vetoquinol Zylkene is an all-natural supplement for your cats, made mainly from cow's milk. Despite being completely natural, it gives excellent calming results.
Similarly, VetriScience Composure Treats are made primarily of three natural ingredients: L-Theanine, Thiamine, and Bioactive proteins. This one as well helps your cat stay stress-free even in unfamiliar situations.
Wrap Up
If you're looking for Feliway alternatives, the products mentioned above are ideal.
For a spray alternative, Comfort Zone spray can really come in handy. If you opt for a diffuser, the same brand offers a perfect one.
Additionally, calming drops are an easy-to-use, fast-acting alternative, so Beaphar spot-on will be a great choice. To pamper your cats while soothing them, VetriScience Composure treats are the best option.
Finally, a supplement like Vetoquinol Zylkene capsules can be an incredibly winning bargain for someone who values all-natural products.