Disclaimer: Some of the links in this article may be affiliate links; we will earn a commision, at no additional cost to you, if you make a purchase through one of our links.
We all love our pet felines, but let's face it, their behavior can be annoying at times and can use some taming. What if I told you that they can be tamed with the aid of artificial pheromones.
Feliway and Comfort Zone are two brands that specialize in artificial pheromones products. Such products help your cat feel calmer and stress-free. They also help with scratching, urine marking, and even aggression.
In our Feliway vs Comfort Zone comparison, we'll be breaking down everything you need to know about the two brands and their offerings.
This guide includes:
Quick overview of Feliway and Comfort Zone
In-depth comparison between the two brands
FAQs section addressing common concerns
So, if you love your feline but want to tame it and put an end to its behavioral problems, you ought to stick around, as our in-depth guide will help you pick the perfect pheromones product.
Overview
Oddly enough, both Feliway and Comfort Zone were founded in 1996. The two brands are equally outstanding when it comes to making artificial pheromone products, but factors like versatility, pricing, and convenience help set the two apart.
The following in-depth comparison will help make it easier for you to pick between the two brands.
Here Are The Top Products for Both Brands:
| Image | Product | Details | Price |
| --- | --- | --- | --- |
| | Feliway Diffuser | Best for larger homes | Check Price |
| | Comfort Zone Calming Spray | Best for trips and vet appointments | Check Price |
Feliway vs Comfort Zone: In-Depth Comparison
Pheromones are naturally produced by cats to help them feel at ease and secure. However, they're not always produced on-demand.
Feliway and Comfort Zone products help produce synthetic pheromones on demand to reduce aggression, scratching, and urine marking.
Feliway and Comfort Zone products also help with reducing the anxiety and stress caused by environmental changes.
When trying to choose between the two brands, there are seven factors that you need to take into consideration. Let's discuss each factor in detail.
Convenience
The two brands come in a diffuser form that's easy to use. All you need to do is plug the diffuser in an area where your cat usually hangs.
If your cat dwells in more than one room, you may need to use one diffuser in each room. This applies to both brands.
Feliway Diffusers can cover up to 700 square feet, while Comfort Zones diffusers cover up to 400 square feet only. So, Feliway is more convenient for larger homes.
Feliway diffusers are recommended to be placed in an open area. Don't plug them behind a curtain or under the shelf. This can affect the circulation of warm air, which, in turn, can block the diffuser's effect. We recommend the same for Comfort Zone diffusers as well
It seems that there aren't many differences between the two brands when it comes to ease of use and general convenience. Just be mindful of their different ranges so that you pick the right product for your home.
Versatility
Comfort Zone products come in a few other forms than diffusers. The company makes calming sprays and collars for your cat. These are best used for those stressful vet appointments.
The Comfort Zone calming spray, for instance, is most commonly used for cars and cat carriers. Spray it in the car before the trip to ensure your act acts appropriately.
You might need to reapply the spray before each trip. Moreover, make sure you spray the entire interior of the carrier. 1 to 2 spritzes per location will do the job.
The calming collar is another on-the-go option. The collar releases the pheromones and helps calm your cat.
Feliway also makes calming sprays for on-the-go use. The difference between Feliway's spray and that of Comfort Zone is the former needs to be reapplied every four to five hours. To add, it seems that with Feliway, you need to take certain precautions before using it.
It's advised to make sure that your cat isn't near the place while you're applying the spray. You have to wait around 15 minutes before letting your cat near the sprayed area.
We recommend following the same procedures when using Comfort Zone's spray.
Related: Pet Remedy vs Feliway Side-by-Side Comparison
Effectiveness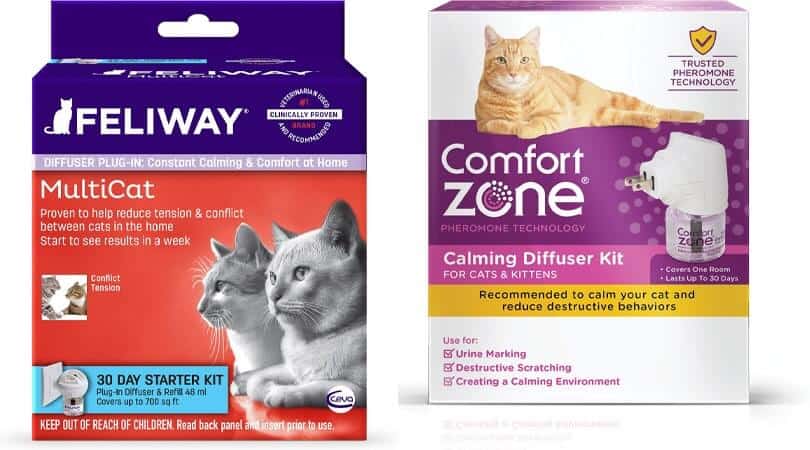 There's no denying that both products work. After all, they wouldn't be so popular if they didn't. Many of the users that have used products from both brands have seen significant changes in their cats' behavior. There is, however, a minority that claims artificial pheromones don't work.
We find that the products might not work for all cats. Your cat might be one of those that don't react to synthetic pheromones.
It's also worth noting that some behavior problems might be caused by serious underlying conditions that cannot be addressed with the help of pheromones.
Generally speaking, though, the effect of Feliway diffusers becomes apparent within the first 24 hours of use. Some users see results in the first week, especially when it comes to scratching and urine marking. But not all cats are the same.
The effect of a pheromone diffuser on your cat depends on several factors: the nature, duration, and extent of the problem that needs to be reduced. We highly recommend using it for at least one month before judging the product.
As far as Comfort Zone diffusers, you should see results within the first two to four days. It might take longer for your cat to react to it, depending on the previously mentioned factors.
They both use the same feline pheromone. However, Comfort Zone uses more concentration of the pheromone than Feliway. On the other hand, Feliway is more trusted and recommended by vets.
Price
Comfort Zone products are generally cheaper than Feliway's. They also provide better value for money, especially when it comes to their diffusers.
The liquid for Comfort Zone and Feliway needs to be refilled every 30 days. The diffuser itself, however, needs to be replaced every six months in the case of Feliway, and every one year in the case of Comfort Zone.
Clearly, Comfort Zone wins when it comes to pricing and value.
Side Effects
Both Comfort Zone and Feliway are free from any drugs or harmful chemicals. This means that they won't cause any side effects to your cats.
However, avoid using them directly onto your cat's skin. This may cause skin irritation or allergic reactions.
It's best to place your diffuser somewhere your cat can't reach to prevent your cat from licking it, which can cause digestive problems.
Assuming your cat's pheromone diffuser is placed somewhere safe and out of your cat's reach, you don't have to worry about it causing any side effects.
Multi-Cat Diffusers
Comfort Zone and Feliway products are known for their ability to tame annoying cat behaviors. These behaviors include cat-to-cat tension.
Besides the classic diffusers, both brands make special diffusers for those who have several cats and are concerned about cat-to-cat tension.
These products are specifically made to reduce the aggression between multiple cats so they can live in harmony.
Both Comfort Zone Multi-Cat and Feliway MultiCat emit a synthetic duplicate of the harmony marker pheromone. These products also help with spraying, scratching, and anxiety.
We don't really recommend using standard calming diffusers for reducing aggression between multiple cats as they might not be all that effective. The multi-cat versions produce the specific pheromone needed for helping cats live together in harmony
The multi-cat diffusers from both brands are to be refilled on a monthly basis. And, of course, they need to be replaced as recommended
Effect on Other Pets
The pheromones that Feliway and Comfort Zone products produce are specific to cats. So, they won't affect your other pets and they definitely won't affect you or your children.
Comfort Zone and Feliway products, in all of their different forms, are entirely odorless and don't contain any harmful chemicals.
So, both products don't have any harmful effects on other animals or humans.
Frequently Asked Questions
Do you have to use Feliway forever?
It all depends on your cat. Some users think of Feliway as a forever product for their felines. If your cat's behavior became better after having used Feliway and you felt like it doesn't need it anymore, then there's no reason to keep on using it.
How do you calm down a stressed cat?
There are several things you can do to reduce your cat's stress; the most effective of which is controlling the environment. We recommend using Comfort Zone or Feliway products to help with that purpose, as the pheromones they emit can help reduce a cat's stress significantly.
Can I plug the Comfort Zone diffuser 24/7?
Yes, you can. If you're scared that it might heat up, don't be; it's completely normal. The heat is required to disperse the pheromones into the air.
Plus, Comfort Zone added a new automatic shut-off feature in their products so you feel safer using it constantly for better results.
Conclusion
Comfort Zone and Feliway are both great products that help limit the annoying behavioral issues all of us cat owners have to deal with.
Their effect differs from one cat to another, though, so don't expect them to work the same on all cats.
Both brands are quite similar as far as effectiveness, convenience, and safety. However, they're different in terms of versatility and price.
If you champion versatility, we recommend opting for Feliway. If you champion affordability, you should opt for Comfort Zone.