Disclaimer: Some of the links in this article may be affiliate links; we will earn a commision, at no additional cost to you, if you make a purchase through one of our links.
All cat lovers unite!
Whether you own one cat, a dozen, or none at all but are still a feline enthusiast, you've come to the right place. We rounded up the hottest collection of adorable and stylish cat office decor to make your hum-drum workspace more fun and exciting.
Let's get started.
The Best Cat Office Decor on The Market
1- Post-It Pop-Up Note Dispenser
Post-it notes are always a great addition to any office. Yet, they look much more adorable when placed in a cat dispenser.
This white cat note holder will keep your post-its secure and organized. More importantly, it helps keep your desk organized.
These post-it notes are accordion-style. So, when you pull one out, the next one automatically takes its place.
2- Luvberries Cat Glasses Holder Stand and Vase
Made from ceramic, this charming cat-shaped stand is a convenient way to keep all your pens in one place. You can also place your glasses in the groove over the cat's nose so you always know where your glasses are.
You can choose either a white or black cat design. Both come with a hand-painted cat face over a round-shaped ceramic bowl spacious enough to hold your office supplies and declutter your workspace.
Each cat stand measures 4x4x4 inches. So, it won't take up too much space on your desk.
Recommended: Our favorite cat-themed bathroom decorations
3- Chapman & Grand Kitty Cat Tape Dispenser
This cute cat tape dispenser is excellent for all your taping needs. It's quick and easy to use.
Plus, it comes with anti-skid pads on the bottom. They're there to help keep the tape dispenser in place so it doesn't slide across the desk every time you pull out a piece of tape.
Its bright, cheerful colors will add a bit of fun to your workspace. Measuring only 7.5 inches long by 3 inches high, it's the perfect size for any office desk.
4- Cat Shaped Paper Clips and Binders
Who doesn't need paper clips and binders? No one, especially when they're rose gold colored and cat-shaped.
This 55-piece set comes with 25 binder clips in two sizes: 0.98 and 0.75 inches. It also features 30 paper clips and a clear box to keep them all in one place.
Made of quality alloy, these clips are sturdy and unbreakable. Plus, their rose-gold color is electroplated, ensuring they won't chip or fade.
5- Sencoo Kawaii Cat Pens
This set of 12 0.5 mm gel pens is an appealing way to make your workspace more interesting and fun. Even though they all write in black ink, the pens themselves come in an assortment of bright, cheery colors to put a smile on your face and get you in the right headspace for work.
The pen shells are made of lightweight plastic. They're ergonomic and comfortable to use.
Plus, the caps are well-designed so you can take them in your bag without having to worry about any ink spilling and making a mess.
6- Yasest Magnetic Bookmarks
Do you often get interrupted while reading? Wouldn't it be easier to use a cat-shaped magnetic bookmark to save your place instead of folding over the corners of the page?
If you answered yes, then this set of bookmarkers is perfect for you!
They come in an assortment of cat designs and you can choose between 6, 12, or 24 pieces in a pack. The best part is that they're strong enough to stay in place on the page without weighing it down. So, they won't tear out the page or leave a dent like metal bookmarks.
7- Evelots Cat over the Door Hooks
It's always nice to have hooks in the office. You can hang your coat, jacket, bag, and other belongings to keep neatly out of the way.
The best part is that it hangs over the door and features two hooks. So, there's no need to drill holes or make a mess.
The organizer is made of powder-coated metal for a rust-resistant, sturdy finish. It measures 6 inches wide and almost 10 inches long. Each hook is slightly less than an inch.
8- Black Cat Smartphone Stand
Love having your phone on your desk but hate having nowhere to put it? Well, we've got just the thing for you!
This smartphone stand is made from polyresin for a durable, sturdy finish. It's in the shape of a black cat stretching with an adorable white hand-painted face.
Measuring about 4 inches long by 3 inches tall, it's the perfect size for an office desk. Plus, it supports all major smartphones, making it the coolest addition to your workspace.
9- Mini Desktop Vacuum Cleaner
This mini desktop sweeper is the ultimate must-have in office supplies. With its charming cat face, this vacuum cleaner is compact. Yet, it's still capable of delivering high-powered suction.
All you have to do is charge it for two hours. Then, you can use it for 60 minutes straight to clean up everything from eraser dust to food crumbs.
It also comes with an attachment to clean narrow spaces like window gaps and keyboards. When you're done, simply give the bottom a slight twist and empty it out.
10- Curious Charts Commission Cat Productivity Planner
Finding a convenient place to keep track of your chores and tasks isn't easy. Yet, with this productivity planner, you can keep everything in one place and add a bit of cheer to your day.
Just one look at these adorable cat designs is sure to put a smile on everyone's face and fill your day with fun and positivity. Plus, each page contains funny sayings that will make you chuckle.
This set comes in a pack of 50 6×9-inch tear-off sheets. You can also add to the collection a cat 'scratch' pad, a 'sassy cat' to-do list, or a 'hello week' kitty chart to help you achieve your goals.
Wrapping Up
Finding the right cat office decor is easy if you know where to look. Now comes the hard part: choosing just one!
Yet, whichever items you choose, we hope they make your workspace fun and engaging just as they did ours.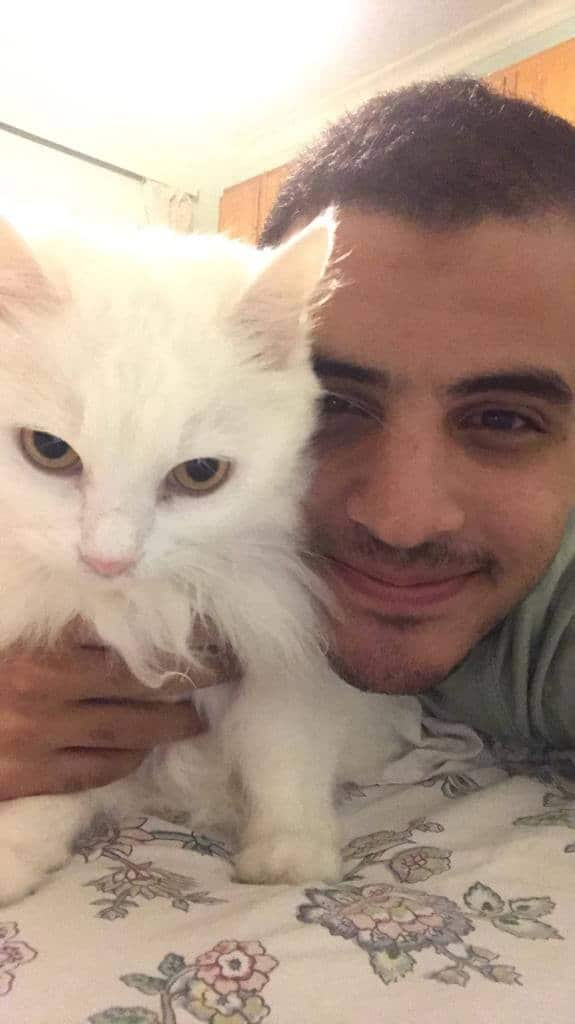 I've been living with cats since 2008 and I can confidently say I have more feline friends than humans lol. I currently live with 5 cats in different life stages; two of them are less than one year old, one is 2-ish years old and the oldest two are 9-ish years old. I've developed a strong bond with cats over the years and I'm eager to share my experience through this blog. You can learn more about my cats here.