Disclaimer: Some of the links in this article may be affiliate links; we will earn a commision, at no additional cost to you, if you make a purchase through one of our links.
Is it that time of the month when you go on an online shopping spree for cat food? As an owner of a tiny tiger whose motto is "It's only edible if it's canned tuna," I fully understand.
Today, we'll be looking at two popular cat food brands: Friskies vs. Purina One. Which one is worthy enough to be presented to your fluffball?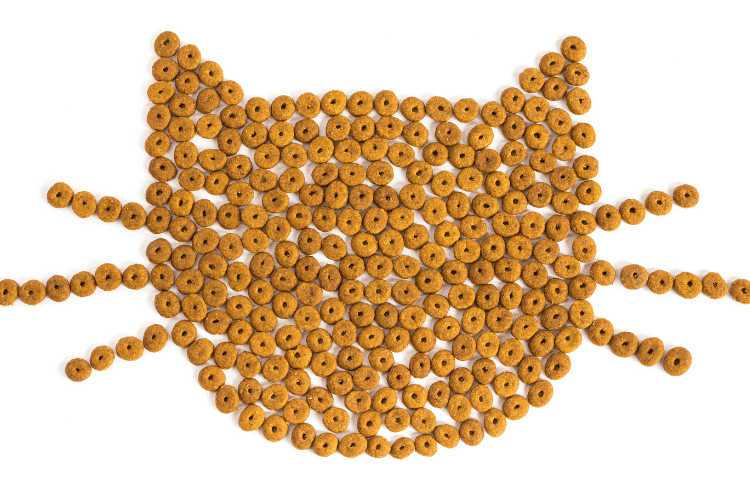 Friskies vs. Purina One Overview
Friskies and Purina One are both brands that have Nestlé's Purina as their parent company.
Friskies specializes in having multiple flavors and formulations. It's for cats who enjoy variety in their day-to-day meals.
Purina One, on the other hand, develops food for cats with specific needs. It includes cats who need help with their urinary tract health, among others.
What Is Friskies?
Friskies began as a dog food company in 1934. Cat food was non-existent back then, so pet owners would use the brand to feed their felines.
Nestlé bought Friskies in 1985 and has since expanded it to become a global giant.
There are about 200 distinct combinations of wet food, dry food, cat food complements, and cat treats under the Friskies brand. It's the prime choice for owners with cats who love to eat a variety of flavors and textures.
A Few of Friskies' Products
Farm Favorites: A selection of ingredients mixed with natural, farm-raised chicken
Friskies Paté: Comes in more creative flavors, such as Sea Captain's Choice and Country Style Dinner
Indoor Delights: Contains chicory to reduce odor and beet pulp
Tasty Treasures: Various proteins infused with bacon, scallop, or liver flavor
Tender & Crunchy Combo: Dry cat food that contains soft and crunchy pieces
What is Purina One?
Purina One began as a dog food company in 1894. It was first called the Robinson-Danforth Commission Company. Later, it changed its name to Ralston Purina in 1902.
The company employs nutritionists to develop premium food, but it isn't for all cats.
Purina One is for animals with special needs. It includes cats who need to be a healthy weight, aging cats, and cats with urinary issues.
A Few of Purina One's Products
Urinary tract health: A low-sodium cat food that lowers the risk of crystal formation
Purina One Grain Free: For cats with allergies and inflammatory conditions
Ideal weight: Formulated to help your chunky one burn fat
Indoor advantage: Has an adjusted recipe for senior cats above seven years old
Sensitive skin & stomach: Contains prebiotic fibers for a healthy digestive system
Friskies and Purina One Similarities
Friskies and Purina One are brands that comply with the Association of American Feed Control Officials. It means that they follow all the minimum requirements that cat food needs to have in terms of nutrition.
Both brands responsibly source their ingredients from American farms, with low environmental impact. They both contain meat by-products and grains.
Related: Sheba vs. Friskies full brand comparison
Taste is a major factor, and cats seem to love both products. Owners are also happy with the quality and freshness of both Friskies and Purina One.
Friskies and Purina One Differences
Price would be the number one difference between the two brands. People love Purina One but many complain that it's expensive.
Unlike Friskies, Purina One's products are all veterinarian recommended. The brand will often add vitamins, minerals, and antioxidants to improve the food's effect on health.
Meanwhile, Friskies provides fun to your cat's diet. They carry cat treats and cat food companions that Purina One doesn't have.
Table Comparison
Here is a sample comparison of products from Friskies and Purina One versus the AAFCO Standard for Adult Cat Food. The analyses mentioned are all on a dry matter basis.
What does this tell us? Although both brands follow the standards, Purina One goes above and beyond what's required for cat food. Meanwhile, Friskies satisfies all the cat's nutritional needs, and nothing more.
That doesn't make Friskies bad for your cat. If your cat has no special nutritional needs, then you don't need to feed it excess stuff.
What's Better About Friskies?
Friskies is a brand that creates food that cats will love to eat. Meals won't be monotonous and your fur baby will get to go on a culinary adventure.
The brand is more creative when it comes to developing flavors and textures. For example, it has dry food that can turn into wet food.
It has a wide range of simple and complex flavors that can satisfy all palates as well.
Considering price, Friskies is the more affordable choice. The brand also makes a cheaper alternative to Purina One's Indoor Advantage Line.
Related: Temptations & Greenies compared head-to-head
What's Better About Purina One?
Purina One goes beyond what regular cats need in terms of nutrition. It's a brand that focuses on health versus flavor and does more research on its effects on your cat.
Purina One will target specific needs and address them. Other brands don't care that much about well-being as long as they can meet the minimum standards.
It's a lifesaver when your veterinarian prescribes a specific diet for your cat.
Who Should Get Friskies?
Friskies is for owners with healthy cats and for owners who don't want to spend too much on food.
Plus, it's a great choice if your cat is a picky eater. With a wide range of choices, chances are, Friskies will have a flavor that it'll like.
Who Should Get Purina One?
You should get Purina One if you're feeding a kitten. The brand has a special blend to support your cat's muscle and brain development.
What's more, you should make the switch to Purina One if you have aging cats. Cats with conditions like UTI, obesity, hairball issues, and allergies are also better off with this brand.
Related: Dreamies vs. Temptations cat treats comparison