Disclaimer: Some of the links in this article may be affiliate links; we will earn a commision, at no additional cost to you, if you make a purchase through one of our links.
Did you know that experts say cats decrease the wildlife count in the United States? According to a study by Cornell researchers, outdoor cats count for nearly 20% of bird deaths. With that said, they consider cats to be an invasive species.
Fun fact aside, you can help local wildlife by keeping your fur babies happily fed at home. In this comparison, we'll look at two cat food brands: Friskies vs Sheba. This way, you can soar in triumph at choosing the best chow for your cat.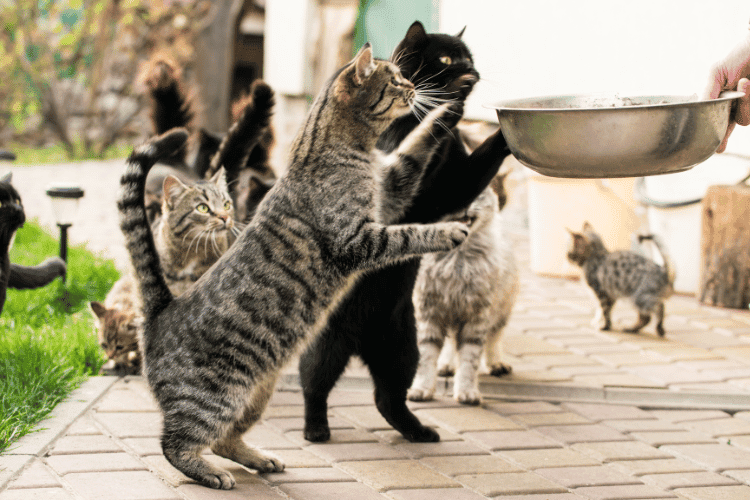 Friskies vs. Sheba Overview
Simply put, Friskies got a large suite of cat food. Whether dry or wet, they have it. Special diets? No problem.
On the other hand, Sheba only focuses on wet cat food. Their products, though, are top-notch. With their fresh fixings, they're a good choice for kittens and old felines.
Sheba is upfront in sourcing. Factors, such as meats, are always defined. For Friskies, however, there are vague details in the ingredients list.
For example, not naming their meat is a bad sign. This means that this mystery meat may come from anything that's considered meat, like hares.
What Is Friskies?
Friskies, under Nestle-Purina, started in the 30s. It was owned by Carnation when they sold Friskies Cubes. After 2 decades, cats were becoming popular pets. Later in the 50s, they won the west with Little Friskies for Cats.
Now, Friskies produces well over 50 variations of cat food. This list includes wet and canned, dry and bagged, tasty treats, and kitten-friendly options, to name some.
This brand has been recalled once in 2011. Friskies Grillers Blend Dry Cat Food likely had salmonella. Other than that, no more recalls. There have been rumors. They're just rumors, though.
What Is Sheba?
Sheba is owned by Mars, Inc., a company known for all kinds of confections. Despite that, Sheba concentrates their brand on wet cat food.
Their products mostly have North American elements. Thailand produces their broth. In addition, their Meaty Tender Sticks are from Austria.
Sheba's line of cat food is marketed as twin packs. Each pack is the proper size for your average tom. A large portion of reviews say their feline buds chow down every bit on their plate.
How Are They Different?
The main thing that sets them apart is quality. Friskies use more by-products and artificial additives in their products. Sheba, unlike the latter, sticks to premium components. This requires them to use more preservatives, though.
Let's explore some ingredients!
| | | | |
| --- | --- | --- | --- |
| Ingredient | Description | Friskies | Sheba |
| Meat by-product | Can be any part of an animal | ✔ | |
| Poultry by-product | Can be any part of the chicken or other poultry | ✔ | |
| Artificial color | Unnecessary addition to the appearance | ✔ | |
| Artificial flavor | Unnatural flavoring | ✔ | |
| Sodium Phosphate | Can damage kidneys in excess | | ✔ |
| Menadione sodium bisulfite complex | Exclusively used for poultry feed | | ✔ |
How Are They Similar?
Sure, they differ in sourcing and quality. Sheba uses more premium ingredients from North America. Friskies supplements their products with synthetic foodstuffs.
At the end of the day, their nutrient values are almost alike. Check it out for yourself. Here we put a salmon pate variety from each brand side-by-side.
| | | | |
| --- | --- | --- | --- |
| Nutrient | Description | Friskies | Sheba |
| Protein | For growth | 45.45% | 45% |
| Fat | For body functions and nutrient intake | 22.73% | 25% |
| Fiber | For digestion | 4.55% | 7.5% |
| Taurine | Essential amino acid | 0.23% | 0.3% |
Take note that we've converted the values for dry matter. That simply means there's nearly zero moisture.
What's Better About Friskies?
The choices are endless when shopping for Friskies. Pop open a different recipe daily for three months if you want. You can even combine it with Friskies Lil' Complements, their popular treats.
Related: Dreamies Vs. Temptations cat treats comparison
Here are some picks to consider.
Staples With Good Reviews
Friskies Gravy Wet Cat Food
It has a decent amount of real meat to sustain cats with natural protein.
Friskies Dry Cat Food, Seafood Sensations
Many reviews say their furry friends enjoy the texture and seafood flavor.
Friskies Wet Cat Food Variety Pack
With a variety of choices, you can mix and match throughout the week.
Friskies Canned Cat Food Pate Variety Pack
As above, the choices will keep your cat coming back for more.
Friskies Pate Wet Cat Food
With real chicken, your cat will get a balanced diet.
What's Better About Sheba?
As a quality brand for cat food, Sheba has never recalled an item in their lineup. Unlike other cat food brands, Sheba has steered clear of contention. They've stuck to quality sources to provide the best for cats.
What's more, is that they use real meat in their products. That meat is always a primary ingredient as well. They use minimal by-products to maintain their premium lineup too.
Who Should Get Friskies?
You should choose Friskies if your cat isn't a problem eater. Especially for those with a tough kitty, your furball can thrive. If you're one of them, you'll do fine with a bag of Friskies.
It would be better if you mix your pet's meal routine with Friskies wet canned goods. This will ensure they never get bored. Plus, it'll keep them hydrated.
Who Should Get Sheba?
If you're like me, you'll appreciate the value of organic meats. That means you should stick to Sheba. They have natural ingredients and premium meats your feline pet will enjoy. You'll worry less about what your furry fella is consuming.
Even if all of Sheba's products are wet cat food, you can still switch between textures. They have three available: pate, bistro, and cuts.
Users Also Read: Greenies vs. Temptations full comparison
Staples With Good Reviews
Sheba Grain-Free Roasted Chicken Gourmet
There's nothing synthetic about this variety. It'll give your cat the right balance of nutrients.
Sheba Grain-Free Savory Chicken Entree
The protein comes from real chicken. Reviewers assure you that their cats can't get enough.
Sheba Grain-Free Whitefish & Tuna
High in omega-3s and lacking plant matter, this pack contains tons of nutrients for your active furry friend.