Disclaimer: Some of the links in this article may be affiliate links; we will earn a commision, at no additional cost to you, if you make a purchase through one of our links.
When it comes to pet products, there's an ocean wide of supplies, from cat trees and water fountains to brushes and grooming products. That's why many opt for online shopping to get all their stuff from one place.
Additionally, websites are usually easier to browse than local stores, especially if you don't have time to visit a local pet shop.
At the mention of online pet shops, Happy and Polly comes to mind. It's an online pet store where you can find pretty much everything you need for your pets.
However, many are concerned about online shopping as they hear about scams, late deliveries, and poor customer service. But don't worry. We've got you covered.
In our Happy and Polly review, we'll walk you through everything you need to know about the popular online pet shop—from pricing and products to customer service. So, let's get started!
Happy and Polly Overview
Happy and Polly is an online pet shop that sells a variety of pet supplies, especially for cats. Their vision is all about keeping pets safe, happy, and healthy. To achieve this, they sell premium pet products, such as beds, toys, furniture, bowls, feeders, and much more.
Since Happy and Polly's owners love pets, they work with suppliers that provide safe and convenient pet products. Their products aren't only aesthetically pleasing, but also healthy and safe for pets.
They started by selling only a few products, and now they've become a well-known online pet store among pet owners.
Pros and Cons of Happy and Polly
Pet owners usually prioritize that their pet products are safe, healthy, and high quality. However, this isn't their only priority, especially when shopping online.
Customer service, return policy, and delivery time are all critical factors to consider. Let's take a closer look at the pros and cons of Happy and Polly.
Pros
Healthy, safe, and high-quality pet products
Wide range of products for cats and dogs to choose from
Detailed and thorough product descriptions on the website
30-day return and refund
Free shipping for some orders
International shipping
Cons
Don't offer many products for domestic pets, other than cats and dogs
Limited stock, especially during discounts and sales
Some complained about late delivery
Happy and Polly Review – Best Products
Looking at the Happy and Polly website, there are a ton of pet products to choose from. They offer clothing, carriers, toys, custom gift products, and more. We picked some of Happy and Polly's best-selling products to review.
Cat Trees
Cats love to explore their surroundings. That's why you see them always jumping on sofas or climbing curtains. This is where cat trees come in handy. They offer your cat an opportunity to stay physically active without ruining your furniture.
Speaking of cat trees, Happy and Polly offers some of the best cat trees on the market. Let's take their Moonlight Cat Tree as an example.
This cat tree has a night sky theme, with aesthetically pleasing hammocks and seats for your kitten to jump up and down. In addition, the stunning hanging moon and stars will catch your cat's attention to play star-hunting games.
Regarding the material, this cat tree is safe and comfortable for your kitten. The climbing frame is made of high-quality timber, wrapped with a soft natural sisal rope. If that's not enough, it has a soft composite cashmere loop, providing a soft and comfortable surface for your cat.
Recommended: the best trees for large cats on the market
Furthermore, the product is easy to assemble with all the included tools. You can find detailed installation instructions on the website too.
With various designs to choose from, Happy and Polly's cat trees aren't only a great way to keep your kitten engaged and active, but they make a perfect addition to your interior as well.
Pet Bowls
With their artistic and elegant design, Happy and Polly pet bowls are one of the best food bowls out there. Let's take their Teeth Party bowl as an example.
The bowl is designed with proper height and shallow depth to provide a better eating posture for your pet. It has a detachable spine support and an anti-slip bottom to ensure your pet won't slip while eating.
The product comes in two styles; plate and bowl. The plate design is suitable for flat-faced dogs and cats. In contrast, the bowl design is ideal for pets who intake large food quantities.
Related: The best elevated cat feeding stations for your cat
Moreover, the bowl is made from high-quality food-grade ABS, a 100% BPA-free hard plastic safe for your kittens or puppies.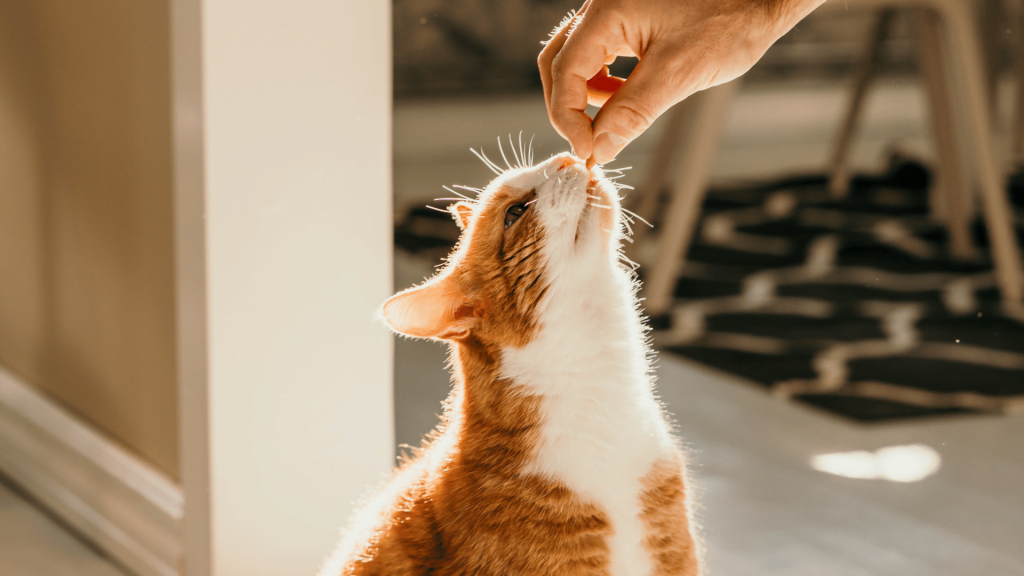 Ratings
A fan of numbers? This section will give a rating out of five for Happy and Polly's key features.
Ease of Use 5/5
One of the challenges that pet owners face when buying cat trees is how to assemble them. However, most Happy and Polly products are easy to assemble, even for newbies. Moreover, they have detailed instructions about product installation on their website.
What we like about Happy and Polly is that they put a lot into educating their customers about using their products. This is evident in their YouTube channel as they upload installation guides for building blocks, cat beds, and cat trees.
Features 5/5
Since the owners of Happy and Polly are pet lovers, they understand the importance of some features pet supplies should have. Their products aren't only elegant and stylish, but they're also made from safe and durable materials.
In addition, most of their products are customizable to fit your preference and pet needs. If you're looking for a gift, they sell cute gifts for pet lovers, such as printed mugs and metal pins.
Customer Service 3/5
Happy and Polly offer a wide range of customer services. If you have any concerns or questions, you can send them an email, file a ticket or use the live chat service, which is available for 24 hours.
Additionally, they offer 30-day returns and refunds. This is handy if your product wasn't as expected or your pet didn't enjoy it.
However, we found some negative customer reviews about customer service. Most comments complained about slow customer service and late replies, especially with international orders.
Value for Money 4/5
It's no secret that high-quality premium products are a priority for everyone. Still, the value can limit your choices, depending on your budget. That said, Happy and Polly offer incredible value for money.
Before buying, you can read the detailed description of the product to determine if it fits your needs. You can look up online reviews on each product to see what people think about it. Happy and Polly products' quality, safety, and convenience make it worth the investment.
Not only that, they offer free shipping for orders above $69, which is handy if you want to get a few products to spoil your pet at once. Moreover, they offer sales and discounts on some items.
They also offer 20% off when you pre-order. However, this is only available for U.S. customers. The downside is that sometimes the stock isn't enough for the demand, especially during sales and discounts.
Alternatives to Happy and Polly
Even though Happy and Polly offers a wide range of pet products, you won't find everything you need for your pet.
For example, they don't fill prescriptions or sell pet food. That's why we're providing some alternatives to Happy and Polly in case you're looking for more than pet accessories.
Chewy
Chewy is one of the best and most reputable pet online stores. They offer almost everything you need for your pets. That includes food, treats, supplies, accessories, and toys. What's more, they even fill prescriptions and provide vet services.
Looking at Chewy's website, they provide pet products from over 2000+ trusted brands. In addition, they offer 24/7 customer service, with over 20k team members. They aim to provide the highest quality products with top-notch customer service to satisfy their customers.
Furthermore, Chewy offers subscription services where you can schedule automatic orders to receive on specific dates. This comes in handy when ordering pet food. Instead of ordering in bulk, you get a continuous food supply for your pet.
One big bonus for the subscription system is that it offers a 5% discount on every order, which is a great way to save money on your pet's needs.
On top of that, if your pet takes daily medicine, you can submit the prescription to Chewy, and they'll fill it for you. This will usually be cheaper than buying from a local pharmacy. You can also get automatic refills to avoid the hassle of missed doses.
Petco
Thinking about nationwide pet stores, Petco definitely comes to mind. Petco was one of the first-ever pet stores to go online, and until today, they're one of the most successful online pet stores.
Petco isn't just a normal pet shop anymore. They now offer veterinary and grooming services as well. Their idea of one size fits all makes them an excellent option for every pet owner.
Whether you own a dog, cat, fish, or even a guinea pig, you'll find a plethora of supplies for your pet. Petco is an ideal choice to spoil your pet, from accessories and clothing to medicine and grooming services.
One thing that stands out for Petco is that they take food safety and health too seriously. In 2018, they decided to take any pet food that contained artificial ingredients off their shelves.
So you can rest assured their food products are completely healthy and free from any cancer-causing ingredients.
FAQs
Where Is Happy And Polly Located?
Happy and Polly has warehouses in Australia, the United Kingdom, and the United States. Their best-selling items are usually shipped from local warehouses and arrive within 3 business days.
How Long Does It Take To Receive Orders From Happy And Polly?
The delivery time depends on the type of order.
– Expedited shipping orders (5-12 days)
– Standard shipping orders (12 to 30 days)
– Stocked products (3-7 days)
Final Verdict
Pet supplies have become a must for every pet owner, and it's easy to see why. They don't only improve your pet's quality of life, but they can add a little touch to your home decor too.
If you're looking for a pet shop to pamper your pet and add a little touch to your decor, you can't go wrong with any of our mentioned online stores. However, let us break it down to which might be the best for you.
Happy and Polly is an excellent option for aesthetic supplies, such as cat fountains, trees, scratching mats, and more. They're also a good choice if you're a cat owner, as the majority of their stuff is cat-oriented.
Chewy might be your best option in some cases. For example, if you have more than one pet. They offer supplies and food for cats, dogs, horses, and more. Moreover, their subscription system allows you to make automatic orders for food and medicine for a 5% discount on every order. That way, you save money when buying your pet's essentials.
Finally, Petco is a perfect choice for novice pet owners looking for one place to get all they need for their pets. With a ton of products for cats, dogs, fish, reptiles, and more, Petco is also a budget-friendly option. They offer free shipping on orders above $35. Besides, they offer special discounts for frequent customers.