Disclaimer: Some of the links in this article may be affiliate links; we will earn a commision, at no additional cost to you, if you make a purchase through one of our links.
Many cat owners mistakenly regard cats as low-maintenance pets. Even though they don't need to be taken for walks or to an outdoor environment to relieve themselves, kitties still need a stimulating environment.
Here's a Quick Summary of Our Top Picks:
| Image | Product | Details | Price |
| --- | --- | --- | --- |
| | Go Pet Club 72″ Cat Tree | Best Overall | Check Price |
| | BEWISHOME Large Cat Tree | Runner-Up | Check Price |
| | Simple Sleeper Cat Scratch Post and Bed | Budget Pick | Check Price |
Essentially, you should create a setting that meets their needs of scratching, climbing, playing and resting. An easy way to address all these needs is to get them the best cat tree. An important factor to consider when getting any cat furniture is the size. If you have an adult cat or larger cat breed like the Savannah, then get a cat tree that can accommodate them.
In this post, we'll focus on the best cat trees for large cats. We've reviewed top-rated cat trees and provided a few pointers to help you find the perfect mode for your cat's needs.
Why Buy Cat Trees for Large Cats
One thing you should know about large cats is that they have very strong hunting instincts for small prey. This is why they like climbing to elevated areas to get a better vantage point of their prey.
If they're not provided with the right furniture, they might end up ruining your home in an attempt to find that ideal spot.
Did you know that some big cat breeds are developed by crossbreeding them with wild cats? This is done to help them maintain their hereditary traits. As Mentalfloss.com points out, a breed like Savannah is the result of crossbreeding a house cat with an Africal Serval – a wild cat that is native to Africa.
What does this mean for large cat owners? It means you should provide them plenty of high places to satisfy their climbing needs. This particularly applies to individuals who adopt more than one large cat breed.
Other than providing better vantage points, cat trees provide surfaces where they can dig their claws into. Without one, they'll sharpen their claws on that high-end luxury sofa that you bought just a month ago.
Things to Look for When Getting Cat Trees for Large Cats
Size
It's a no brainer that the first factor you should take into account is the size. In other words, the cat tree you buy should be big enough to accommodate your extra-fluffy feline. Similarly, it should have stable poles that can hold up to their weight.
Your Cat's Personality
Apart from size, you should also account for their age, climbing ability and activity level. If your cat really loves to climb, then look for one that's tall enough to satisfy their curiosity.
On the other hand, if you have a senior cat who spends most of her time napping, find a cat tree with a cozy sleeping area- this could be a bed, hammock or condo. Ensure that this sleeping surface is well-made and is easily accessible.
Similarly, if your cat is the playful kind, a tree that's equipped with tons of toys will provide an excellent source of entertainment.
Here are the best elevated cat feeding stations on the market for the time being.
Scratching poles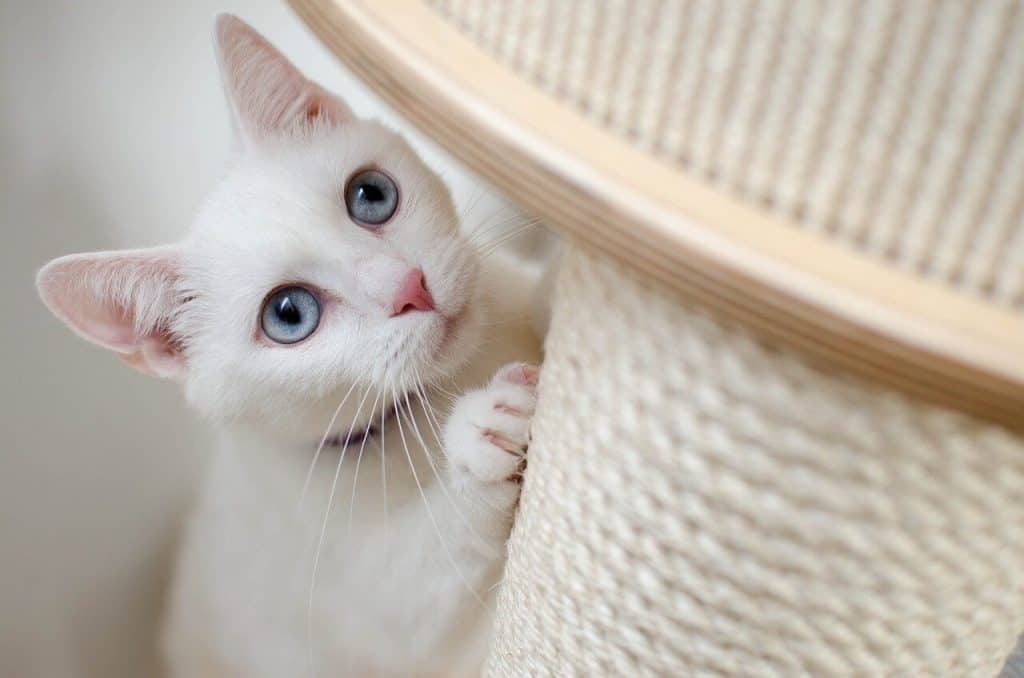 These are a must-have for every cat tree. By getting them a cat tree that has scratching posts, you'll be providing them with an area where they can sharpen their claws and get some form of exercise while they're at it.
Assembly
There are two main types of cat trees: those that arrive partially assembled and those that need to be put together from scratch. If you don't want to keep assembling the unit, look for one that comes pre-assembled.
However, if you don't mind spending a couple of minutes setting up the cat tree, you can opt for the non-assembled one. Just ensure that the manufacturer has provided guidelines on how to piece it together.
Durability
There's a good chance that your cat will be spending most of her time on the tree. Thus, you should check whether the materials used in its construction, provide durability.
Here is an overview of the most common materials used to make cat trees:
Wood
The vast majority of cat trees have their bases and limbs made from wood. The benefit of using wood is that it's a sturdy material, meaning it can withstand the heavy weight of a large cat breed. The downside is that it can be expensive.
Cat trees made of solid wood are the priciest while those made of particle board are a bit cheaper.
PVC Pipe
Manufacturers who want to cut back on product cost prefer PVC pipe to wood. While it's significantly cheaper than a wooden cat tree, it's also less durable. Plus, it may not be strong enough to hold up to the weight of a bigger cat.
Related: Cat Sounds Congested When Purring, What Should I Do?
Carpet
This material is often used to make the covering added on perches, hammocks and other resting places of cat trees. One particular one that we recommend is Berber carpet. It's hand-woven and offers ample durability to stand up to the heavy use of larger cats.
Faux Options
Companies that don't use carpet for their coverings usually use faux instead. This could be faux fur, faux suede or faux fleece. The similarity between all these faux options is that they provide a very cozy sleeping surface. Even better, a good number of them are machine-washable, which makes for easy maintenance.
Fancy Features
While these are not necessary, they may help you narrow down your options, not to mention, they provide additional sources of entertainment for your feline. These extra features include:
Tunnels
If you've noticed that Ragdoll loves diving into boxes and shopping bags, look for a cat tree that has a tunnel. This way, they'll have an opportunity to crawl into den-like spaces just as they would with a box.
Toys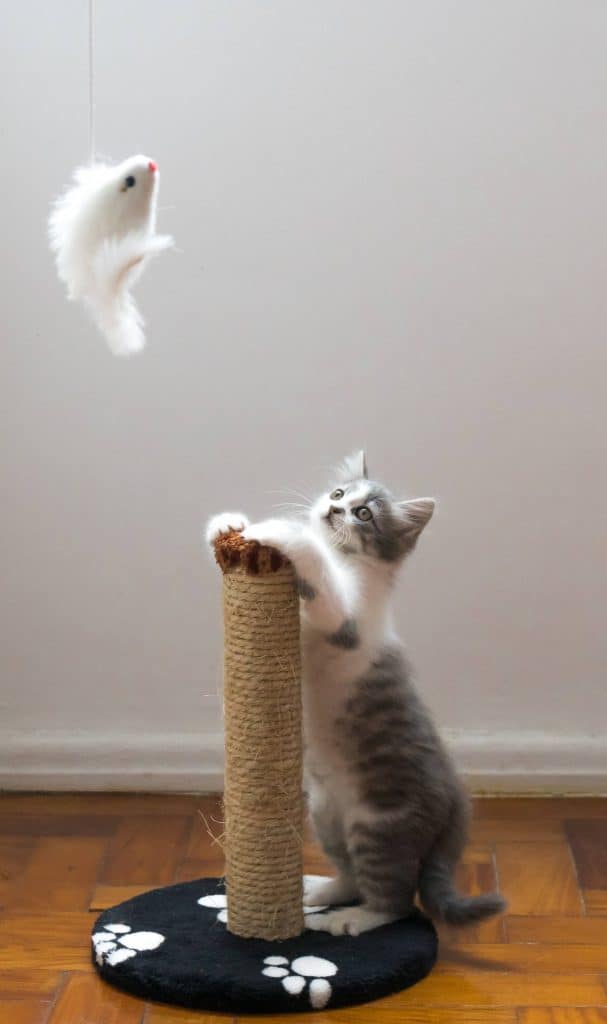 A lot of cat trees also come with hanging toys such as a dangling rope of a ball. The toys are essential, especially if you leave your cat at home all by themselves. They can play for hours until they tire out. However, assess the toys and ensure that they don't pose any risk to your kitty.
How to Train Your Cat to Use a Cat Tree
It can be disappointing when you've saved up money to buy a luxurious cat tree for your feline, only for them to continue lounging on your sofa. If you're struggling to get your kitty to use their new furniture, here are a few tactics that can help:
Choose your location wisely
After purchasing a high-quality cat climber, the first thing you need to think about is placement. You should position it in an area where your cats visit frequently. If you already have a cat playroom, this would be the perfect place to set it up.
When deciding the location, take your cat's personality into account. Some cats prefer playing in open areas while others prefer secluded areas. You should also consider the number and type of cat breeds that you own.
Some breeds don't mind sharing a cat tree as long as it has multiple perches and hideaway spots. Others, however, are quite territorial. If you're keeping more than one cat and they're aggressive towards each other, it's better to get a climber for each one of them.
Make the cat tower the center of attention
Does your feline enjoy spending time with you? If they do, one trick you can use is to show them affection and praise when they're on the climbing pole.
If you always pet your cat when they do something good, you can save that petting for those instances when they're on their tree. Try to minimize or completely avoid praising her when they're on the ground or your furniture. Gradually, they'll learn that climbing the cat tree earns them a reward.
Move playtime off the ground
Another way to encourage your cat to use their tree is to shift their play area from the ground to the climbing structure.
If your furry companion likes playing with feather toys, ropes or small balls, then place these items on the cat tree to lure them. If the cat tree has several levels, place these items on the top-most platform so as to encourage them to climb all the way up.
Pique her interest
If none of these strategies seems to work, enticing them with food and treats is bound to pique their interest. Basically, all you need to do is create a trail of their favorite treats, leading up to the uppermost platform.
You can place a bowl of canned cat food or tuna on the top perch. This will serve as a reward if they're able to get to it. Apart from treats, you can also put catnip or desirable toys at various times throughout the day. These items will encourage them to explore the cat tree.
Make it comfortable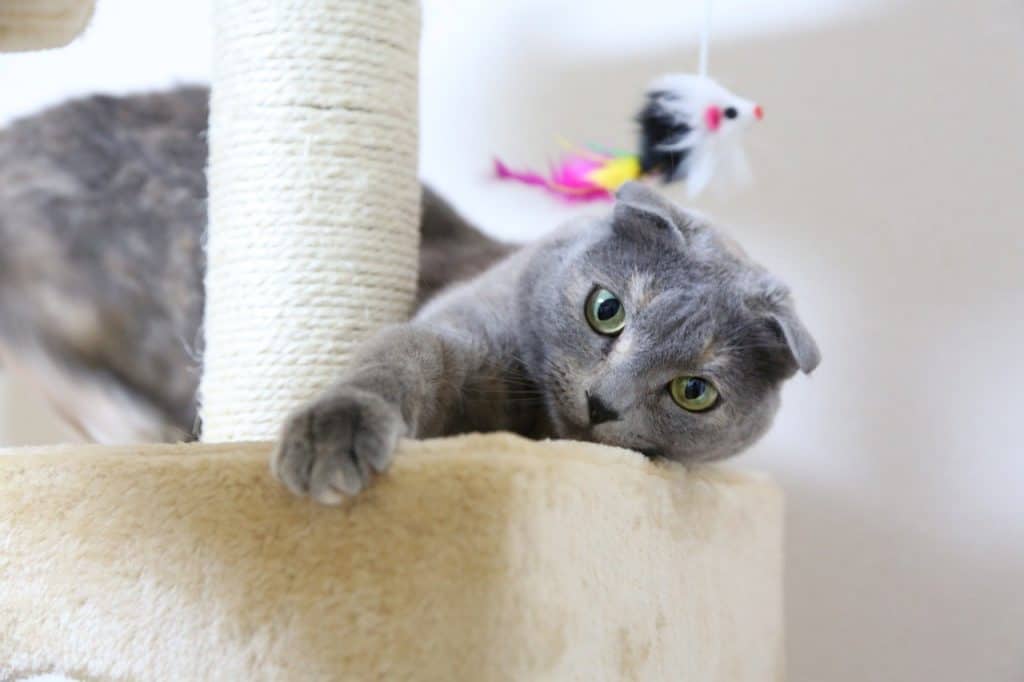 Different cat trees will have different designs. While some only consist of vertical posts, others come equipped with hammocks, condos and resting spots. If you intend the cat tree to serve as a lounging area, then ensure that it's as comfortable as possible.
If it doesn't already have one, add a cushy, plush or soft covering on the perches. Similarly, ensure that it's stable. If it's wobbly, your cat will feel unsafe, and they might stop using the climber as a result.
Top 9 Cat Trees for Large Cats on The Market
1- Go Pet Club 72″ Cat Tree: Best Overall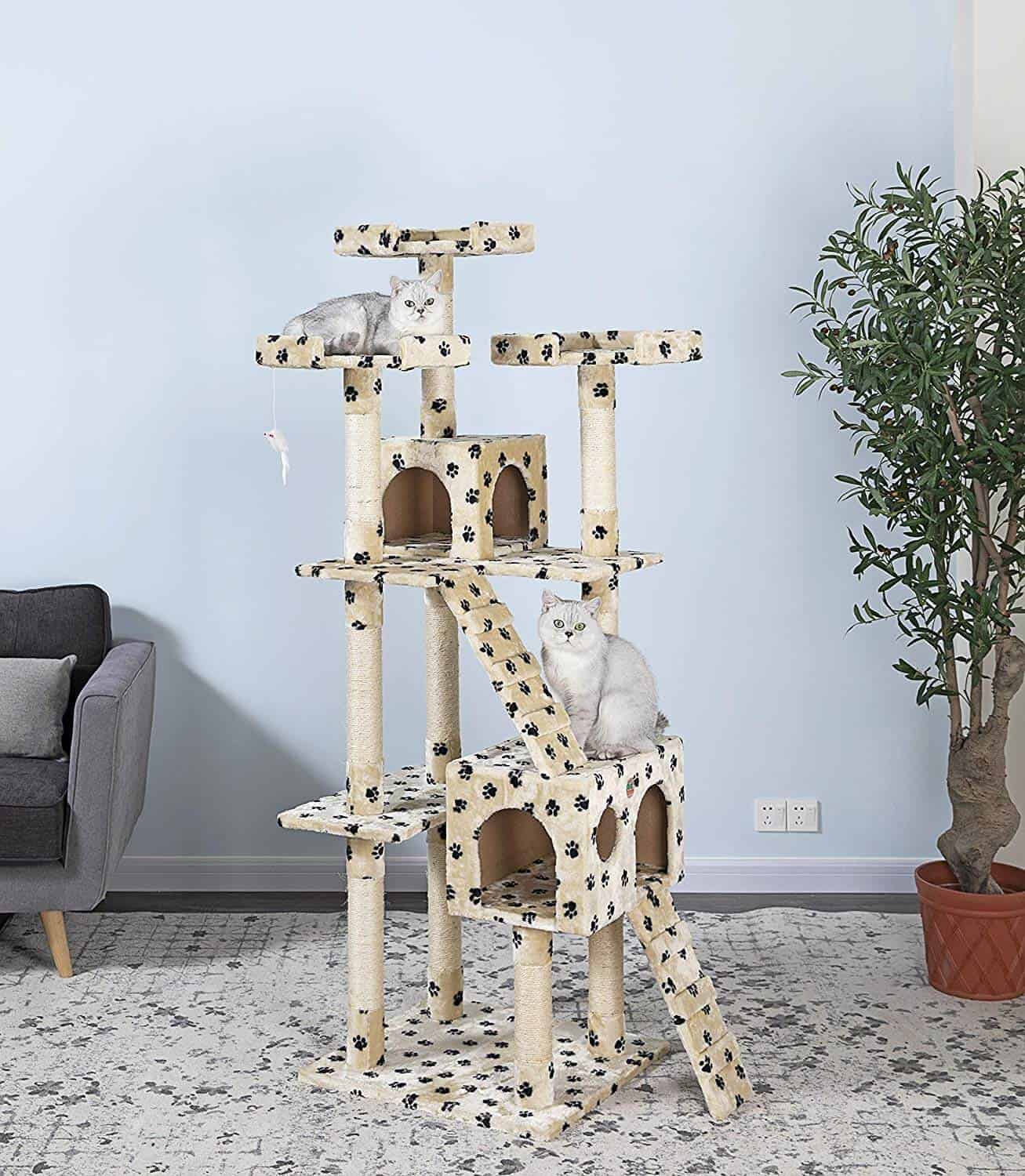 Offering numerous layers, scratching surfaces, perches and hideaways, it's evident why Go Pet Club is our favorite cat tree.
The extra-tall cat tree stands at 72 inches and has a total of 15 levels. This makes it perfect for cats that really love to climb as they can go as high as they want. And despite being so tall, assembling this tower is a breeze.
Go Pet Club is durable, thanks to the plywood construction. Plus, it comes with sisal posts, allowing your cats endless fun as they scratch them.
It also provides your feline with a number of places to lounge on. It has several perches and hideaways, meaning it's fit for a multi-cat household. That said, you'll need ample space to set up this cat tower.
Pros
Generous 72-inch height- perfect for cats that love to climb really high
A number of sisal posts for scratching
Surfaces consist of soft faux fur for comfort
Easy to set up
Comes with a wide stable base
Available in numerous colors
Cons
May be too big for some spaces
2- FEANDREA Multi-Level Cat Tree for Large Cats: Runner-Up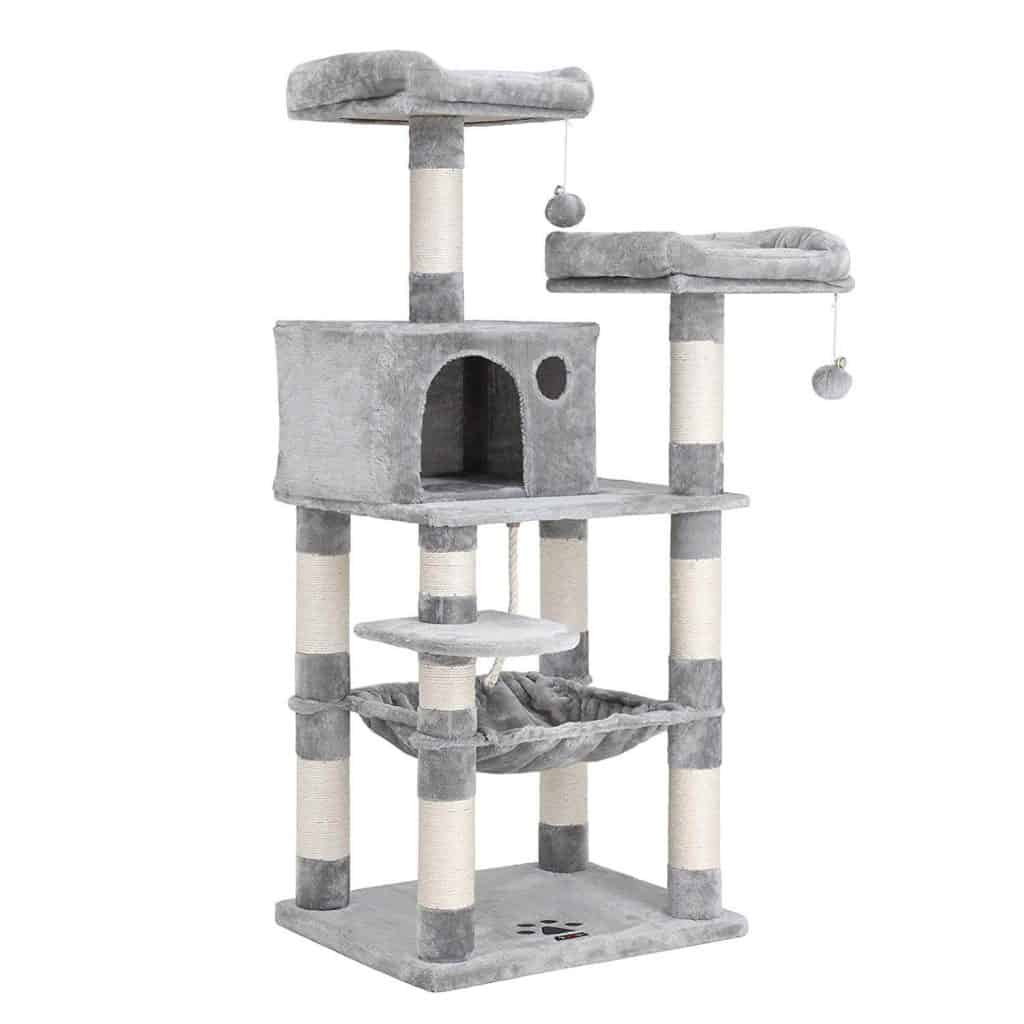 Although FEANDREA Multi-Level Cat Tree has a small footprint, it's incredibly sturdy making it a reliable option for the extra fluffy cats. The heavy duty and CARB-certified particle board construction makes for a solid and highly-stable product.
The cat tree consists of two spacious condos and a hammock. Both of these provide your cat with a cozy napping space.
There's also a large platform at the top, designed to accommodate more than one cat. Here, your feline friends can rest as they watch over your home.
Another thing we like about the FENDREA entails the scratching posts. These are wrapped in natural sisal to allow your cats to scratch; hence, enhance exercising.
Pros
Durable build consisting of natural particle boards
Sisal-wrapped posts that can withstand constant scratching
Roomy to accommodate several cats
Available in brown and light gray colors
Small footprint; takes up minimal space
Cons
Take a long time to assemble
3- Cat Tree King for Large Cats- Best for Multiple Large Cats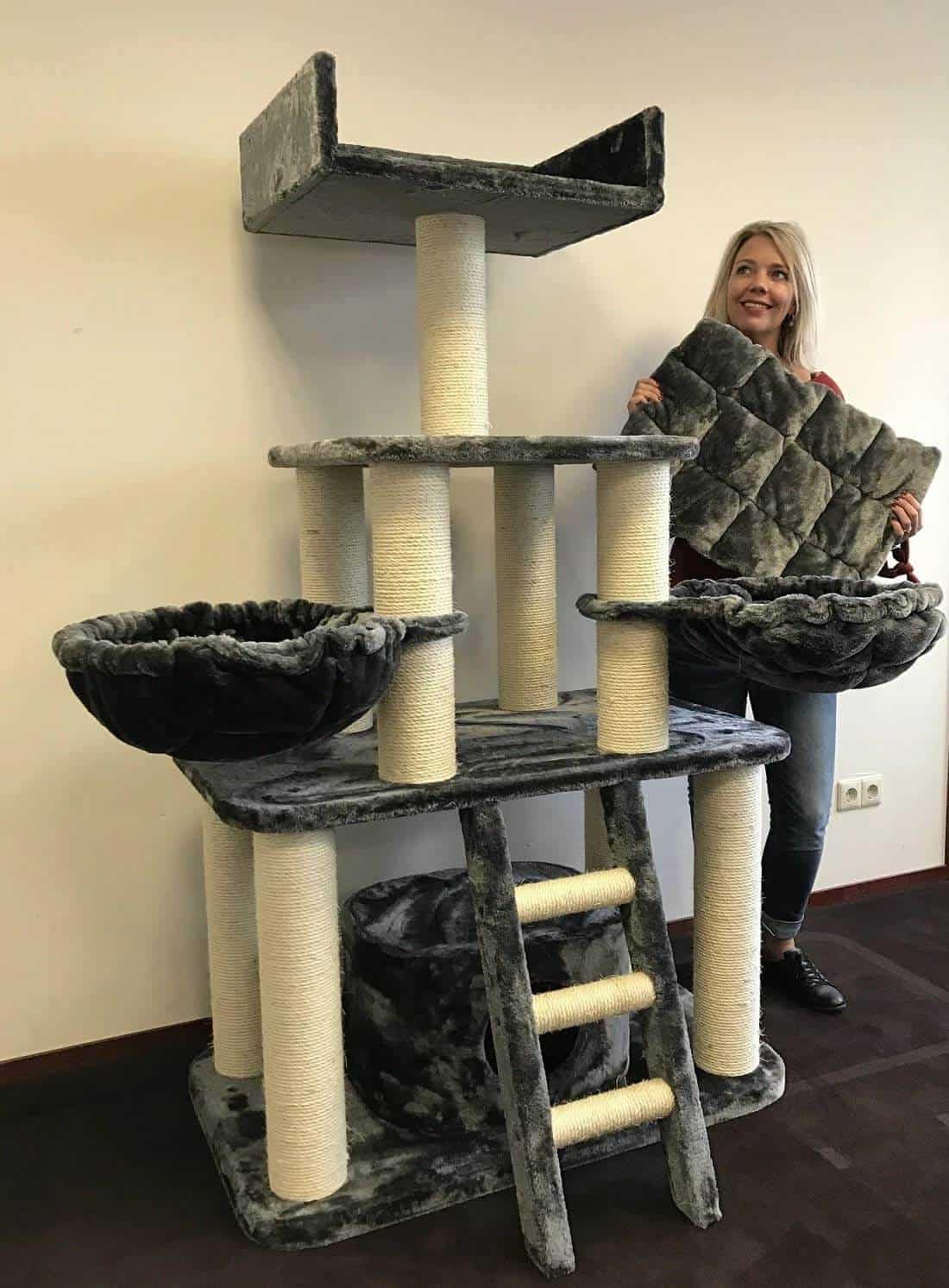 If you have several cats, all of whom are large breeds, the enormous Cat Tree for Large Cats is the perfect fit.
It's sturdy as it's constructed using dense materials. This gives your feline all the stability and security they need when climbing or playing on the tree.
Another reason why you should consider this cat tree is because of the comfort it provides. The entire tree- except for the sisal-wrapped posts- is covered with a velvet-soft fabric. This is just the kind of cozy fleece that cats like. Besides, the tree's silken texture also enhances its appeal- a significant upgrade from the typical carpeted cat trees.
It can be difficult to find a cat tree that has large-sized baskets and perches. But with the Cat Tree King, every component is designed for a large cat breed, including the perches.
That said, there's one area where this cat tree falls short: assembly. Due to the thick wooden boards and fabric covering, getting the screws through the allotted holes can be challenging. It's also quite big, meaning it takes up a considerable amount of space.
Pros
Sturdy construction
Covered in a plus, luxurious fabric
Has a number of resting zones
Cons
Difficult to assemble
Occupies a lot of space
4- Vesper Cat Furniture: Best High-End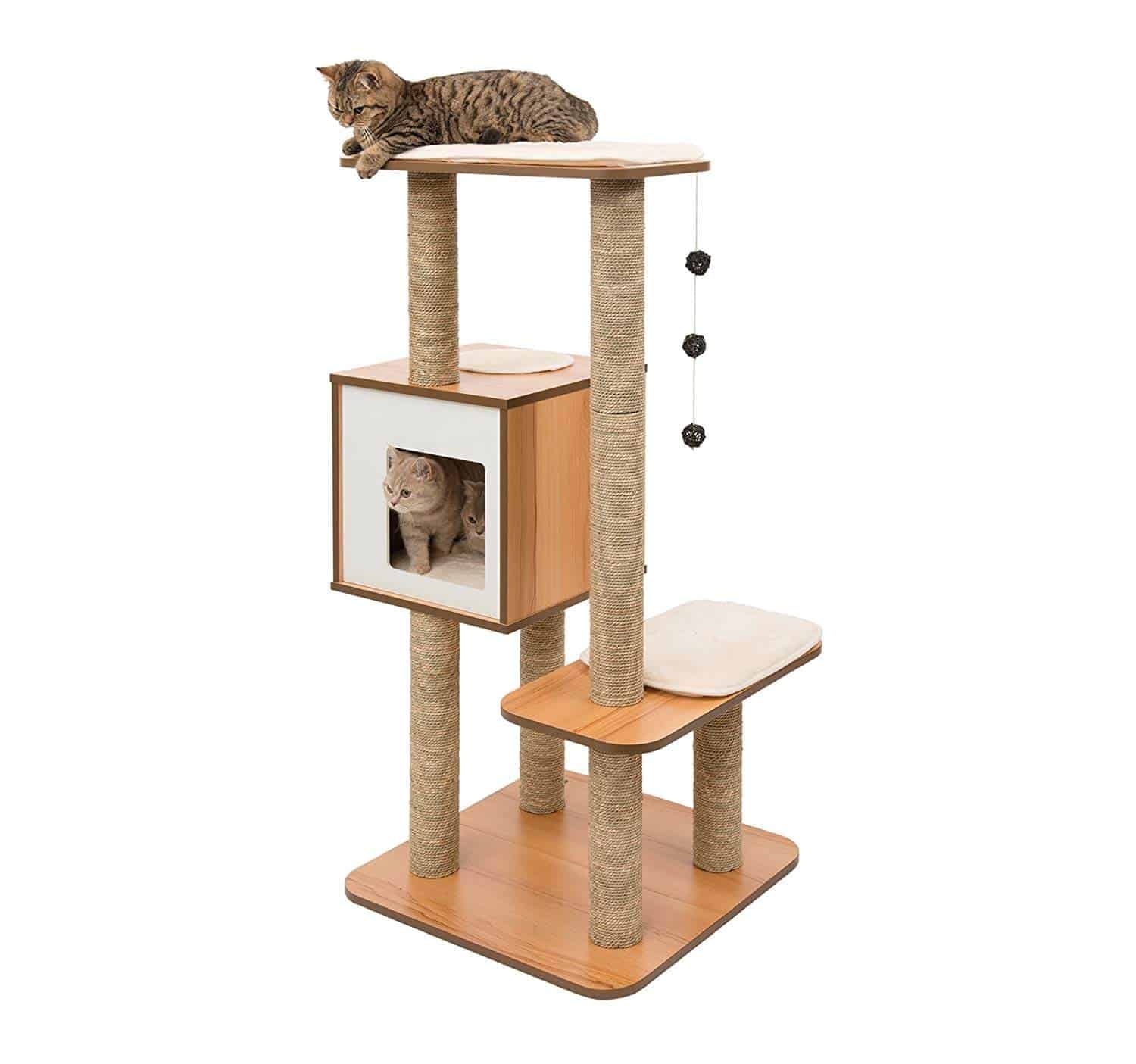 Does your feline wreak havoc on your furniture with their scratches? Well, the Vesper Cat Furniture is an excellent alternative.
Best part about this is that it offers your cat resting places without sticking out from the rest of your decor. Thanks to its richly-colored wooden construction, it blends in perfectly with its surroundings.
Furthermore, this cat tree comes with all the essential components and tools you'll need for the assembly. There's even a well-detailed instruction manual that guides you through the whole process.
Standing at 47.9 inches, this is a pretty tall cat tree. It consists of two resting platforms and a centrally-positioned cat cave that has entrances on two sides. Every surface, including the one inside the cave, is lined with a memory foam topper to provide comfort.
Vesper Cat Furniture has a string dangling from the top platform. Attached to it are some ball-shaped cat toys that your feline can play with.
Pros
Sleek wooden platforms
Easy assembly
Includes memory foam cushions on every platform
Can double up as a napping area
Posts covered in natural sisal rop; hence fit for scratching
Cons
Expensive
Ball toys are not very durable
5- New Cat Condos Premier Triple Cat Perch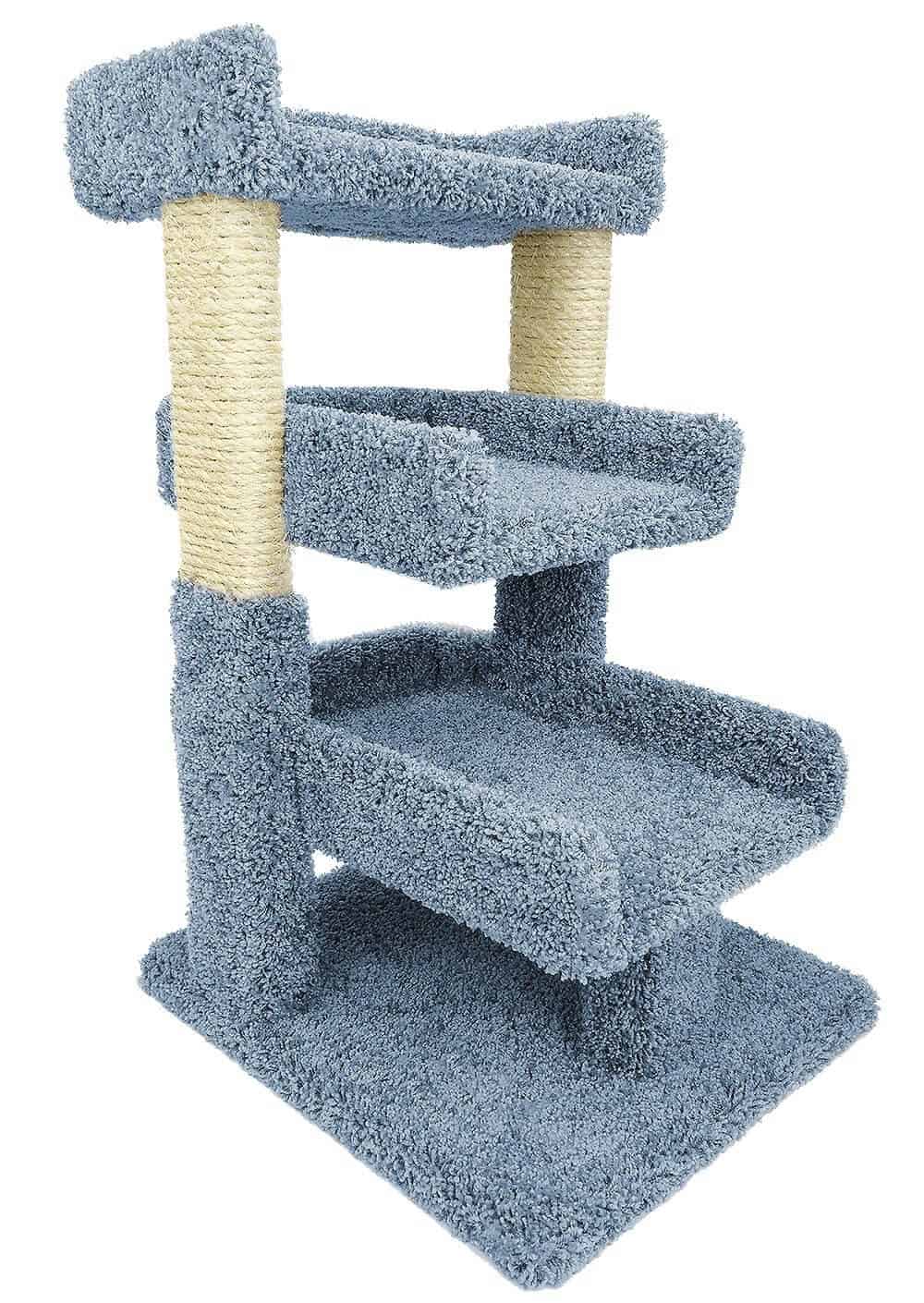 There's nothing that cats love more than to perch on elevated areas. They will climb on your kitchen counters, sinks and more just to get a better view of their surroundings.
However, tall cat trees are not always the perfect fit for larger cats as they can easily tip over due to the added weight. If you want to avoid such accidents, a better option is this Premier Triple Cat Perch by New Cat Condos.
You'll notice right away that it has an exceptional design. It's lower to the ground- a factor that enhances its stability. But, it still provides perches that are wide enough for large cats. To be specific, the dimensions of the three-tiered cat tree are 20 x 20 x 32 inches.
Another big bonus of the New Cat Condos entails the sisal rope-wrapped posts. These are strong enough to support the carpeted platforms while also providing scratching areas.
While most cat trees are only available in beige color scheme, this one comes in multiple colors. These include blue, brown, gray and green. The icing on the cake is the fact that it comes completely assembled and ready to use.
Pros
Sports a basic but highly-functional design
Stable enough for large-sized cats
Suitable for multi-cat homes
Doesn't occupy a large space
Cons
The carpet may start to fray after repeated scratching
6- Simple Sleeper Cat Scratch Post and Bed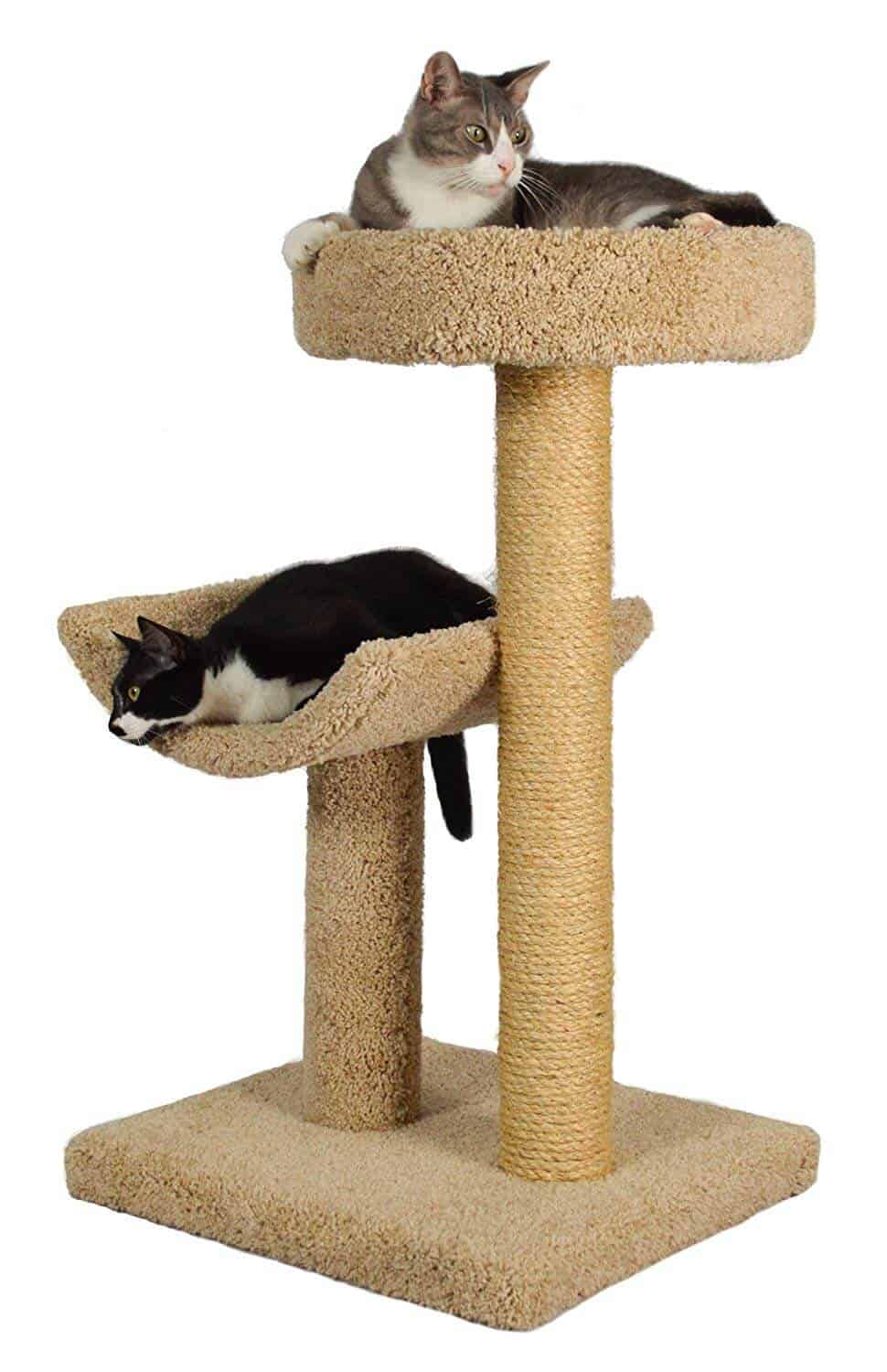 If you lead a busy lifestyle and can't find time to play with your kitty, getting them a cat tree is one way to keep them entertained. That said, the last thing you want to do is spend an hour or more trying to assemble the cat tree.
Luckily, some cat trees like the Simple Sleeper by Molly and Friends, has a no-fuss installation process. In fact, it arrives when it's already assembled; hence saving you precious time.
Measuring 19 x 21 x 37 inches, this cat tree has a much simpler design compared to others. It has two perches lined with carpet; the tallest one rising to 37 inches from the ground.
These provide platforms where your cats can lounge, stretch and play. Another perk of these surfaces is that they're large enough to accommodate cats of all sizes.
Also worth pointing out is the durable construction of the Simple Sleeper cat tree. Each cat tree is handcrafted using premium-quality materials. As a result, the posts provide the perfect surface for your cats to dig their claws into. The cat tree is also very sturdy and stable.
Pros
Has a solid construction
Safe for your pets since it's made of environmentally-friendly materials
Simple setup; no assembly needed
Cons
Complaint that the carpet may start shedding after a while
7- BEWISHOME Large Cat Tree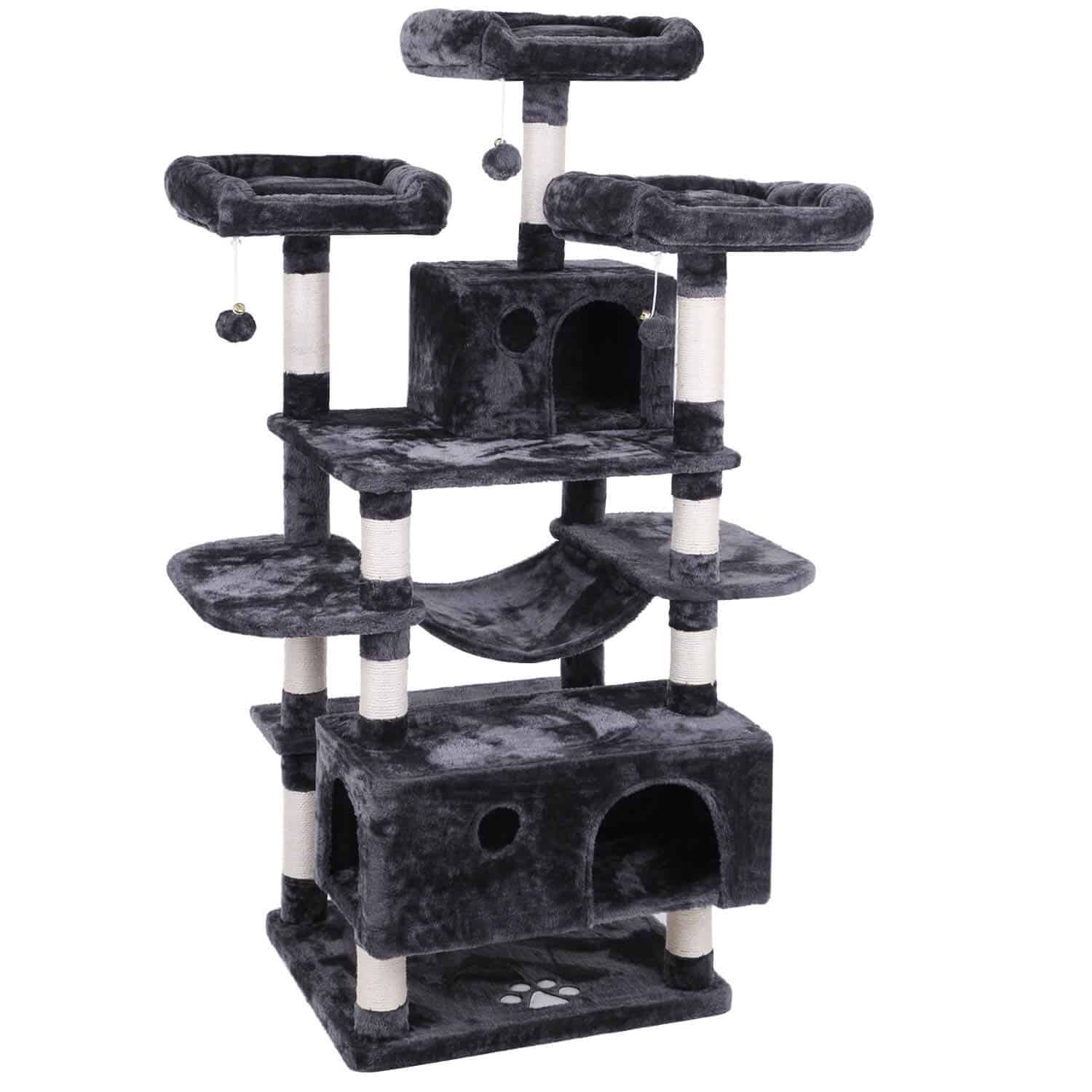 Do you like the idea of having a luxurious cat tree that will not only meet your kitty's needs but also enhance the appeal of your home? If so, the Bewishome Large Cat Tree Condo is the perfect option.
This cat tree is made of 5 levels, 2 of which are fitted with hideaway condos, and one equipped with a hammock. It also has interactive jingly balls that your pet can play with.
But what truly sets this cat tree apart is its chic design that consists of a smokey grey plush material.
If the dark grey color doesn't quite match with your decor, the product is available in a light gray version. The plush covering is incredibly soft and comfortable, providing your felines a cozy place to hang out.
To address your cat's needs for sharpening their claws, Bewishome Cat Tree has a couple of posts made of the resilient sisal material.
The cat tree measures 36.6 x 30.7 x 62.2 inches, meaning it's big enough to accommodate large/adult kitties. And it's very easy to piece together.
Pros
Sturdy platforms with plush coverings for comfort
Multiple scratching posts to satisfy your cat's scratching needs
Comes with cat toys to keep them entertained
Simple to assemble
8- PetFusion Ultimate Cat Climbing Tower & Activity Tree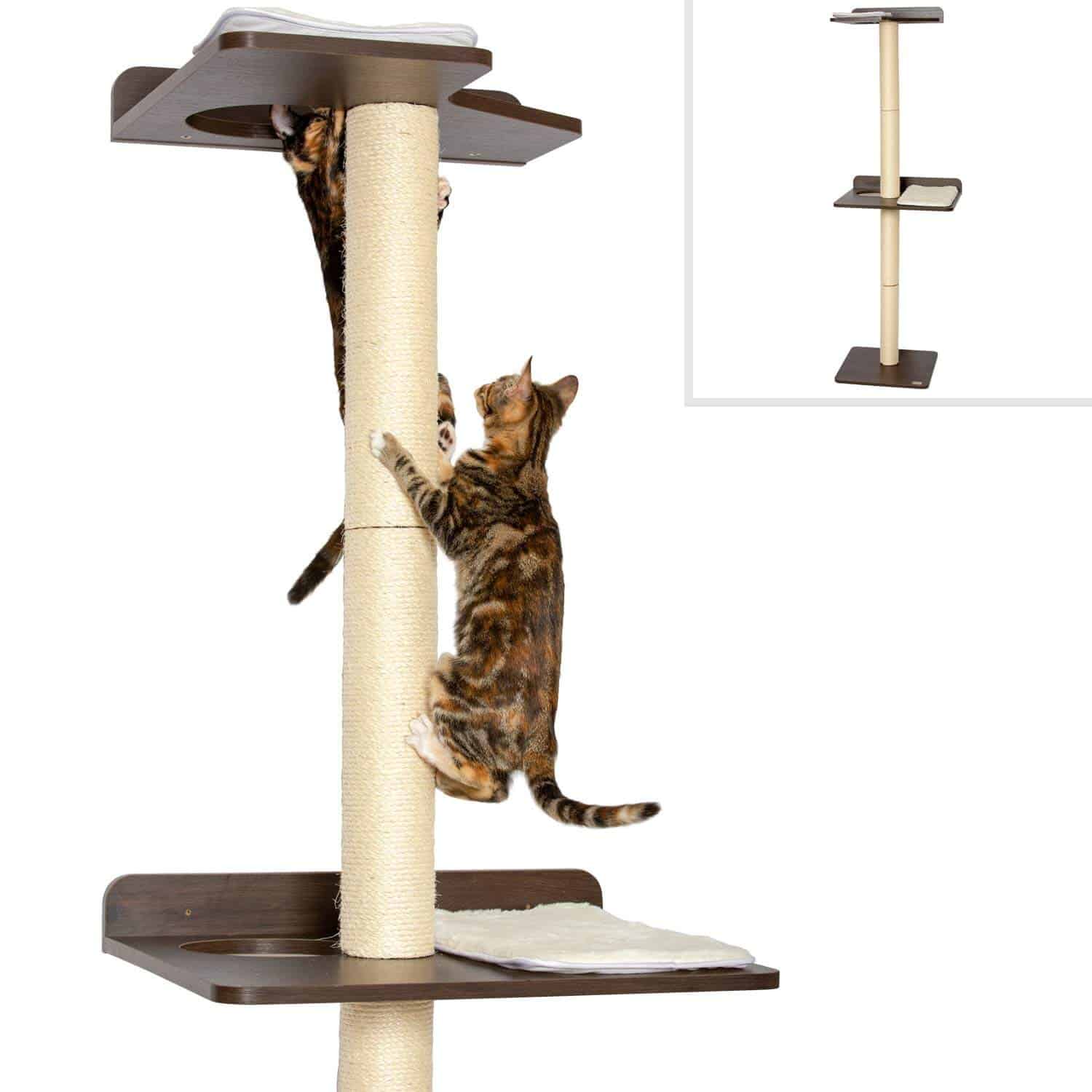 If you're looking for a tree that will challenge your pet's climbing skills, the PetFusion Ultimate Cat Tower is your best bet.
It has a unique design in that it's a streamlined post with only a couple of perches. What we love most about its structure is that it takes up minimal space, yet it still provides a place to climb and rest. The 72-inch sisal-wrapped pole leads your feline up through gaps into the two top platforms.
The good thing is that this sisal post can be spun around or replaced if it becomes worn out. The dark brown faux wood finish of the pole makes it an excellent addition to any home. Plus, the soft pads on the platforms are attached using velcro making them easy to detach for cleaning purposes.
This pole is not a freestanding unit though. It has to be attached to a wall, which is what contributes to the small footprint.
Putting this cat tower together is a walk in the park. All you need is a hammer and a screwdriver to attach it to the wall using the provided zinc drywall anchors. Assembling it shouldn't take you more than 15 minutes.
A lot of times, you'll come across cat furniture that is made of flimsy materials. Luckily, this is not the case with PetFusion Tower, which has the E0 grade MDF rating. It also passes the European REACH standards.
Both E0 and REACH are safety regulations that manufacturers of MDF, plywood, hardwood products are required to comply with.
Pros
Takes up little space
Adheres to safety regulations
The pole is made of sisal rope to allow for scratching
Easy assembly
Can accommodate up to 3 cats
Cons
If it's not installed properly, it becomes wobbly and unstable
9- CozyCatFurniture 3 Tier Cat Tree for Large Cats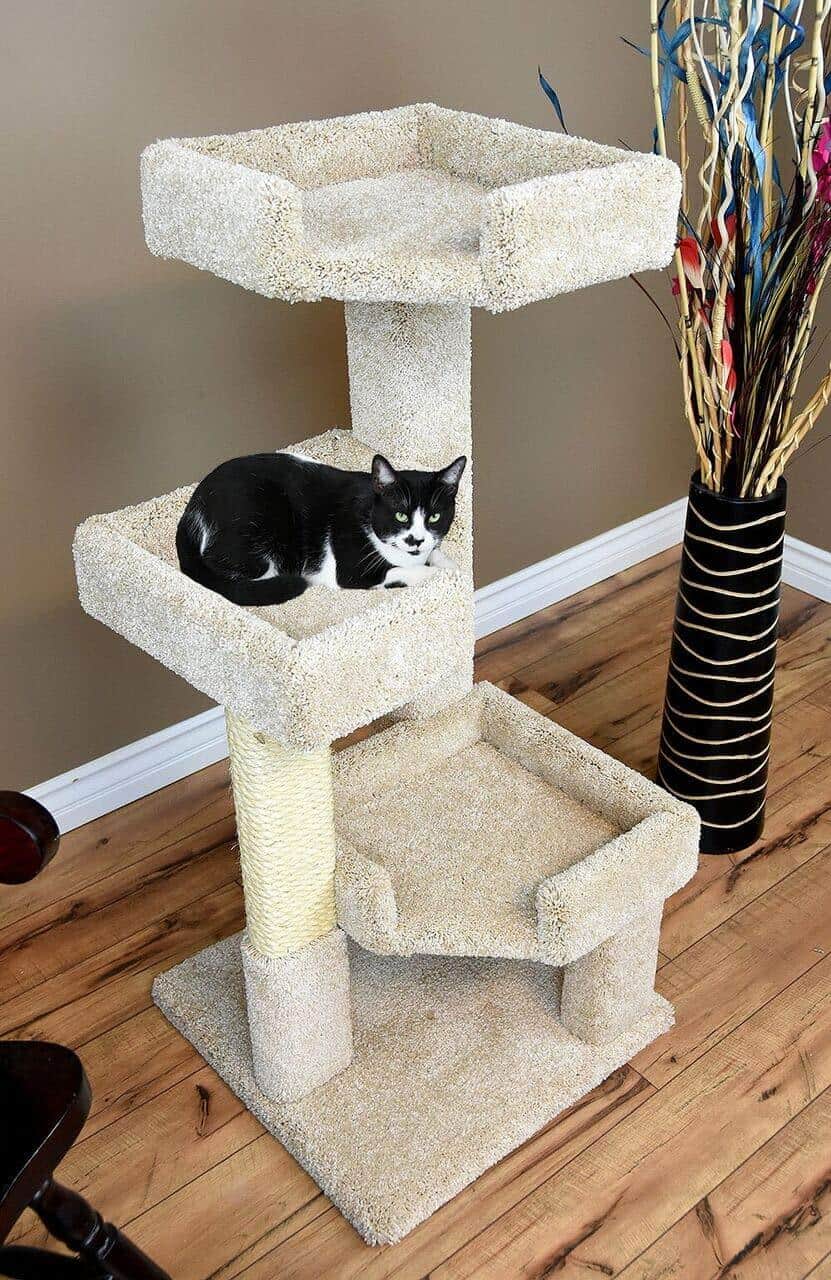 The stylish and comfy 3 Tier Cat Tree by CozyCatFurniture is designed specifically for bigger cats. It measures 20 x 20 inches and stands at 44 inches tall. And although this particular unit comes in beige, you can get one made in brown as well.
One thing that stands out about this cat tree is its durability. The fact that its poles are made of solid wood and not plywood, makes for a stronger, more reliable cat tree. Better yet, it has a very wide base that enhances stability.
Also worth pointing out is that the CozyCatFurniture tree is safe for your pets. Both the carpet and sisal are connected to the tree using staples and not toxic glue.
This product comes with 3 spacious beds, each measuring 15 x 15 inches. This makes it suitable for medium-to-large sized cat breeds. Also, the cat tree is shipped when it's partially assembled. Just set up the top bed, place it your kitty's favorite spot and you're good to go!
Pros
Designed in a beautiful beige color
Offers 3 seperate sleeping areas for multi-cat households
Easy to clean and maintain
Cons
Power screwdriver needed to assemble the top bed is not included
Best Cat Trees Under $50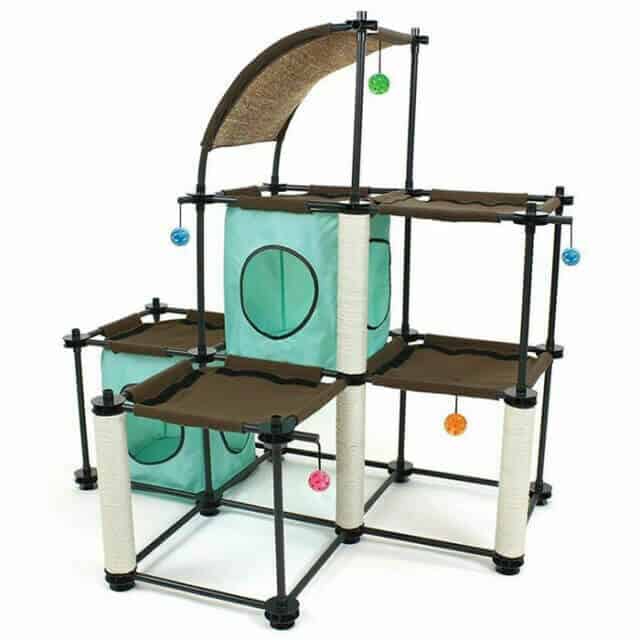 Admittedly, at first glance, the Kitty City Cat Tree doesn't look as premium or luxurious as the rest of the cat trees on this list. But does it do the job? Absolutely!
What I love the most about this cat tree is its unique design. It doesn't have one solid standing structure; instead, you can build it in any arrangement that fits you and your cat's style.
This modular playspace encourages an active lifestyle for your cat. It comes with several climbing platforms, sisal covered scratching posts, ball toys, and a multitude of living spaces. To top it all off, it's covered with soft fleece for extra comfort.
If you're looking to get your cat her very own "Disney world", the Kitty City Cat Tree is definitely an option to consider.
Pros
Easy to assemble and clean
Increasingly lightweight, which makes it easy to move around
Modular design allow the tree to be customized, upgraded, and expanded
Cons
The light canvas construction may not endure large cats
Doesn't look that great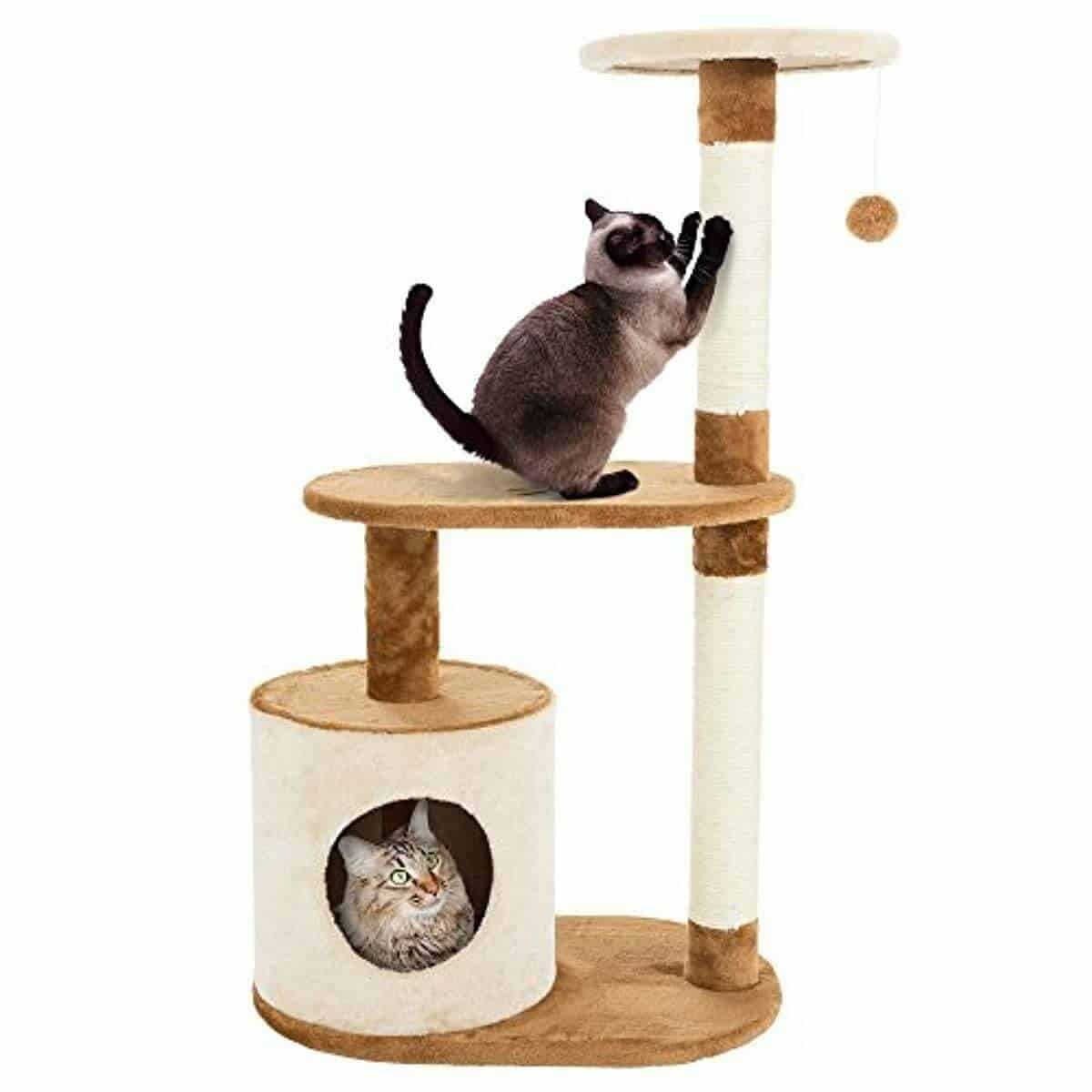 I can honestly say that the Petmaker Cat Tree is one of the most stylish options out there. For under $50, this one's certainly a big bang for your buck.
Its design is simple yet effective. Constructed with particle-board, this cat tree comes with two perches, two sisal scratching posts, a hanging ball toy, and a private cat condo on the first floor. For your cat's comfort, every surface is covered in 100% polyester plush fabric.
The "house" being on the tree's base makes it suitable for both young and old cats. It's especially helpful for those unable to jump or climb up cat trees. The simple design is also suitable for cats who don't love overly grand structures.
Pros
Sturdy enough to accommodate multiple cats
Easy to assemble
No hard or rough surfaces
Well-priced for its size
Cons
Overall construction doesn't last long
Not suitable for large cats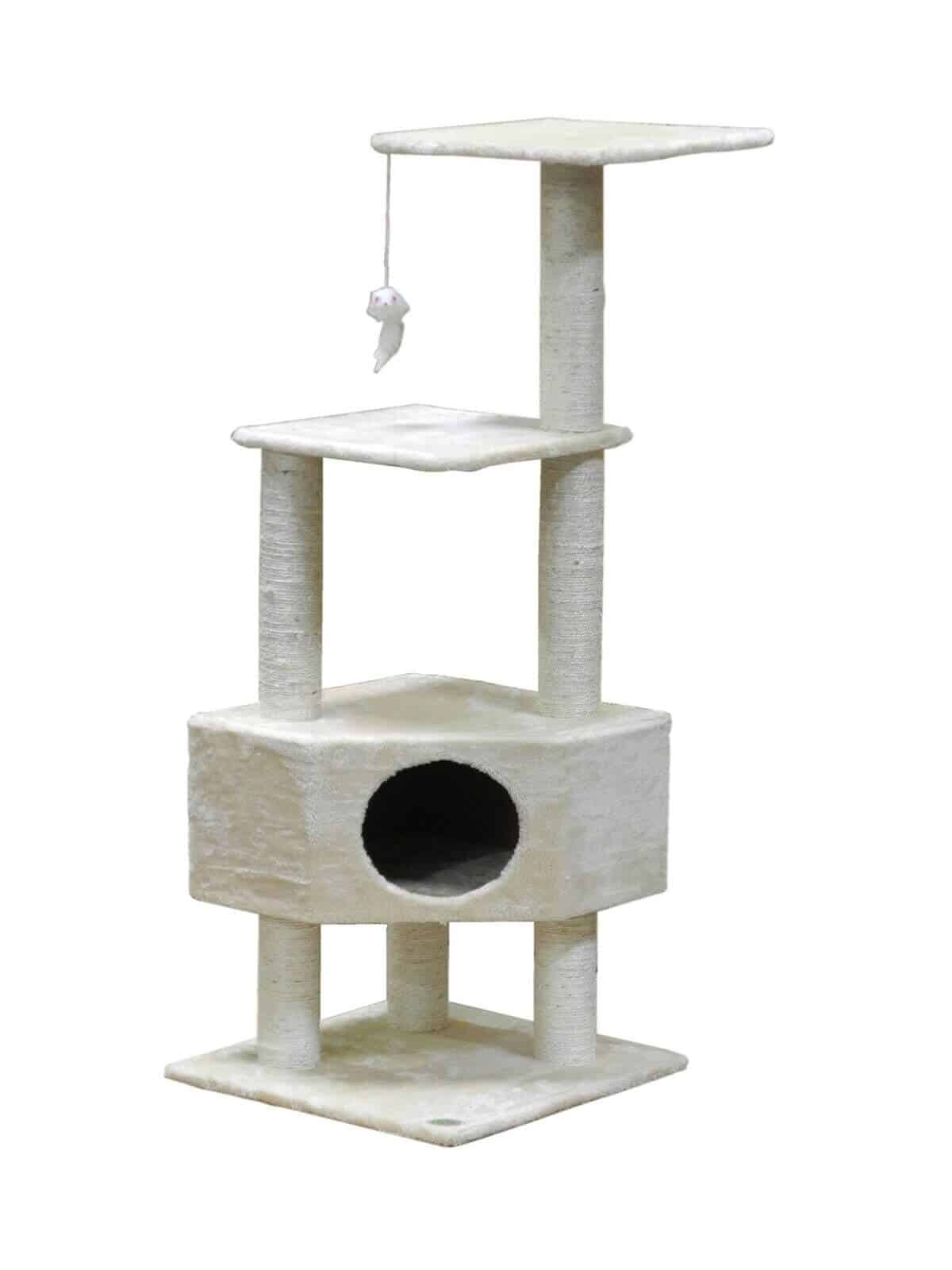 The Go Pet Club Cat Tree has everything a cat needs in a tree: sufficient elevation, a cozy place for her to retreat, and multiple sisal scratching posts to help her with claw care.
Standing at 52 inches, this cat tree has a solid, sturdy base that's made of compressed wood. The faux fur carpeting is a nice touch; my cat indeed prefers this material over standard carpets.
Its multiple perches are suitable for up to three cats to use, making it ideal if you own multiple cats, or if your cat hosts lots of feline play dates!
And if that's not enough, this cat tree comes with a dangling toy that'll keep your cat entertained for hours on end.
Pros
DIY assembly; includes tools and instructions
Multiple perches allow more than one cat to play on
Comes with five high-quality sisal scratching posts
Sturdy base
Cons
The platform isn't that big, which doesn't make it suitable for large cats
Best Cat Trees Under $30
Now, let's take a look at our favorite 3 cat trees. The following options combine durability, decent quality, and an affordable price.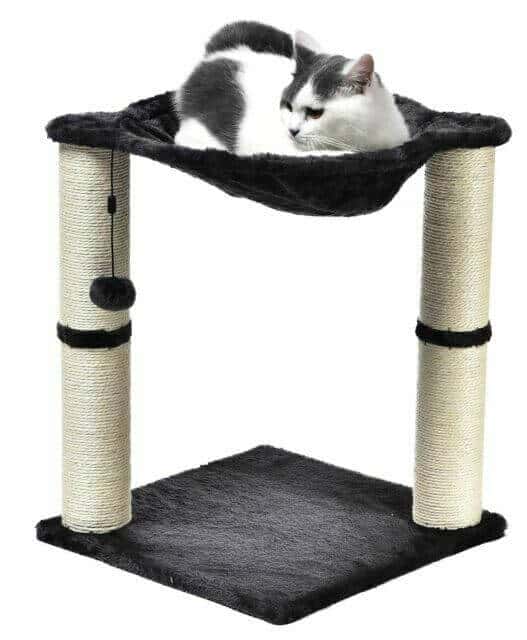 Your cat will likely adore this mini cat tree by Amazon Basics. This is because it includes several features to draw the attention of your feline friend.
For starters, it comes with an elevated, plush cat hammock to ensure the comfort of your kitten. Built upon two durable pillars, it should handle a medium-sized cat just fine.
We also like that its posts are wrapped in natural jute fiber to satisfy your cat's urge for scratching. This way, your cat can still enjoy sharpening her nails without damaging your precious furniture.
Lastly, we couldn't help but admire the neutral-colored, minimalistic design of this cat tree. You can choose from black-and-white or just white. Either way, this cat hammock should add a nice touch to any room you put it in.
Pros
Easy assembly
Includes a comfy hammock
Two scratch posts
Features a little kitten toy
Cons
Not suitable for larger cats
2. ScratchMe Tree Condo – Best Cat Tree Under $30 for Kittens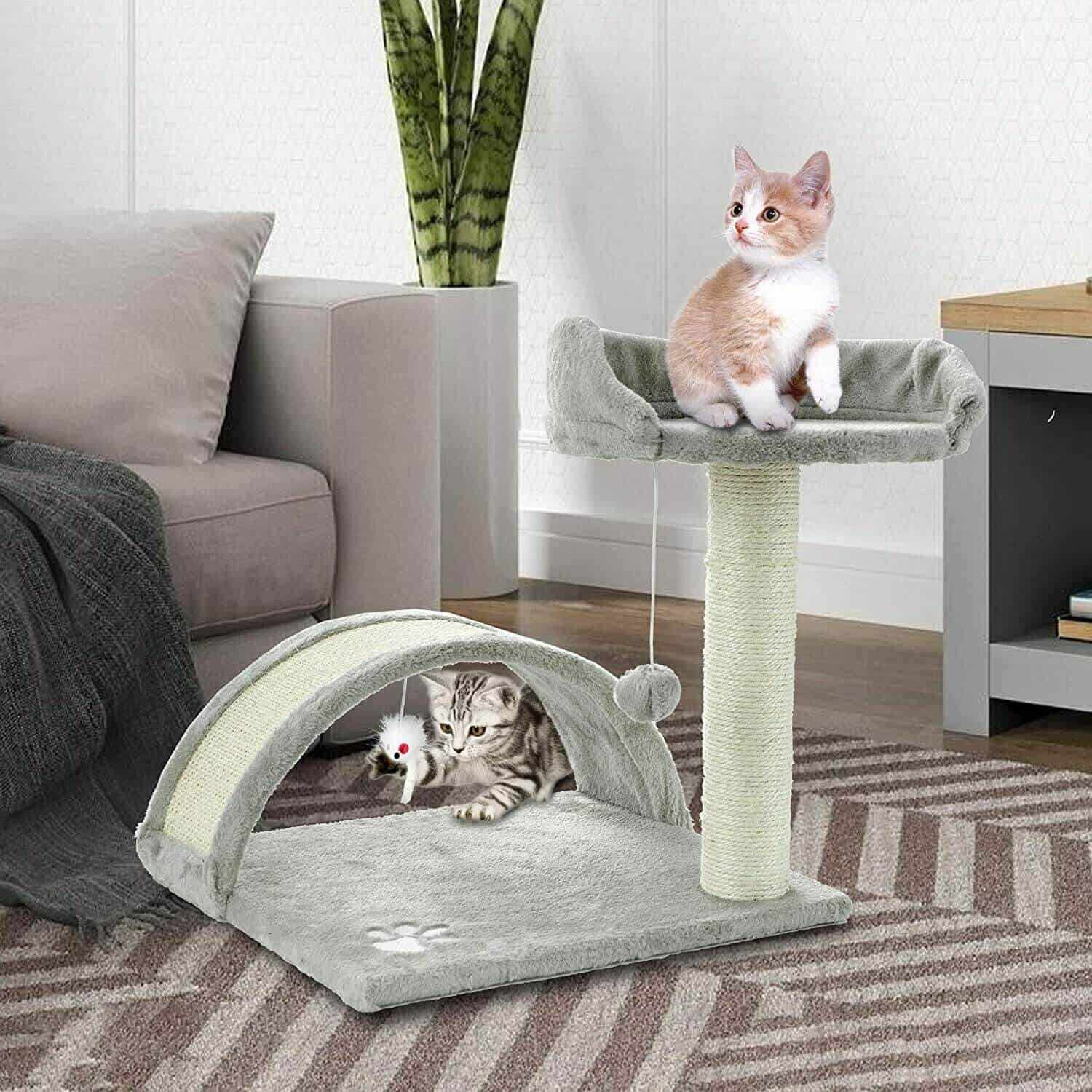 The next product on our list is this cute cat tree by ScratchMe. Its kitty-friendly design and affordable price have made it quite popular on Amazon.
This cat tree consists of two platforms covered with soft and plush materials to embrace the footfalls of tiny paws. One platform is on the ground, while the other sits on a post to encourage your cat's climbing instinct.
The tree also features a curved scratching board and a post wrapped in natural sisal rope for more fun during playtime.
What we like the most about this product is that it has a sturdy plywood structure. Therefore, you can expect it to stand tall for years. Even better, it suits the needs of 2–3 kittens since it has more than one area where they could do many activities. Yes, this tree might not handle larger cats, but it can be perfect for these little furry friends.
Pros
Simple and quick to assemble
Made from solid plywood
Plenty of scratching surface
Great for more than one kitten
Plush surface and soft materials
Cons
Handles a maximum weight of 8 lbs only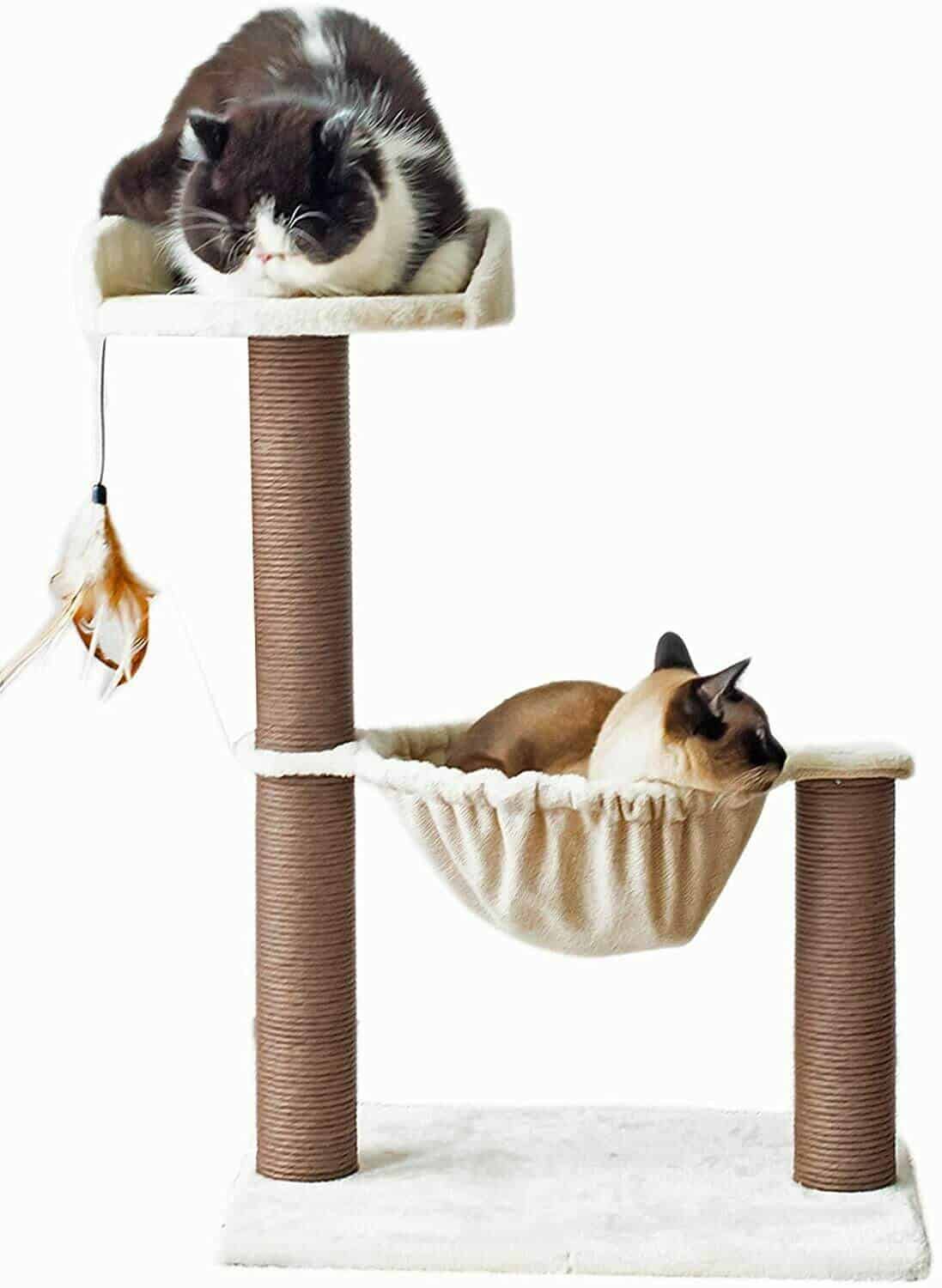 Last but not least, this adorable cat tower by Catry can be the best gift to get for your furry buddy.
It features a plush base, a soft hammock, and a raised perch that your cat can lounge upon. These different levels will allow your cat to climb, jump, play, and scratch her nails all at the same place.
The platforms are covered in fluffy fleece, which makes them the perfect places for an afternoon nap. In addition, each post is covered by paper rope to endure every cat's enthusiastic scratching!
Besides all these great qualities, you should find the whole structure easy to put together. Because the product comes with clear instructions, you should be able to assemble it in a few minutes. Plus, all the tools you might need are included for your convenience.
Pros
Multiple perches
Soft padding
Durable build
Comes with two scratching pillars
Easy assembly
Cons
Only handles a maximum weight of 10 lbs
Wrap up
Finding the ideal cat tree for your feline doesn't have to be a daunting task. Keeping your cat's personality, the ease of assembly and overall durability in mind, will make the selection process easier.
Also, don't forget to pick a cat tree that has a resilient scratching pole. Without it, your furball might still opt for your couch when she wants to sharpen her claws.
Our most recommended product is the Go Pet Club Tree. At 72 inches, this cat tree provides the perfect vantage point for large cats. The posts are made of sisal rope while lounging areas are made of faux fur to enhance comfort.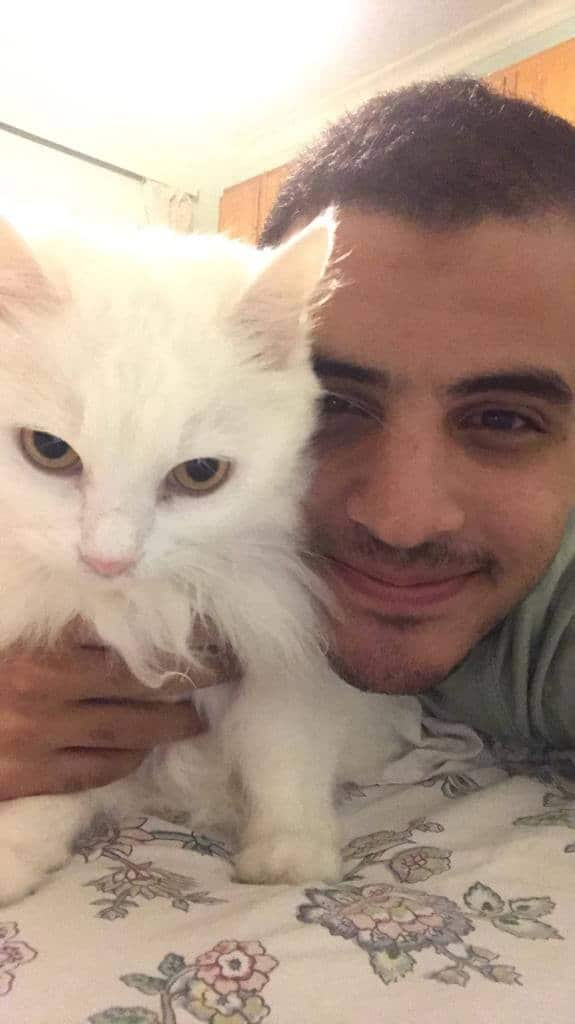 I've been living with cats since 2008 and I can confidently say I have more feline friends than humans lol. I currently live with 5 cats in different life stages; two of them are less than one year old, one is 2-ish years old and the oldest two are 9-ish years old. I've developed a strong bond with cats over the years and I'm eager to share my experience through this blog. You can learn more about my cats here.