Disclaimer: Some of the links in this article may be affiliate links; we will earn a commision, at no additional cost to you, if you make a purchase through one of our links.
Cats are notorious for their picky nature. I mean, one moment they're munching on their usual food and letting you pet them endlessly, the next they're going on a food strike and running away from cuddles as if their lives depended on it!
However, one of the trickiest choices you'll ever have to make when it comes to your feline pet has got to be toys! You know what I'm talking about, spending hefty cash on a cat toy only to have your furball completely ignore it and go after a plain straw!
If you're a cat owner living with such a struggle, you'll be pleased to know it all ends today! Thanks to our list of the 13 best cat toys for indoor cats and information buying guide, you'll be able to land the perfect toy guaranteed to capture your little friend's attention.
Our Top Cat Toys for Indoor Cats on The Market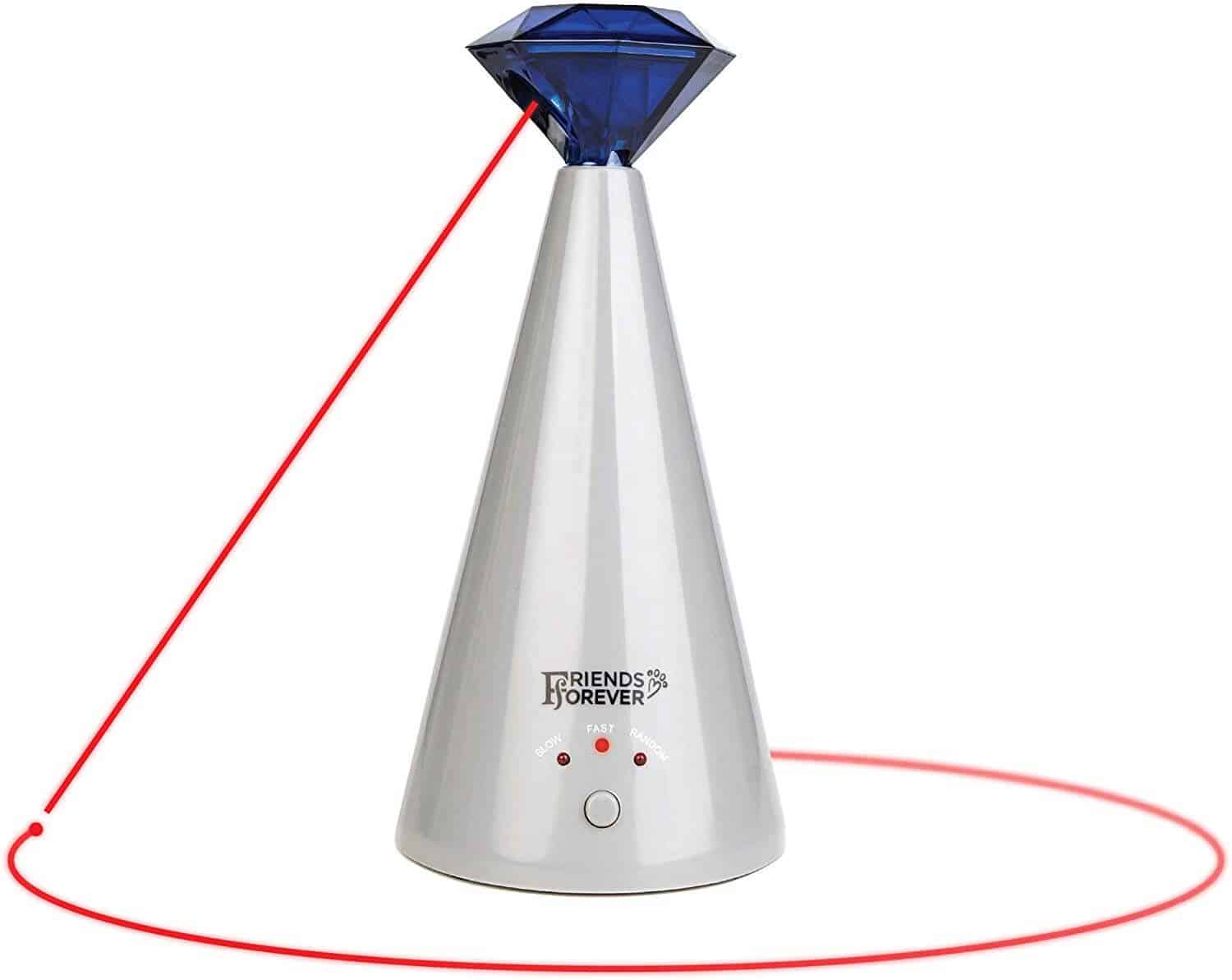 Kicking off our list with a type of toys famous for intriguing cats and keeping them busy for hours, the Interactive Cat Laser Toy by Friends Forever is a laser pointer designed to engage your feline in fun yet healthy exercise.
The pointer is uniquely shaped like a diamond, so it looks stylish when you place around the house. It runs using 3AA batteries which makes it safe for pets since there's no cord to trip on. This toy projects random laser patterns in all directions and comes with 3 rotation speed options to better suit your cat's pace.
You don't need to worry about over-tiring your feline pet from too much chasing time since the Friends Forever Cat Laser Toy shuts off automatically after 15 minutes. This toy is engineered in the USA and backed up with a money-back guarantee in case you're not totally satisfied.
Pros
Random laser patterns in 360°
Strong beam
15-min timer
Money-back guarantee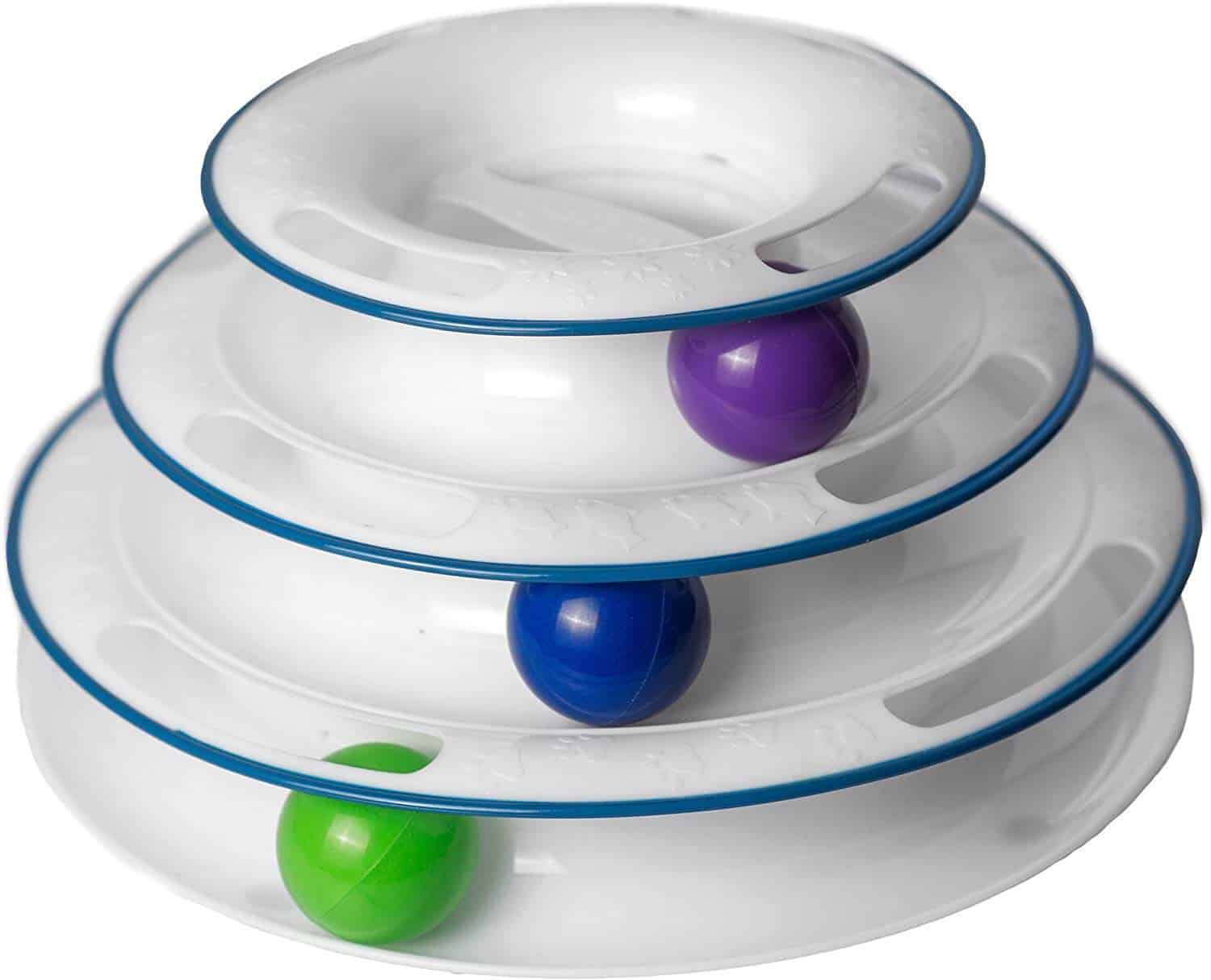 This Amazing Roller Cat Toy by Easyology has earned thousands of positive reviews being one of the most entertaining toys your feline can enjoy.
It consists of a tower-like construction made up of 3 levels, each one houses a ball of a unique color. The 3 balls swirl around their respective lanes in a motion resembling a real prey. This boosts your cat's mental and physical abilities in a healthy way, all the while providing tons of fun and engagement.
The Easyology Roller Cat Toy is also a great choice if you own more than one cat. It's generally safe since there are no tripping or choking hazards such as strings, ribbons, or small items. Moreover, it's made of sturdy plastic that'll surely withstand your cat's punches and bites, which makes for long service time.
The Amazing Roller Cat Toy is available in 2 colors and covered by a 30-day full refund guarantee.
Pros
Affordable
Doesn't run on electricity or batteries
Suitable for multiple cats
30-day refund policy
Cons
The balls contain noise beads which can be a bit annoying to owners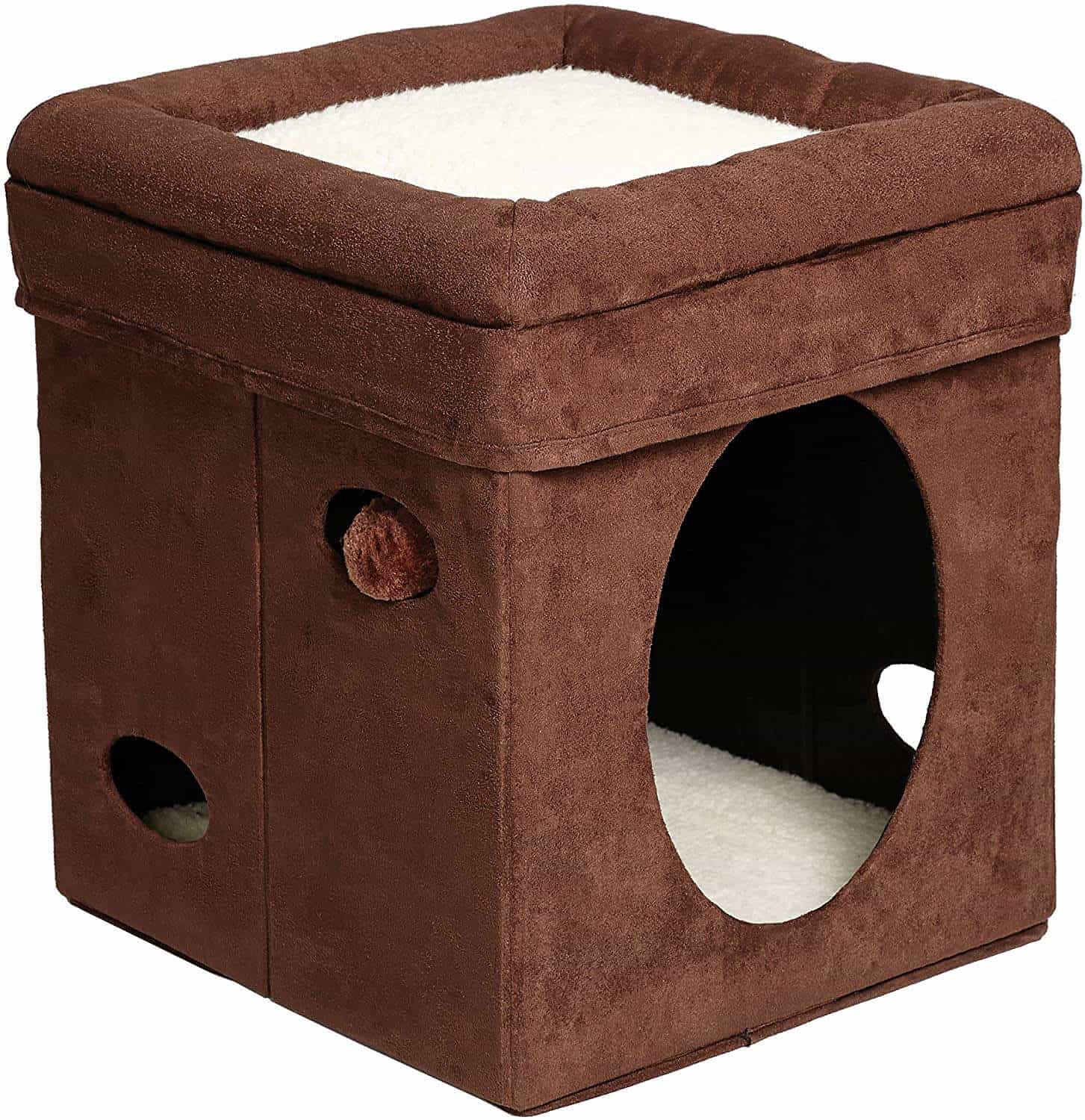 The MidWest Curious Cat Cube is a wonderful option if you're all about 2-in-1 solutions! Not only does it offer loads of entertainment, but it also doubles as a bed for your furball.
This cube is available as a single-story design measuring at 15.5 inches W × 15.5 inches L × 16.5 inches H when it's fully assembled. The structure is big enough to accommodate cats of various sizes, made of soft faux suede and sheepskin materials to create a cozy retreat.
The walls of the MidWest Curious Cat Cube are decorated with cut-out oval and circle shapes so you and your feline baby can enjoy hide & seek games. It's also equipped with a cushioned topper where your cat can sleep and relax.
This cube is a breeze when it comes to storage since you can fold it down to easily fit in your closet or take it on trips with your cat. It's available in 3 colors as well as a double story option. MidWest backs their Cat Cube with a 1-year warranty.
Pros
Durable construction
Soft and comfortable material
Has Hide & Seek cut-outs
Doubles as a bed
Easy to fold and assemble
Cons
The cube needs to be aired out before use to get rid of the funky smell
Maybe too small for larger cats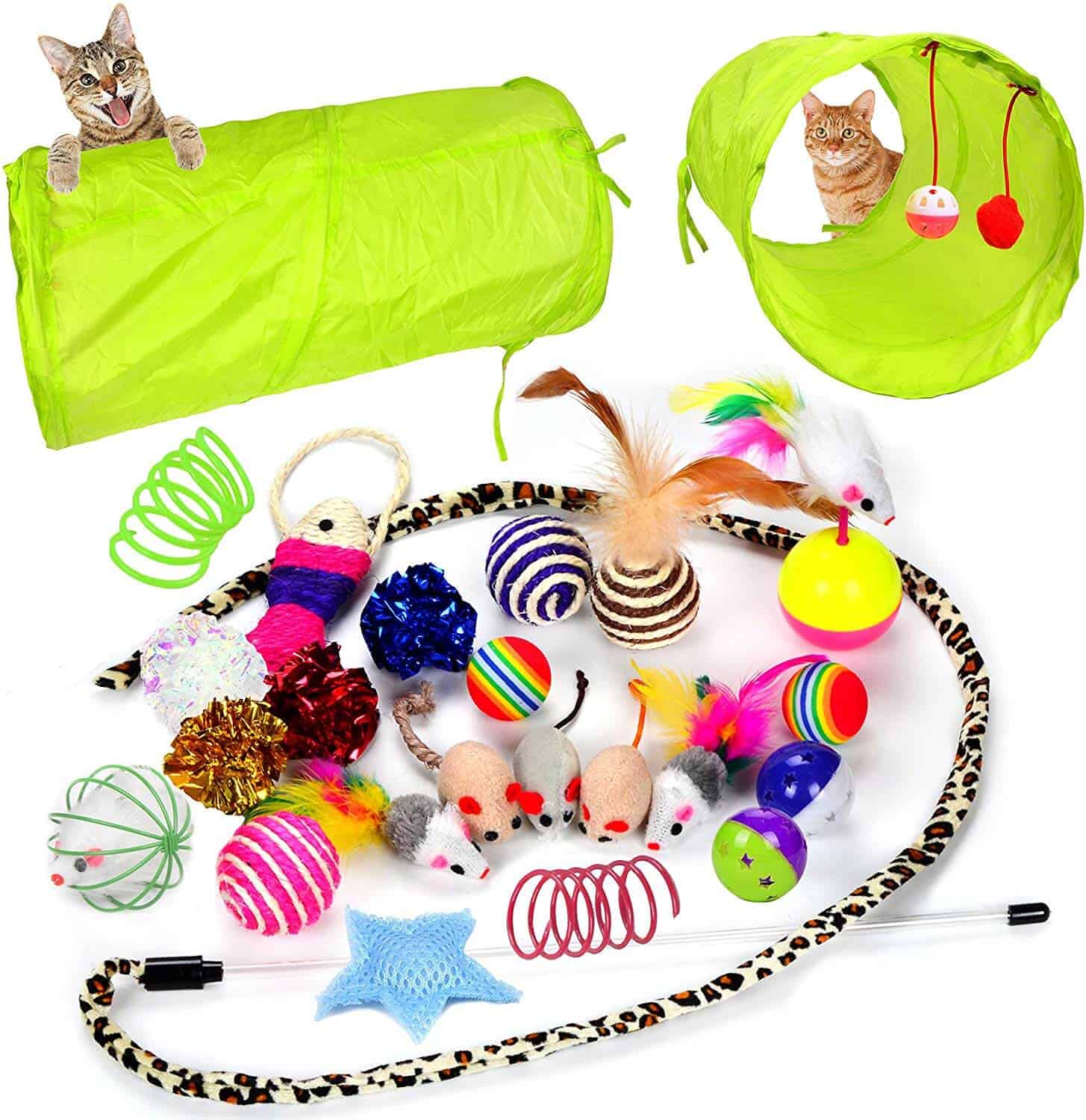 If you're on the hunt for outstanding value for your money, the 24 Cat & Kitten Toys Assortments from Youngever may just be all you've been looking for!
This is an extremely versatile product, meaning it can pique the interest of practically any feline pet out there since it contains a wide selection of toys. The Youngever package includes a 2-way collapsible cat tunnel, 4 crinkle balls, 3 cotton mice, 1 cage mouse, 2 colored balls, 3 scratcher ball, 2 cat springs, and many more.
This collection is carefully planned to deliver hours of healthy and fun exercise to keep your cat busy. Yongever backs up their Toys Assortment with a 100% money refund policy if you're not satisfied with the product.
Pros
Very versatile
Contains 24 different toys
Affordable
Excellent value for money
Cons
Cat tube quality is disappointing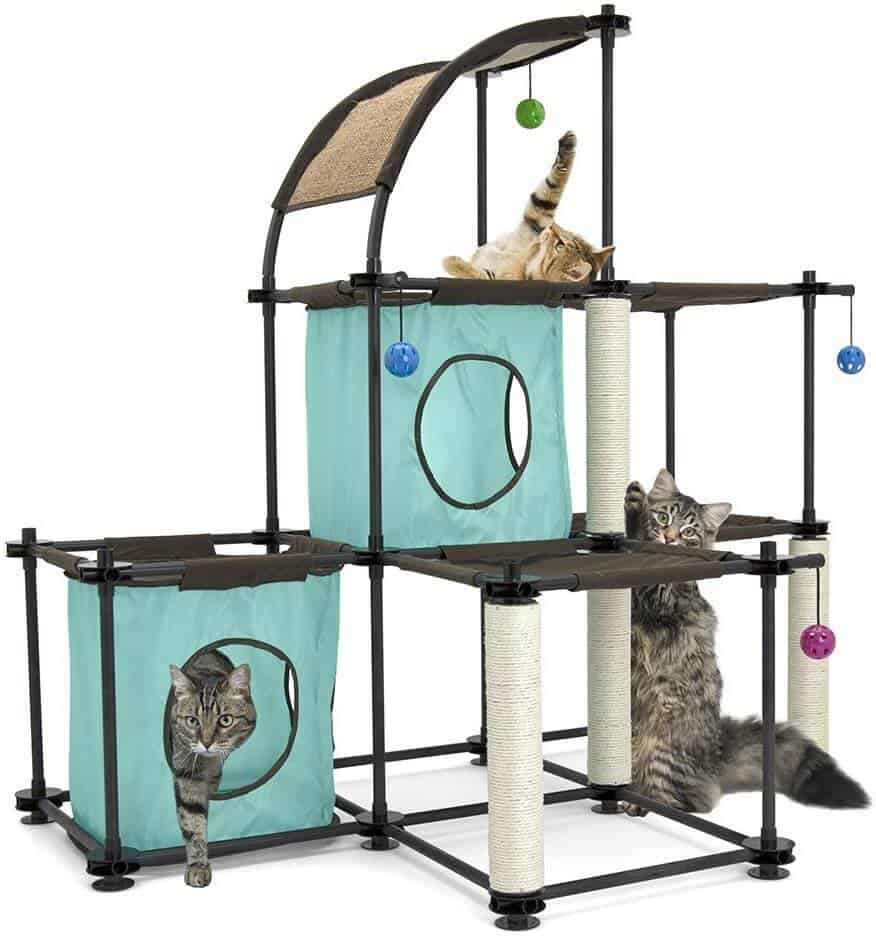 For those who don't mind spending a bit extra cash, the Claw Mega Kit Cat Furniture from Kitty City should be well worth the splurge.
Your feline buddy gets to scratch away at the sisal post and ramp, satisfying its urges while saving your furniture from the destructive claws. This kit also serves as a cat tree, allowing your adventurous pet to jump and climb anytime.
This product includes colorful balls to entertain your cat when bored. There's an additional cat bed with soft cushioning to let your cat chill and nap in a comfortable getaway.
The design of the modular structure can be customized to match your cat's special quirks, as well as to fit whatever space you're working with. The parts are actually rather lightweight and their assembly is simple enough to figure out, so you can easily move it around or store it away.
Pros
Customizable to multiple combinations
Sturdy and functions for a long time
Easy to assemble and clean
Lightweight
Cons
Can be too lightweight, needs to rest against a wall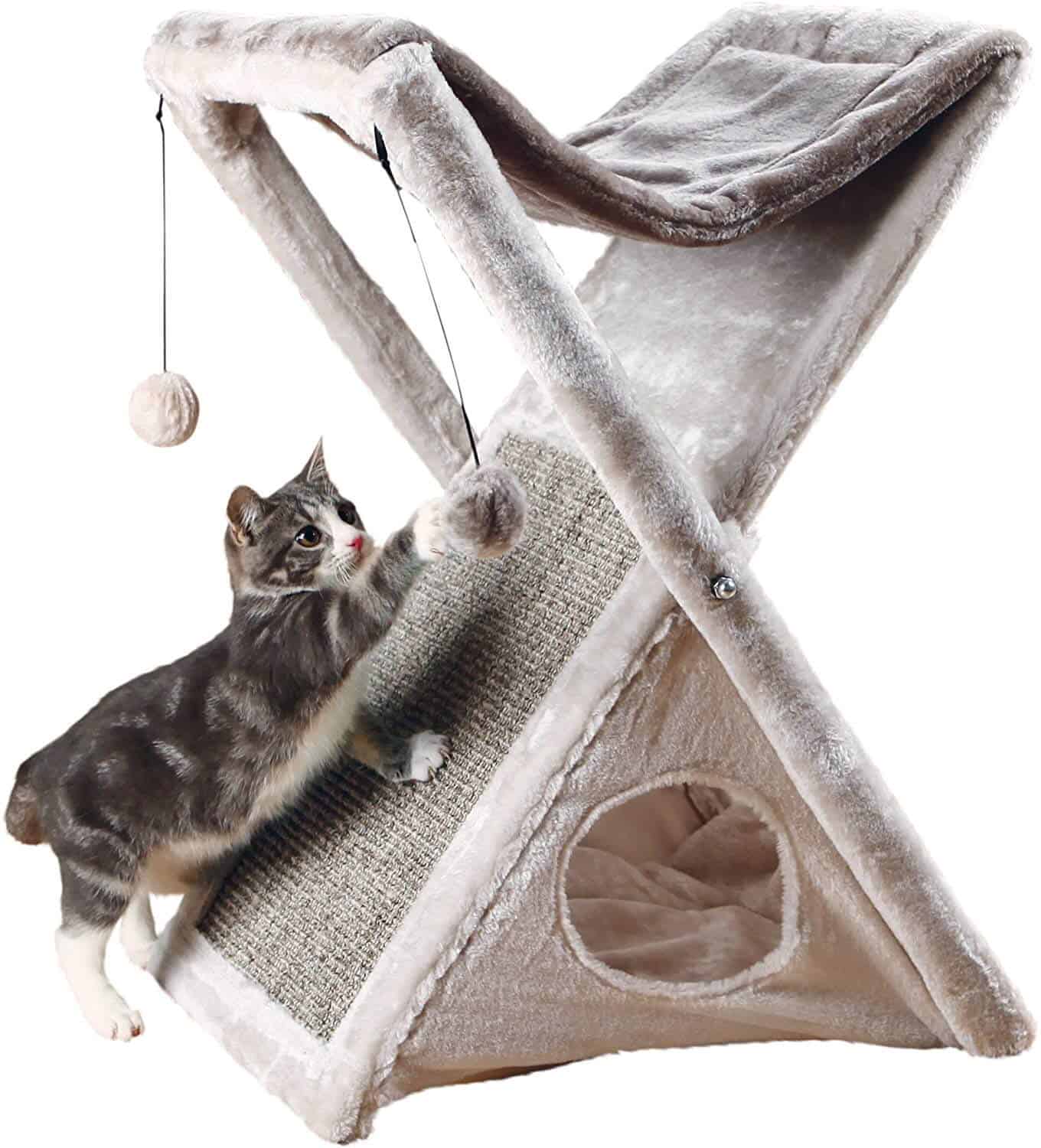 If you live somewhere that's not exactly roomy but you still want to give your cat the fun it deserves, then you should definitely consider the Miguel Fold and Store Cat Tower by TRIXIE Pet Products.
The reason why it's quite suitable for limited spaces is the clever 'X' design which allows you to fold the entire structure when not in use, and pack it away or set it aside without taking up too much of your living area.
Interacting with the TRIXIE Cat Tower gives your cat plenty of activities to stay busy, active, and healthy. The integrated sisal scratching side is rather durable to handle the clawing sessions of your feline, while the top plush hammock accommodates its jumping and climbing urges as well as provides a cozy place to relax or nap.
The bottom part is a condo with a plush cushion where your cat can enter to retreat. The Miguel Fold and Store Cat Tower is available in 2 colors, covered by a 1-year warranty period.
Pros
Ideal for small apartments
Very easy to fold
Sturdy build
Straightforward assembly
Cons
The hanging ball strings can be easily snatched off
The finishing could be improved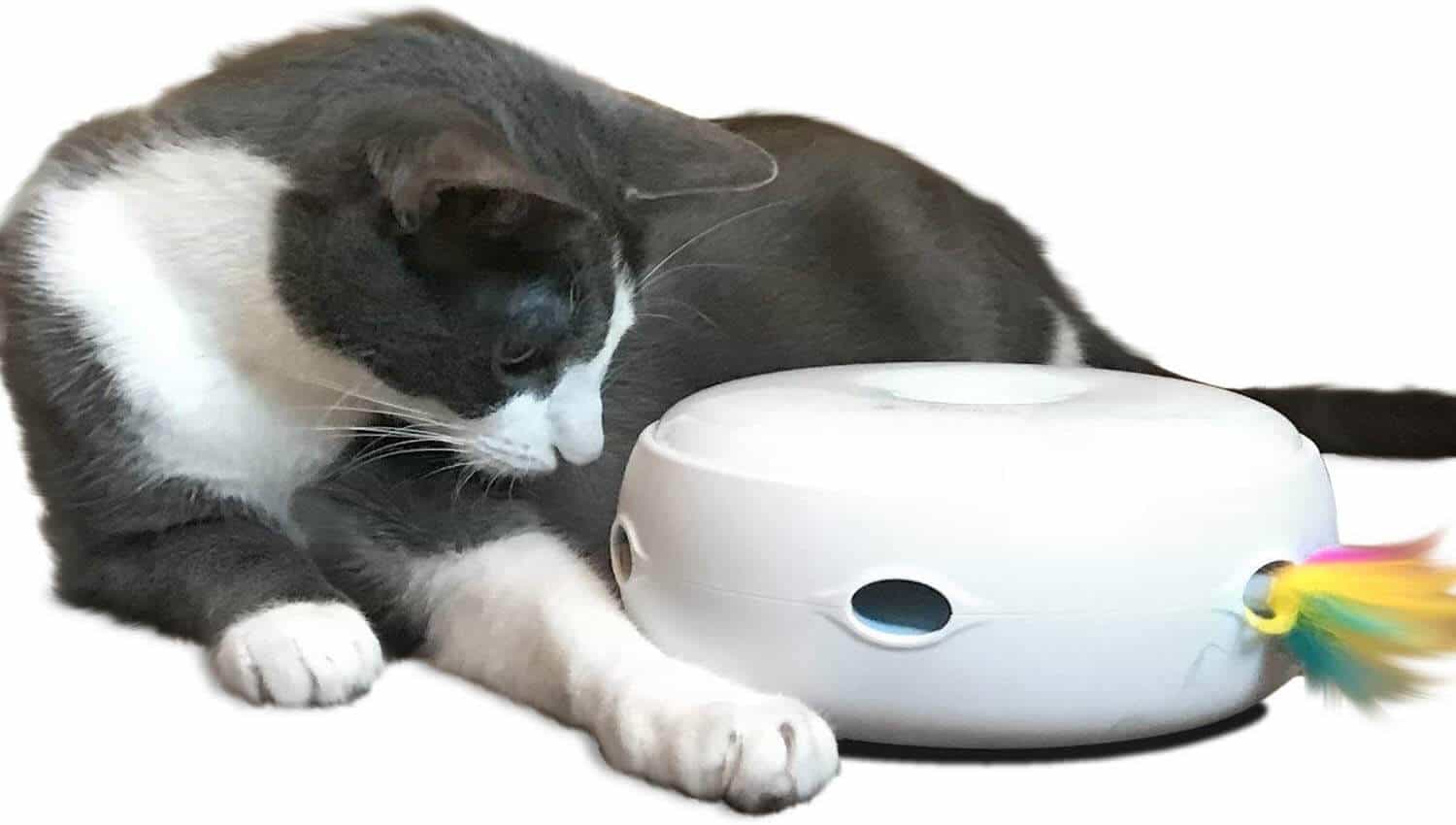 If you've tried a fair share of conventional cat toys and you're searching for something more intriguing for your feline friend, the Ambush Interactive Cat Toy from PetFusion can be a great choice.
This product is a motorized device shaped like a hockey puck with 6 holes going around its rim. Once you switch it on, colorful feathers will pop out of the openings in a random pattern at a decent pace; not too fast that it overwhelms your cat, nor too slow that it loses interest.
Such movements stimulate your feline's mental and physical skills, capture its attention, and fulfill its hunting instincts. You can easily replace the feathers after being worn out by setting the device to 2nd mode, which extends them out for easy changing.
The PetFusion Interactive Ambush has LED lighting which adds fun during nighttime play, and if you look at the bottom of the toy, you'll find anti-skid feet working to keep it well mounted on smooth surface floors.
The Ambush Cat Toy is powered by batteries (included), it comes with a built-in automatic timer that shuts off the operation after 8-minutes to save battery life and avoid exhausting your pet. PetFusion offers a 12-month warranty against manufacturer defects.
Pros
Highly engaging toy
Has feet to avoid skidding
8-minute shut off timer
Very sturdy
LED lighting
Cons
Makes a noise that can get too loud
Timer can't be turned off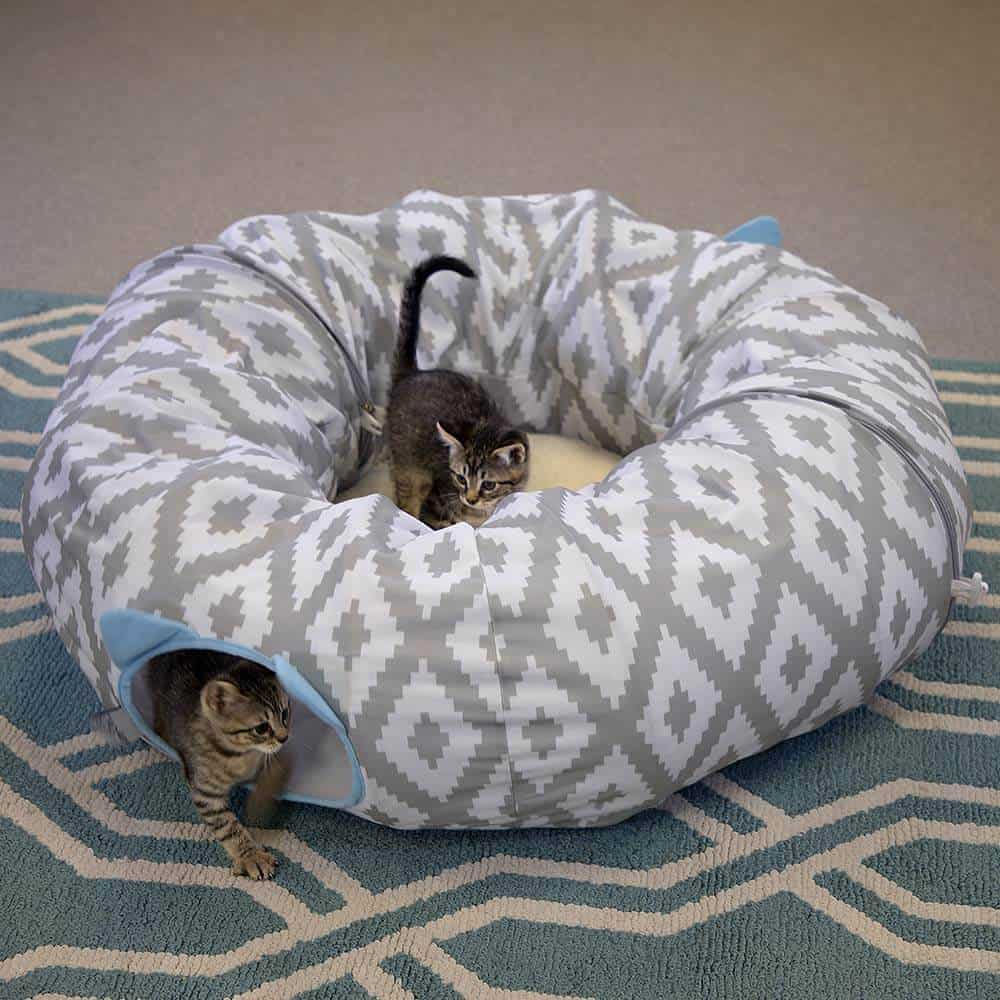 If you got a cat that particularly likes chasing and hiding, then a tunnel would probably be an awesome choice to satisfy its fun demands. One of the most praised cat tunnels available on the market is the Large Cat Tunnel Bed from Kitty City.
The tunnel actually consists of 2 pieces that you can zip together on both ends to make a full circle tunnel, or connect the 2 parts at one end only to create an extended tunnel.
The "large" part of the name is actually pretty impressive since the size of this tunnel is bigger than the majority of similar products by other brands. Its diameter measures at 12.5 inches, giving your furball plenty of room to move around comfortably.
The Kitty City Tunnel also comes with a cozy plush bed situated at the center of the tunnel, providing cats with a soft spot to relax or nap. The tunnel opening is decorated with a heart-shaped cat-nip toy for your feline pet to play with.
This Abalone-free product is easy to assemble and collapse so you can simply pack it along your travels. Kitty City backs its tunnel with a 6-month warranty period.
Pros
The tunnel has 2 possible combinations
Large diameter provides adequate space for play
Easy to assemble
Portable
Includes a comfy cushioned bed
Cons
The zippers can be smoother
A bit tricky to clean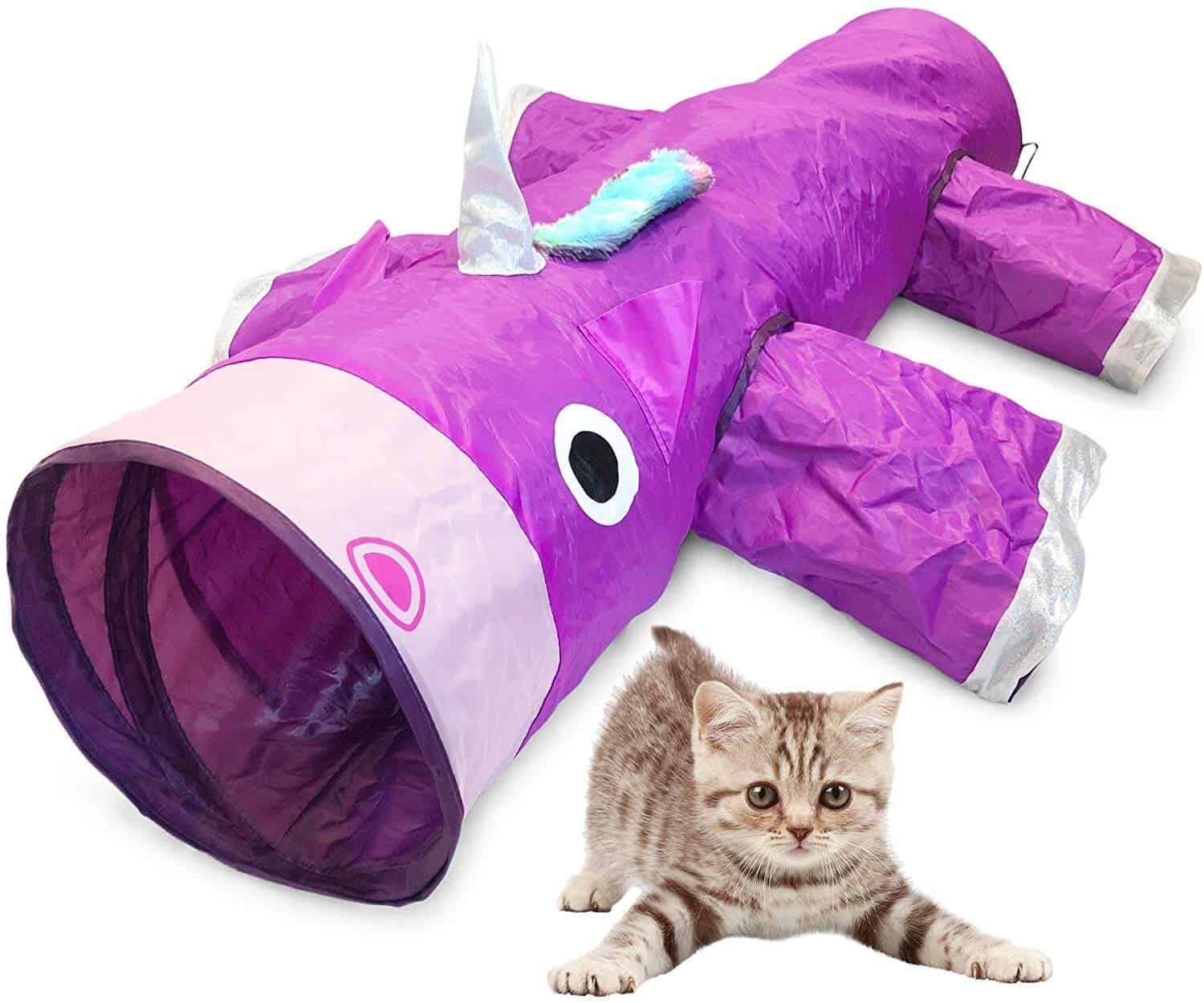 Another excellent choice for your little feline chaser is the Magic Mewnicorn from Pet Craft Supply. This is a 5-in-1 unique tunnel layout comprised of one large main tunnel as well as 4 smaller side tunnels. It offers a lot of space for running around and playing hide & seek.
It has a cute unicorn design with a bonus dangling tail toy for your cat to whack and swat. The frame is made of sturdy steel to last you a long time, wrapped in non-toxic polyester crinkle cracker paper that promotes your cat's curiosity while resisting tears. The product is built adhering to all safety standards to avoid harming your pet.
If you often travel with your cat, you can easily pack the Mewnicorn along since it folds down to a compact size with extra ties for secure transportation.
Pros
5 tunnels in 1 product
Intriguing crinkle crackle material
Safe and non-toxic
Great for multiple cat owners
Cons
The leg tunnels are too tight for older cats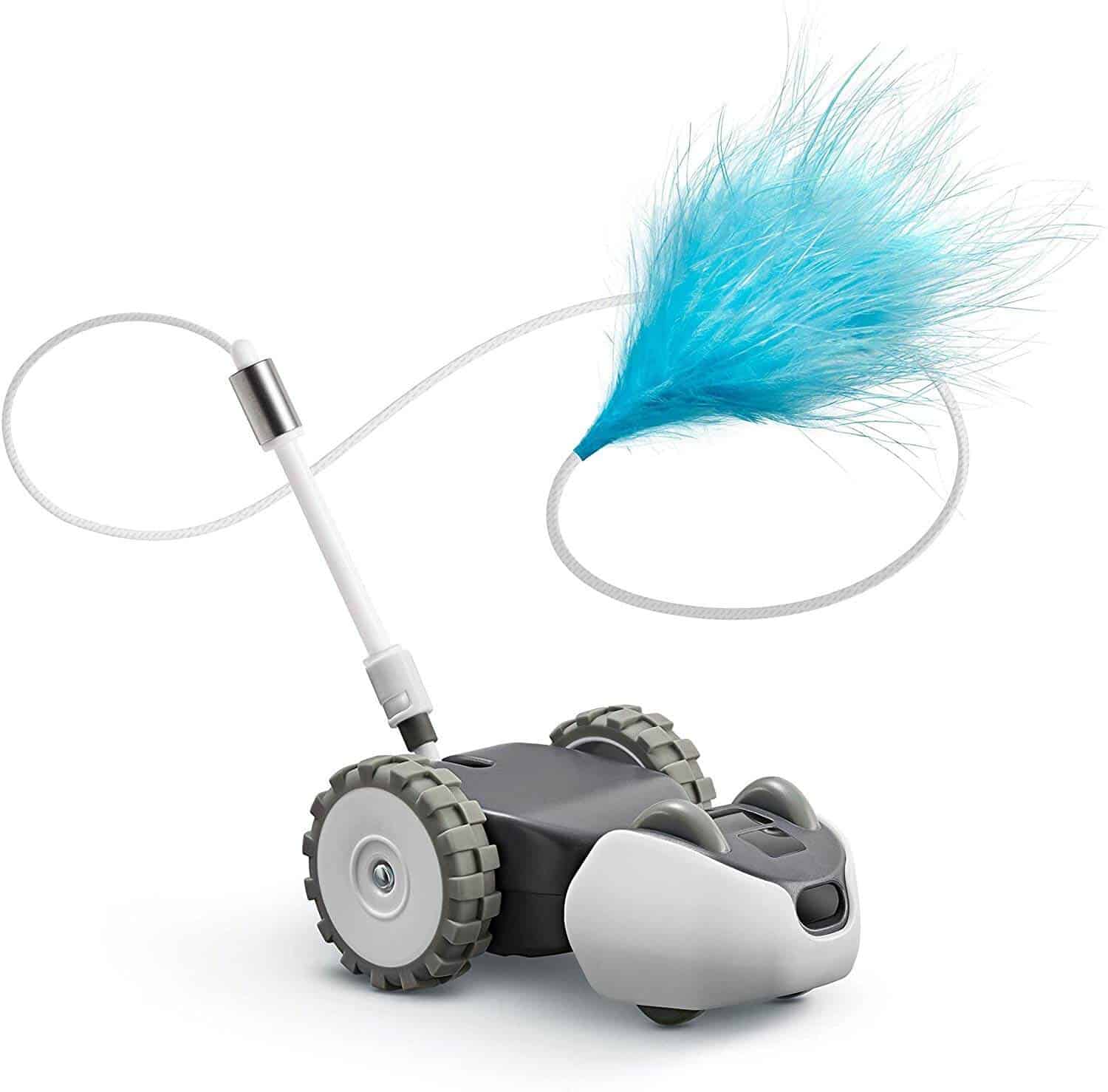 This toy is a fantastic option for those looking to satisfy their cat's hunting instincts through a healthy yet entertaining outlet.
The Mousr Interactive Toy from Petronics is a robot device engineered using cutting edge technology to determine your cat's whereabouts and respond accordingly. It has a built-in navigation sensor to avoid bumping into furniture, a proximity sensor to know when your feline is close by, as well as an orientation sensor to recognize directions.
The Mousr can be remotely controlled via your smartphone or you can let it run automatically without intervention. It has a built-in rechargeable battery and features 3 different play modes to match your cat's personality.
This robot drags around a tempting tail for your cat to chase. Once caught, you can set the toy to struggle or surrender. The Mousr shell is made of polycarbonate to endure your cat's blows. It works on all types of surfaces and includes sound to further attract your feline's attention.
Pros
Durable shell for a long service time
Highly interactive thanks to motion sensors
Can be controlled by your smartphone
Suitable for various floor types
Promotes healthy exercise
Cons
Expensive
Battery life can be improved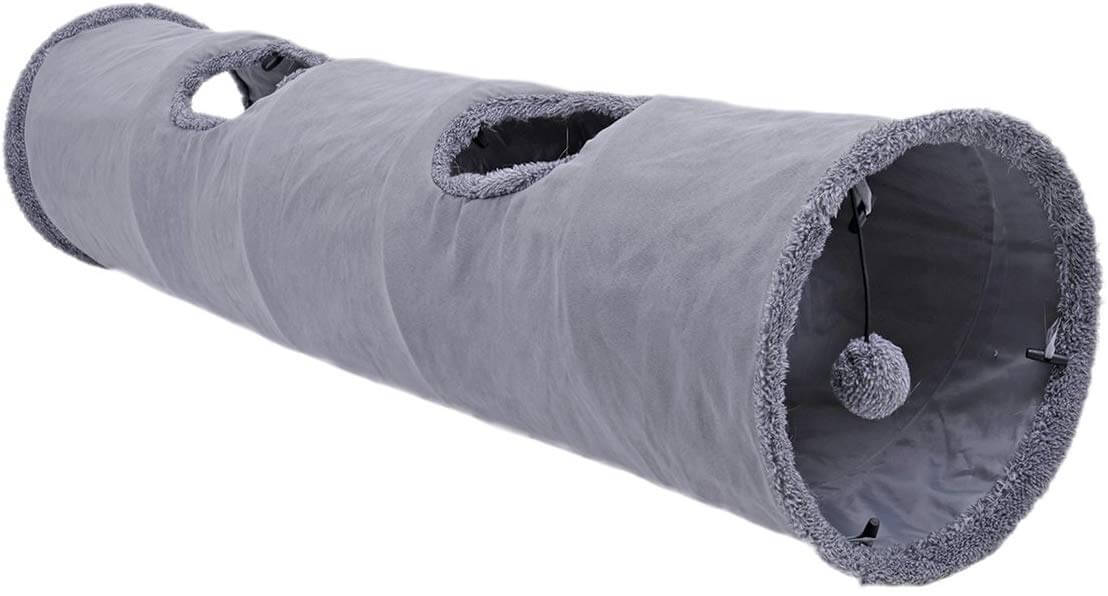 Last but definitely not least, the Collapsible Cat Play Tunnel by Speedy Pet is a sturdy tunnel made of suede material to offer maximum comfort for your cat. It comes in 2 size options: Medium and Small with a length of 51 and 26 inches respectively. Both offer the same diameter of 12 inches.
The Speedy Pet Tunnel features 2 circular cut-outs on its top side, allowing your cat to maneuver its way freely into and out of the tunnel. There's a dangling ball at the end of the tunnel to add more fun for your furball. Moreover, the integrated crinkle paper provides hours of extra amusement and activity to keep your cat busy.
Pros
Affordable
Has peek-a-boo cut-outs
Soft and sturdy material
Built-in crinkle lining
Cons
Finishing can be better
Color is a bit dull
What to Consider before Buying a Cat Toy for Indoor Cats?
When shopping for a cat toy for your feline pet, there are several factors you need to take into account so you can make the best possible purchase:
Safety
Right off the bat, you should carefully inspect the toy to ensure that no harm will fall upon your beloved furball. The first thing you want to do is examine the toy for any small components that could be a choking hazard. For example, if a toy mouse has eyes or noses glued on, these could possibly oppose a choking risk if your cat swallows such tiny parts.
You can get around this issue by removing the glue from these parts and then reattaching them by secure sewing. However, it's better if you completely ditch such pieces since your cat may be feisty enough that it snatches the threads off.
Another point you should consider is the presence of strings or cords. These could cause your pet to trip, get tangled, or sustain an injury. You should also pay attention to any sharp objects that could be sticking out of the toy's construction such as nails, which can really do some serious damage if your cat bites down or scratches at them.
In any case, it's crucial to check for the absence of toxic compounds in plastic or cloth used to make a certain toy.
Also Read: The Best Cat Cone Alternatives for a Comfy Recovery Phase
Durability
Following up on safety, you should be looking at the toy's durability. This aspect is directly related to how the cat toy was manufactured, and since not all toys are the same type, each has its own average time of service.
If you decide to go for a cat tunnel, make sure the frame is sufficiently solid to withstand your feline pet (or pets) jumping, climbing, and running around.
For cat-nip sort of toys, you need to make sure all the parts are properly and tightly fastened to prevent your cat from breaking them 2 days into the purchase.
Additionally, if you end up with an electronic toy for chasing and hunting, the toy's body should be made of strong and sturdy materials to take on a cat's harsh beating. If the device uses batteries, make sure they're properly secured to keep your cat from chewing on them.
Type
There's a reason why so many cat toys are available on the market, it's because cats don't follow specific rules when it comes to the kind of activities they enjoy.
Some cats love a good chase, some appreciate hide & seek games, while others are crazy about jumping and climbing. While we can't tell you for a fact what your cat does or doesn't like, we can tell you that it's not impossible to figure out.
Some cat owners get lucky with their first purchases, others take a few more trials to really understand what their feline pets like, but everyone seems to eventually reach the goal of knowing what their cats want.
Size
The size of the toy is also rather important to provide an optimum experience for your cat. You should always keep in mind how big or small your cat is in comparison to the toy.
If the toy is too small, your feline may not be able to enjoy it as in the case of cat tunnels. On the other hand, if the toy is too large, your cat may feel intimidated or challenged, so it ends up avoiding or "fighting" the toy.
Noise
Lots of cat toys out there are designed to produce sounds, either resulting from the operation or to attract the attention of cats. If the noise is too loud, it could scare away your furballs, especially with their hearing being too sensitive, or disturb your own daily life.
Toy Material Texture
One aspect you surely don't want to overlook is the texture of the materials used in building the toy. Yes, cats are picky even when it comes to textures! They like to sleep on certain beds, use a particular litter box, or eat a specific food consistency.
Similarly, toys have different textures to them. Some are leather, some are feathery, and others have crinkle crackle lining. It all comes down to what your cat would most enjoy, so you may need to try a couple of options to fully understand what your feline pet prefers.
Number of Cats
Finally, you want to factor in the number of cats you own. As we already established, each cat has a unique taste, but this doesn't mean they can't fancy similar toys.
If you have multiple cats around your house, try to buy toys that are able to accommodate all of them at the same time, such as cat tunnels or towers. You may also need to purchase more than one of the same toys in case your cats end up "arguing" over a certain plaything.
Wrap Up
Choosing the right toy for your cat is like walking on thin ice, however, we're confident that our 11 best cat toys for indoor list and consideration will undoubtedly help you pick the ideal toy.
That being said, if you're searching for a safe option, the Friends Forever Interactive Cat Laser Toy is guaranteed to entertain nearly any cat out there. But if you're a first-time buyer looking to test the waters with your cat, then the Youngever 24 Cat & Kitten Toys Assortments should be right up your alley.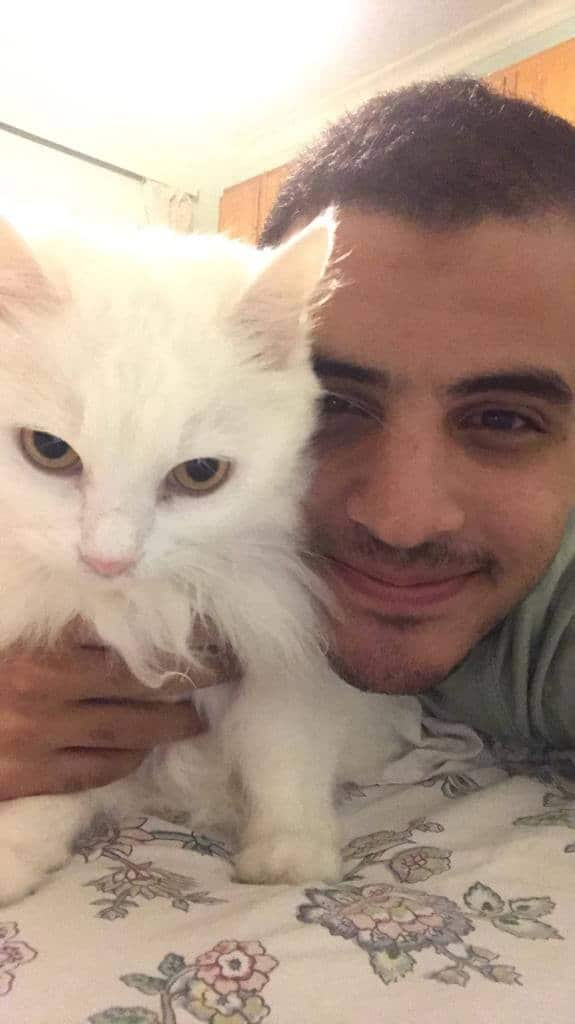 I've been living with cats since 2008 and I can confidently say I have more feline friends than humans lol. I currently live with 5 cats in different life stages; two of them are less than one year old, one is 2-ish years old and the oldest two are 9-ish years old. I've developed a strong bond with cats over the years and I'm eager to share my experience through this blog. You can learn more about my cats here.