Disclaimer: Some of the links in this article may be affiliate links; we will earn a commision, at no additional cost to you, if you make a purchase through one of our links.
If your cat is on a journey of recovery from a wound or injury, chances are you'll need to buy her a cone collar to keep her from scratching the injury.
While cone collars might be important in these cases, they can limit your pet's ability to interact with their environment. Also, they tend to be uncomfortable and itchy.
For these reasons, we've put together this guide to help you choose cat cone collar alternatives that can do your pet a great favor.
Here's a Quick Summary of Our Favorite Picks:
| Image | Product | Details | Price |
| --- | --- | --- | --- |
| | YUDIDA Adjustable Cat Recovery Collar | Best Overall | Check Price |
| | WZ PET Adjustable Cone Collar | Runner-Up | Check Price |
| | Bolbove Pet Cone E-Collar | Best Budget Choice | Check Price |
Our Top 3 Cat Cone Collar Alternatives
The following products might be awesome replacements to traditional cone collars. Let's take a look at what they can offer your pet.
Our first cat cone collar alternative is this product that resembles a pillow. Made of soft cotton, there's no wonder a lot of users have had positive comments about it.
With this collar, you can easily adjust its size to match your pet's. This way, it should feel comfortable enough to wear for the entirety of their healing time.
Also, because it's not as large as a cone collar is, the YUDIDA collar can give your cat enough space to eat, sleep, and play without getting in its way.
It can prevent your cat from licking or scratching its wounds. However, you should note that it might allow your cat to reach its front or rear paws.
Therefore, it may not be the best option for cats with paw injuries.
Last but not least, we've come to admire its price as well. Falling in the midrange territory, most pet owners should be able to afford this collar with no hesitation.
Pros
Lightweight
Made of soft cotton that doesn't cause irritations
Lets your cat do its daily activities with ease
Adjustable collar size
Moderately-priced
Cons
Not recommended for cats with paw wounds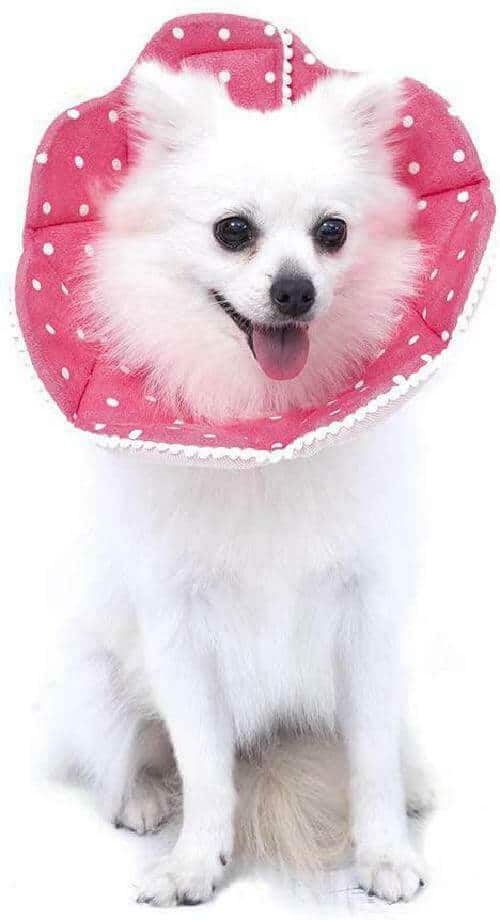 The next alternative on our list is a cute cone collar that's suitable for both cats and dogs. While it might not look like the previous donut-shaped collar, it has its own qualities.
For starters, it comes with a padded design so that it combines a comfy pillow and a protective cone. This way, it shouldn't harm your cat's skin or cause irritations because it's made of cotton.
Also, since it's smaller than a regular cone collar, it should give your cat the liberty to see more clearly and behave naturally around the house.
When not in use, you can fold it with ease to store it. Additionally, it's machine-washable.
The only thing you should pay attention to when buying this collar is the size. Using the manufacturer's size chart and after a few basic measurements, picking the right size should be an easy task.
All in all, this cone collar alternative is our second-favorite one for all of its nice characteristics. It might cost you a bit more than its predecessor, but it can be exactly what your cat needs on its road to recovery.
Pros
Padded cone collar
Lightweight and flexible design
Foldable
Washing machine safe
Available in many sizes
Mid-tier price
Cons
Your cat might be able to bend it over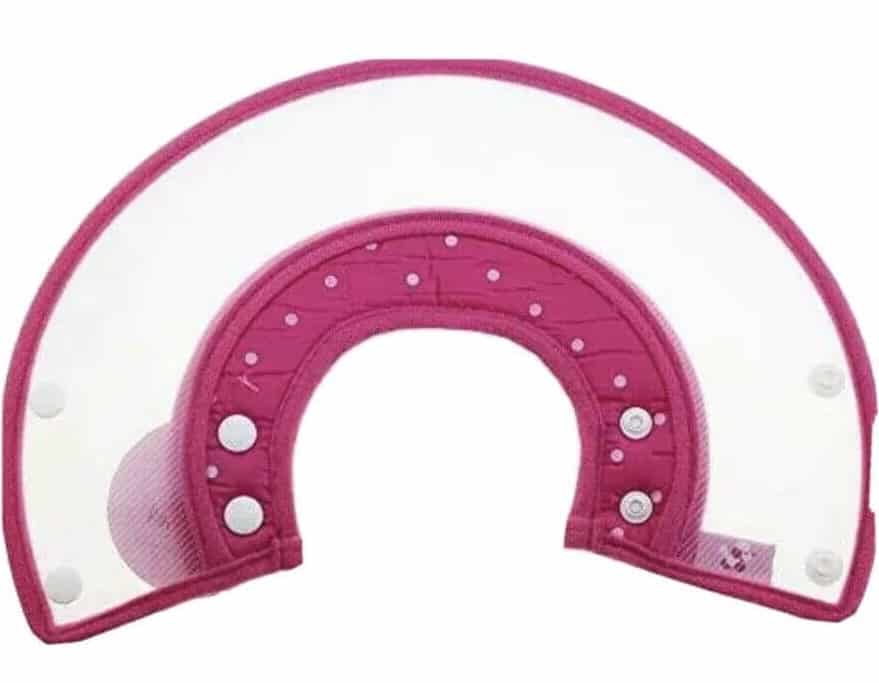 Our final recommendation is a cute little cone collar that might be the perfect fit for kittens and puppies. It's also available in the Medium size for larger cats.
What makes it an incredible option is that it combines the plus points of traditional collars and other remarkable features.
For instance, its body is made of plastic so it wouldn't be easy for your cat to bend it. However, its edges are covered in a soft fabric to eliminate itchiness and discomfort.
In addition to that, it closes securely around your cat's neck using a small button. This way, you can rest assured that it won't fall off with movement.
According to many users who tried it, they've noticed how their cats weren't bothered by this collar. They also claimed that their pets ate, drank, and played with ease without trying to take it off.
The last point we admire about this product is that it's budget-friendly. It should help your cat's wounds heal without causing much trouble to your wallet.
Pros
Perfect for kittens and small cat breeds
Made of sturdy plastic
Fabric-covered edges
Small size
An affordable option
Cons
Not suitable for bigger pets
Did you know that: you can make sure that your kitty is always well-hydrated using those cat water fountains.
Why These Products Are Better Than Traditional Cone Collars
Now that we've introduced our candidates, we'll tell you why it might be a good idea to choose one of these alternatives over standard cone collars.
As you know, plastic cone collars can be stiff and uncomfortable. Because of their edges, they might cause skin irritations, which can leave your cat annoyed.
The alternatives that we've suggested are made of soft materials to keep that from happening. This is why they can be used as pillows, too, when it's time for your cat to sleep.
Traditional cone collars can be too large for your cat's liking. They keep it from seeing in all directions and can make it harder for it to eat properly.
Also, feeling contained and tied up might lead to destructive behavior like scratching furniture or chewing on stuff.
Since these cone collar alternatives can give your cat more freedom when moving around, you should consider buying one of those.
DIY Cat Cone Collar Alternative at Home
For one reason or another, you might not be able to purchase an alternative to the Cone of Shame. Lucky for you, we'll help you create your own version of a comfy collar at home.
Before you start your work, make sure that you take your cat's measurements first.
Start by measuring the space between the tip of your cat's nose to its collar. Write this down as the height of the cone collar.
After that, take your cat's normal collar off and measure its length. Add about half an inch to the number so that the cone collar doesn't become tight.
Then, you can follow these steps:
Use cardboard as your base material
Pick your compass and draw a circle on the cardboard
This circle's diameter should be the first measurement that you've taken (the height)
Cut out the circle using a pair of scissors
Cut a line in the circle to its center point
Set your compass to half the second measurement
Draw another circle in the center of the first cardboard circle
Cut out the smaller circle
Fold the resulting shape into a cone using tape
Create 4-5 holes around the inner circle
Weave your cat's collar through these holes using ribbon
Tie the ends of the ribbon
Place the cone collar around your cat's neck
This DIY collar might be better than a vet's cone collar because it's made of cardboard. This makes it more flexible and smaller in size, which shouldn't bother your cat.
FAQs
To Wrap It Up
Elizabethan collars, E-collars for short, can be an essential tool to help pets recover from surgery-related wounds. No matter how helpful, they can irritate your cat to no end.
For this reason, a lot of people look for cat cone collar alternatives to provide a more comfortable experience to their cats.
If you want our opinion, we love the YUDIDA Adjustable Cat Recovery Collar because it has all the features that might suit your cat.
First off, it's made of soft cotton, unlike traditional plastic cone collars. Flexible as it is, your little buddy should be able to go about her day without feeling trapped or contained.
Second, it's adjustable to fit your cat's neck size without being too tight or too easy to take off. You should only remember that it might not be the best pick for a cat with a paw wound.
However, if you want a more affordable option, you can go for the Bolbove Pet Cone E-Collar instead.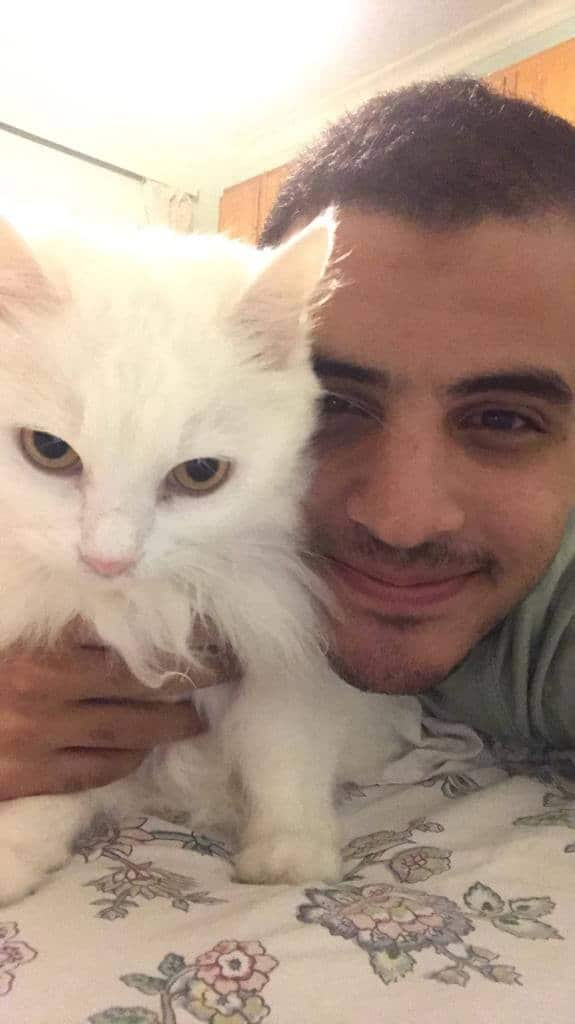 I've been living with cats since 2008 and I can confidently say I have more feline friends than humans lol. I currently live with 5 cats in different life stages; two of them are less than one year old, one is 2-ish years old and the oldest two are 9-ish years old. I've developed a strong bond with cats over the years and I'm eager to share my experience through this blog. You can learn more about my cats here.