Disclaimer: Some of the links in this article may be affiliate links; we will earn a commision, at no additional cost to you, if you make a purchase through one of our links.
Cats need fresh water to stay healthy. However, cats usually show less interest in the water when it's kept in a bowl because it loses its freshness.
In this article, we'll help you find a quiet cat water fountain that will help your pet stay in perfect health. We'll also answer all the questions that pet owners usually ask themselves when they're shopping for a suitable water fountain.
Overview of Our Top Picks
The Top 5 Quiet Cat Water Fountains on The Market Now
Here are our top picks.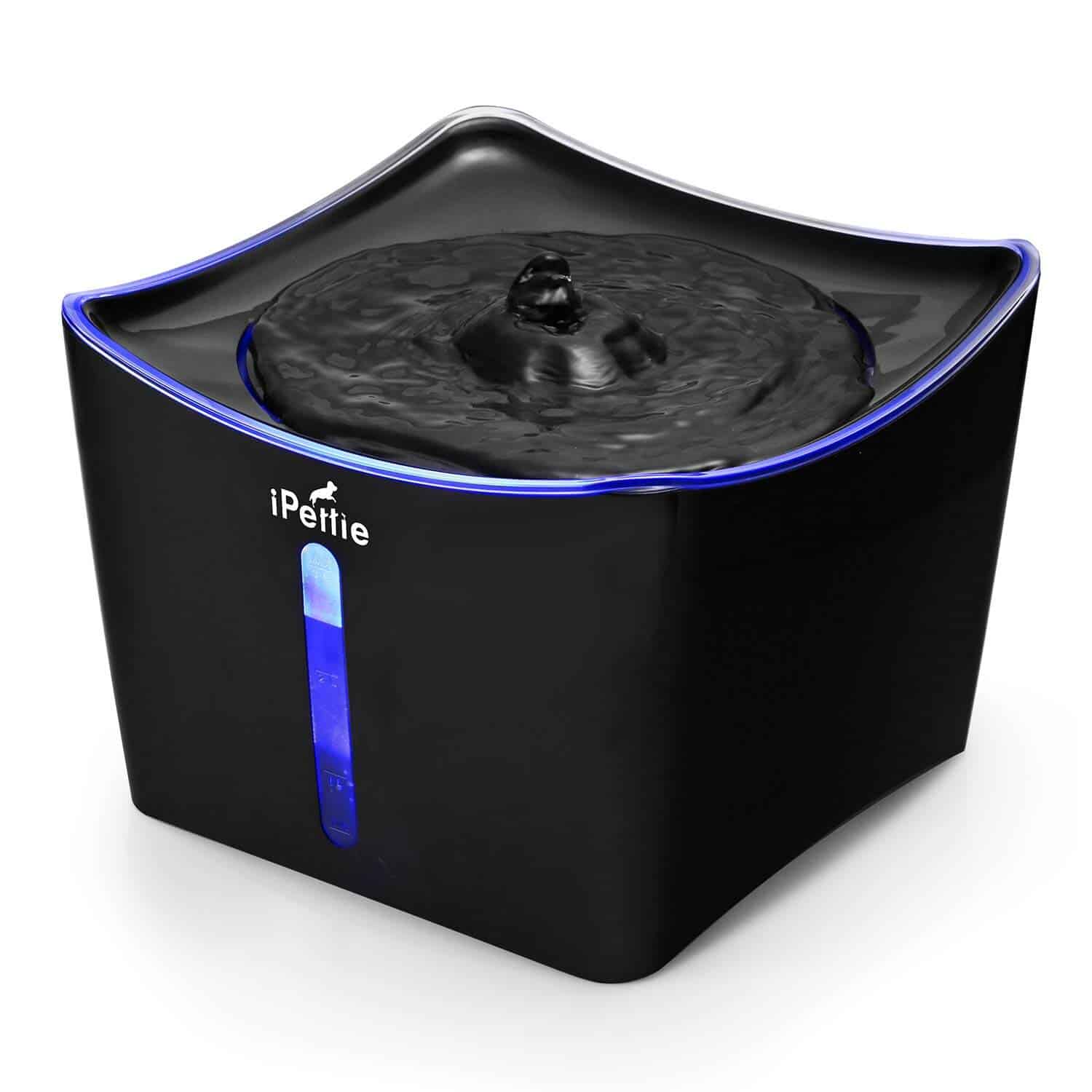 Tempt your furry friends to drink as they need to with the help of this water fountain that works for cats, dogs, and all the other pets in your house. It also features a power cord that turns on the LED light so it can add an interesting effect to the home décor.
This fountain operates silently keeping your pets hydrated without disturbing anyone in the house. However, if the water level decreases, you should expect it to run more loudly.
It's made of BPA-free materials to guarantee the safety of your cat. The filtration system removes all the dirt and impurities from the water to keep it fresh and clean. The fountain features a carbon filter and a sponge to remove hair, food remains, and debris. This improves the taste and odor of the water.
You will know exactly how much water is left thanks to the water indicator. The fountain won't provide water if it's below the marked level. With a 3-liter capacity, this fountain is big enough to provide a big cat with water that would last for a few days.
Using a USB port, this fountain is quite easy to operate by connecting it to a power bank or adaptor. It's a suitable solution for pet owners who want to spend some time away from home. No water will spill from the top thanks to the gentle flow.
It's quite easy to assemble and disassemble for cleaning and comes with a brush to remove all the stuck debris. However, you should clean it regularly to make sure that it works the way it should.
What We Like
Water fountain with LED lights
Water indicator
Carbon filter and sponge to remove the debris
Easy to assemble and clean
No spilling
What We Don't Like
Gets loud when the water is below the required level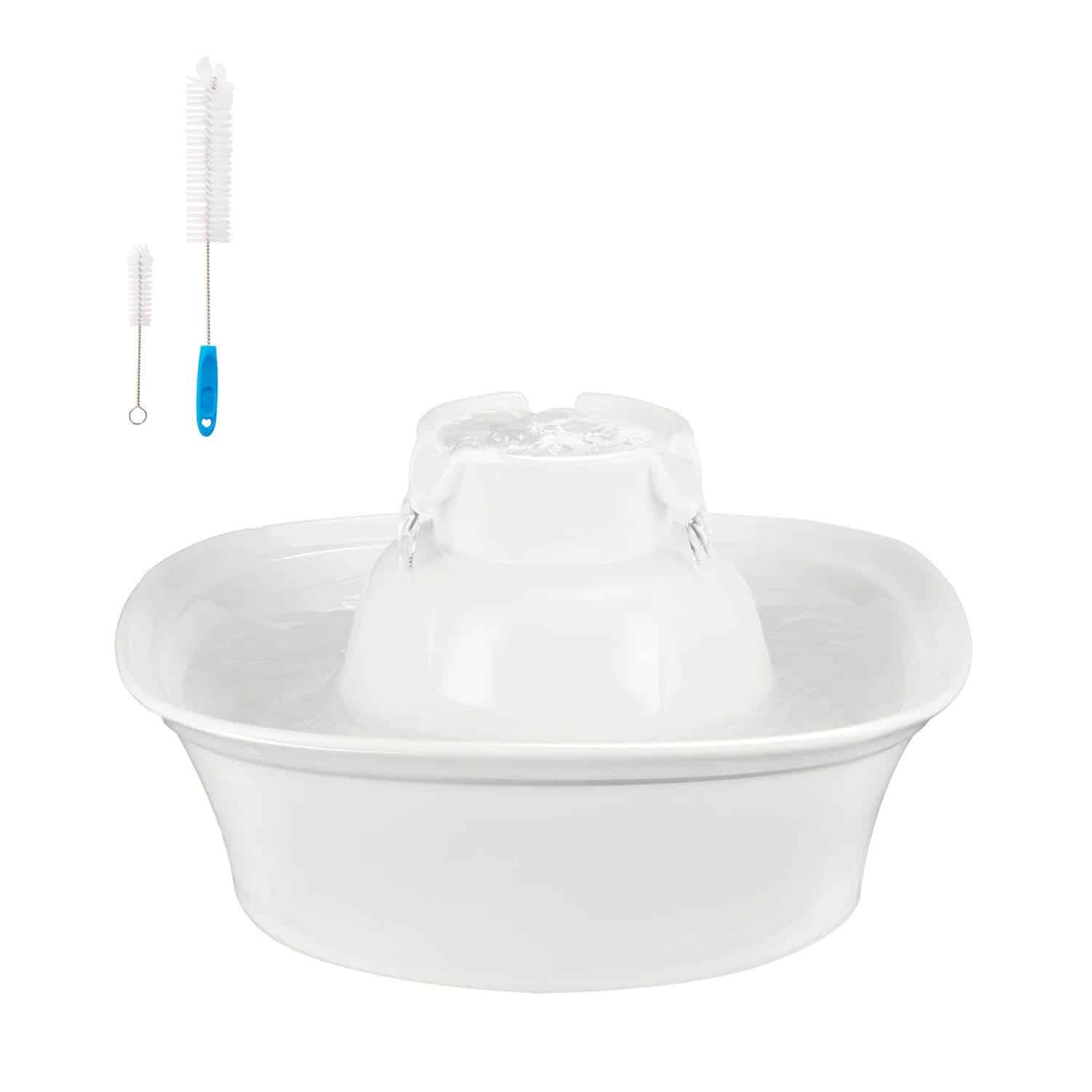 If you're looking for a durable water fountain for your pets, you should look no further. This one is made of porcelain so it's resistant to scratches. There's no place for bacteria to grow which makes it the perfect choice to keep your cats, dogs, and other pets hydrated and healthy.
Using a submersible pump, this fountain stays below the noise level of 40 decibels so it won't disturb you while you're working or watching TV. It's quite easy to clean as it comes with special brushes to clean the intake tube and the motor cavity. Moreover, food particles and other debris won't stick to the porcelain surface. It's also rust-resistant.
Featuring a double filtration system, you'll guarantee that your cat will always have access to fresh and clean water. The removable 4-layer carbon filter purifies the water while the foam filter traps dirt, hair, and other particles.
Your pets will love the multi-directional streams as they add more oxygen to keep the water fresh. The recycling of water offers maximum oxygenation to keep your cats healthy.
It has a 2-liter capacity which means that you'll have to add water more often, especially if you have more than one pet in the house. Moreover, it's more expensive than other water fountains on the market.
What We Like
Scratch and rust-resistant porcelain water fountain
Quiet operation
Comes with special brushes for cleaning
Dual filtration system
Multi-directional streams to add oxygen to the water
What We Don't Like
It has a capacity of 2 liters and should be filled more often
More expensive than other models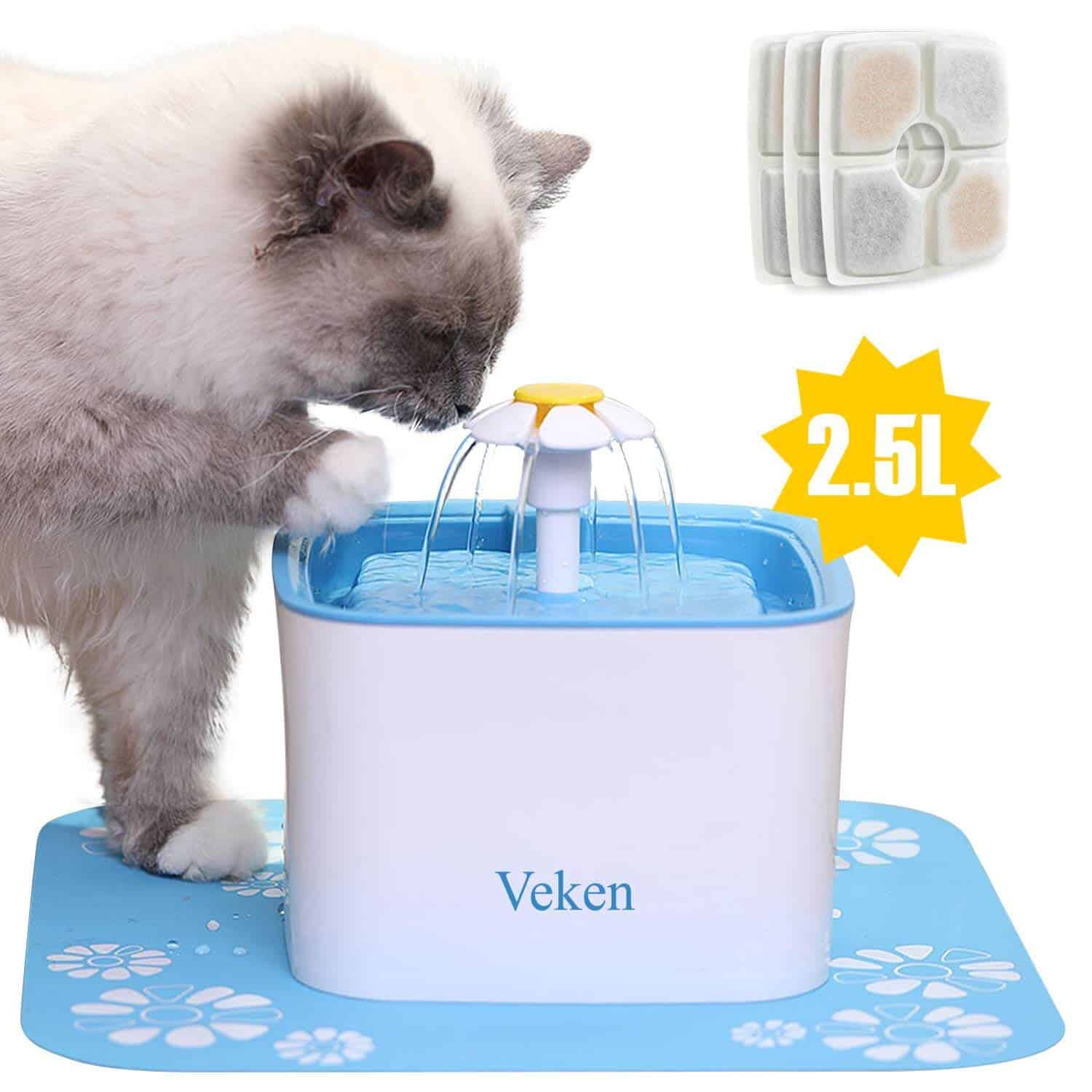 Not only will this quiet water fountain keep your cat hydrated, but it will also protect your home from spills because it comes with a silicone mat. Just put the mat under the fountain to minimize the mess if you have an enthusiastic cat. It's a suitable choice for small and medium-sized pets and will last for years so it's good value for money.
The fountain is made of PP resin which is BPA-free to guarantee the safety of your pets. It's quite durable and operates at below 40 decibels so you won't feel annoyed as it runs all day. It has a capacity of 2.5 liters.
There are three modes available to suit the needs of various pets. Thanks to the drinking modes and the bright color, your cats will always come close to take a sip so they can stay hydrated and healthy. The water gently bubbles to mimic fresh water that your cats naturally prefer.
Equipped with a triple filtration system, this fountain will remove all the dirt particles, annoying tastes, and bad odors to keep the water clean and tasty. There are three replacement filters, each featuring a cotton layer to catch debris, a carbon filter, and an ion-exchange resin. It's recommended that you clean the fountain regularly because bacteria and mold tend to grow fast if you don't.
What We Like
Affordable water fountain with a silicone mat
3-different water modes
Triple filtration system
Quiet operation
What We Don't Like
Mold grows fast if the fountain isn't cleaned regularly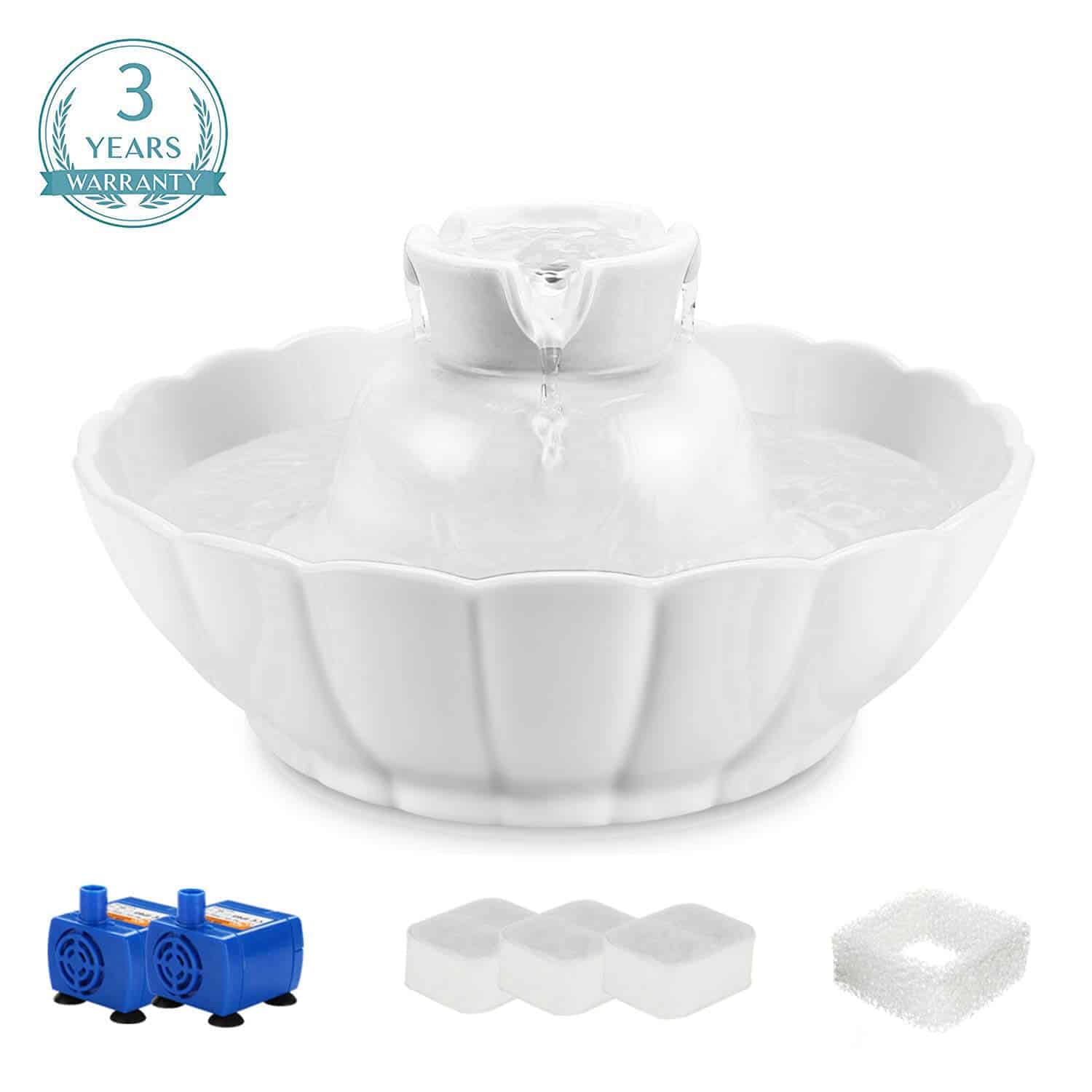 Offer your cat healthy water because this fountain is made of hygienic ceramic. It's safe and eco-friendly because it doesn't react with the minerals in the water. The free-falling design increases the oxygen content to keep the water fresh. The lotus on top is also an excellent addition to your home décor.
Featuring a dual filtration system, this fountain will tempt your pets to drink regularly. The mechanical filter and the foam surround the water pump to remove hair, debris, and food particles thanks to the 3-stage filter. This fountain combines chemical filtration with carbon and charcoal to make sure that the water is perfectly clean. It also softens water to improve the taste.
This fountain is energy-efficient as it runs using only 2W of power. It has an IP68 waterproof rating and operates low so you can keep it anywhere in the house. It's quite easy to set up and clean providing your pets with fresh water for several days. You can easily disassemble it for cleaning and you can even wipe the different parts using a clean cloth.
It will work best if you have a small pet as it has a capacity of 2.1 liters so you'll need to refill it more often. It's more expensive than other water fountains.
What We Like
Made of hygienic ceramic
Safe and eco-friendly materials
Dual filtration system
Energy-efficient
What We Don't Like
More expensive than other models
Not suitable for bigger cats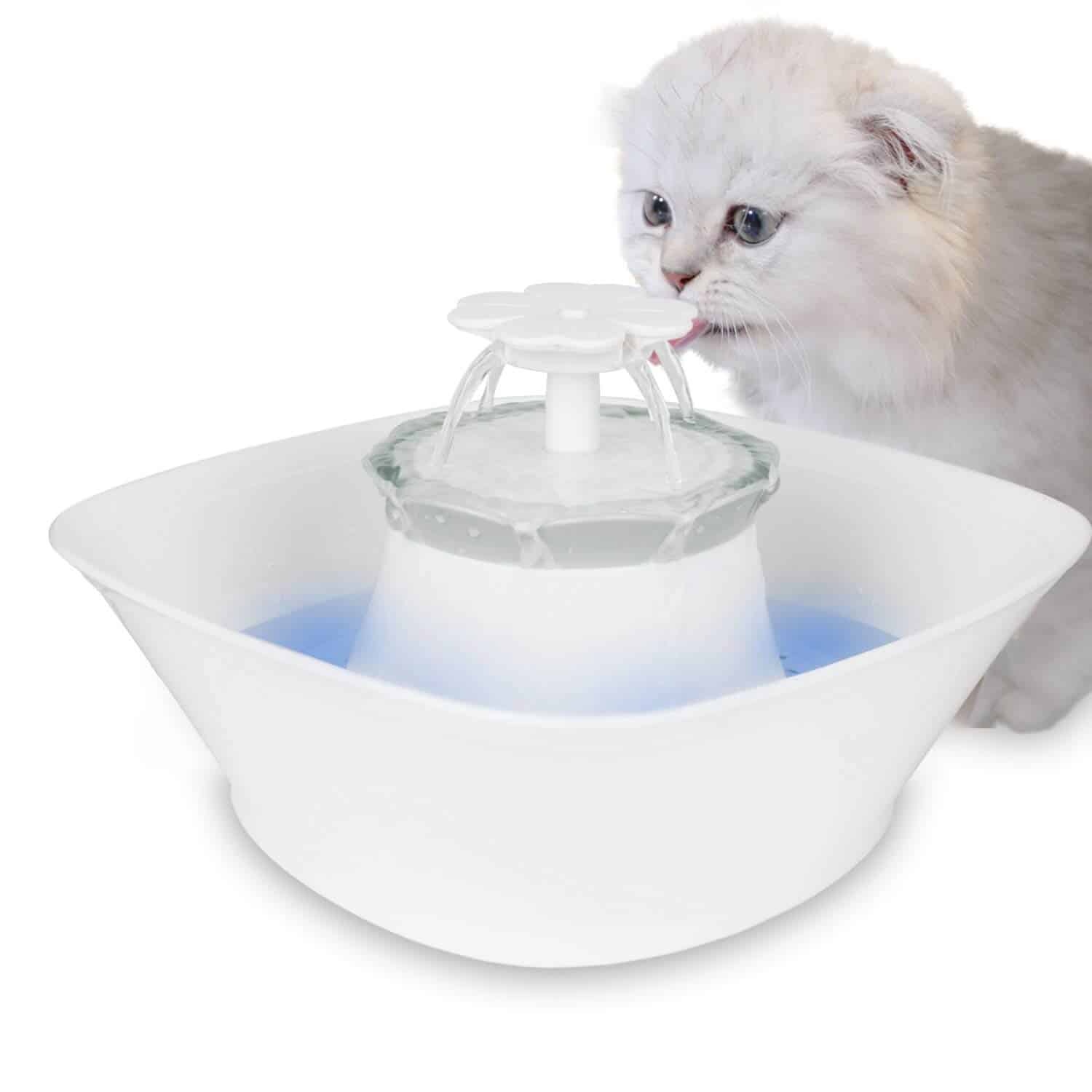 Made of high-quality ABS, this BPA-free fountain will provide your furry babies with access to clean water without breaking the bank. With the LED lights, this fountain seems quite attractive to your pets and also creates a great ambiance in your home.
You won't spend much time to clean this fountain as it can be easily disassembled in 2 easy steps. It features a dual filtration system with a charcoal filter and foam filter to remove the debris as well as bad odors and tastes from the water.
The fountain can be used with or without a clover-shaped cap that will tempt your cats to drink more. Without it, the fountain will work in the bubble mode which adds more oxygen to the water.
It's easy to use this water fountain by plugging it into a power source or a power bank. This means that you can use it away from home which makes it an excellent choice for pet owners who spend a long time away from home.
Thanks to the quiet operation, you won't feel any noise as this water fountain runs. The IP68 waterproof pump operates using 1.5W so it's energy-efficient. It has a capacity of 2.5 liters so it can last for days if you have a medium-sized pet.
Regular cleaning of the foam filter is needed or the flow of water will get weak. The LED light might be too bright and it can't be switched off.
What We Like
Affordable water fountain made of BPA-free ABS
Dual drinking mode
Keeps the water fresh by adding oxygen
Can be plugged into a power bank when you're away from home
Quiet and energy-efficient operation
What We Don't Like
Regular cleaning of the foam filter is required
The LED light is too bright and can't be removed
Did you know that your cat might be forgetting its tongue out due to thirst? Here are 8 other reasons why your cat is sticking its tongue out.
How to Choose a Suitable Quiet Cat Water Fountain
Cats prefer running water over still water. Buying the most suitable water fountain will provide your furry baby with continuous access to fresh and clean water. Here are a few things to think about when you're shopping for a fountain.
Material
Water fountains should be made of high-quality materials that don't react with water. High-quality BPA-free plastic is a suitable choice because it's quite durable and easy to clean. Ceramic is another good choice because it's sturdy. It's more expensive than plastic.
Capacity
A smaller fountain will be easier to carry around but it will also have a smaller capacity. This might still be a good choice if you have a small pet.
If you a big cat or multiple pets in the house, you should make sure that the capacity is at least 2.5 liters. You won't have to refill the fountain that often to keep your cats hydrated.
Filtration System
One of the perks of having a water fountain is that it keeps the water running thus making it more tempting for your cats. Water fountains feature multiple-stage filters to remove the debris, hair, and food particles, unlike water in a bowl.
Charcoal filters remove the nasty odors, keeping the water fresh and clean. Sponge filters trap the debris so your cats stay healthy.
You should, however, clean the filters as directed by the manufacturer to make sure that bacteria and mold don't grow in the water fountain. Replacing the filters might be necessary after a while, so you should think about adding their cost to the overall cost of the water fountain.
Quiet Operation
You need to make sure that your water fountain is designed to work silently so your cats can drink peacefully while you enjoy your time working or chilling. Most water fountains run quietly but they might get too noisy when the water level drops. Regular cleaning and maintenance will guarantee that your fountain will stay quiet.
FAQs
Yes, they do. Water from a water fountain looks more like the water found in the wild which tempts cats to drink more.
Some cats actually face trouble seeing the water level in a water bowl if it's too low. However, having a fountain eliminates this problem because they can hear the water streaming and feel the bubbles. A quiet cat water fountain freshens up the water and increases the oxygen level which improves the taste of water.
Generally speaking, you should clean the charcoal filter every 2 to 4 weeks. This, however, depends on several factors.
If you have a lot of pets in the house, you'll need to clean the filter more often. You should also clean the foam filter regularly as this will extend the life of the fountain and maintain the strength of the water flow.
Paying attention to the water fountain and how it works will help you determine if it needs to be cleaned. If you feel that the water flow has decreased, then it's time to use the cleaning brushes to scrub the fountain clean. After a while, you'll have to change the filters to keep the water fountain functioning.
Although there's no problem with giving your cat tap water, some vets advise pet owners not to. Hard water doesn't really harm cats but the chemicals added to the water might affect the health of your pet.
You should check with your municipality to see if there are any harmful chemicals in tap water. Using a water fountain will remove all the impurities from the water so it's more suitable for your cat.
Wrap Up
Cats associate still water with bacteria so buying a water fountain will tempt them to drink more. Drinking healthy water protects your cats' kidneys and keeps them in perfect condition.
We chose the iPettie Kamino LED Light Pet Water Fountain for Cats and Dogs as it has a large capacity so it suits several pets at the same time. You can also switch on the LED lights to make the water fountain more appealing to your cats. Thanks to the filtration system, you know that your cat will always have access to clean water.
Pet cats don't eat mice or birds and this means that they need to drink water more often. Just put the water fountain in your cat's most favorite spot and you'll find that it gets attracted to it.