Disclaimer: Some of the links in this article may be affiliate links; we will earn a commision, at no additional cost to you, if you make a purchase through one of our links.
If you're a cat owner, then you're probably familiar with their destructive activity of climbing and scratching everything they can get their paws on. Having a cat condo is a nice way of keeping your feline friend contained while also satisfying their need to climb to elevated spaces.
These cat houses serve as places where your pet can retreat to and unwind or take a nap comfortably. After all, even pets like a little bit of personal space. If you've been looking to purchase a cool cat condo, we've reviewed some of the best on the market. Read on to learn more.
The Coolest Cat Condos on The Market Now
1- PetPals Paper Rope with Perch Cat Tree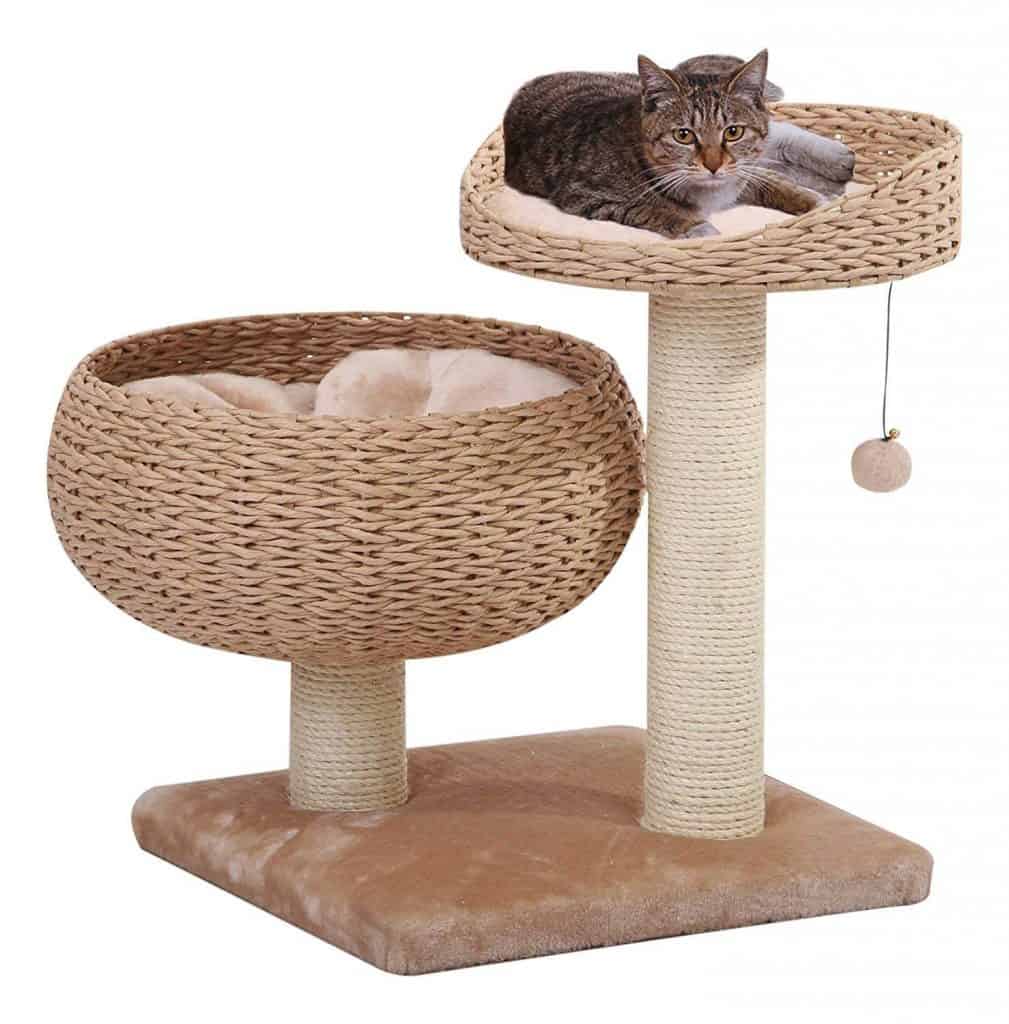 The PetPals Paper Rope Cat Tree is our favorite cat condo. Though it's on the pricey side, it has a good selection of features that make it fit for your pet.
One of the things we love about PetPals is that it has multiple perching areas, which makes it suitable for a multi-cat household. The perch on the bottom section is stable, providing your kitten with an incredibly cozy place where they can rest. It also has a reasonably high climbing pole; hence, it will satisfy your pet's climbing desire.
The overall size of this cat tree is 17 inches long by 17 inches wide by 23 inches high. It's constructed using fleece and paper rope and it can accommodate a cat that weighs up to 25 pounds.
Pros
Easy to clean
Scratching posts are made of natural material, which is safe for your cat to chew on
Simple to assemble
2- MidWest Curious Cat Cube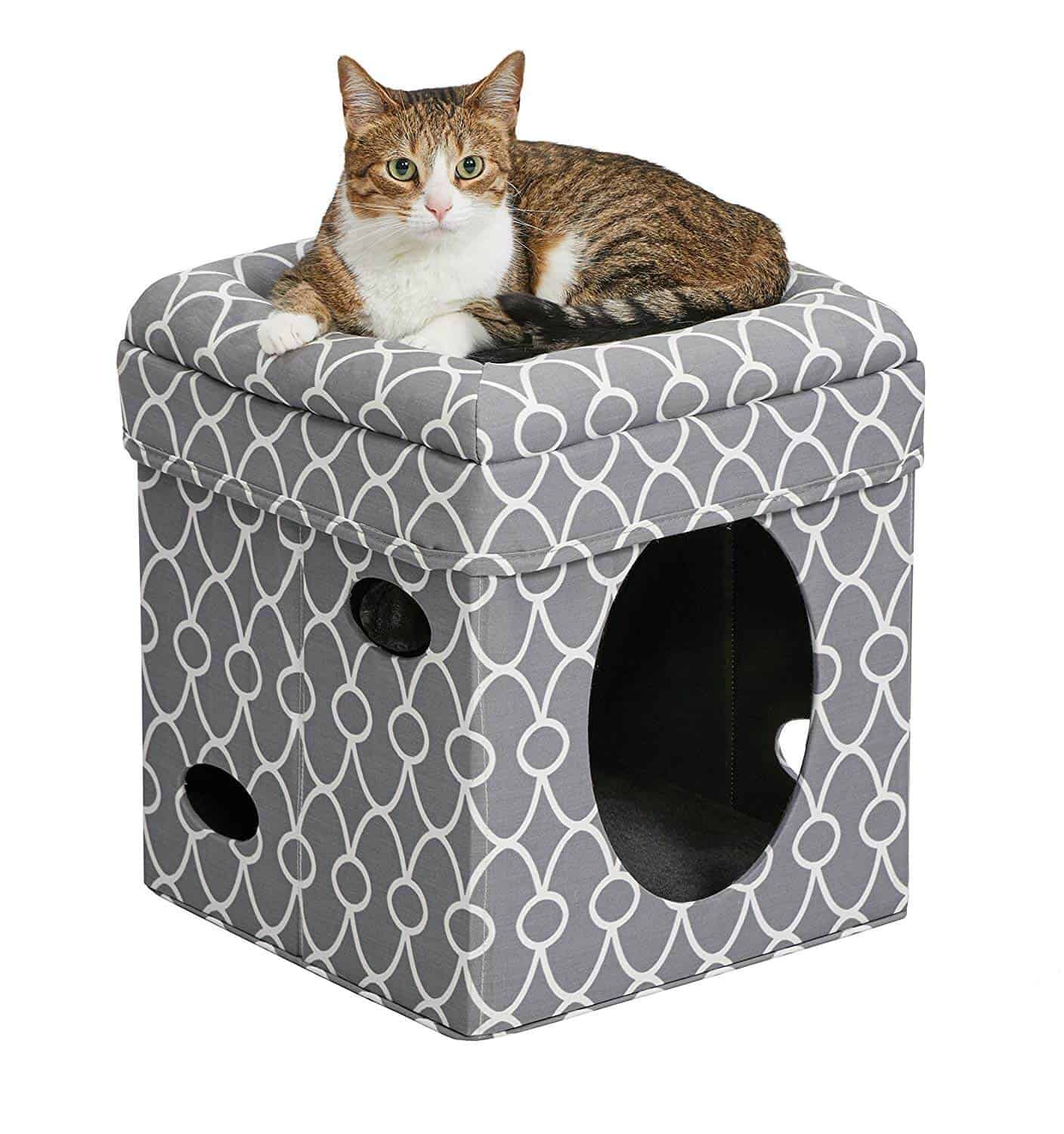 If you're not looking to spend too much on the cat condo affair, the MidWest Curious Cat Cube is a pocket-friendlier option. It's a basic alternative without all the bells and whistles, but it still offers a comfortable place to lounge on.
A key highlight of the MidWest cat condo is its attractive design. Measuring 15.5 x 15.5 x 16.5 inches, this cat house has beautiful accents of gray with a geometric designer print. Furthermore, this condo sports a sturdy construction so you can be sure that your feline will be able to use it for quite a while.
Another feature that sets this condo apart is the fact that it can be folded flat. If you want to clean your home or carry the condo with you on an outdoor trip, all you need to do is to fold it down into its compact size.
One thing that's lacking in this cat condo is a scratching post. Thankfully, the manufacturer makes up for this by providing a nice hideaway spot with several peek-a-boo cutout holes.
Pros
Affordable
Has a stylish design
Well-built and easy to piece together
Cushioned bed topper provides a cozy resting place
Cons
Not the best option for kittens as they may get stuck in the holes
3- On2Pets Cat Condo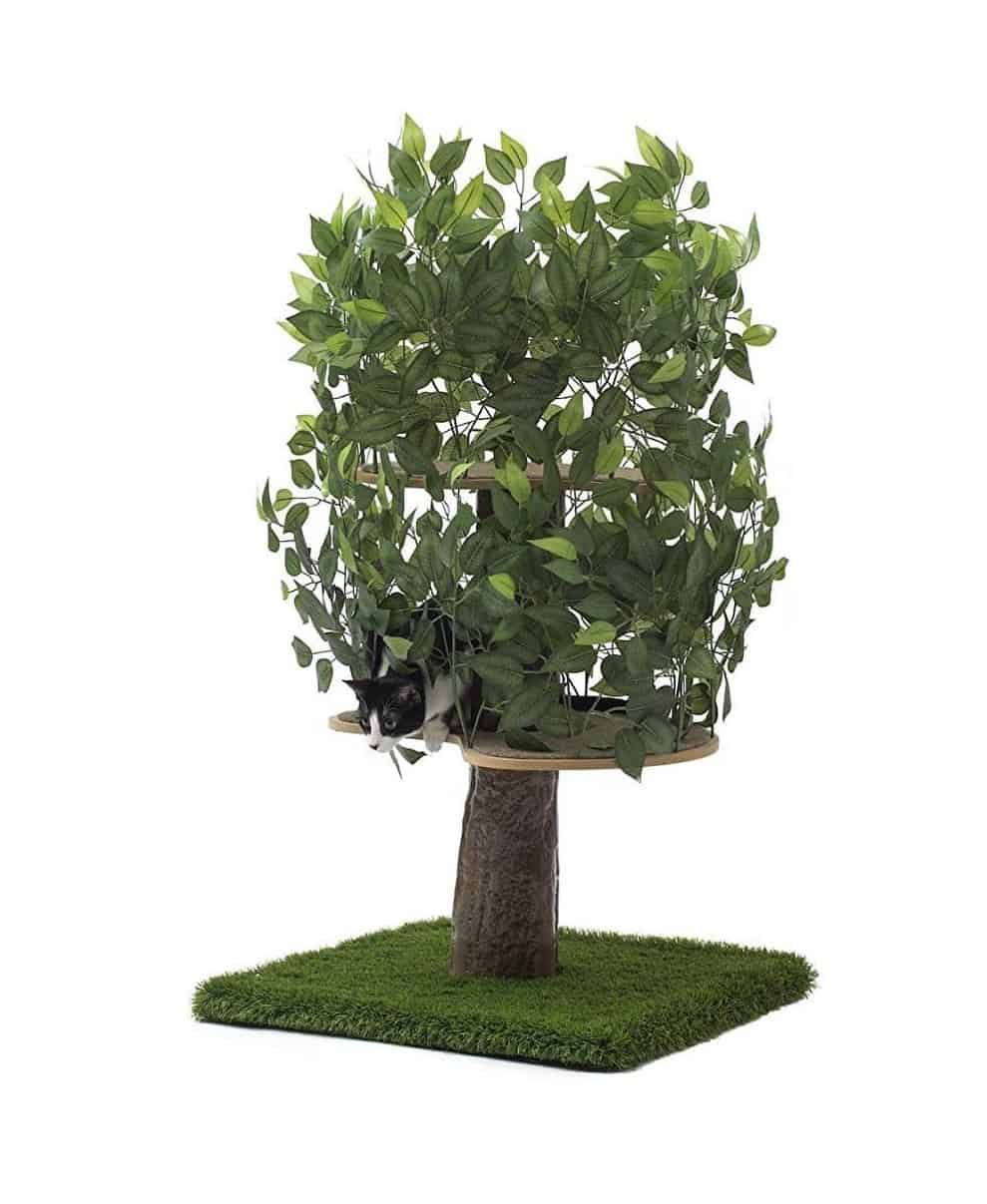 As far as cool cat houses go, On2Pets Cat Condo definitely stands out. The tree-shaped unit is intended for indoor applications and it's reasonably sized to fit in any room.
Most cat condo manufacturers provide only one size of the structures they make. However, On2Pets goes a step further and makes this condo in 3 different sizes- small, medium and large.
They also tailor this cat condo to different seasons- some trees are designed for fall, others autumn and summer. What's more, you get to choose whether you want the cat condo to have a square or round base.
This cat condo is constructed from pressed wood, carpet, and artificial leaves. This sets the perfect environment for your cat as they have a natural instinct to hide within nature. Overall, the condo comprises of a square base that's coated in artificial turf and 2 carpeted perches. This condo can support a larger cat weighing up to 32 pounds.
Has an attractive and unique design
Can hold larger cats
Available in different sizes
Simple to assemble
4- K&H Pet Products Hangin' Cat Condo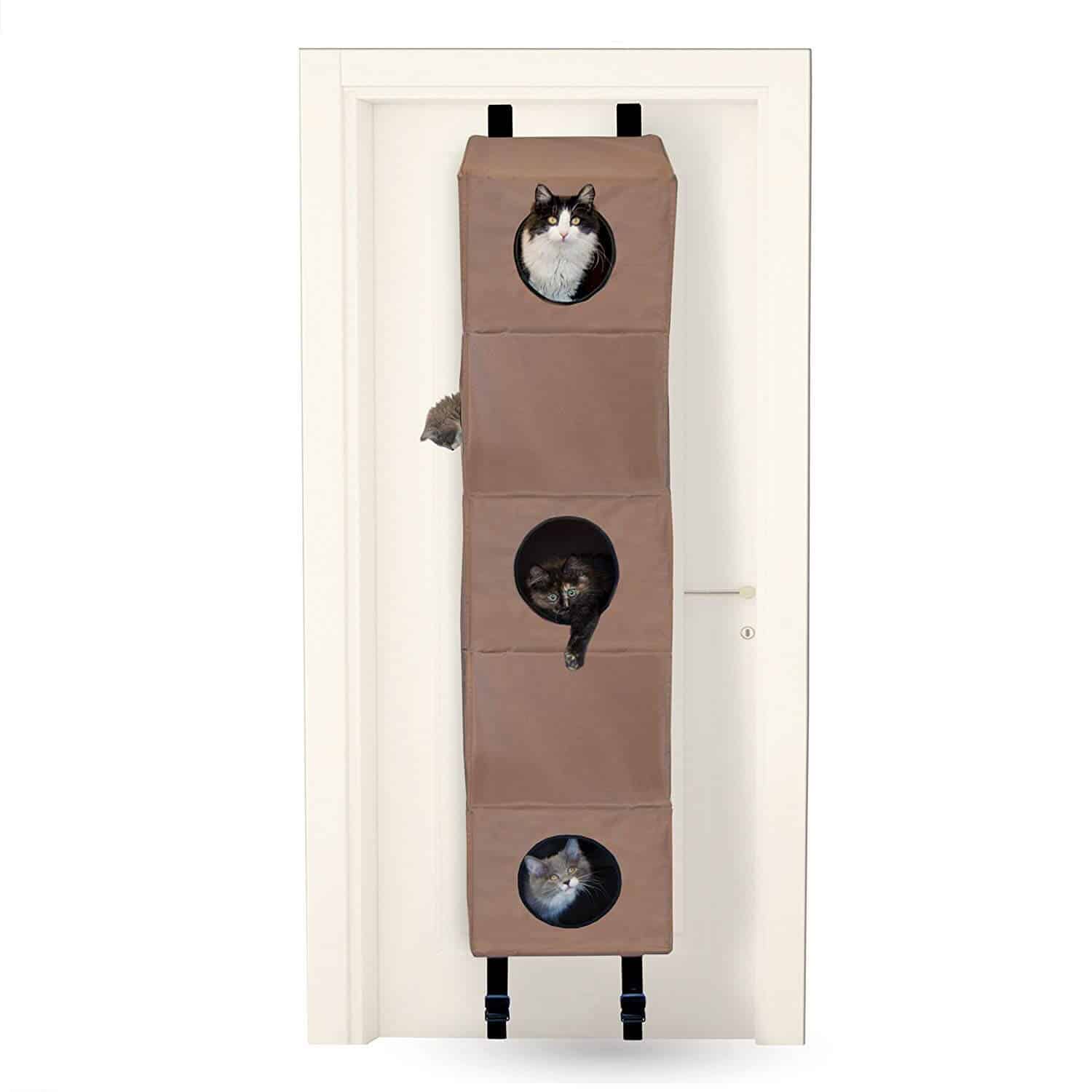 One of the toughest parts of living in a small home with a cat is that you have very limited space. Luckily, there are reasonably-sized cat condos that can help you make the most of every square foot inch of space. A good example is the K&H Hanging Cat Condo.
This cat house is designed to stand in a vertical position so it doesn't take up the much-needed floor space. To be specific, the structure measures 16 x 16 x 35 inches. Despite its minimalist design, this cat condo is quite sturdy and it can support multiple cats at any one time. It's made up of several levels so every cat will have their own space where they can lounge.
Another feature we like about this cat condo is that it's not difficult to assemble. Consisting of waterproof nylon fabric, the condo can be assembled within a few minutes and disassembled just as fast. It's also easy to clean as all you need to do is wipe it down with a damp cloth.
Takes up minimal floor space
Has multiple levels to accommodate several cats
Simple to assemble and clean
5- PawHut Hooded Rattan Cat Bed Basket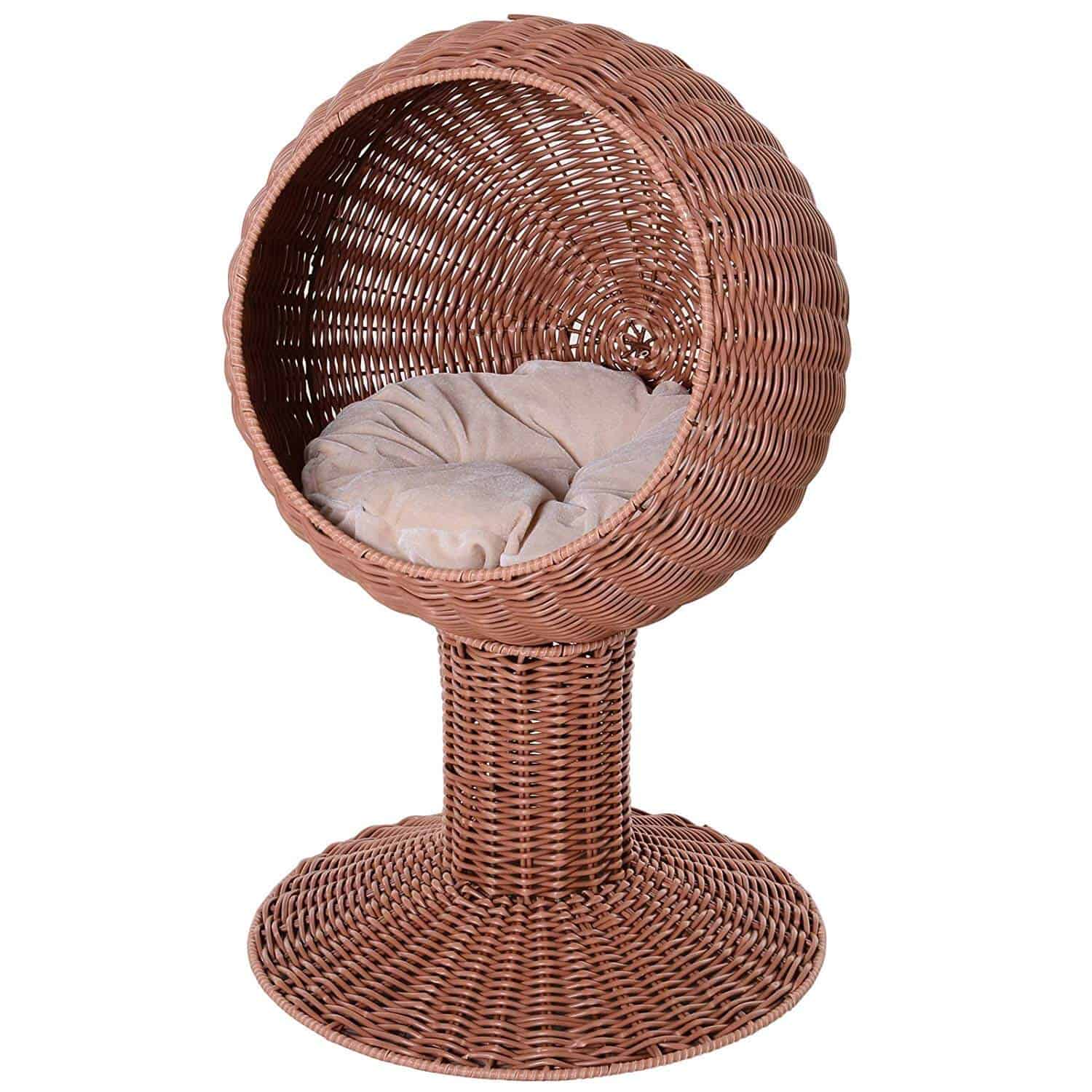 Looking for a way to make your home cat-friendly without compromising on your design preferences? Well, the elegant PawHut Cat Bed Basket is your best bet.
This cat condo has one of the most exceptional designs, offering your pet a new and exciting way to play. It also provides a cozy hideaway section where your feline buddy can rest undisturbed.
One thing that sets PawHut apart is the material used in its construction. The cat condo is handwoven using non-toxic rattan material. This is what gives the structure its unique look without sacrificing function or durability.
The manufacturer has also incorporated a plush cotton-made cushion to enhance comfort. For ease of cleaning, this cushion is removable and machine-washable.
Important to note though is that the structure can only hold 22 pounds of weight. So if your cat is any bigger than this, you might want to consider alternatives like On2Pets cat condo.
The rattan construction brings a classic vibe to your home
Elevated bed offers your cat a fascinating way to play and rest
Has a cylindrical base to enhance stability
Includes a removable and machine-washable cushion
Cushion should have more padding to make it more comfortable
Why You Should Invest in a Cat Condo
A cat house isn't just an unnecessary or extravagant investment for cat owners. Instead, it's an excellent addition to your cat's indoor setting and it can make them healthier and happier.
While humans live in a horizontal world, the world of a cat is largely vertical. This explains why they love to climb to elevated places and get a good view of their surroundings and predators. With a cat condo, you can provide your pet with an elevated space where they can lounge. Here are a couple of other reasons why you should invest in a cat condo:
Keep the Peace
In a multi-pet household, setting up a condo with several levels can help to maintain peace between cats. This way, the higher-ranking feline can climb to the uppermost perch to symbolize her status while the other cats take lower levels. In some instances, the two or more cats will even tackle each other so the winner can claim the topmost perch.
Safe Place for Timid Cats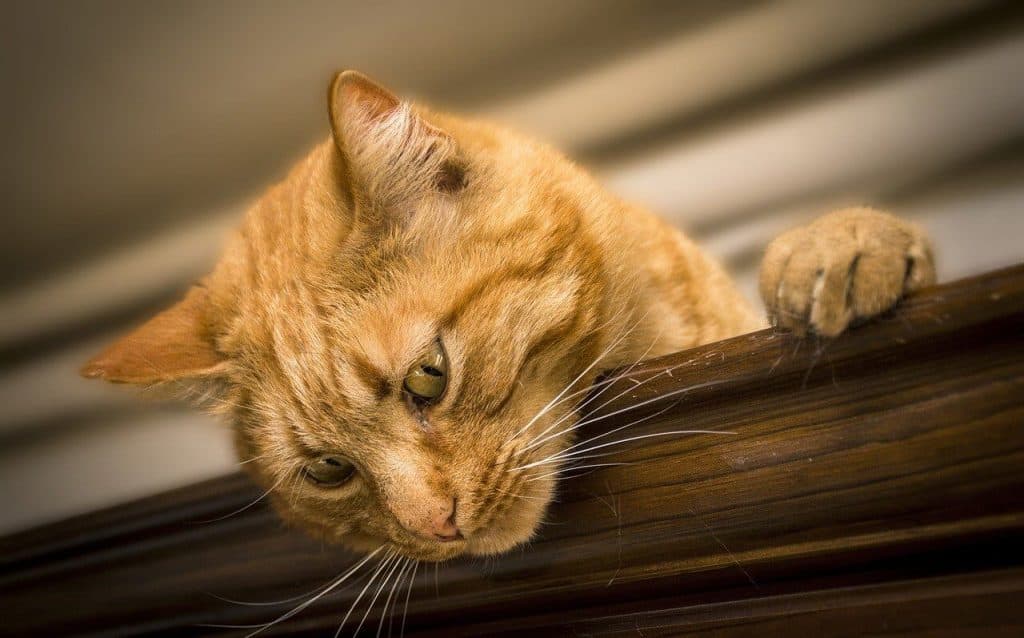 Cat condos fitted with elevated perches are the best-suited for cats. As mentioned earlier, one of the reasons why cats love to climb is so that they can get a good vantage point. With a highly-positioned perch, your cat will have a perfect view of their surroundings. This means they'll be able to see any advancing opponent in time.
Similarly, if your cat has a timid personality, they might feel overwhelmed living in a large household. By purchasing a condo, you can provide your feline buddy with a space where they feel safe enough to retreat to. This cat house can provide a place that's exclusively theirs because it doesn't have any unfamiliar scents or faces.
Sharing Made Easy
Cats are naturally territorial. This can make it difficult for two cats to share the same space. With a cat condo though, each cat can claim a perch on the condo. This way, they can cohabit peacefully with each one maintaining their status.
Wrap Up
The best way to ensure that your cat lives a happy and healthy life is to get them their own condo. Often, these cat houses are fitted with scratching posts, perches and cat beds. This makes them highly-versatile as they double up as lounging and play spaces.
If you've been looking for a cool cat condo to add to your cat furniture collection, we recommend PetPals Paper Rope with Perch Cat Tree. It's easy to put together, has a scratching post and a cozy resting place.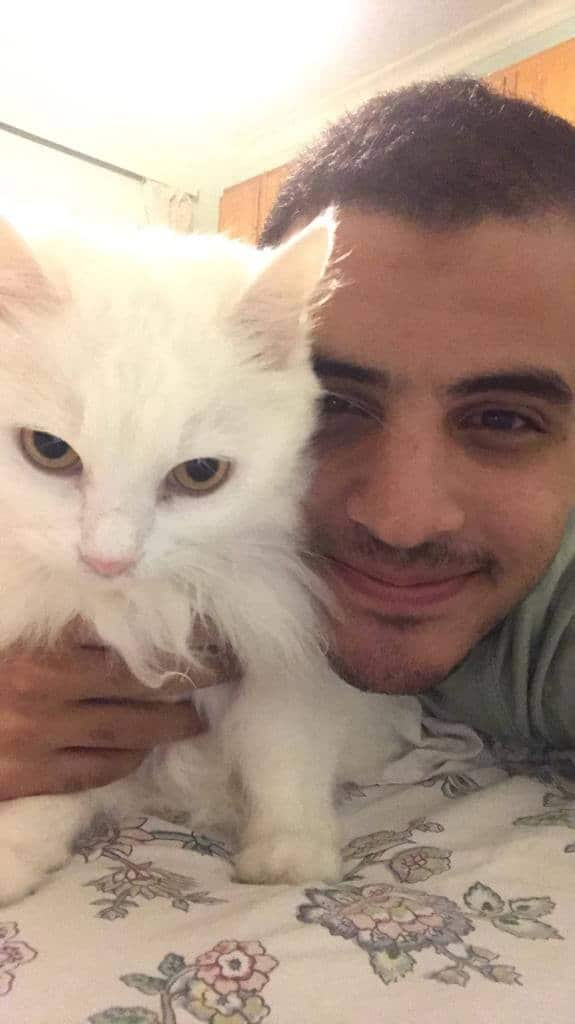 I've been living with cats since 2008 and I can confidently say I have more feline friends than humans lol. I currently live with 5 cats in different life stages; two of them are less than one year old, one is 2-ish years old and the oldest two are 9-ish years old. I've developed a strong bond with cats over the years and I'm eager to share my experience through this blog. You can learn more about my cats here.