Disclaimer: Some of the links in this article may be affiliate links; we will earn a commision, at no additional cost to you, if you make a purchase through one of our links.
When you visit a zoo, you don't see lions and other wild cats being fed veggie burgers. Instead, they're given flesh in the form of beef, horsemeat and more. The reason for this is that all cats, domestic and wild, need high amounts of protein in their diet.
This nutrient has many functions in your cat's body such as maintaining their muscle mass, improving their immune system and boosting their energy. Unfortunately, some commercial cat foods lack protein. Those that do include protein, use the wrong kind of proteins.
To help keep your feline buddy healthy and strong, we've reviewed the best high-protein cat food. Our article also provides an in-depth overview of a cat's protein requirements.
Best High Protein Cat Food on The Market Now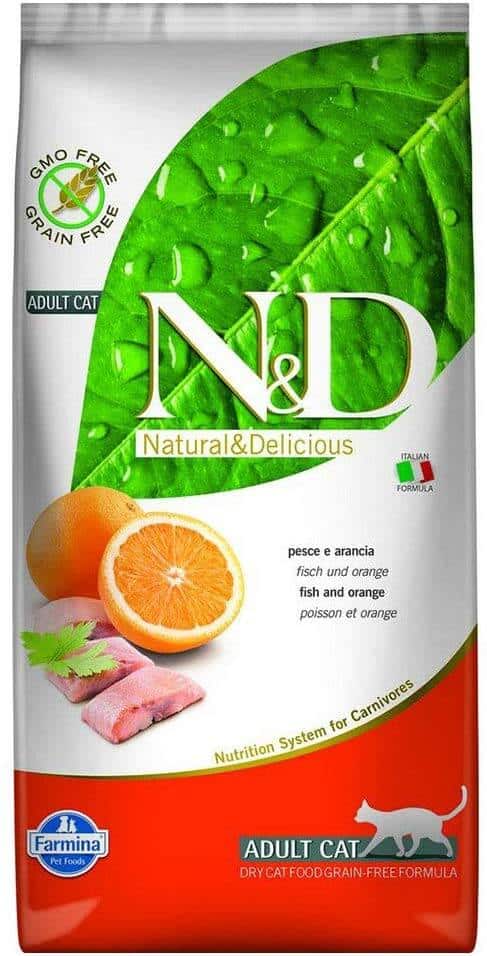 Farmina Fish and Orange is our favorite pick for high-protein cat food. What makes this food really shine is the use of herring as the primary ingredient. The choice of herring fish means that it's incredibly rich in protein and tasty enough that even a picky cat can eat.
To be specific, herrings make up the largest portion with fresh herrings constituting 32% and dehydrated herrings 30%. Dried whole eggs have also been included as an additional source of protein.
Another perk of Farmina Natural is that it's completely free of grains, wheat and soy, meaning it's suitable for food-sensitive kitties. To further improve their digestion, the formula incorporates dried carrots and fiber vegetable peas.
Furthermore, this cat food provides a healthy dose of antioxidants thanks to the inclusion of dried sweet orange, dried apple and dried pomegranate.
Overall, this formula contains crude protein: 44%, crude oils and fats: 20%, crude fibers: 1.8% and 8% moisture. Other compounds include calcium, phosphorus, magnesium, omega fatty acids, chondroitin sulfate and glucosamine.
Pros
Lists herrings as the first ingredient: excellent protein source
Great flavor
Rich in antioxidants that boost your feline's immunity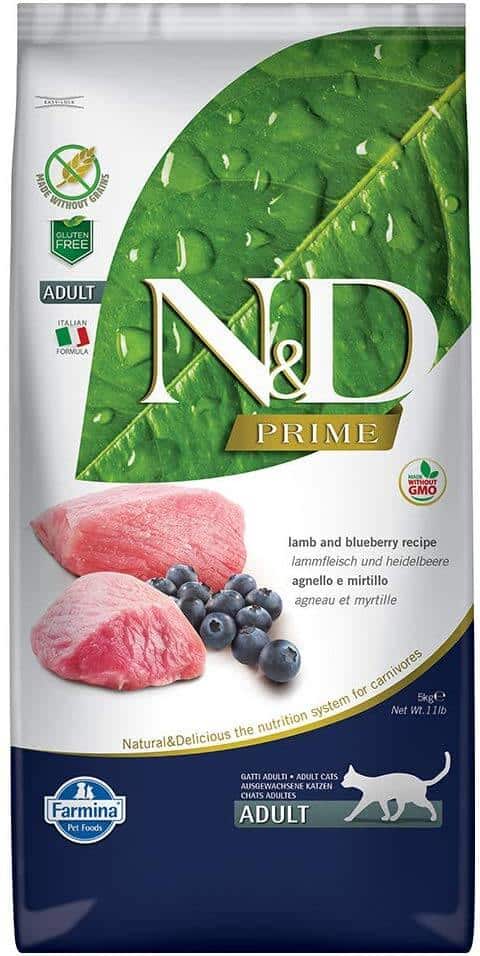 Just recently established in the U.S., Farmina is proving to be one of the most trusted brands when it comes to pet food. Thus, it's no surprise that another one of their products has made it to our list: their Grain Free Lamb and Blueberry Adult Cat Food.
Like Fish and Orange formula, this one also features an animal-based protein as the primary ingredient lamb. Lamb is a really good choice of protein as it's potent in not only proteins but also iron, B-Group vitamins and zinc.
More specifically, lamb meat contains heme iron, which can easily be absorbed into your kitty's body. The B vitamins are vital for their nervous system functioning while zinc boosts their immune mechanism.
If you factor in the dried whole eggs, the proteins in this cat food constitute 42% while fat takes up 20%. This Lamb and Blueberry formula may not have any herrings as the key ingredient, but it still incorporates it as an extra source of protein. Even better, it's made with herring oil that serves as a good source of fatty acids.
Similarly, it's rich in vegetables and fruits such as dried sweet orange, dried apple, dried pomegranate, and dried spinach. It also has an array of vitamin supplements such as vitamin A, D3, E, and B12.
Pros
Formulated with natural antioxidants that help to preserve the freshness of the food
Includes high-quality vitamins that boost your cat's growth
Free of grains, GMO and gluten that could trigger allergies
Cons
A bit pricey for some pet owners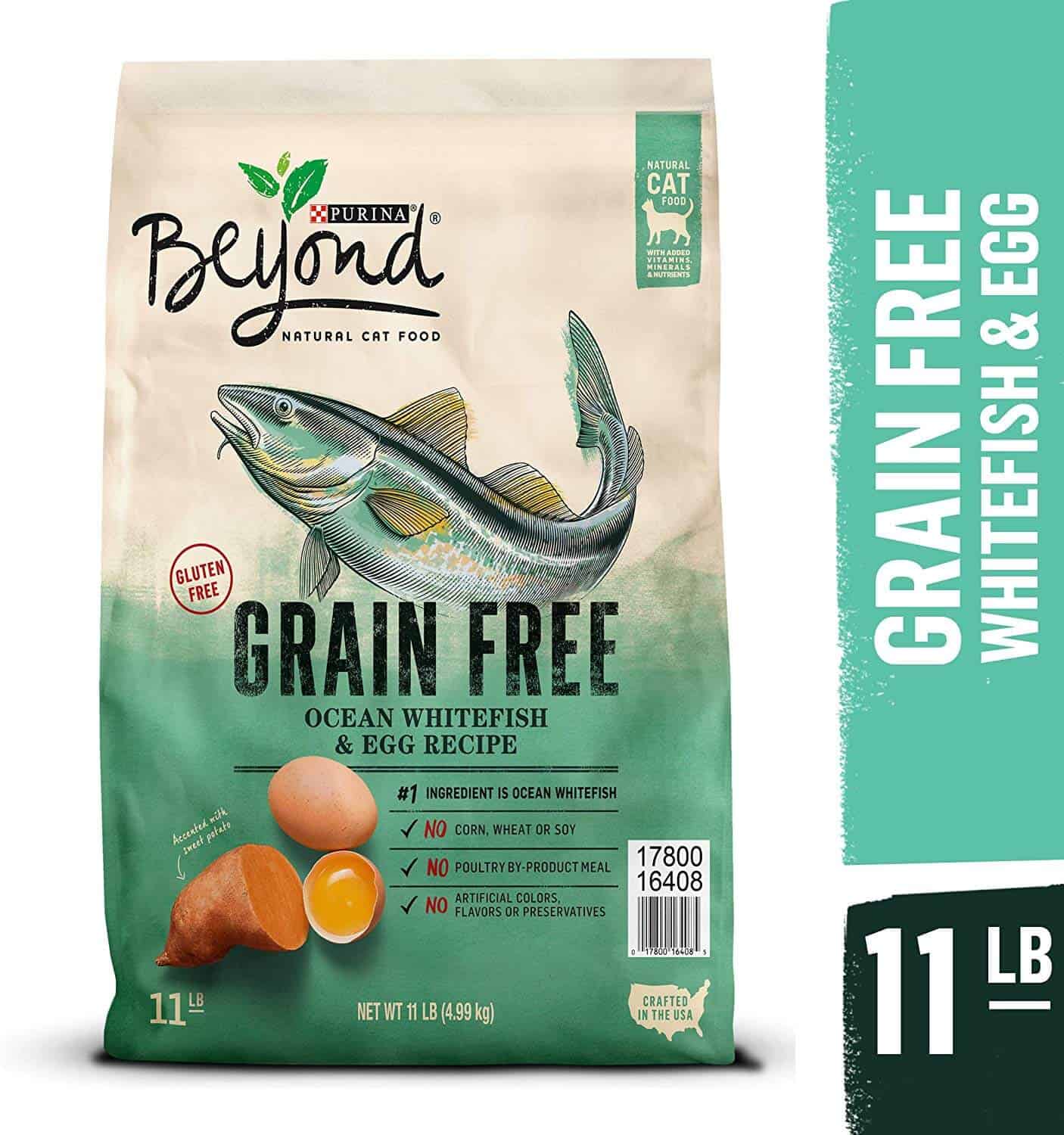 If you're looking for high-quality cat food, one company that never disappoints is Purina. Their Grain-Free Adult Dry Cat Food is a superb example of the premium quality of their formulas.
This particular product is rich in proteins and vital minerals. Best part is: the creation of their products is monitored by an in-house team of nutritionists. So you can rest assured that your feline is getting some of the best cat food in the market.
The first ingredient in the Adult Cat Food is ocean whitefish that not only provides amino acids but also improves the flavor significantly. The manufacturer also includes eggs as an additional protein source, resulting in a sum protein content of 35%.
Like most of the cat foods in our review, this one is also devoid of corn, soy, wheat and by-products that could affect sensitive kitties. The sources of carbohydrates for this formula are, instead, derived from cassava root flour, pea fiber, dried sweet potatoes, and pea starch.
Moreover, this cat food includes beef fat. Apart from acting as a source of energy, the beef fat makes the food taste better.
Although not often considered, packaging is another factor you should look into when purchasing high-protein cat food. You don't want to spend a chunk of money buying a lot of food if you only have one feline.Luckily, the Purina Dry Cat Food comes in four different sizes: a 3-, 5-, 11- and 16- pound bag. The one we're reviewing here is an 11-pound unit, and it's fairly priced, meaning any cat owner will be able to afford it.
Pros
Has a great flavor
It's priced reasonably
Provides good nutritional value
Does not have any corn, wheat or soy
Cons
Has a strong smell
Texture can be improved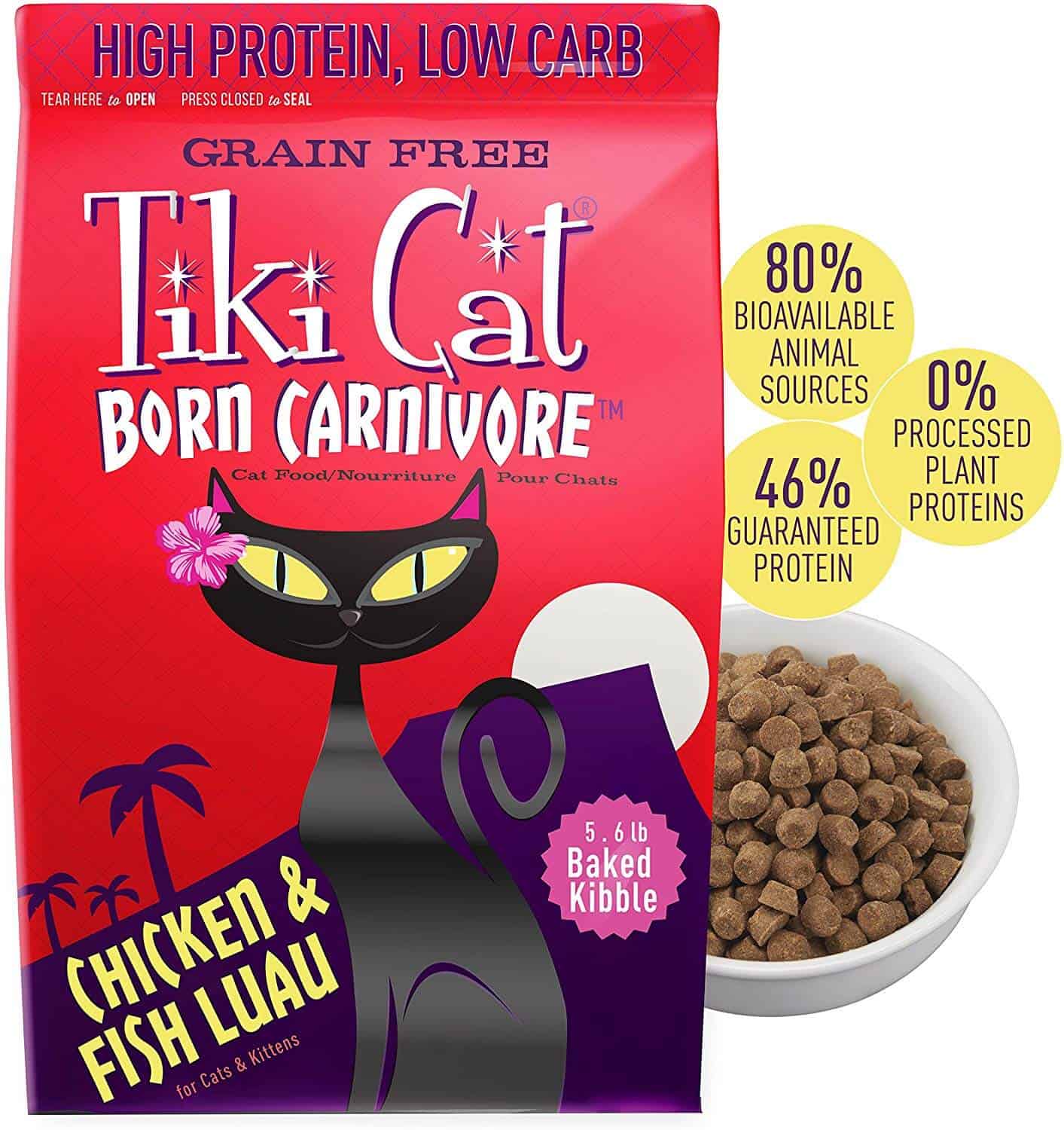 When looking for any pet food, the first five ingredients help you determine the quality of product. The Tiki Cat Born Dry Cat Food sports quality protein sources as the primary ingredients, making it a suitable option for protein-deficient kitties.
The first five ingredients are real deboned chicken, chicken meal, herring, salmon meal and herring meal.
Both the deboned chicken and herring are high quality protein sources. The herring meal, salmon meal and chicken meal are not as high-quality sources of protein. Still, they have a profound impact on the overall composition of protein in cat food.
Tapioca Flour is another distinct ingredient incorporated in this formula. This is a gluten-free compound that is extracted from the roots of a cassava. Carbohydrates are a crucial component of any pet kibble and tapioca is a great choice in this aspect.
Also worth mentioning is the dried egg product. Essentially, the dried eggs mean that the eggshells have been removed. The benefit of this process is that it results in ingredients that are easy to digest while also managing to retain the high biological value associated with eggs.
If you're looking to improve your cat's skin health, this formula can help as it contains flax seeds and salmon oil. Both of these ingredients contain copious amounts of omega 3 and 6 fatty acids that lead to healthy skin and coat.
Pros
Rich in premium-quality protein sources: chicken and herring
Low in carbs with no wheat, corn or soy
Formulated well to preserve nutrients and taste
Comes in different sizes to meet different consumer needs
Cons
The smell is stronger than in other cat foods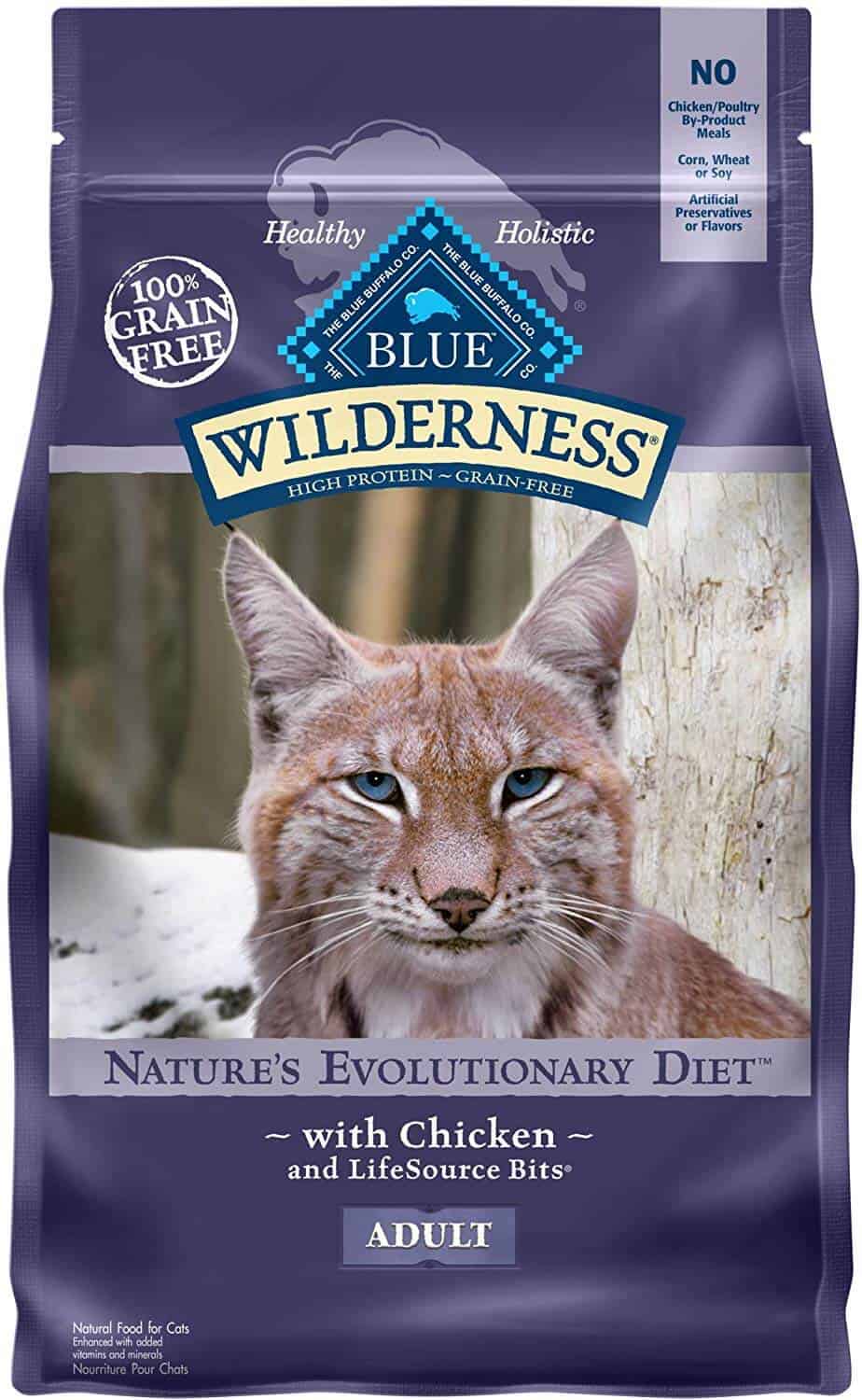 Looking to satisfy your cat's carnivorous cravings? The High Protein Dry Cat Food by Blue Buffalo is your best bet.
The first ingredient is chicken, which is one of the ideal sources of protein for felines. This will help to build and maintain your kitty's muscle mass.
It's also formulated with antioxidant-rich LifeSource bits. This is one of the brand's proprietary ingredients that contains a combination of antioxidants, minerals, and vitamins that have been picked meticulously by professional veterinarians.
With this cat food, you don't have to worry about your pet falling ill due to allergies. The Adult Dry Food contains zero by-product meals, corn, wheat, soy and artificial flavors.
Pros
Available in different sizes: 2.5-, 6- and 12-pound bag
Cheapest
It's grain-free
Packed with proteins, omegas and antioxidants
Includes taurine- an essential amino acid that enhances a cat's eye and heart health
Cons
May cause some side effects in some cats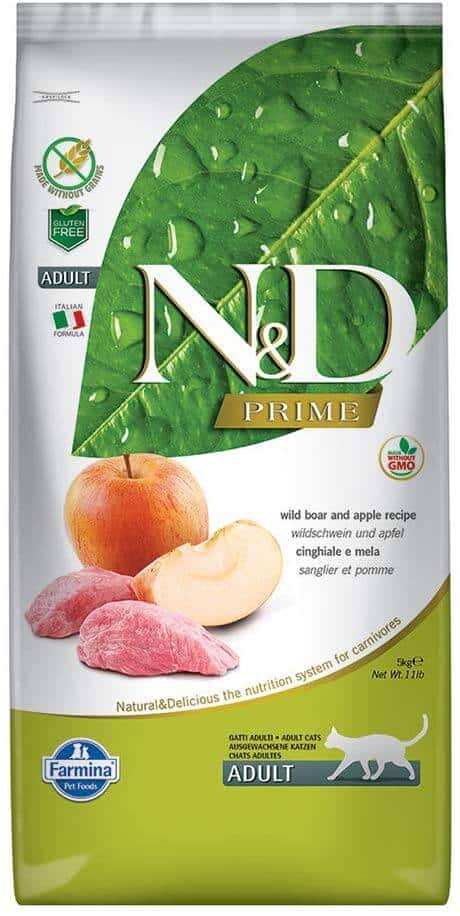 One thing that sets Farmina cat foods apart is the fact that they're made with the best ingredients and with the right proportions of protein and fats. This Boar and Apple formula is no different. It's made up of 44% protein, 20% fat and 1.8% fiber.
The protein is derived from wild boar, dehydrated wild boar, boneless chicken, dehydrated chicken, dried whole eggs and dehydrated herring. This makes it one of the richest sources of protein.
Another point worth mentioning about this formula is that it consists of 70% animal-based ingredients and just 30% vegetables and fruits. This is vital considering that cats are more capable of processing animal products than they are plant-based products.According to the manufacturer, the Boar and Apple Cat Food also has a low glycemic index. This means it's suitable for kitties that need a product which won't cause a spike in their blood sugar levels.
Pros
Contains a natural source of omega fatty acids
Primarily made of animal-sourced ingredients; hence easy to digest
It's a GMO-free formula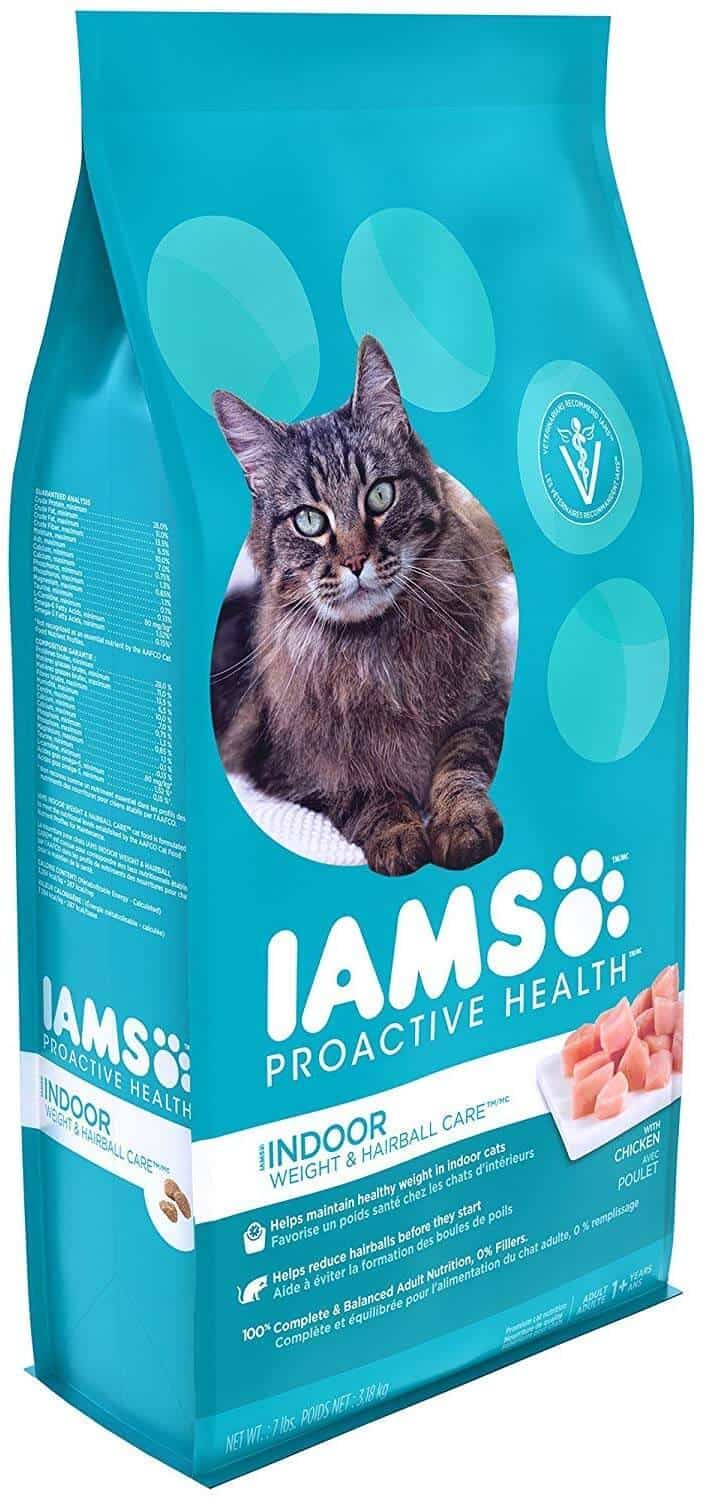 If you're looking for a simple cat food that will meet your feline's protein requirements, the IAMS Proactive is another option worth considering.
However, you should only resort to this formula if your feline is not sensitive to ingredients like poultry meals and corn.
The main ingredient in the cat food is chicken, which is a great protein source. The second is chicken by-product meal, which also contributes to the protein content. Usually, by-products are regarded as inferior, low-quality ingredients.
Other components incorporated in this formula include corn grits, corn gluten meal, ground whole grain corn, and dried egg product. These kinds of ingredients are mainly used to add bulk. But they're not essential for your feline's diet.
Pros
Comes in different sizes
Has low fat content; hence suitable for kitties struggling with weight management
Reasonable pricing
Cons
Contains low-quality protein sources such as chicken by-product meal
Formulated with corn-based ingredients that can cause allergies in cats
Best Protein Sources for your Cat
Not every carnivore is an obligate carnivore. As a matter of fact, the majority aren't. But cats are! As obligate carnivores, they need a meat-based diet to survive because they lack the physiology to digest plant-based foods efficiently. This means that you shouldn't feed your cats just any kind of protein, but a meat-based one.
The benefit that animal-based proteins have over their plant-based counterparts is that they offer a complete amino acid profile. Consisting of carbon, oxygen, hydrogen and nitrogen, amino acids are regarded as the building blocks of proteins.
Unfortunately, plant-based sources do not offer a complete amino acid profile, implying that they lack some essential nutrients vital for an obligate carnivore's wellbeing. One of the key amino acids that is lacking in a plant protein is taurine. Taurine is mainly found in animal muscle meat, particularly, the liver and heart.
A deficiency of this amino acid makes your cat vulnerable to conditions such as vision loss and cardiovascular disease.
Some argue that they can feed their felines a vegan diet and then top that up with a taurine supplement. However, it's not advisable to do so because the supplement doesn't make up for all the other nutrients missing in the veggie diet.
Quality of Protein Matters
The quality of the protein content you feed your kitty is another integral factor to consider. To assess quality, you should check its biological value (BV). This is simply a measure of the bioavailability of the amino acids in a given protein product.
High-quality protein cat food should have a high biological value. This also means that it's easier for your pet to digest and utilize.
Protein derived from animal muscle meat has the highest biological value. By comparison, the protein sourced from parts such as snouts, beaks, feet and tails has little to no biological value because it's completely indigestible.
On the same note, there are certain protein sources that you should never give your cat. These include soy and corn. Not only do these items have low biological value but they're also species-inappropriate for your cat.
Want to protect your kitty during cold winter nights? Here are the best heated cat beds to pamper your kitty and keep it warm
.
Why Choose a High Protein Cat Food
Healthy Growth
Like us, cats need protein for the growth and repair of muscles and other body tissues. Proteins are made of amino acids, which serve as the main building blocks.
All proteins contain about 23 amino acids. A cat's body is capable of making 12 of these from non-complex building blocks. The 12 amino acids are categorized as non-essential as they don't have to be present in a cat's diet.
Unfortunately, they cannot make the remaining 11 essential amino acids. This is why they need high-protein cat food, from which they'll get the other amino acids.
Primary Source of Energy
It's a no-brainer that we all need protein for healthy muscle growth and repair of tissues. But our feline buddies use this nutrient for one extra function that we don't: a source of energy!
Cats have the capacity to convert proteins into energy through what is known as gluconeogenesis. ScienceDirect defines gluconeogenesis as the production of new glucose using noncarbohydrate, in this case, protein.
This process serves as the main source of energy for cats. Unlike in humans, cats don't have glucokinase, which is the enzyme that enables us to quickly convert starch or carbohydrates into energy. Felines have a different enzyme: hexokinase, which is, quite frankly, very poor at processing carbohydrates. This is why cats use protein as their main source of energy.
Healthy Aging
As kitties age, their bodies become less capable of digesting and utilizing protein. Based on studies, cats aged 12 and over have a decreased ability to process protein. For that reason, they need more dietary protein and ones that are highly digestible.
What Food Is Considered High Protein?
The nutritional guidelines of pet food are set by the Association of American Feed Control Officials. According to this organization, cat food manufacturers should include 26% protein in adult cat food and a minimum of 30% protein on dry matter for any products approved for your feline's growth and reproduction.
However, this is just a bare minimum, and pet food companies can always increase the protein composition.
Things to Consider when Choosing the Best High Protein Cat Food
Read the ingredient profile
The first thing you should do is check the list of ingredients on the food's label. This will help you find out the whole composition of nutrients in that product.
Since the ingredients are listed based on their abundance level, protein should be ranked first. Also check that the type of protein used is sourced from animals and not plants.
Pay attention to the wording of the ingredients. A quality cat food should list the specific protein used. In other words, check to see if it lists the protein as "chicken" or "salmon" not "chicken meal" and "salmon meal".
Avoid cat foods that rank chicken or salmon meal -or worse, byproducts- as their first ingredients. The problem with such products is that their proteins have been processed or mixed with something else. The mealing process also exposes the protein to extremely high temperatures; hence reducing its overall quality.
Chicken meal or salmon meal are fine when used as the second or third ingredients but they should not be the primary sources of protein.
Examine the nutritional composition
If you're purchasing cat food from a reputable brand, then the product label should contain a breakdown of every nutrient and their respective proportions.
As mentioned earlier, the required amount of protein is 26% for a maintenance diet and 30% for growth. So if you're looking for a food that's high in proteins, it shouldn't have anything less than 30% of this nutrient. If you're purchasing online, and can't find the nutrition label, contact the manufacturer directly or make inquiries on pet forums.
Range of usage
Before you head to the pet store, you should assess just how much cat food you need. This applies to owners who have more than one cat. For instance, if you have a kitten, an adult cat and a senior one, they'll all have different dietary needs, especially when it comes to the protein content.
Similarly, if you have a pregnant or nursing cat, they'll need varying amounts of protein. Refer to the guidelines we provided earlier to find the ideal food for each of your felines.
Health status
Another factor you should take into account is your pet's health situation. Was your cat recently diagnosed with diabetes? If so, they'll need higher amounts of protein. Here's the deal: in most cases, diabetes in cats is triggered by excessive weight gain. As WebMD explains, the extra weight causes your furball to be less sensitive to insulin.
As such, monitoring their diet will go a long way in helping them manage the disease. In particular, vets recommend that diabetic cats be fed a high-protein and low-carb diet. Of course, you'll also need to keep a close on your cat's weight and ensure they're not overfeeding.
Similarly, cats diagnosed with kidney disease will have different protein needs. More specifically, there should be fewer proteins in their diet.
The role of the kidney is to excrete waste products, most of which are present in the proteinous food that your cat consumes. With less protein, there'll be less buildup of waste products on your kitty's kidneys; hence a reduction of the workload on this organ.
Final Verdict
The best way to boost your cat's health is to give them a proper diet, specifically, one that is high in protein and low in carbohydrates. Being obligate carnivores, felines are meant to survive on proteins, particularly, animal-based proteins.
To get the best high protein cat food, ensure you check the nutrient profile on the cat food's label. This way, you'll know the proportion and source of proteins used in that formula. One product that we recommend is the Farmina Fish and Orange Cat Food. Although a little pricey, it's very rich in high-quality proteins. It contains 44%, which is more than the required 26%.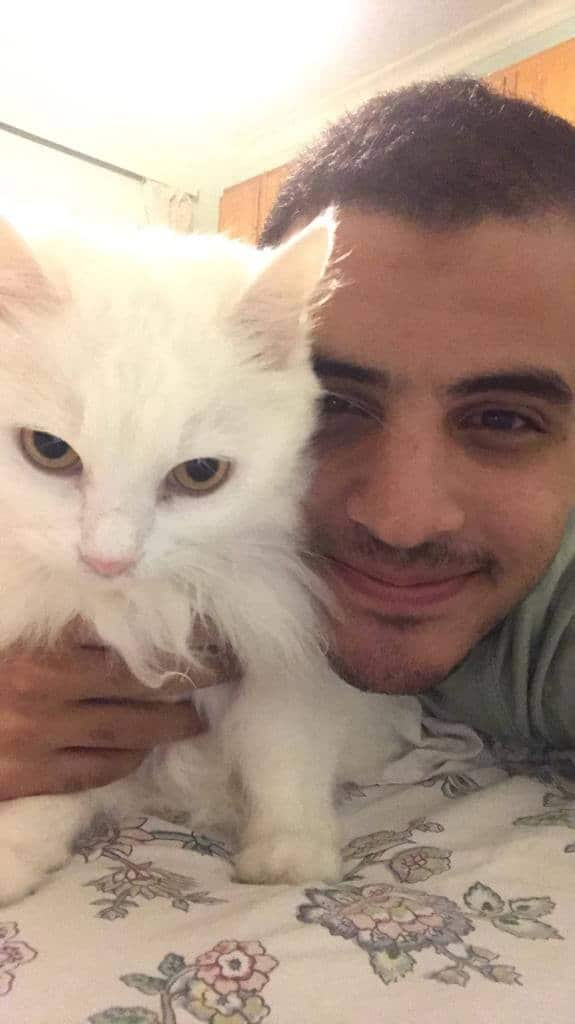 I've been living with cats since 2008 and I can confidently say I have more feline friends than humans lol. I currently live with 5 cats in different life stages; two of them are less than one year old, one is 2-ish years old and the oldest two are 9-ish years old. I've developed a strong bond with cats over the years and I'm eager to share my experience through this blog. You can learn more about my cats here.