Disclaimer: Some of the links in this article may be affiliate links; we will earn a commision, at no additional cost to you, if you make a purchase through one of our links.
Did you ever think why do people collect things? Usually, we collect items that mean something to us.
When we look at them, we feel happy and each new addition to the collection feels like a huge achievement.
Cat figurines have been around since ancient Egyptian times. These historic marvels inspire many modern-day cat figurines. Collector items often gain value with time, and some cat figurines are even exhibited in museums.
You can purchase a likeness of the vintage statues or another theme of statuettes. Then you'll have your collection of these cute furry creatures.
Here are some ideas to complement your cat figurine collection or to help you start a brand new one.
Our Favorite Cat Figurines
1. The Napping Kittens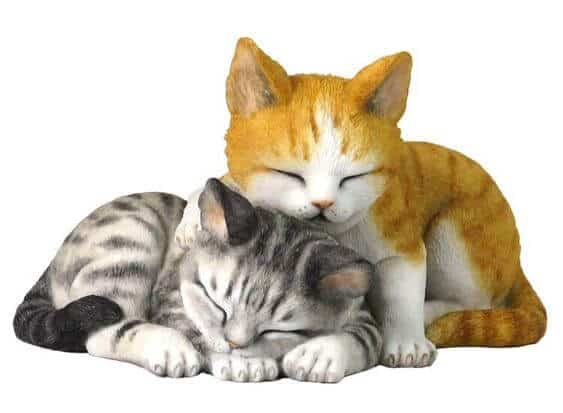 This life-like statuette is a lovely addition to any area in your house. It's so calming and peaceful.
The innocence of the young siblings is amazingly captured. They have contrasting colors and beautiful details to add visual interest.
2. Porcelain Cat and Pumpkin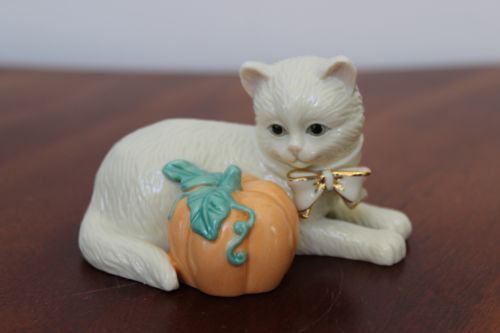 White porcelain is a favorite among figurine collectors. The scattered spots of color in the eyes, ribbon, and pumpkin add a welcome variety to the prevailing white.
Cats are curious creatures, and this gaze is so expressive of their nature! It's looking at the pumpkin as if it'd transform any minute in a cinderella-style!
3. Less Is More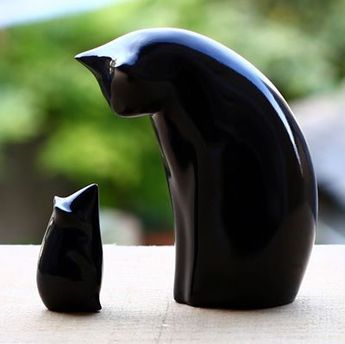 The beauty of modern art is the way it gets to the heart of the matter. You don't need much explanation to understand what's going on between the two statuettes. Their body language is compelling.
Sometimes details detract from the intensity of a scene; this is one of these situations.
The deep black, sleek finish, and flowing lines all point out to the same thing; the dynamic exchange of the figurines!
4. An Innocent Kiss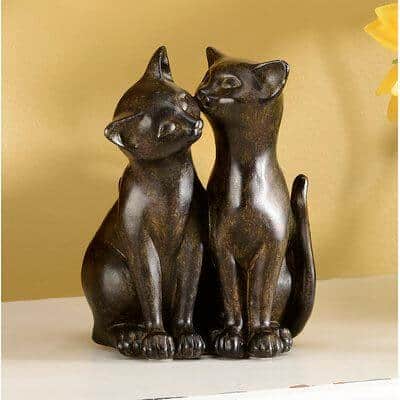 Cats don't exactly kiss, but they come that close. Cats are shy but on rare occasions, they can express warm emotions.
Stone statues are traditional in figurines. The granular texture shows through the polished surface and gives natural light and shade areas.
Recommended: Best Tineco cordless vacuums for pet hair on the market
You can feel the solid weight of these figurines as you carry them to take a closer look. Use them as a paper-weight collection, or just put them on your desk. Enjoy the figurines' rich details and sentimental gesture.
5. Aristo-Cats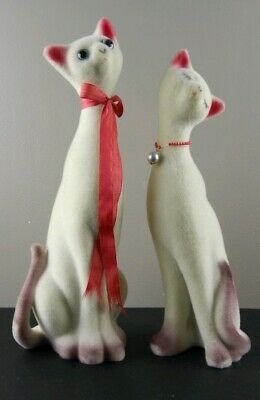 Cats have a reputation for being haughty and a bit snobbish. If you have a cat you'd probably know that there's some truth in that, but they have a heart of gold, just like Aristo-Cats.
The long flowing lines and raised snouts certainly help the image. The red ribbon and the silver bell on the cats' necks are totally on point.
This style develops a step further into sculptures that capture just the poised stance and graceful shape of cats. There's also a wonderful minimalist collection if you're into that modern art trend.
6. Winking Cat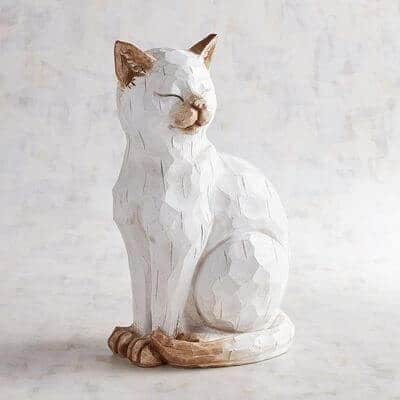 Cats wink with both eyes. When they love you they'll stand very calmly, stare at you for a second, then blink slowly in this unique way.
You might've done something nice to them that day, or they just felt like it for no reason at all. You'd never know.
This hand-crafted wood figurine would be perfect as a starter of a broader wooden collection. You can find similar cat statuettes with different gestures.
7. A Modern Family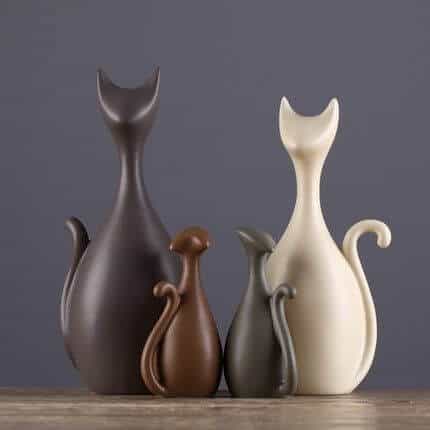 Modern art is usually bold in the way it perceives and translates life. This mini-collection expresses family with every smooth line.
The colors are so true to cats, and they'll fit amazingly in your living room. They'll easily blend with natural earth tones.
Beige, white, or black would be a fantastic backdrop. If you have an all-wood room it'd be stunning too.
8. Ask Mom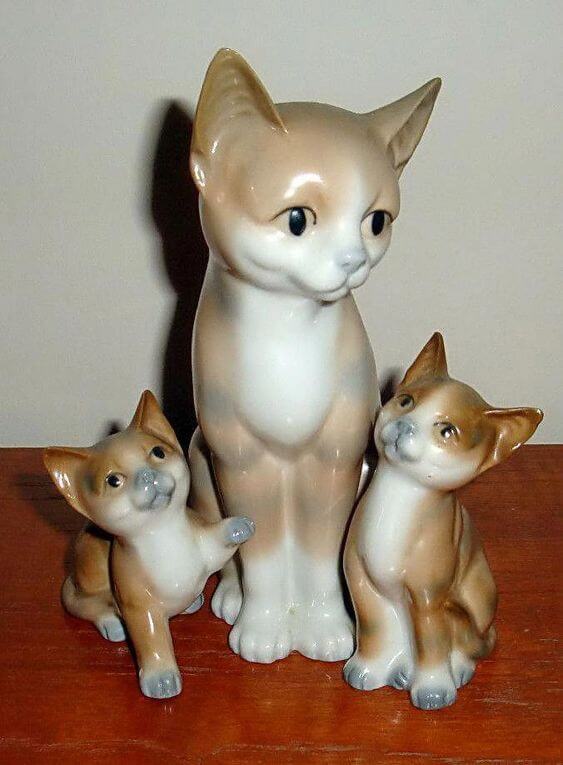 Little kittens and little kids know it. When in doubt, ask mom!
The mom's look is priceless. This statuette reflects being loved and cared for. We're all young at heart, and these warm reminders are always welcome.
9. A Sacred Cat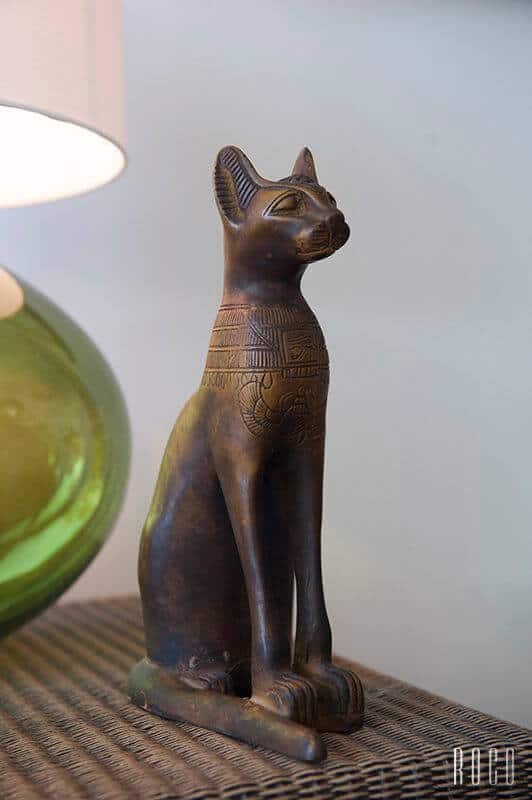 Cats were idolized in Ancient Egypt. For that reason, there are so many statues celebrating their grace, wisdom, and might!
There are usually delicate patterns engraved on the body of the statue, and sometimes it's a pharaonic story written in Hieroglyphs.
These figurines are often a likeness to the original. Sometimes they're just inspired by the ancient statues but include a modern-day feature to mark the time.
Readers Also Check: Our favorite Feliway alternatives for cats
10. Agile Cat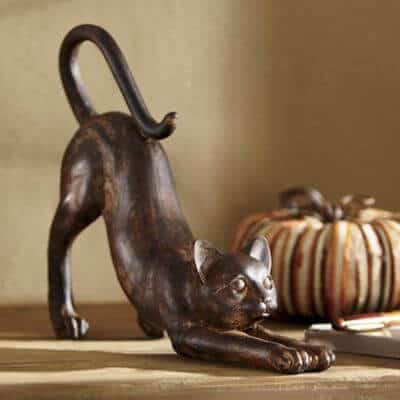 Cats look agile and lean even when they're just coy or lazy. They look like that as they wake up after a long nap.
Humans can do this too after an hour of yoga. Not all creatures are created equal!
11. Siamese Cat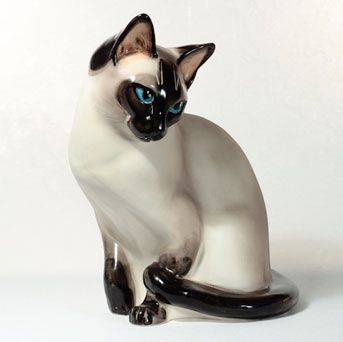 A cat figurine collection can't be complete without a Siamese cat. It's the sweetheart among house-bred cats.
A Siamese is warm and quiet, but it occasionally lets out its playful nature. Just give it a ball or wave a ribbon, then the games begin.
12. Blue Eyes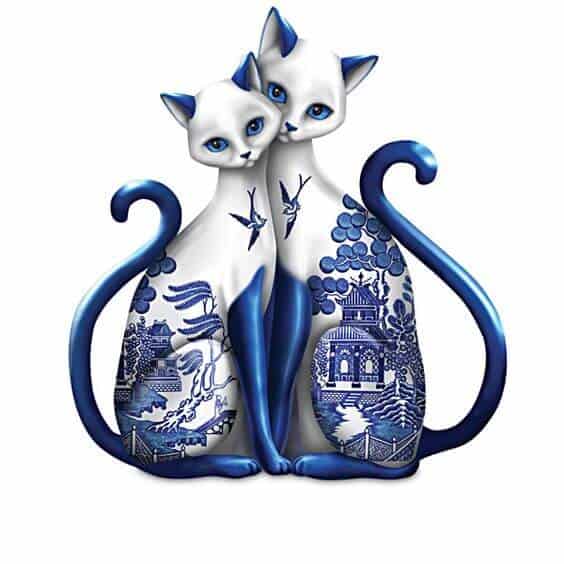 White and blue ceramic originated in Eastern Europe, and from there moved to the whole world. There's a Chinese counterpart, but the designs are very different.
These ceramic figurines will go beautifully with the complementary plates and tea service collections.
They could also stand alone as a single statuette, or they can be the first of many future purchases.
13. Heads or Tails?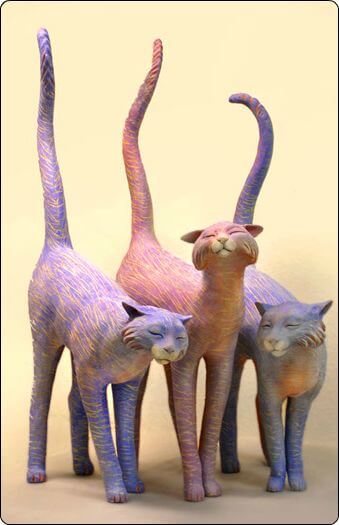 The sculpture has the advantage of being in three dimensions. Other art forms can only hint at an object's weight or texture. You can feel all that when you carry your cat figurines.
The lovely thing about having a figurine composed of more than one cat is seeing how they interact. The raised tails and tilted heads are real-life signs cats use to communicate. Do you know the rest of these signs?
14. A Golden Touch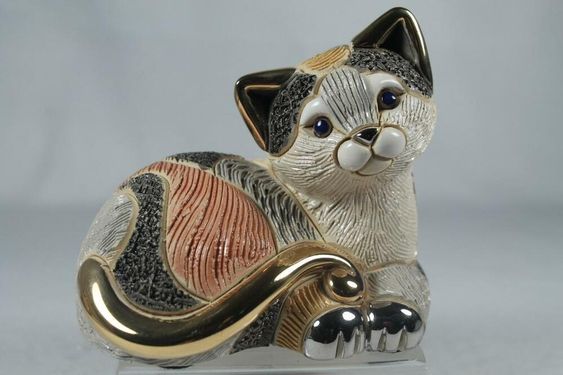 Hand-painted pottery figurines put a lot of weight on texture and contrasting color. The golden tail, paws, and ear highlight easily catch your eye. They lead you next to the impressive variety of engravings on the cat's body.
This is a high-value cat figurine. It has historic roots, and that's why you'd see that model in museums and private collections.
15. The Jolly Bunch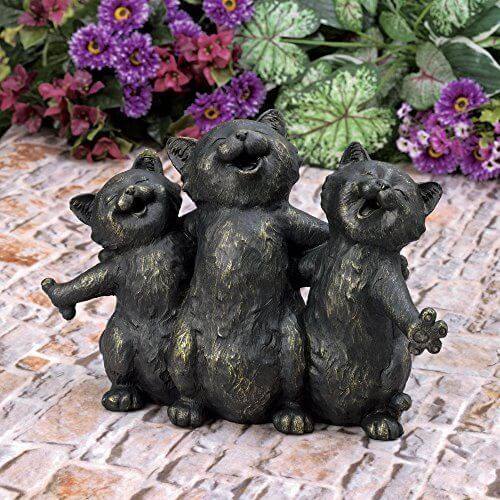 It doesn't get any more joyful than this! This fun-loving bunch are so outgoing and their cheer will definitely rub off on their surroundings.
It's a pleasure to have them around your house or out on the patio. Just put them in a place where they can be seen and spread their merriment.
16. Playing Outdoors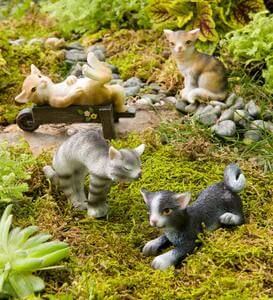 Figurines can easily blend in with your garden. They actually add vibrancy to the lawn.
A litter with various colors and temperaments will fit perfectly beside a balcony or by the entrance.
17. A Painted Porcelain Cat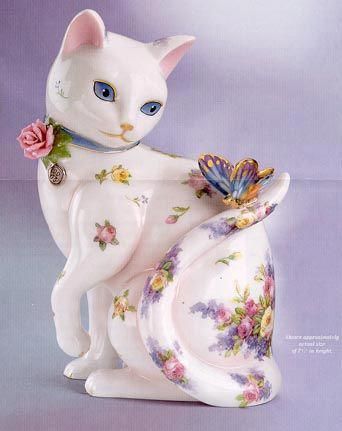 That's one of the most popular designs of cat statuettes. The pristine white color and floral designs render a soft and even fragile feel to it.
A little butterfly is standing on the cat's tail, and it's made with as much attention to detail as the cat itself. The cat is paying attention to that too!
If you have a floral theme in your living room, this figurine would be right at home. You can also place it on a mantlepiece for a classic look.
Must Read: best Pretty Litter alternatives for your feline
18. A Crystal Cat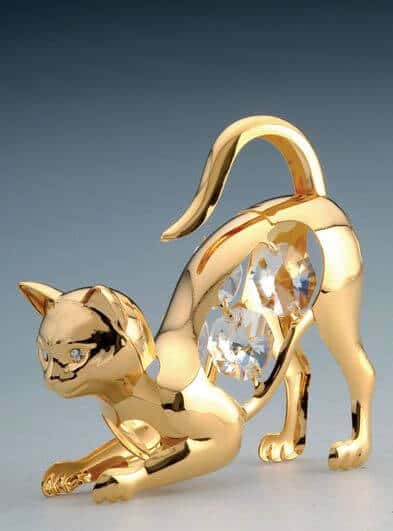 Crystal and gold is the signature of Swarovski. When it comes to decorative crystal, they're the trendsetters of the industry since they started in 1883.
Many artists use their figurines for inspiration, and this is one of the loveliest depictions.
19. A Museum Piece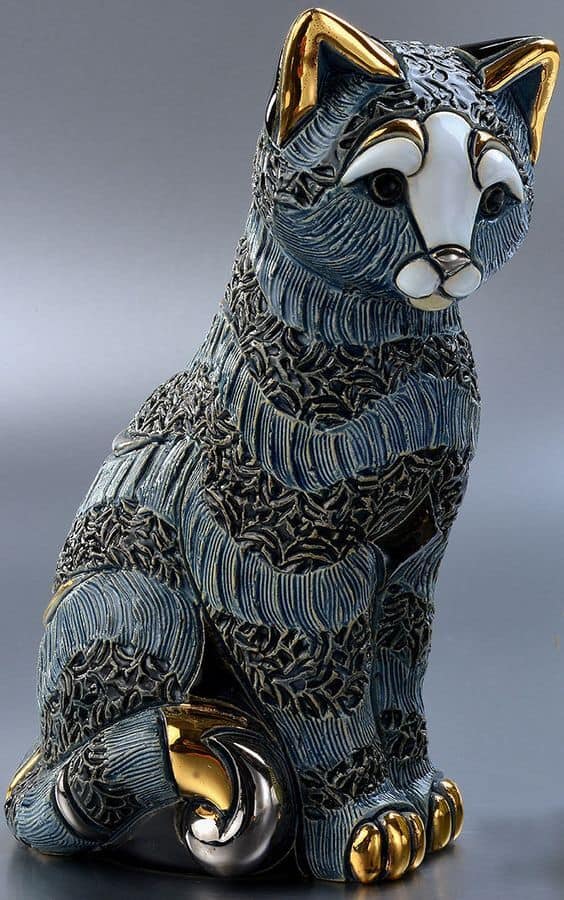 The craftsmanship and unique style of this figurine makes it fit for a pedestal.
Showcase it under a spotlight or beside a lampshade of a similar theme. It'll add richness and grace to the room.
20. Woodwork or Fur?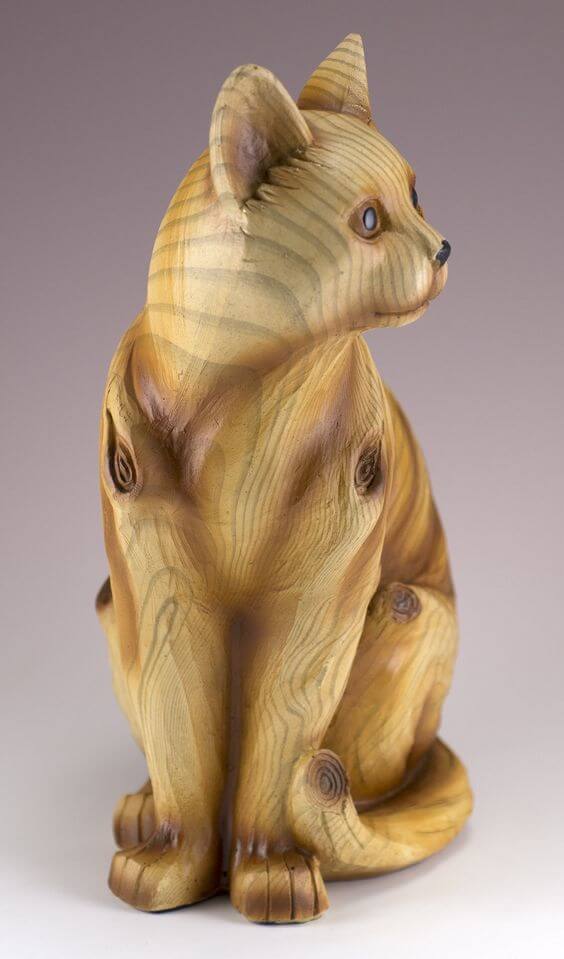 The clever artist uses the wood grain as a hint of the cat's fur coat. Wood is a versatile medium with its many shades and natural grain.
Artists polish it smooth or leave it a bit rough depending on the effect they want to achieve. The glossy finish of this figurine will constantly invite you you touch its surface and follow its contours.
21. True to Life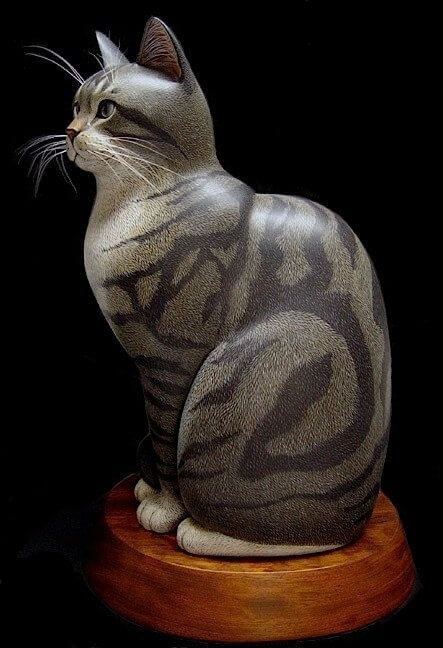 Some of these items are a true investment and they gain value with time. They're aesthetically pleasing too so you'll always feel pleasure just by looking at them.
Here, the artist captures the fur pattern with meticulous accuracy. The pose, gaze, and attentiveness are all lifelike.
The whiskers and ear orientation complement this look to the nines!
22. Spots and Stripes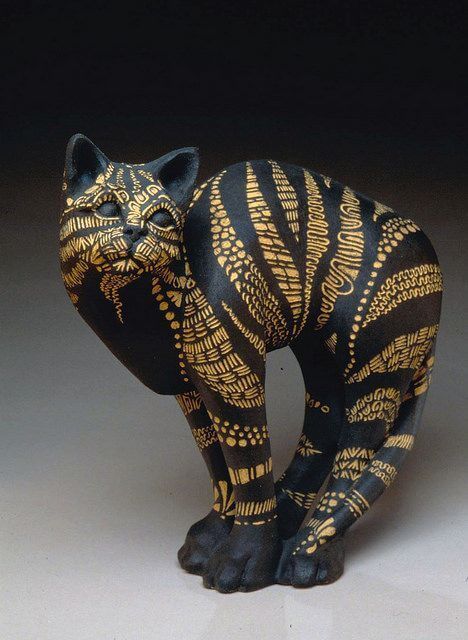 Cats are famous for their spots and stripes, from Bengal Tigers and Black Panthers to Maincoon kittens.
The patterns of this cat figurines are stellar. The gold color contrasts with the black, and it brings out the best in both.
The cat itself has a lot of character and attitude. You might not know what it wants right away though; there's always that little mystery with cats!
Must Read: Cat Spraying No More full review
23. Family Time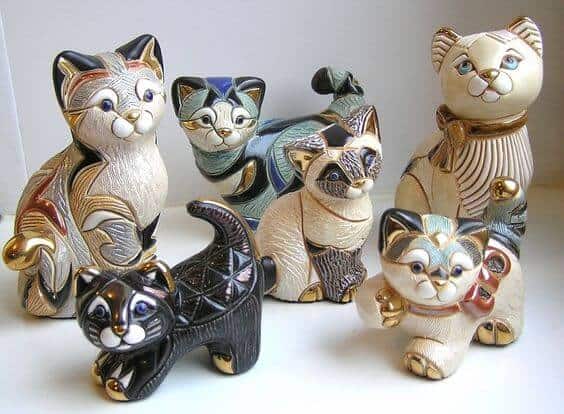 Mom, Dad, and the whole litter will bring their hustle and bustle to your room! The handmade pottery figurines can brighten up any room with their colors and designs.
Each one has a unique palette and engravings. Each one is doing its own thing. Who knows what they're looking at?
24. Oriental Art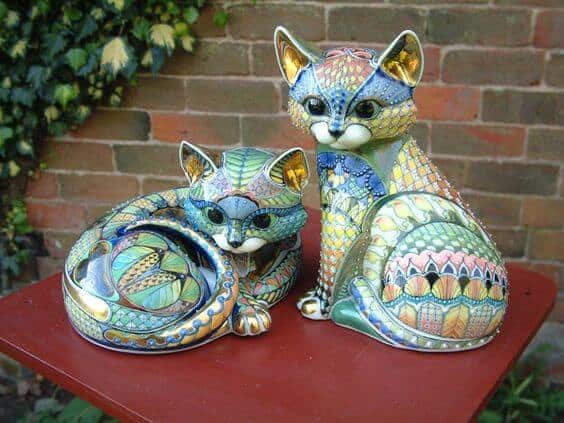 Styles are abundant. Cats were a favorite subject of sculptures for the past 4000 years. Every culture has contributed something to the shape and pattern of cat figurines.
Nowadays, some hybrids take these classic styles and add to them the feel of our times.
The patterns and colors of these figurines are affected by the Oriental arts. It's a stunning fusion of several cultures.
Place it indoors for a spot of color, or put it outside in your terrace or patio. It'd blend it nicely with your garden.
25. A Joyful Gathering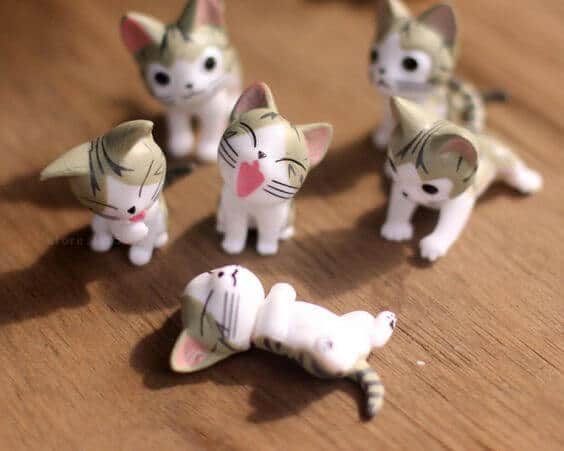 This dynamic gathering of kittens is a must-have if you like Japanse Manga Toons. They're also sweet and funny wherever you place them.
Collections and figurines are supposed to be interesting and easy on the eye. They should tell a story, and convey a feeling. These cuties do all that.
Before We Go
Cat figurines are lovely decorative items. They'll stand out in any setting with their grace, agility, and wild gestures. These statuettes can certainly change the vibe of any room, whether it's more elegance, cheer, or visual interest.
Why settle for a single figurine if you can have two? Make an arrangement with these cute statues, and even take a step further and start a collection.
We had a blast rounding up these 25 fabulous cat figurines for your home and garden. Share with us the pieces that you liked best and the ones you'd like to see on the list.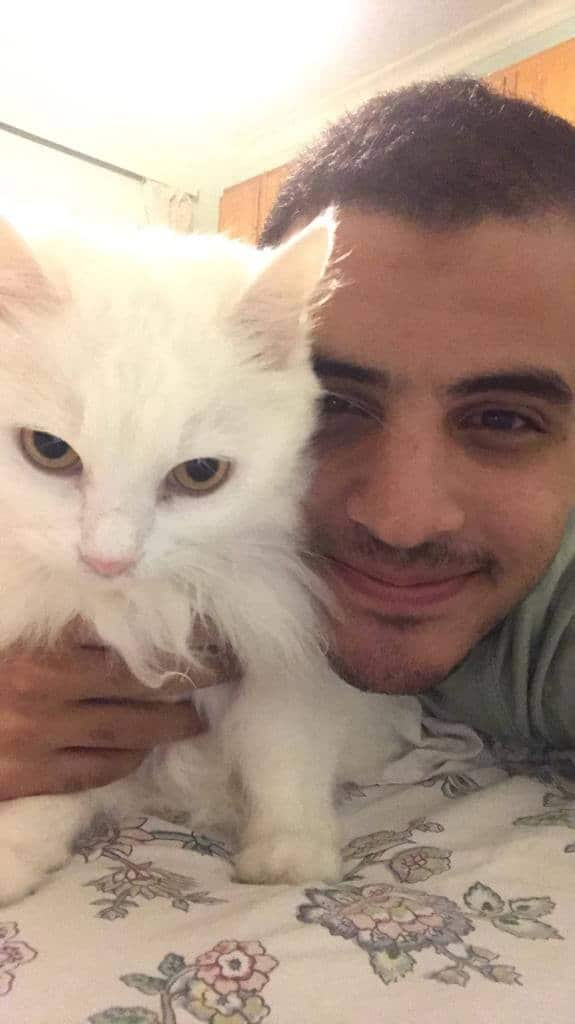 I've been living with cats since 2008 and I can confidently say I have more feline friends than humans lol. I currently live with 5 cats in different life stages; two of them are less than one year old, one is 2-ish years old and the oldest two are 9-ish years old. I've developed a strong bond with cats over the years and I'm eager to share my experience through this blog. You can learn more about my cats here.