Disclaimer: Some of the links in this article may be affiliate links; we will earn a commision, at no additional cost to you, if you make a purchase through one of our links.
There's a wide range of flavorful cat treats on the market today, but the vast majority are loaded with fillers and are high in sodium.
This is bad news if you want a healthy choice for your pet cat. It's much worse if you have a cat with a particular health issue, like a heart or renal disease.
Luckily, there are some low-sodium options you can safely pick for your kitty. These options are made of pure ingredients with no added preservatives, and they contain much less sodium than regular products.
In this post, we'll walk you through five of the best low-sodium cat treats. More importantly, we'll provide some important guidelines for choosing the right treat for your cat.
| Image | Product | Detail | Price |
| --- | --- | --- | --- |
| | PureBites Chicken Treats | | Price |
| | PureBites Salmon Treats | | Price |
| | Fruitable Crunchy Cat Treats | | Price |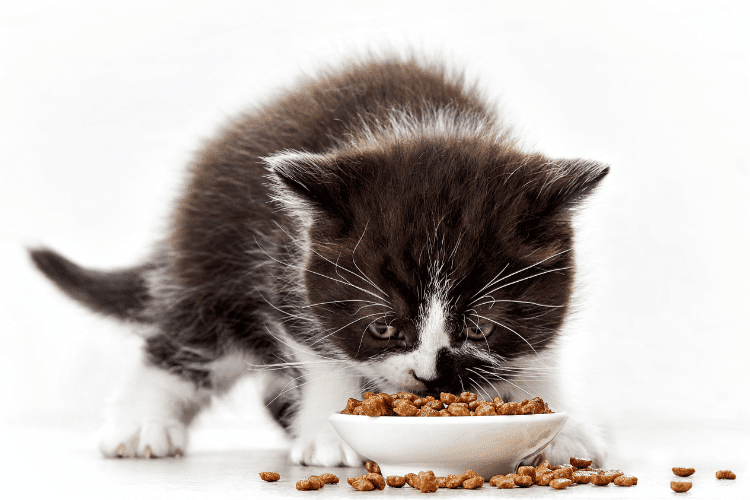 How Did We Pick Our Recommended Products?
Knowing whether or not cat treat products are safe for your pet can be challenging if you don't know what to look for. So, we compiled a list of things that you need to take into consideration when in the market for cat treats.
Less Than 80 mg of Sodium Per 100 Calories
To determine cat treats that are considered low on sodium, we followed the recommendation of the Cummings School of Veterinary Medicine.
These recommendations state that a particular food must contain only 80 mg of sodium per 100 calories, or less, to be considered a low-sodium product.
Cat food manufacturers typically don't include information about the sodium content of their products, as there are no rules to force them to do so.
So, we had to manually calculate each ingredient's average sodium content, given its usual serving size. That way, we ensure it's really a low-sodium food.
Limited Ingredients
The more ingredients there are in a product, the more likely it contains a lot of unnecessary additives, including high-sodium additives.
On that account, we've chosen products with simple and pure ingredients. Some of the picked products are even single-ingredient products.
Cat parents who search for low-sodium cat treats need them mostly because their cats have specific health issues, like heart or kidney disease. So, the overall diet of those cats should be as healthy as possible.
Since treats can represent up to 10% of your cat's diet, we were very cautious in selecting the recommendations.
So, all the products in our recommendation list have overall healthy ingredients. That's why they can be highly safe treats for all cats regardless of their condition.
No Added Salt or Sodium Derivatives
Most cat treats tend to have added salt or sodium derivatives as preservatives and, sometimes, as taste enhancers. This increases the overall sodium content of a treat.
With that in mind, we picked products that are free of sodium derivatives.
The 5 Best Low-Sodium Cat Treats on the Market
Out of the thousands of treat choices that are available on the cat food market, the five choices below have the least amount of sodium.
They also have a desirable taste and smell, so your cats will definitely love them!
Pros
High in protein
100% pure product made of only one ingredient
Smells good compared to other raw products
Suits cats with different health conditions, including sensitive tummies
Cons
The pieces are big, so some cats might face difficulty in eating them.
PureBites provide these 100% pure treats made solely from human-grade chicken breasts. With no additional additives, fillers, or colors, this product is an excellent healthy choice for your cat.
If your feline has a special health condition, like allergies, or diabetes, PureBites are also totally safe treats. Because each treat contains only 2 calories, you can feed it to your overweight pet without guilt.
In addition, being freeze-dried makes it incredibly appealing to cats, as this production method keeps the food's original taste and aroma, making them fresh. To add, these treats have a pretty high protein content.
Recommended: Best alternatives to hydrolyzed cat foods for sensitive stomachs and food allergies
Pros
Uses only one ingredient
Has no additives or preservatives
Freeze-dried, which preserves all its nutritious value
Suits cats with different health issues
Cons
Smells a bit bad for humans
The skin of the salmon on the treats can bother some cats
This is another one-ingredient product from PureBites made of freeze-dried Sockeye salmon. It's a pure product that you can feed your cat on whatever diet she's following.
It's perfect for cats who suffer from gastrointestinal disorders, allergies, or diabetes. It's also high in protein, with a minimum of 62%, and contains only three calories per treat. That way, it suits overweight cats.
Better still, these treats are rich in Omega-3, which fosters cats' overall health and activity.
Pros
Suitable for sensitive stomachs
Excellent smell and flavor
Offers great value for money
Cons
Its crunchy texture can be hard for some cats to chew
If you're looking for affordable, low-sodium, and healthy treats, Fruitables Crunchy will offer you what you need.
This is a light and nutritious option. With only 1.42 mg of sodium and 1.25 calories per treat, you can pamper your cat with no health worries.
Fruitables are crunchy treats made of chicken meal, rice flour, and peas with no animal by-products, soy, corn, or any artificial additives.
Readers Also Like: Best High Iron Cat Food Picks on The Market
The treats have a crunchy texture that cats love, which makes it a craving for them. That's why most cat parents report that their little ones are obsessed with the taste of these treats.
Pros
The pack can last for a month or more
High potent content
Uses only one ingredient
Low in fat
Cons
Can smell bad to humans
Its texture is pretty thin, which makes it easily turn into crumbs.
Delat treat is made of only one high-quality, natural ingredient: Bonito fish. The product is both low in sodium and fats, which makes it a premium treat for your cat.
The Japanese product has an incredibly high nutritional value. It contains a minimum of 76% protein, a high profile of fish oils, and an abundance of Taurine acid.
In addition, it has no additives, preservatives, or colors. Each serving provides your cat with only 10 calories. Better still, it has an enticing taste that most cats would love.
One pack offers you 38 treats, which can last for over a month for a single cat.
Pros
Delightful taste
High in protein
Suitable for sensitive digestive
Has neither taste enhancers nor fillers
Natural preservatives
Made of 99% natural animal Ingredients, this ORIJEN product offers your feline friend a delectable, healthy treat with incredibly low sodium intake.
The main ingredients are raw meat, cartilage, organs, and bone. It has no added grains, gluten, tapioca, or artificial taste enhancers.
Additionally, the producer uses the freeze-drying method to preserve the product's total nutritional value.
That way, not only do the ingredients keep all their nutritious value, but they also conserve their original appetizing taste and smell.
Related: Heritage Ranch Cat Food Review
It's also a low-calorie treat, as each piece contains only one calorie. So, you can feed it to your cat with no worries about her weight.
FAQs
Are Cat Treats High In Sodium?
Producers use sodium as a preservative and sometimes as a taste enhancer.  So, most commercial cat foods and treats are typically loaded with sodium, whether added or naturally contained in the ingredients.
However, some brands minimize their sodium levels by using alternative methods to conserve the nutritional value of the treats or improve their taste, like freeze-drying, for example. This is the case with the list of products above.
What Are The Healthiest Treats For A Cat?
The list of products mentioned above is entirely healthy treats for cats. Besides that list, there are still some other healthy treat options.
Some human food options can also be offered to your kitties as healthy treats. These options include beef, egg, chicken, turkey, tuna, and salmon, which are all naturally low in sodium.
In Summary
Our best overall product, PureBites chicken breast, is your ideal choice if you want pure treats that are high in protein and that suit different health conditions.
To provide your cat with high-quality omega-3, PureBites salmon treats would be the right pick. In addition, for a low-sodium treat at a low price, Fruitables crunchy is what you're looking for.
Delat bonito flakes can provide the best nutritional value for your feline pet, all while keeping the sodium content to a minimum. Finally, flavor-wise, ORIJEN treats are no doubt the best choice.