Disclaimer: Some of the links in this article may be affiliate links; we will earn a commision, at no additional cost to you, if you make a purchase through one of our links.
Sometimes our cats get themselves in some messy situations, and we must act quickly and clean them up before they spread dirt around the whole house.
In such cases, you may find yourself out of shampoo and don't know what else you can bathe your cat with. In other cases, you may just be looking to increase your options by looking for cat shampoo alternatives. Some people also like to try out homemade cat shampoos. So, what can you use to wash your cat if you don't have cat shampoo?
Whatever your reasons are for needing cat shampoo alternatives, I'm here to present the best alternatives out there as well as suggest ways to make DIY cat shampoos. Let's go!
What Ingredients Are Harmful to Cats?
Some ingredients are highly toxic to cats and can in the long run lead to diseases such as cancer. That's why it's important that, whatever cat shampoo alternative you use, make sure it doesn't contain these ingredients:
Sodium Lauryl Sulphate (SLS)
SLS can be found in many shampoos, even some cat shampoos. However, SLS is known to make the outer layer of cats' skin weaker when this layer is meant to protect the cat from anything harmful.
So by exposing a cat to SLS, you risk your cat suffering from irritation and allergic reactions.
Artificial Colors
Because of the petroleum in them, artificial colors can cause cats to get allergic reactions, cancer, organ damage, and birth defects.
Artificial Fragrances
Although the fragrance is usually what attracts us to buy any product, artificial fragrance can be very dangerous for cats. Besides allergic reactions, artificial fragrances can cause cancer and neurotoxicity. They can also harm animals' immune systems.
Parabens
Parabens can be found in many shampoos. Nevertheless, parabens have proven to be a possible cause of certain kinds of cancer and tumor growth in pets. They can cause problems related to pets' reproductive organs.
Cocamidopropyl Betaine
It's mostly made of coconut oil, which is safe. However, Cocamidopropyl Betaine contains other harmful ingredients. Such ingredients can cause skin irritation and allergic reactions as well as harm the immune system.
Well, the list of harmful ingredients goes on and on. However, the ingredients I mentioned are some of the most probable to find in different products.
Hence, now that you know what to avoid, let's talk about cat shampoo alternatives! Keep in mind, though, that you must ensure that whichever product from these alternatives you buy, make sure it doesn't contain these harmful ingredients.
The Best Cat Shampoo Alternatives: what can i use to wash my cat if i don't have cat shampoo
There are many alternatives to cat shampoo which you can use whenever. Some of these alternatives are:
Baby Shampoo
Baby shampoos are usually made with less harmful ingredients than those used in adult shampoos, which makes them safer for cats than adult shampoos.
Babies' skin is also almost as sensitive as cats' skin, so a lot of the ingredients that are harmful to cats would be harmful to babies as well. This increases the chances that manufacturers of baby shampoos would avoid using harmful ingredients.
If you're going for baby shampoo, I recommend Johnson's Tear Free Baby Shampoo. It's free from dangerous parabens, colors, and sulphates. This makes it one of the safest options out there.
Castile Soap
Castile soap is made of olive oil, which is safe for cats. Moreover, no artificial colors, fragrances, or chemicals are used in the making of castile soap, so you have no reason to worry.
For castile soap, I recommend Dr. Bronner's Pure Castile Liquid Soap. This product is made to be used on sensitive skins as well as laundry and dishes. This ensures that it's safe to be used on cats.
However, because of the oils used in its manufacture, castile soap can be hard to wash off, so you should probably give the bath a little more time. If your cat hates bathing, castile soap won't help you speed up the process.
Hand Washing Soap
Most popular handwashing soaps don't contain harmful ingredients, so they should be safe for your cat. However, make sure to double-check the ingredients so you're on the safe side.
I'd go for natural handwashing soaps, though, if I were you, just to be sure it's safe. Personally, I suggest you try the Puracy Natural Liquid Hand Soap, which is guaranteed to be free of parabens, petroleum, and SLS.
Dishwashing Soap
You're probably surprised by this one, and I was too. You never think of using dishwashing soap in a bath.
However, most dishwashing soaps are gentle and safe for cats, and free of any dangerous ingredients. One of the best dishwashing soaps is Dawn Ultra Dishwashing Liquid Dish Soap. It's got great reviews wildly and it's guaranteed not to contain any toxic ingredients.
Still, I don't advise you to bathe your cat with dishwashing soap a lot because it might make your cat's skin dry with time.
Homemade Cat Shampoo
Now that you know all the good and bad ingredients, you can actually make your very own cat shampoo at home.
That way, you can make as much cat shampoo as you need without running out. You can also save the money you can spend unnecessarily on extra expensive cat shampoos. Moreover, you'll be in control over the ingredients and can be certain nothing harmful is added.
How to Make Cat Shampoo at Home?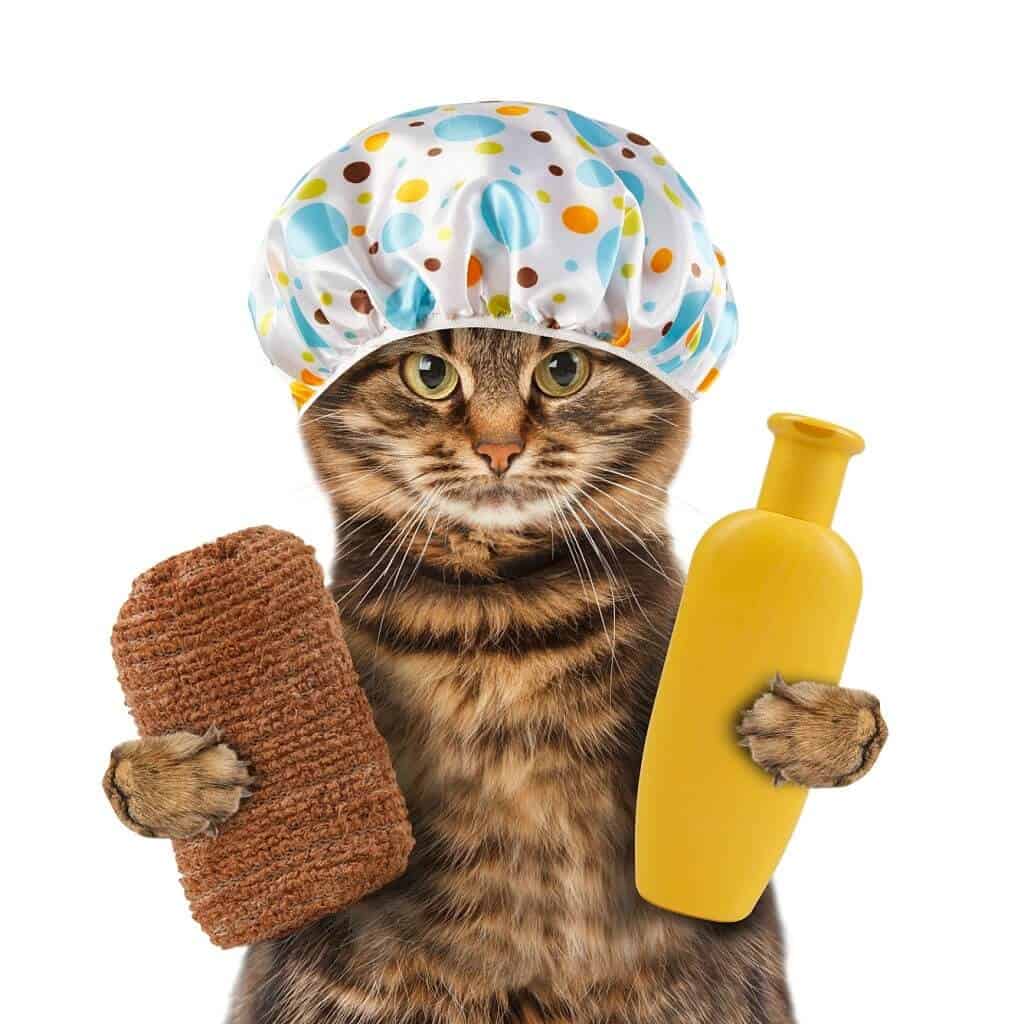 First things first, prepare the ingredients you'll need to make the shampoo. These are:
Another popular method is to use these ingredients:
Now that all the ingredients are ready, make sure they're all of the normal temperature; not cold or hot.
Then, mix all the ingredients together slowly and gently. You might be annoyed by all the foam of the soap, but you shouldn't add anything to stop it.
When you're done, you can store it in the fridge, but it's best not to do that for over 14 days, because it might go bad.
When to Bathe My Cat?
If your cat seems clean enough, and you don't have cat shampoo, you might not feel the need to bathe them. This can go on for a long time, maybe too long!
So, it's important to know when it's time to bathe your cat, whether with a cat shampoo or an alternative.
In any case, you should only start bathing your cat after they turn 12 weeks old, otherwise, their mother can clean them long enough.
Afterwards, you can start bathing your cat only once a month. If your cat has long hair, brush it with a hairbrush regularly to get rid of any tangled hair.
You'd better avoid bathing your cat at these times:
Winter; because cats love being warm and bathing in winter is too cold for them
While your cat is pregnant; because bathing can harm the baby
What's the Best Way to Bathe My Cat?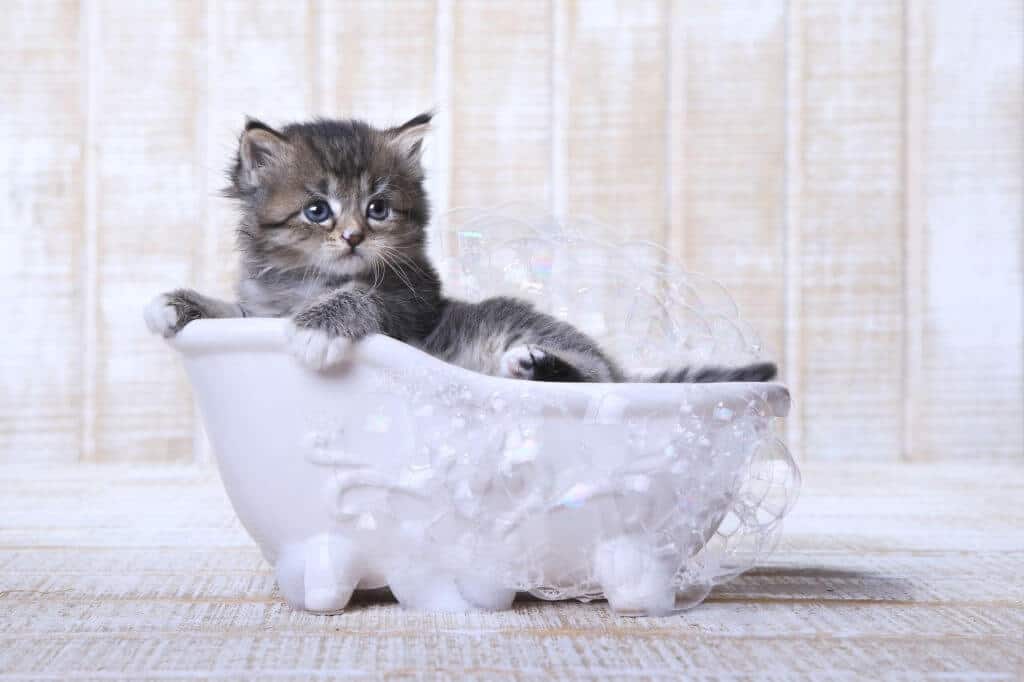 Bathing cats can be challenging, especially because cats hate water and give you such a hard time when bathing. So, you have to know the best approach to bathing your cat.
Trim Nails
It's best to trim your cat's nails before bathing them, so they don't scratch you once they hear the water running and want to get away.
Brush Their Hair
It's best to brush your cat's hair before bathing them to remove any hair tangles. If the hair is wet, these tangles would be harder and more painful to remove.
Get Your Equipment Ready
Whether you're using cat shampoo or any other alternative, make sure everything is ready so the shower doesn't take too long.
Prepare the Tub
If you bathe your can in a tub or even a sink, it's best to put a bath mat where your cat will stand so they don't slip and so you'd be able to get a firm grip on them.
Pour the Water
But before you do that, make sure the water is warm; not too hot or too cold. In general, 104 degrees F would be the ideal water temperature for bathing cats. While bathing your cat, make sure also that you don't pour the water directly to their face or ears.
Massage with the Solution
Use whatever solution you have to massage the hair on their whole body, but avoid their face. To clean their face, just use a wet cloth and it's best not to add any solution to it.
Dry Your Cat
You can either wrap your cat in a towel for a while, or use a blow dryer, though most cats would be scared of its noise.
Brush Hair, Again
Your cat's hair may have gotten tangled after the washing, so you'd better brush it again.
FAQs About Cat Shampoo Alternatives
Is dove soap safe for cats?
You can use Dove soap for your little feline friend. But bare in mind that it's made for human skin, so your cat's fur might get a little dry and it might cause mild skin irritation for your furry friend.
Can I use Head and Shoulders on my cat?
It's not recommended to do so as it might cause moderate skin problems for your cat. Opt in for a cat shampoo or for any of the alternatives I mentioned within this article and you'll be good to go. For cats suffering from dandruff, there are specific cat shampoos that would help eliminate this issue.
Is coconut oil bad for your cat's fur?
No, coconut oil is actually good for your cat's fur. It helps maintain a healthy and shiny-looking coat. However, it could have some side effects if used in excess. It's recommended to start using coconut oil for your cat's fur in small amounts then you can gradually increase it.
Conclusion
There's no doubt that bathing is important for a cat's wellbeing. And the fact that you don't have a cat shampoo shouldn't stop you from bathing your cat.
You can use baby shampoo, castile soap, hand washing soap, dishwashing soap, or homemade cat shampoo. The only thing that you have to worry about is if they contain harmful ingredients, so carefully read the ingredients of any product before using it on your cat.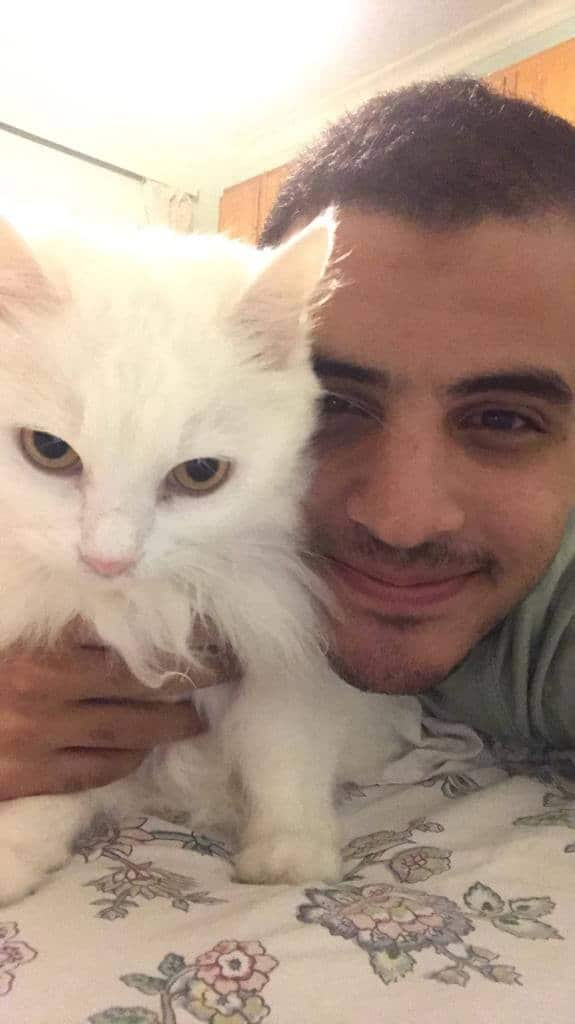 I've been living with cats since 2008 and I can confidently say I have more feline friends than humans lol. I currently live with 5 cats in different life stages; two of them are less than one year old, one is 2-ish years old and the oldest two are 9-ish years old. I've developed a strong bond with cats over the years and I'm eager to share my experience through this blog. You can learn more about my cats here.