Disclaimer: Some of the links in this article may be affiliate links; we will earn a commision, at no additional cost to you, if you make a purchase through one of our links.
As the leaves start to change colors and the aromatic scent of pumpkin spice shows up everywhere, everyone gets ready for the spooky season!
If you're excited about Halloween, you're probably thinking of ways to celebrate it with your kitty, and that's where this guide comes in handy!
In this article, we'll walk you through 14 of the most creative cat Halloween decor ideas, including figurines, porch decorations, themed gadgets, and more. So without further ado, let's dive right in!
Our Favorite Cat-Themed Halloween Decor Ideas
What's a better way to get into the spirit of Halloween than decorating your porch with spooky figurines?
These handcrafted witch cat figurines are a great addition to your outdoor and indoor decorations. The set features four different cats, and each one has a unique design that fits the Halloween vibes.
Next up, we have this incredible figurine of an amusing cat in a Count Dracula costume and the characteristic vampire fangs!
Despite its small size, the figurine is very well-detailed and comes in a variety of colors, which makes it a perfect decoration for a house or office setting.
If you want a catchy sign for Halloween to express your love for cats, this one will do the trick!
The sign is printed over a sheet of aluminum and uses quality colors and an artificial patina to bring the picture and the quote to life while giving it a vintage look. It's also easy to mount and comes with rounded corners for safety
If you want to add some dramatic effect to your front porch decorations, you should consider these cat-shaped yard stakes.
The stakes are made from painted metal to make them both spooky and water-resistant. The set features 2 different designs with reflective marble eyes to glow in the dark for extra effect!
It's sad to see all these beautiful decorations go to waste for the rest of the years, which is what makes this plushie a great value for money!
This one is a reversible cat plushie that looks adorable all year round but you can flip it inside out on Halloween to turn it into its spooky glow-in-the-dark counterpart!
Another practical Halloween decoration that you can implement in your house or kitchen is this beautiful Halloween mug.
The mug looks like a black cat while the lid is shaped like an orange witch hat. The spoon is also colored brown to resemble the witch's broom, completing the spooky set!
These ornaments are great for indoor and outdoor decorations. They're made from stained glass sheets and copper foil welding and shaped like cat ghosts.
The suncatchers are best hung near windows where they can reflect lights into different hues, adding a mysterious effect to your house decorations.
If you're looking for a yard sign to complement your cat-themed spooky Halloween decorations, you should consider this one!
The sign is also double-sided, so you can see it saves you the extra cost of buying two and makes it effective for visitors and leavers!
Another great way to spice up your kitchen decorations for Halloween is to replace the regular items with theme-appropriate ones.
For example, oven mitts and pot holders are usually on display, so having them replaced with this Halloween set would be a smart move, especially if you don't want to overcrowd the kitchen with extra decorations.
Cats, especially black ones, have always been associated with witches. This beautiful figurine depicts a pretty girl in a witch costume with her black cat.
The figurine is an excellent indoor decoration for Halloween and also makes for a nice gift/collectible during the spooky season!
If you're looking for something off-beat and surreal to match the spirit of Halloween, you can use this zombie cat rug.
You can use this one as a doormat for outdoor use or as a rug for indoor use. The rug is also quite practical and made from highly absorbent fabric, so you can use it as a bathroom mat.
This well-crafted figurine is quite versatile and serves multiple purposes.
For instance, you can use it as a home decoration that suits the Halloween spirit with its sorcerer and spell book design. Additionally, you can use it as a trinket box or a stash to store candy for trick-and-treaters!
The figurine is made from high-quality resin and is painted by hand for the ultimate attention to detail!
The dynamic of gathering cats is a must-have for any cat lover, and it's particularly theme-appropriate when it comes to Halloween decorations.
This set includes 2 different pieces that include a total of 6 cats hanging around a cat-shaped carved Jack-o-lantern.
If you don't mind spending a little more for higher quality, this one would be a perfect choice to consider!
Similar to the previous one, this one features a cat standing over a carved pumpkin. However, this one is ideal for those who prefer cute smiles over spooky smirks.
The tiny figurine is designed by the artist Jim Shore, crafted from stone resin, and hand-painted with extra care, so it also doubles as a great gift for cat lovers.
Before We Go
With this said, our brief guide about cat Halloween decoration ideas comes to an end. As you can notice, there's a huge variety of spooky and adorable cat-themed ideas to make your Halloween season special!
Not only that, but you can also mix and match most of these ideas together if you like more than one option!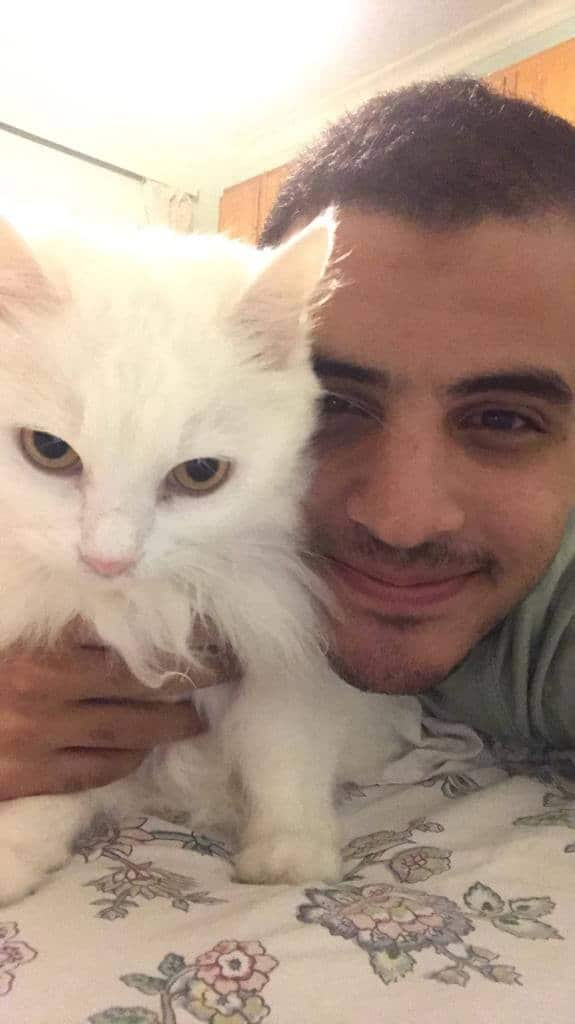 I've been living with cats since 2008 and I can confidently say I have more feline friends than humans lol. I currently live with 5 cats in different life stages; two of them are less than one year old, one is 2-ish years old and the oldest two are 9-ish years old. I've developed a strong bond with cats over the years and I'm eager to share my experience through this blog. You can learn more about my cats here.