Disclaimer: Some of the links in this article may be affiliate links; we will earn a commision, at no additional cost to you, if you make a purchase through one of our links.
Finding out your cat has diabetes can be heartbreaking. It's manageable, though. No need to worry!
Dealing with cats' diabetes relies heavily on adjusting their diets. You need to replace their current diet -since it's probably what caused their diabetes in the first place- with a healthier one either prescribed by the vet or any low-carb cat food.
Purina DM is a vet's favorite because of its impressive ingredient list, low carbs, and affordable price. But what if it's not suitable for you, or your cat, for any reason?
You need to have options. That's why we'll be taking a look at the best Purina DM cat food alternatives for your diabetic cat.
In a hurry? Here's a quick summary:
| Image | Product | Details | Price |
| --- | --- | --- | --- |
| | Hill's Prescription Diet m/d GlucoSupport Cat Food | Best Overall | Check Price |
| | Blue Buffalo Wilderness High Protein Wet Cat Food | Budget Pick | Check Price |
| | Royal Canin Feline Glycobalance | Runner-Up | Check Price |
Top 3 Alternatives for Purina DM
The market is loaded with options, but we tried to be real picky with that one. We collated a mini list of three alternatives for Purina DM that provide equivalent results.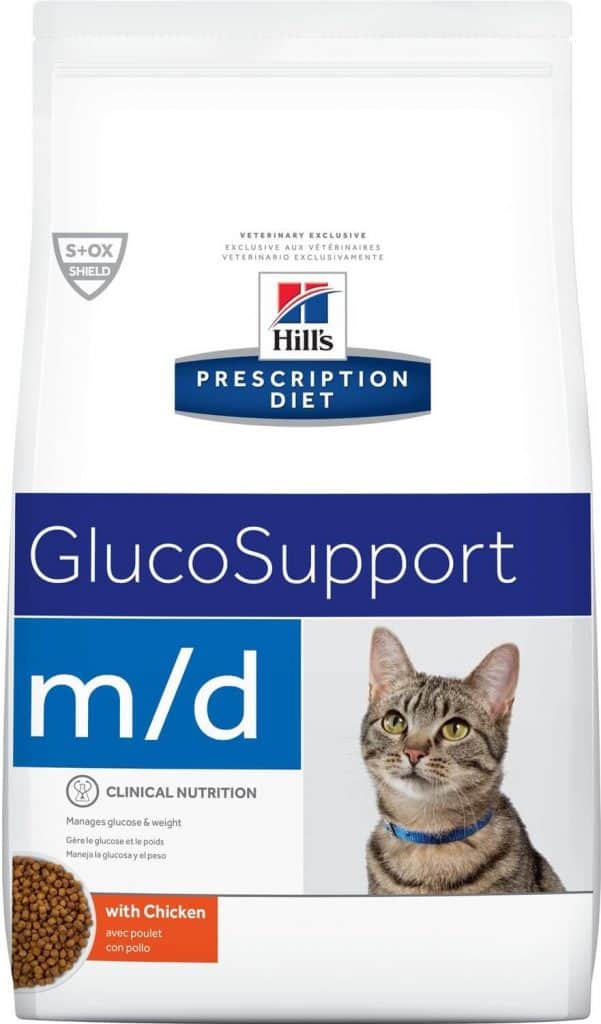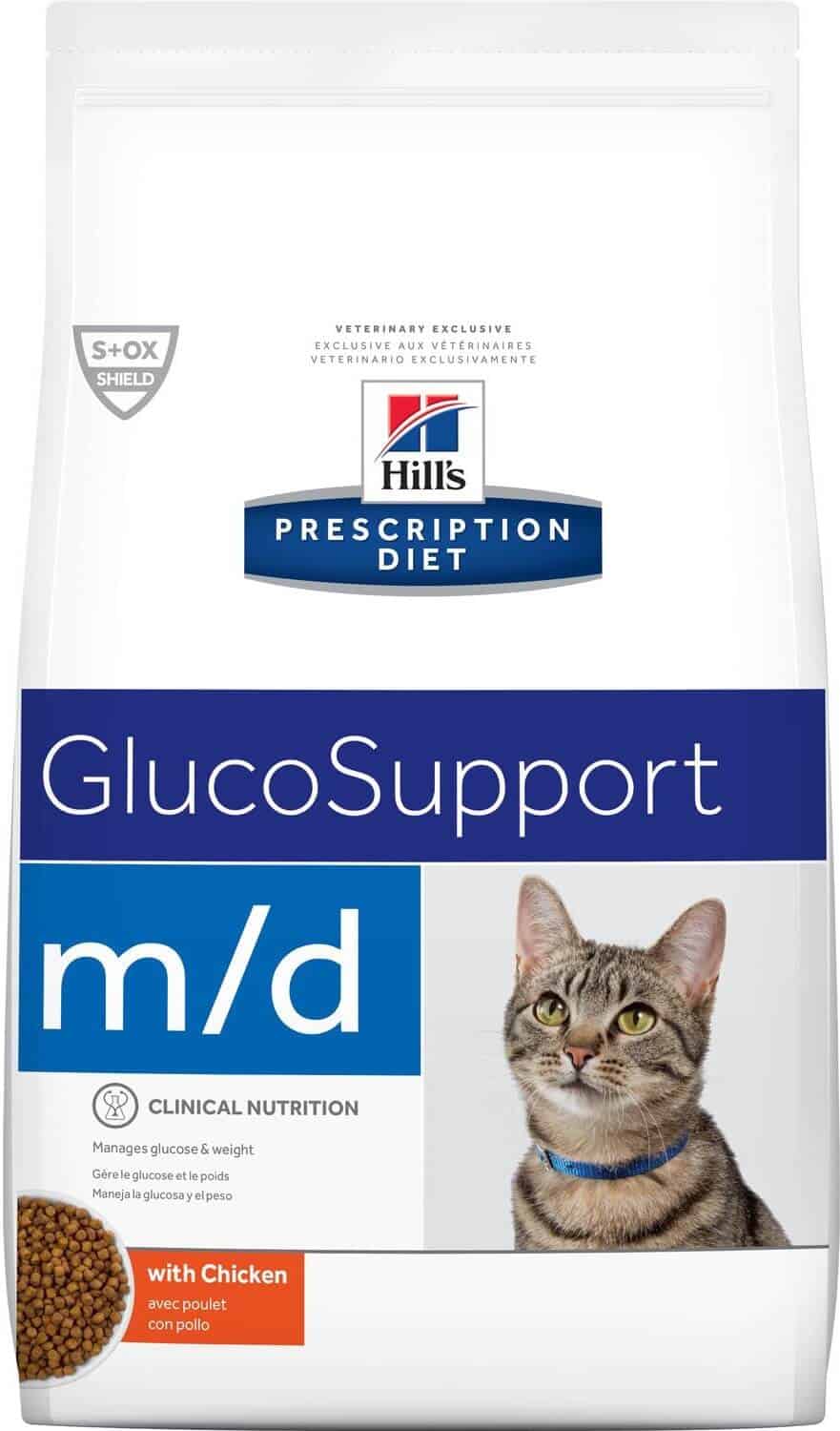 Just like Purina dm, Hill's m/d is a clinically-tested prescription cat food that manages your cat's glucose levels and keeps them under control at all times.
When vets are asked about the best food to regulate glucose for diabetic felines, the answer usually has to include Purina DM or Hill's m/d, so we had to include this one as one of the best alternatives Purina dm.
The ingredients list is impressive, and it relies mainly on chicken byproducts. Wet food isn't a cat's favorite meal, but most reviewers who tried feeding their cats Hill's m/d agreed that their little felines loved it, and they've seen an improvement in their cats' energy levels and overall wellbeing within two weeks.
The main downfall of Hill's m/d is its price point. It's a bit overpriced, and you'll find cheaper alternatives on the market. However, we believe that cheaper cat foods aren't on par with this, at least when it comes to striking a balance between glucose control and an appealing taste.
What We Like
Low carb content
Appeals to cats
Improves cat's energy levels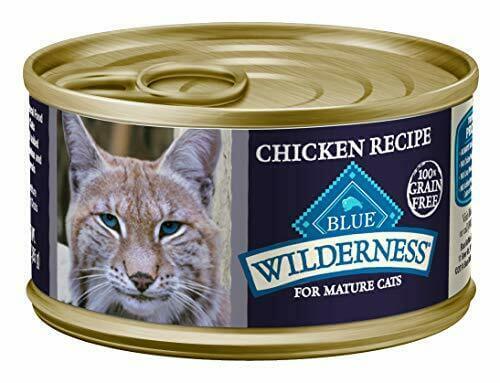 Loaded with healthy protein, this wet cat food from Blue Buffalo would be an efficient replacement for Purina, particularly because of its high protein and low carb content.
Blue Buffalo's cat food is available in four different variations; turkey, salmon, duck, and chicken. The canned food comes packed with actual fish and poultry in a smooth texture that's grain-free, so your cat will gobble it up whenever you serve it to her!
Save 35% on All Pet Supplies from Chewy
You will also get $20 off your first order on Chewy (plus free shipping). I personally think Chewy provides the best prices and offers, especially when it comes to my regular pet supply needs.
The manufacturers are trying to make their product as natural as it can get, so it contains no corn, no chicken by-products, nor wheat, which is healthier for your cat.
You can get Blue Buffalo Wilderness in any cut that your cat likes. There's the flaked version, minced, morsels, and pate. According to the manufacturers, the recommended dose is one can per every 6 to 8 pounds of your cat's weight.
Not only is it convenient for diabetic cats, but this product is also ideal for senior cats. Thanks to its low caloric content, it prevents them from gaining weight due to their low activity levels.
What We Like
Grain-free
Contains actual protein
All-natural ingredients
What We Don't Like
Some cats don't like its taste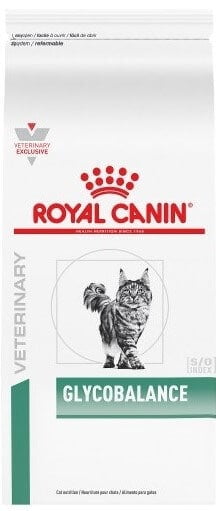 The purpose of using a low-carb cat food for diabetes is to regulate glucose levels. The goal is to avoid sudden spikes in sugar levels in your cat's body throughout the day, and that's exactly what Royal Canin's Glycobalance does.
While many veterinarians advocate for wet food for diabetic cats, there's a counterargument that any low-carb dry food would be equally efficient. Royal Canin is actual proof for that. We're talking high protein content that manages a slow energy release inside your feline's digestive tract and maintains muscle mass in addition to L-carnitine, which promotes healthy activity.
One of the merits of Royal Canin's dry food is that it's rich in fibrous ingredients that help slow down the absorption of carbohydrates. Hence, stabilizing the glucose levels in blood in the long run.
On the downside, this product has relatively large pieces that might be hard for some cats to gnaw on. One smart turnaround is to mix it with other glucose-balancing dietary food so that your cat goes through it easily. Mixing it with wet food would be a smart trick!
What We Like
High protein and fiber content
Tasty and it appeals to cats
Contains natural cereals that reduce hyperglycemia
How to Choose the Best Alternative for Purina DM Cat Food?
You're probably using Purina DM because your cat is diabetic, or she needs to lose some weight. In both cases, the goal is to get your cat on a diet to regulate glucose levels in its blood, thus improving its overall health.
Purina DM is one of the most popular prescription foods for cats. Usually, vets prescribe Purina for diabetic cats to regulate their glucose levels. Sometimes Purina DM is intended for the diet adjustment part, while insulin is prescribed for treatment, and in some other cases, the dietary change is more than enough to treat your diabetic cat's condition.
We know that our beloved felines are picky and moody. One time they could gobble up on Purina; the next, they might avoid it at all. That's why you should be ready with a good alternative for Purina DM, in case your cat quits it cold turkey.
You might also find yourself in a situation where Purina is not available or overpriced. Apart from that, some cats didn't like Purina in the first place.
What Are We Looking for Here?
For an alternative to Purina DM, we're looking for something that's low carb and high in its fiber and protein content. The main appeal of Purina DM is that it has one of the lowest -if not the lowest- carbohydrates content on the market, so it produces great results in the long run.
Diabetes Remission
Similar to diabetes in humans, feline diabetes can't be 100% cured. Instead, what we're trying to achieve is a state called 'remission.' Remission is what happens when you manage to keep your cat's blood sugar stable without external insulin for a reasonable period of time. Starting from four weeks and up.
It's important you set goals for the treatment plan with your vet so that you have realistic expectations of what you're trying to achieve with your cat.
Saying that diabetes can't be cured entirely doesn't mean that you can just ignore it. Ignoring diabetes leads to adverse complications that your cat won't be able to tolerate.
FAQs
What causes diabetes in felines?
The exact reason why cats get diabetes is unknown. Yet, there's a relation between diabetes and the diet of your cat. Cats with a high-sugar, high-carb diet are more prone to diabetes.
Diabetes is more likely to affect obese and older cats.
How do I know that my cat is diabetic?
The most apparent symptoms are increased thirst and urination, pretty much like humans. Pay close attention to that, especially if your cat is overweight. You can also notice that your cat loses weight, changes behavior, or has an increased appetite.
What types of food should I feed my diabetic cat?
As we've been saying throughout the article, we're looking for foods, dry or wet, with high protein and low carbs. Higher fiber content is a plus to slow down the absorption of fats.
L-Carnitine and taurine are also beneficial to liver, nerve, and heart functions. Besides, they help with delivering fats to cells, improving the metabolism.
What is the treatment plan if my cat has diabetes?
The exact treatment plan is to be decided by a vet. Yet, we can tell you that it'll be something along the lines of an adjusted diet, insulin treatment, and oral medication in some cases.
The dietary change is non-tradable, though.
Will my cat be cured of diabetes?
Possibly. Your cat isn't doomed if it develops diabetes. Just like it's probably a result of a bad diet, some major dietary adjustments should be able to reverse diabetes in a matter of months.
Plenty of people have reported successful experiences with diabetes remission. You just need to prepare for handling some changes in your cat's lifestyle.
Conclusion: The Best Purina DM Cat Food Alternative on The Market
If we're to pick our favorite cat food alternative for Purina DM, we'd say that it's Hill's m/d.
Among the three options we reviewed here, it checks the most points on our checklist; high protein, low carb, rich in fibers, appealing taste to cats, and significantly does a great job at regulating glucose levels.
The only concern is that it's a tad pricey, but you'll face this issue with any valuable cat food with glucose balance, to be honest.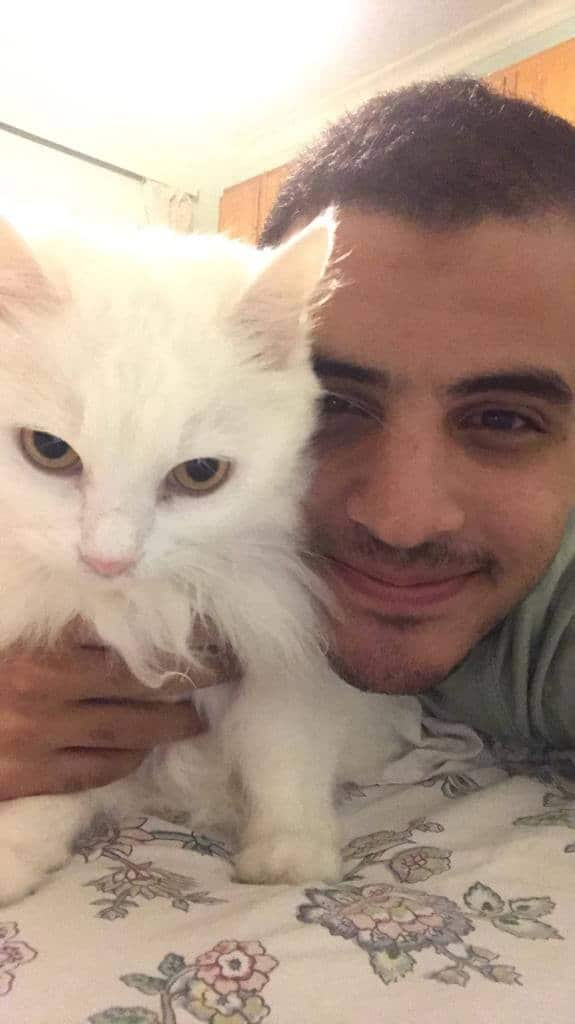 I've been living with cats since 2008 and I can confidently say I have more feline friends than humans lol. I currently live with 5 cats in different life stages; two of them are less than one year old, one is 2-ish years old and the oldest two are 9-ish years old. I've developed a strong bond with cats over the years and I'm eager to share my experience through this blog. You can learn more about my cats here.