Disclaimer: Some of the links in this article may be affiliate links; we will earn a commision, at no additional cost to you, if you make a purchase through one of our links.
If you're a cat lover, you can find dozens of ways to style your home. Cat figurines have been around for millennia. They date as far back as the ancient Egyptians who viewed these felines as divine, magical creatures that could bring their owners good luck and fortune.
Whether you're a seasoned collector or just starting out, we have something for everyone. In this post, we rounded up 10 fabulous wooden cat decor for your home.
Take a look.
Wooden Cat Decor
1- DMtse Hand Carved Natural Wood Cat Statue
In Buddhism, monks regard cats as the embodiment of gods. They also see them as attracting fortune, luck, and wealth similar to the Ancient Egyptians. Not only that but cats are regarded as the mascot of Feng Shui, which makes this hand-carved cat figurine that much more precious.
This exquisite piece of artwork is carved from natural wood. With its light brown color and beautiful wooden texture, this statue is the perfect gift for any cat lover, Buddhist, or both.
2- Set of 6 Long Tail Cat Figurines
These six adorable-looking kitty collection set is every cat lover's dream. They're bright and colorful, and add an air of cheer and happiness wherever they go.
Each cat figurine is hand-painted in a different color: pink, blue, yellow, red, black, and green. They're also hand-carved from natural wood and measure one inch wide, two inches deep, and over four inches tall because of their upright tail design.
Recommended: our favorite cat-themed bathroom decor products
3- Ruthe + Wilde Namaste Yoga Buddha Zen Cat
Love yoga? Love cats? Then, this wooden cat figurine is for you!
Hand-carved in Bali from Albesia wood, this Zen Namaste cat makes a great addition to your home or office furnishings.
Besides looking adorable in its brown color and wood texture, it offers a calming sense of peace and tranquility. Plus, being only 6x4x2.5 inches, it's the perfect size to present as a gift or add to your stunning cat collection.
4- G6 Hand-Carved Wooden Siamese Cat
Standing at eight inches tall, four inches wide, and three inches deep, this hand-carved figurine depicts a Siamese cat in one of three yoga poses: an upward salute pose, a fire log pose, or a lotus pose.
Each statue is made of suar wood and is exquisite in the way it shows the cat's facial expression in remarkable detail. All pieces are a light shade of brown, but because they're handmade, each piece may have some slight variations in color and texture.
5- REEZHEE Peswood Hand Carved Wooden Cat
If you're looking for a simple, yet utterly adorable piece of wooden cat decor to give your home or office a touch of cuteness, then this is it. This cat figurine is hand-carved from sandalwood and crafted for a smooth, flawless finish.
You can choose between two colors: black or green sandalwood. We should mention that the green sandalwood version usually comes with adorable eyes and a bell around its neck, while the black figurine doesn't come with these features.
6- Handmade Wood Kitten
It's a unique artwork that measures a little more than an inch. Yet, it's one of the most sought-after collectible cat figurines because of how adorable and precious it looks.
This mini orange kitty is carved from recycled wood and painted with non-toxic water-based paint colors. It looks great sitting in the palm of your hand, on your shelf at home, or when gifting it to your cat-loving friend.
7- Stoneage Arts Wooden Cat
Stoneage Arts presents this stunning cat statue crafted from eco-friendly, sustainably sourced Albesia wood. You can choose between a wide variety of exquisite colors and hand-etched patterns like tribal design, tiger pattern, calico, and more.
Each cat measures 40x5x3 inches. Their compact size, cute shape, and adorable design make them ideal gifts for cat lovers. They're also perfect additions to your shelves at home or in your office.
Related: Check out those amazing cat-themed kitchen decor products
8- Dahouka 3-Piece Cat Wooden Sculptures
Nothing is more adorable than seeing this hand-carved set of three cat sculptures standing side-by-side. Made from Laotian rosewood, African ebony, and Zambian rosewood, each piece stands at 1.5 inches, is nearly one inch wide, and is two inches long.
This unique set makes an adorable home or work decoration. These cute cats also make heartwarming gifts for special occasions.
9- YGMONER Set of 3 Wooden Cat Figurines
Coming in a cluster of three adorable kitties, this set is too cute for words. Each mini figurine measures 1.56 inches tall, one inch wide, and nearly two inches tall. Their small size makes them perfect for placing practically anywhere, even on the dashboard of your car!
Yet, just because they're small doesn't mean they won't go unnoticed. Each kitty comes in a unique cheerful color, which is one reason this set will stand out.
10- CCKANSCLE Wooden Cartoon Cat Crafts Decoration Set
This adorable wooden cat decor set features six cats painted in an assortment of colors and one black bench covered with little white flowers. Each cat is one inch wide and two inches tall. The dimensions of the bench are 7 inches long, 1.4 inches wide, and 1.4 inches tall.
They're the perfect addition to your home or office furnishings. These wooden cats also make lovely gifts for your cat-loving friends and relatives.
A Final Note
As you can see, wooden cat decor figurines brighten up any setting. Whether it's your living room or bedroom shelves, your desk at the office, or even your car dashboard, these adorable pieces are sure to bring you good fortune and wealth.
Not to mention that they make adorable gift ideas. You can present them on their own or as part of a collection. After all, looking at these cute faces, who can settle for just one?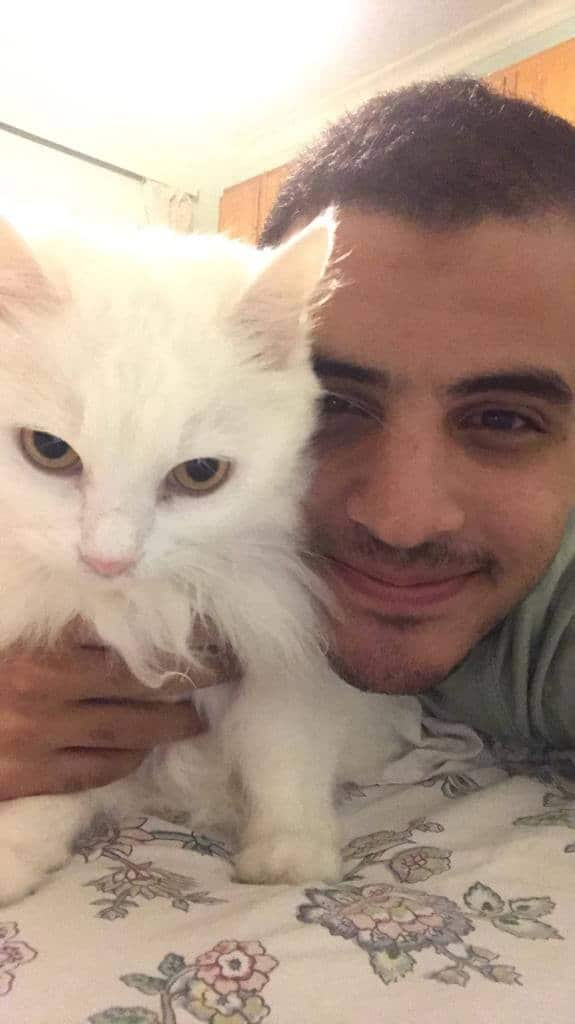 I've been living with cats since 2008 and I can confidently say I have more feline friends than humans lol. I currently live with 5 cats in different life stages; two of them are less than one year old, one is 2-ish years old and the oldest two are 9-ish years old. I've developed a strong bond with cats over the years and I'm eager to share my experience through this blog. You can learn more about my cats here.