Disclaimer: Some of the links in this article may be affiliate links; we will earn a commision, at no additional cost to you, if you make a purchase through one of our links.
In this article, we'll be comparing the two pet products: Catego vs Frontline. We'll see how each product treats parasite infestations in cats.
This article includes:
Factual information about the products
Application instructions
Lists of product ingredients
Pros & cons
If you're searching for honest, factual information regarding the two products, this is where you want to look.
Without further ado, let's get to it!
On a Hurry? Here's a Quick Summary:
| Image | Product | Details | Price |
| --- | --- | --- | --- |
| | Catego Fast-Acting Flea and Tick Treatment | Budget Pick | Check Price |
| | Frontline Plus Flea and Tick Treatment | Best Overall | Check Price |
About The Two Products: Catego vs Frontline
We'll be discussing both brands and the features of their two products below.
Brands
Catego was manufactured by Ceva, a famous American company that offers a line of products specified to meet animals' medical needs across the globe.
Frontline Plus was previously brought to us by Merial, which is now part of Boehringer Ingelheim, a famous German company specializing in animal health care.
Quality & Popularity
Both products are of excellent quality. Though Frontline Plus may be more popular and widely known, Catego is a more efficient product. We'll discuss this in further detail below.
What They Can Do
Both Catego & Frontline Plus protect against ticks, fleas, and lice for a full month. In addition, though, Frontline Plus is able to prevent next-generation flea infestations by halting the development of all flea life cycle stages. On the other hand, Catego doesn't have that feature.
Must Read: What Should I Do If My Cat Licked Revolution?
Pre-Use Requirements
Both Catego & Frontline Plus require that the cat be older than eight weeks and weigh over 1.5 lbs before usage.
Naturally, a veterinarian should be consulted before applying either of the products on cats that are already on medication or are really old. Also, cats that are sensitive to pesticide products shouldn't use it without a professional's approval.
Pet-owners are advised against using Catego on pregnant or nursing cats. However, Frontline Plus is considered safe for them.
Ingredients
Catego includes three main ingredients: Dinotefuran, Fipronil, and Pyriproxyfen. The Dinotefuran works on damaging a parasite's nervous system. The Fipronil creates a hyperexcitability state that negatively impacts parasites. Finally, the Pyriproxyfen inhibits an insect's growth and development, which effectively interferes with their reproduction.
Fipronil is also present in Frontline Plus, as well as S-Methoprene, an ingredient that specializes in eliminating entire parasite life cycles.
Prices
Catego is a bit more budget-friendly than Frontline Plus. The reason that Frontline Plus is slightly more pricey is its popularity. Frontline is a more globally known brand that includes numerous pet products, including Frontline Plus, the original Frontline, as well as Frontline Combo, Frontline Tri-Act, and Frontect.
Its products are also available in cat and dog versions, contrary to Catego, which only specializes in cat products.
Looking for alternatives? Check out this safe flea treatment spray and this thorough Petarmour vs Frontline Plus comparison.
Application Methods
In both cases, you want your cat to be in a comfortable position to facilitate application.
For applying Catego, approach your cat and part down the hair on their head until you see skin. Then, slowly apply the product until the tube is emptied. You should repeat this every month, as instructed by your veterinarian.
For applying Frontline Plus, you'll want to part the hair between your cat's shoulder blades. Put the tip of the applicator on the skin and squeeze. Then, empty the applicator in a single area. Also, as instructed by your veterinarian, you'll repeat this every month until the treatment period is completed.
Cons Of Each Product
No product is perfect. Here are a few things to look out for when considering the appropriate purchase for you and your pet.
Catego:
Not suitable for nursing or pregnant cats.
May cause temporary cat irritation.
May cause vomiting or diarrhea for cats.
May not be as effective in killing ticks as it is with fleas.
Frontline Plus:
Not as budget-friendly as Catego.
May cause temporary cat irritation.
Has a slightly alcoholic odor.
May not be as effective in killing lice as it is with fleas and ticks.
The Top 3 Features Of Each Product
Just as there are downsides, there are pros for each product. Here's a list of features that make each of the products unique and desirable.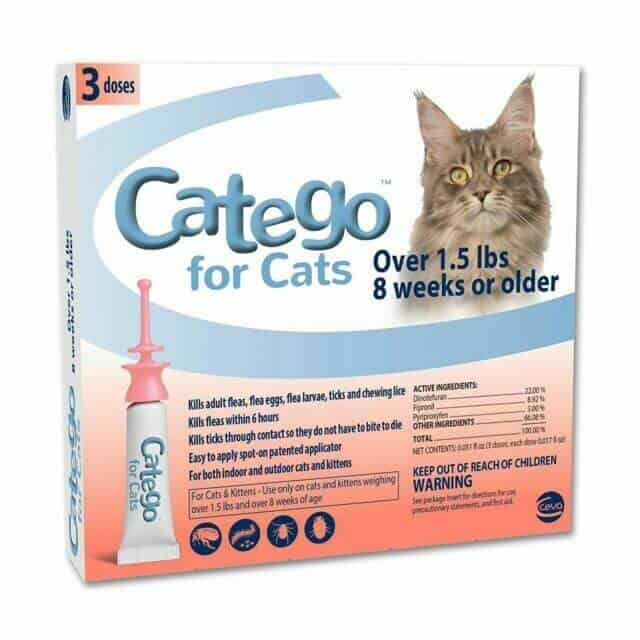 Frontline Plus is for cats, as well as dogs, while Catego is explicitly designed for cats. This is why it's usually the go-to for cat owners—that, and of course, its reasonable price. There are a few other key features that make Catego eye-catching.
Easy Application
Catego includes a patented applicator that makes the administration of the treatment a reasonably easy process. You'll only have to push on the applcicator's tip, so the two disks meet. Other products have much harder application methods, which take unnecessary time.
Dosage
Catego is available to purchase in a single dose, three doses, or six doses! It also comes in a small volume, to avoid wastage of the product.
Fast Efficiency
Catego takes effect only six hours after application. More so, it offers month-long protection for further infestations. Not many products on the market have the same qualities.
Related comparisons:
– Catego vs Advantage for cats
– Catego vs Revolution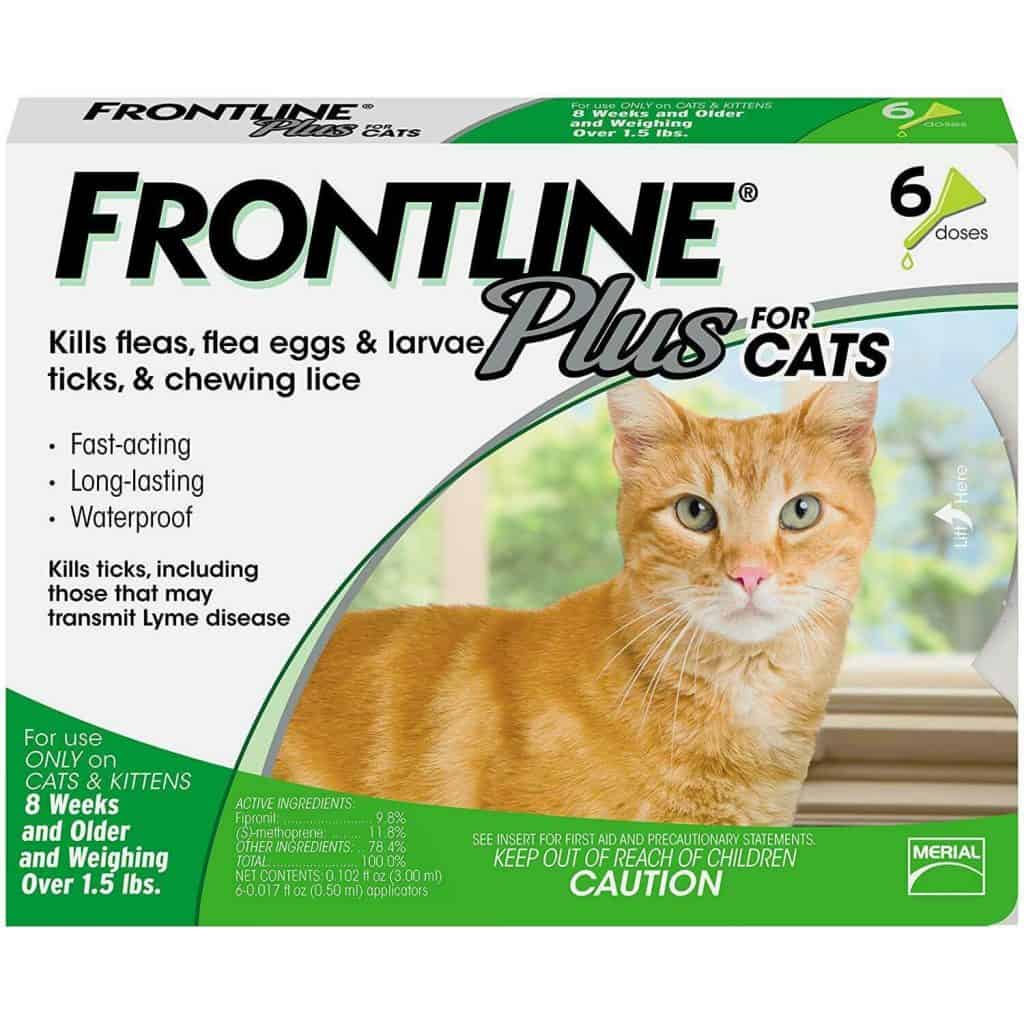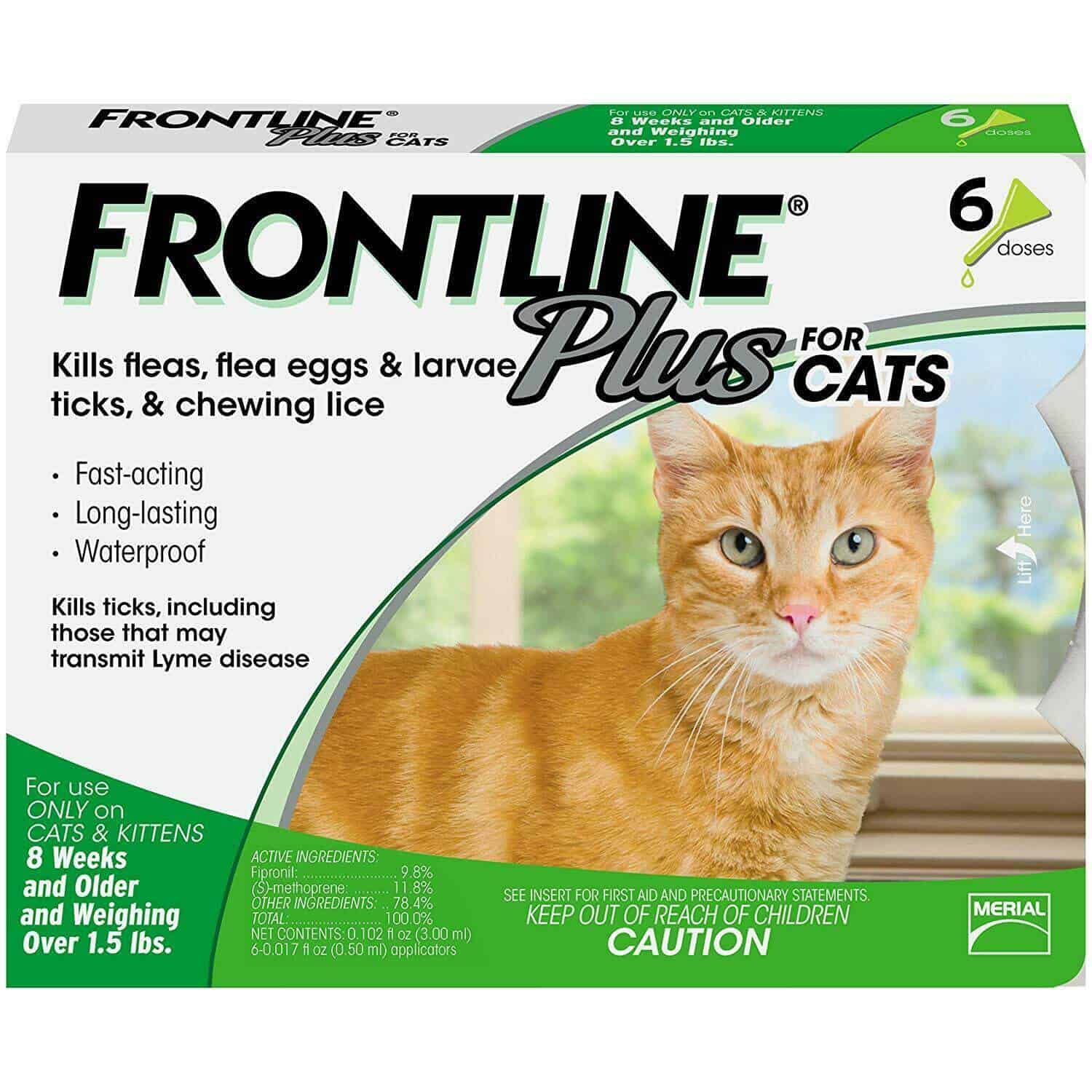 Frontline Plus is a more popular product, especially with its ability to prevent next-generation infestations. Here are a number of things that make Frontline Plus a unique treatment choice.
Easy Administration
As it is with Catego, opening the Frontline Plus applicator is quite simplified. All you need to do is hold the applicator upright with the foil side facing you, then snap the tip, and you're done!
Waterproof
Frontline Plus is a waterproof product. You'll be able to bathe your cat 24 hours after the application, which you can't do with most products on the market. It's the product's strong suit, and the reason many pet owners prefer it over other options.
Effectiveness
Frontline Plus takes effect only 12 hours after application! It's not as fast as Catego, but it's very effective in killing ticks and fleas, as well as preventing next-generation flea infestations. Furthermore, it also offers a thirty days' period of protection, contrary to similar products.
Frequently Asked Questions
Here are some common questions asked about both products:
Do fleas or ticks need to bite my pet for Catego/Frontline Plus to work?
No. Catego/Frontline Plus kills both fleas and ticks through contact with the pet's coat. The cat's body doesn't need to be bitten, in order for them to work.
Why do I still see fleas on my pet after applying Catego/Frontline Plus?
Fleas rise to the top of your pet's coat as they die; it's completely normal, and it means your product is working. Just brush them off, and you're good.
Does Catego/Frontline Plus have an expiration date?
No, they both don't. You can keep using them for as long as you have them.
Wrapping Up
Both Catego & Frontline Plus are excellent products for battling fleas, ticks, and lice that have infested your pet's haircoat.
If you're on a budget, you may want to consider Catego. Its only downside, compared to Frontline, is that it doesn't offer protection against next generations. If you're concerned about that, you should go for Frontline.
Parasites on pets shouldn't be ignored, so one needs to act quickly. Both products are guaranteed to work in less than 24 hours, effectively eliminating the threat. Afterward, you'll find your pet is back to her happy, healthy self!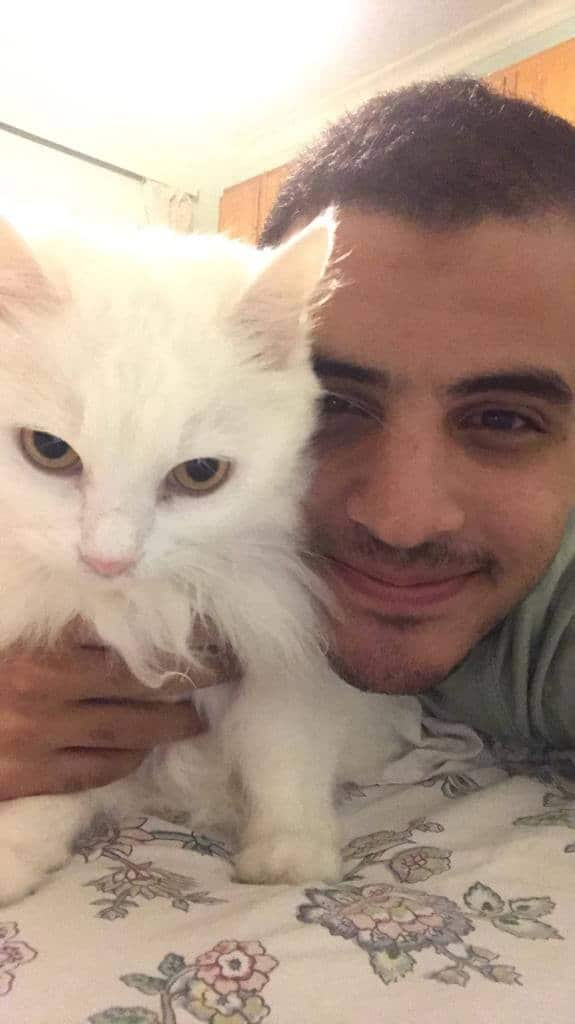 I've been living with cats since 2008 and I can confidently say I have more feline friends than humans lol. I currently live with 5 cats in different life stages; two of them are less than one year old, one is 2-ish years old and the oldest two are 9-ish years old. I've developed a strong bond with cats over the years and I'm eager to share my experience through this blog. You can learn more about my cats here.