Disclaimer: Some of the links in this article may be affiliate links; we will earn a commision, at no additional cost to you, if you make a purchase through one of our links.
Cats are always compelled by anything that moves, and running water is no exception. Cats see running water as a source of fresh water and are usually drawn to it.
That's why cat water fountains are a great choice to entertain your cat as well as make sure they get enough water every day.
Yet, some cat water fountains are noisier than others.
So, to help give you some peace of mind, we're here to tell you how to make your cat water fountain quieter!
Let's take a look.
How to Make a Cat Water Fountain Quieter
There are many reasons why cat water fountains make noise. However, the most common is usually a result of friction caused by cat hair that gets stuck in the water pump.
The good news is that whatever the reason behind the noise, there are several things you can do to make the fountain work quieter and smoother.
Why Do Cat Water Fountains Make Noise and How to Fix It
A noisy cat water fountain is generally caused by the water pump. Yet, there could also be several other reasons behind the noise.
We compiled five of the best-rated quiet cat water fountains according to the feedback we received from cat owners.
However, if you already have a cat water fountain, here's a list of the most common reasons that cause a cat water fountain to be noisy, along with how to fix and maintain it.
Let's take a look at them.
Save 35% on All Pet Supplies from Chewy
You will also get $20 off your first order on Chewy (plus free shipping). I personally think Chewy provides the best prices and offers, especially when it comes to my regular pet supply needs.
Water Pump Is Clogged
Sometimes your cat water fountain pump gets clogged by fur or cat hair. When this happens, you hear gurgly sounds coming from the fountain as it's pumping water.
The Fix
The best way to clean the pump is to use soap and warm water. Then, do a bit of scrubbing and leave to dry. Finally, reassemble.
If hard water builds up, submerge the pump in vinegar and warm water with equal ratios for 15 minutes, then scrub.
Water Level Is Too Low
When the water level is low, the water pump won't be able to fill up with water. This creates noise from the pump because it's blowing out air instead of water.
The Fix
Keep adding water until you don't hear any noise. Then, mark the level where the fountain stops making for when the water level gets too low again.
Bear in mind that if the water pump isn't fully submerged under water, it could also lead to the same problem. So, keep an eye on the pump and ensure it's completely immersed in the water. If it can't go any lower, then keep adding more water.
The Pump Is Too High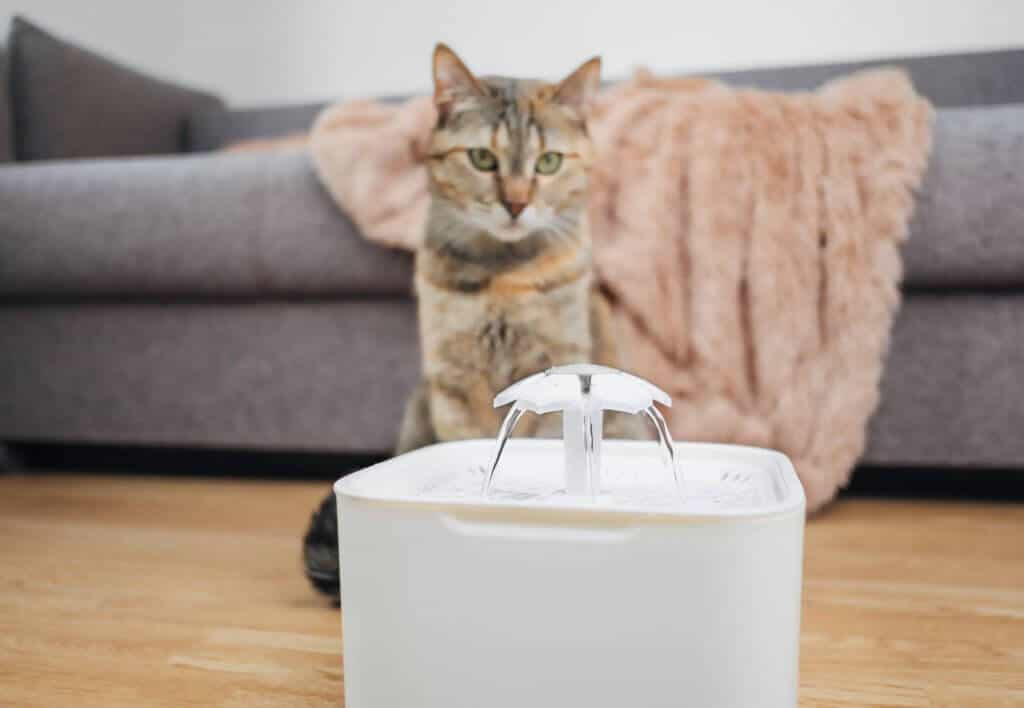 To some, water falling on a surface or even into more water is just noisy.
If the cat water fountain pump is placed at a long distance, it might lead to a disturbing plop sound as the water drops fall. The higher the pump, the louder the splashing sound will be!
The Fix
The easiest way to fix this is by adjusting the height of the pump. Most cat water fountains have the option to adjust the height of the pump. Hence keep changing the pump's height until you find the quietest setting.
Water Flows at High Speed
When water volume is high, the flow becomes more forceful. This can lead to noise coming from the pump.
The Fix
Most cat water fountains have switches to control the volume of the water being pumped. Use the switch to adjust the speed to help reduce the noise.
Water Pump Causes Vibrations
Sometimes the fountain pump will sit low in the basin, touching the bottom of the fountain. Consequently, when the fountain is operating, the pump will vibrate when it hits the basin, creating noise.
The Fix
Our fix here is quite simple!
First, get a sponge or a piece of cloth. Then, slide the sponge or the fabric between the bottom or side of the fountain, depending on the type of your fountain.
Then, when the pump starts working, the sponge will absorb the vibrations, thus effectively eliminating any noise.
Frequently Asked Questions About Cat Water Fountains
How Can I Stop Slime In My Cat's Drinking Fountain?
Clean the fountain every week and change the water.
Do Cats Drink More From A Cat Water Fountain?
Cats and dogs are instinctively drawn toward flowing water. Plus, the natural sound of water flowing in a fountain usually improves relaxation and reflection.
Can I Leave My Cat Water Fountain Working All The Time?
There is no problem, generally, leaving the fountain working all the time. However, for safety reasons, you should unplug it when leaving the house for a long time to avoid electrical hazards.
Do Cats Like Cold Or Warm Water In A Cat Water Fountain?
Generally, cats prefer cold water because they feel it's fresher.
Do Cat Water Fountains Make Cats Sick?
Water and food can be the perfect breeding ground for bacterial growth.
That's why you must frequently scrub your cat water fountain with bleach or anything similar to eliminate bacterial growth.
What Is The Best And Safest Material For A Cat Water Fountain?
Plastics, in general, can cause allergies and might contain toxic chemicals. On the other hand, ceramic cat water fountains make a safer option for your cat.
Is There A Cat Water Fountain Material That's Easy To Clean?
Stainless steel and ceramic cat water fountains are generally easier to clean. Plastic is more porous than other materials, and particles make their way inside these pores, resulting in mold and mildew growth.
Should A Cat Water Fountain Come With A Filter?
All cat water fountains can run without any filters. However, a filter can help reduce dirt build-up and debris that gets in the nooks and crevices in the fountain pump.
Conclusion
To summarize, cat water fountains are a great investment to help your furry friend drink more water. The sound of flowing water can be soothing for many people too.
By now, you have a good understanding of how to make a cat water fountain quieter.
If you still haven't got your cat water fountain, make sure you pick one of the quieter ones to avoid any hassle later!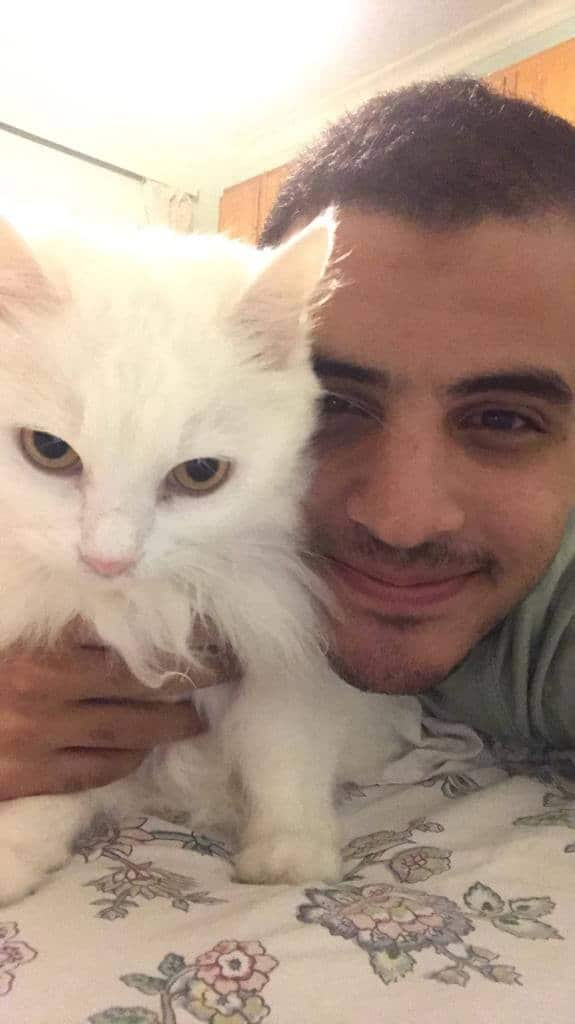 I've been living with cats since 2008 and I can confidently say I have more feline friends than humans lol. I currently live with 5 cats in different life stages; two of them are less than one year old, one is 2-ish years old and the oldest two are 9-ish years old. I've developed a strong bond with cats over the years and I'm eager to share my experience through this blog. You can learn more about my cats here.