Disclaimer: Some of the links in this article may be affiliate links; we will earn a commision, at no additional cost to you, if you make a purchase through one of our links.
Proteins are among the most essential nutrients for almost any living being. Since cats are carnivores, this means that proteins are extra crucial for their health.
It also means that their bodies are adapted to handle diets with high amounts of animal-based proteins every day. However, just like us humans, some kidney conditions make it much harder for cats to deal with these high levels.
If you're looking for a low protein diet for cats, you're in the right place! In this article, we'll walk you through everything you need to know about low protein diets for your feline buddies. So without further ado, let's dive in!
Here's a Quick Summary of Our Top Picks:
| Image | Product | Details | Price |
| --- | --- | --- | --- |
| | Hill's Prescription Diet k/d Kidney Care Cat Food | Best Overall | Check Price |
| | Forza10 ACTIWET Wet Cat Food Kidney and Renal Formula – Runner Up | Runner-Up | Check Price |
| | Blue Buffalo Natural Veterinary Diet Kidney + Mobility Support for Cats | Budget Choice | Check Price |
Top 3 Low Protein Cat Food Options Available on the Market
Since a lot of domesticated cats get diagnosed with chronic renal failure when they advance in age, a lot of manufacturers designed healthy diets for cats that are low in protein.
We scoured the market looking for the best low protein diet options that should pique your interest. Let's have a brief overview of each one of these products and see what they're all about!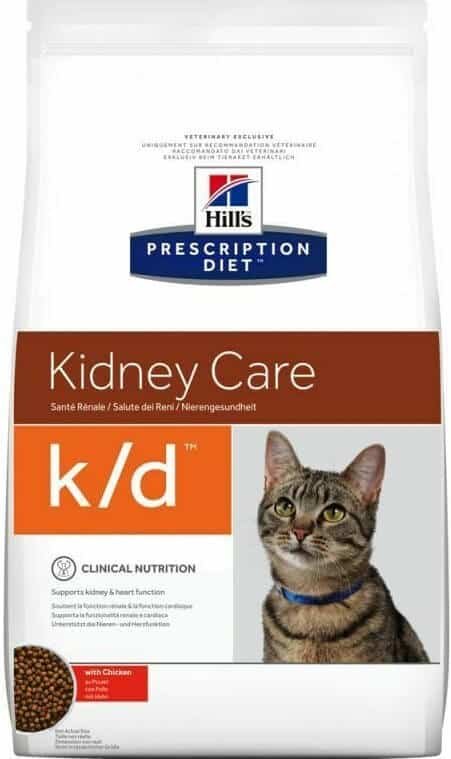 Kicking off the list with one of the most popular low protein diets on the market. Hill's Prescription Diet k/d is specialized cat food with a formula designed for adult cats with kidney problems.
This formula was designed by a team of Hill's nutritionists as well as veterinarians, so your cat can enjoy top nutritional quality.
Since a cat with kidney issues still needs proteins to support its muscle mass, this formula is fortified with excellent quality protein. This helps the cat to maintain a healthy muscle mass while giving its kidneys a breather.
To make the formula more palpable for cats, this cat food is enhanced with an appetite triggering technology to stimulate the cat's appetite for the food.
In addition to low proteins, it's also made with controlled levels of sodium and phosphorus to ensure a healthy kidney.
Moreover, the food is rich in levocarnitine and omega-3 fatty acids, which are great for maintaining the cardiac health of your kitty.
Pros
Clinically proven to support the health of kidneys
Rich in easily digestible free amino acids instead of bulk proteins
Enhanced with appetite triggers to increase palatability for cats
Cons
Highly expensive when compared to other options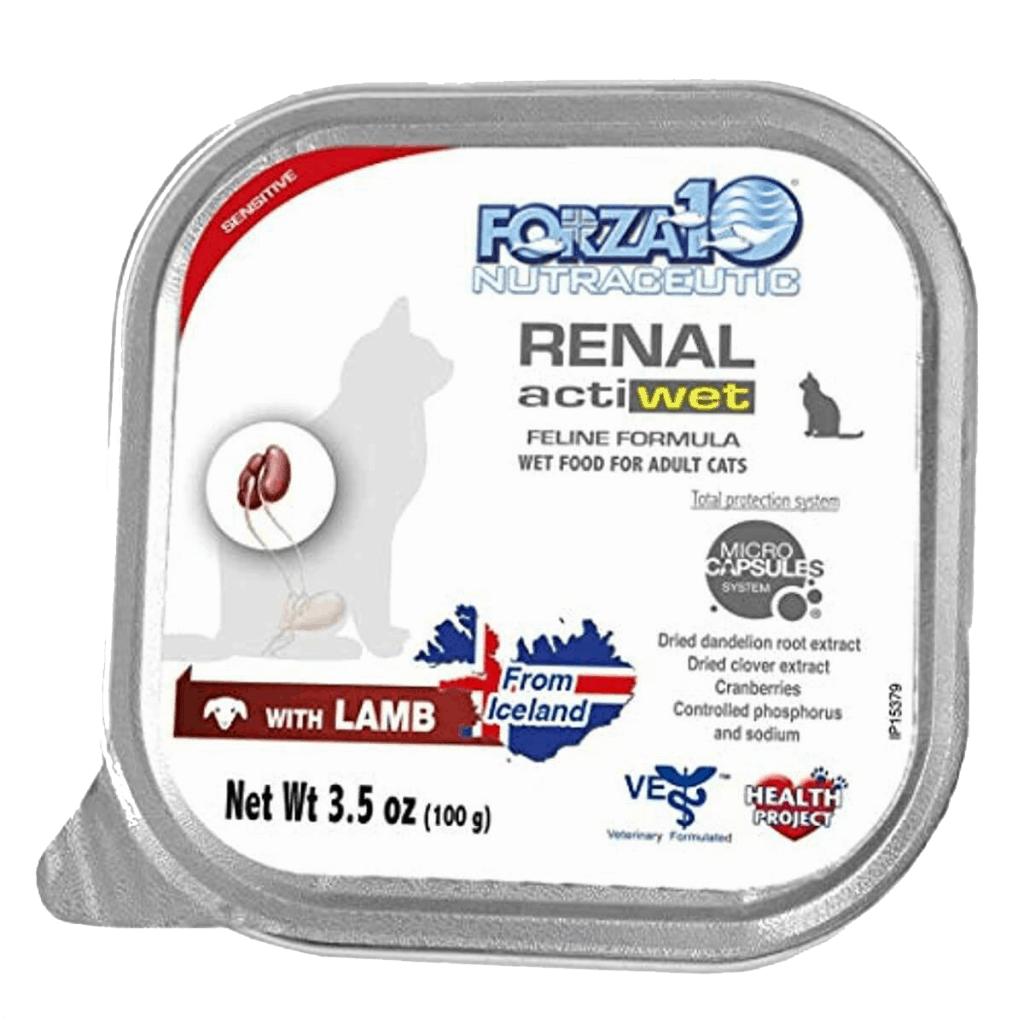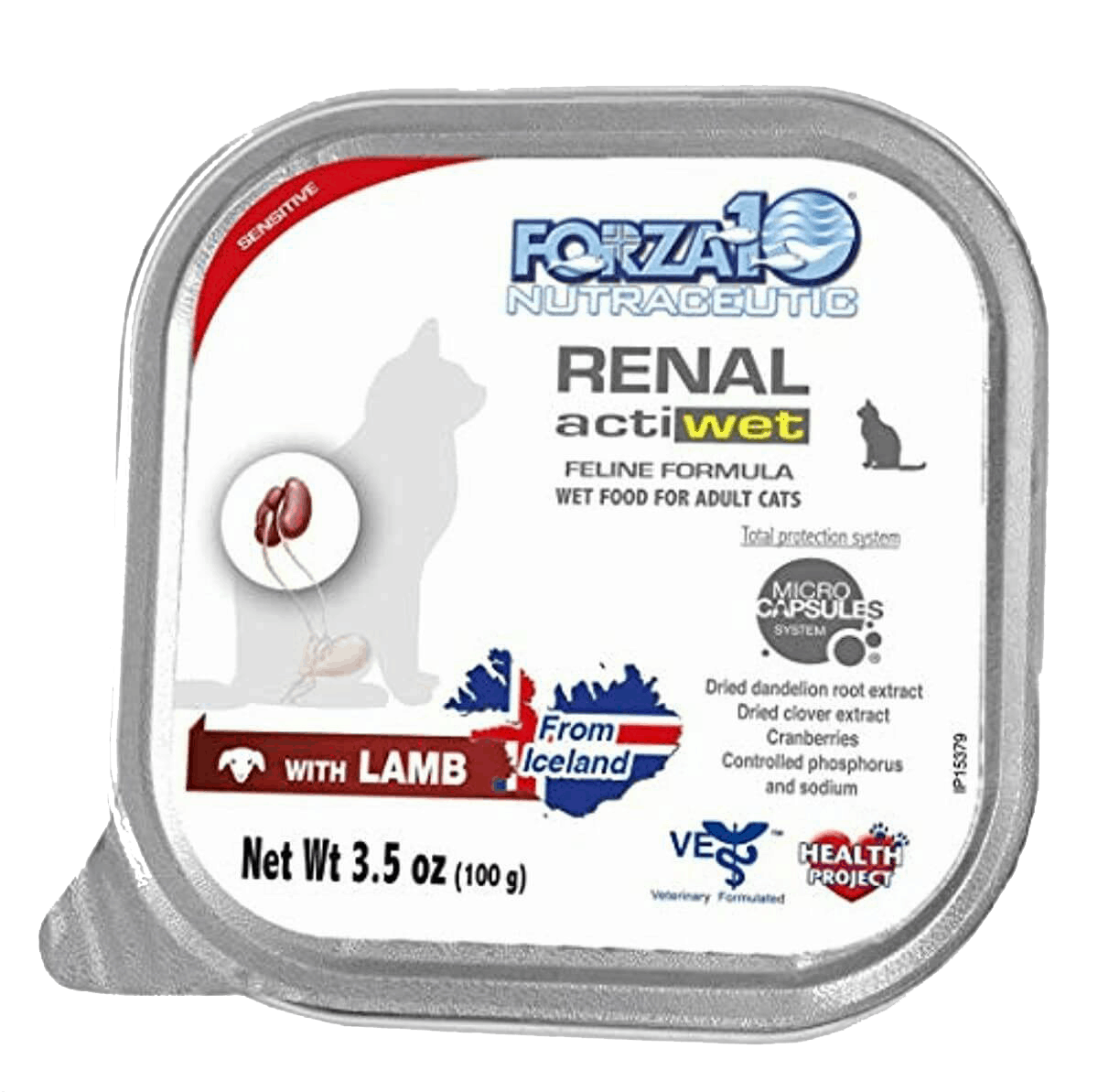 If you're looking for a formula that's full of quality while maintaining a decent price, you should consider the ACTIWET wet cat food formula from Forza10.
This formula is an excellent choice for extra-cautious parents with cats of a long history with renal problems.
All the meat in this food is sourced from real lambs that are raised in New Zealand. The formula has low phosphorus, protein, and sodium.
It also contains a natural blend of vegetables and fruits that are rich in fibers to support the cat's digestive health.
The product is free of preservatives and genetically modified products. It's also soy and corn-free, which is great for cats with allergy problems.
One of the drawbacks of this high-quality product is its taste. While many cats enjoy the taste of this food, some of them don't enjoy it as much. So, your cat will have to try for itself.
Pros
Free of all additives and preservatives
Made with real lamb meat from New Zealand
Rich in omega-3 fatty acids
Cons
Some cats don't like its taste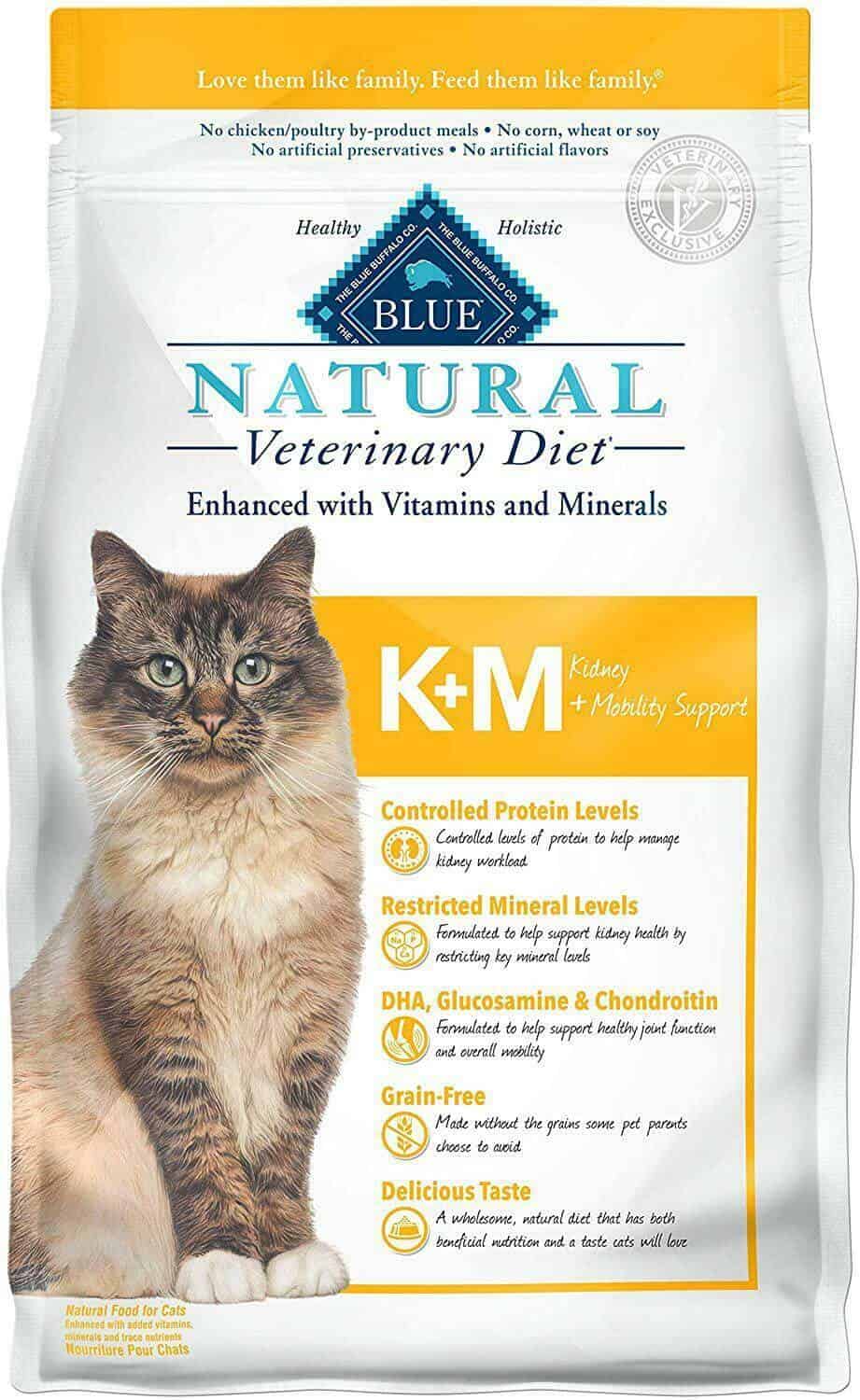 If you're on a budget, you don't have to compromise on the quality of your cat's food. We like this cat food formula from Blue Buffalo because it maintains a substantial taste and quality while staying affordable for everyone.
The formula contains a low amount of highly digestible proteins to manage the workload of the kidneys. It also contains free amino acids, which are the building blocks of proteins and much easier for the kidneys to deal with.
Since aging cats usually suffer from limited mobility as well, Blue Buffalo has put that in mind. The formula also contains chondroitin, docosahexaenoic acid, and glucosamine. These elements are great for retaining the health of the joints.
Pros
Excellent quality for its price
Grain-free formula
Supports mobility for aging cats
Cons
The bag has a short expiration date
Why Might Your Cat Need a Low Protein Diet?
You might wonder "If cats need high-quality protein, why should they get low proteins?" so here's the answer to the question
Slowing Down Chronic Renal Failure
The most common reason for cat parents to switch their cat diet to a low protein one is chronic renal failure.
Chronic renal failure is a disease that's more common among senior domesticated cats. This disease means that the cat's kidneys aren't able to do their job properly, which is getting rid of excess minerals and metabolic wastes.
There's a bit of a debate among vets about the best diet for cats with chronic renal failure. Some vets suggest that these cats should eat a low protein diet while others suggest a diet rich in high-quality proteins that are easier to digest.
According to research, low protein diets for cats might be able to slow down the effects of the progression of chronic renal failure.
In the more severe cases, most vets agree on tuning down the protein in their diet altogether while maintaining the quality of this low protein to keep their muscle mass intact.
Protective Measure to Prevent Kidney Disease
While not all elderly cats necessarily have chronic renal failure, a lot of them raise their chances of having it by consuming protein-rich diets.
Senior cats are noticeably less active than young ones and utilize less protein to build their muscle. So, the excess proteins are accumulated in the kidneys, which might damage them with time.
For that reason, a lot of vets might recommend a low protein diet once a cat hits a certain age.
How to Tell If a Cat is Suffering from Chronic Renal Failure?
To understand the symptoms of a cat with chronic renal failure, you should know the function of the kidneys in cats.
Similar to humans, cats' kidneys are responsible for the filtration of the blood from all the wastes, toxins, and excess minerals that their bodies don't need. Additionally, the kidneys are responsible for the regulation of multiple vitamins in the body, such as vitamin D.
When a cat's kidney is failing, a lot of these functions start to be affected negatively. Here are some of the symptoms that signal a renal problem in cats:
Frequent urination and urinating outside the litter box are among the most common symptoms for chronic renal failure, as the cats aren't able to hold the water.
Noticeable thirst and frequent drinking to replenish the lost water
Dry hair coat due to lower general moisture
Constipation due to excessive dehydration
General weakness
Urinary tract diseases because the failing kidneys are more prone to bacterial infections
Darkened tongue with mouth ulcers
ammonia-like breath
Cloudy or bloody urine
Vomiting and diarrhea
If you notice any of the previous symptoms, especially for an aging cat, you need to contact your cat's vet immediately.
Did you know that a proper low residue cat diet might be the perfect solution for constipation?
Things to Consider While Shopping for a Low Protein Cat Diet for Cats
Besides low protein, there are some aspects that are essential for a healthy diet for your little furball. If you want to make the most out of your top pick, you should keep them in mind too.
Here are some of the ingredients and aspects that are crucial for a good low protein cat diet.
The Quality of the Protein
As you already know, lowering the protein content will help your cat slow down the progression of kidney diseases. With less protein for your cat's kidney to worry about, it'll be able to distribute its workload in excreting other materials.
However, your cat still needs reasonable amounts of protein in its diet, which should be about 25 to 35% of its daily diet. Anything lower than this will start breaking down the cat's muscle mass.
For that reason, you have to replace quantity with quality. It's critical that the protein in these cat foods is easily digestible and of high nutritional value. This includes real meats and animal-based proteins.
Phosphorus
While the precise mechanism is yet to be completely understood, scientists noticed that limiting phosphorus also helps in slowing down the progression of renal failure.
Ideally, low protein renal cat food should also have controlled levels of phosphorus of about 0.3 to 0.6%
Sodium
A healthy cat needs to maintain its sodium levels at about 140 to 155 mEq/L. Anything higher than this is usually excreted by the healthy kidneys. When the kidneys are failing, it becomes more difficult for them to get rid of that excess sodium.
The problem is, higher sodium concentration in the blood (hypernatremia) leads to dangerous complications. This mainly includes feline hypertension, which is the increased blood pressure in cats. However, there are several options on the market when it comes to low sodium cat food.
Best Low Protein Cat Food Brands
Here's a list of the most popular brands that make low protein diets for cats.
HILL'S Prescription Diet
Hill's Prescription Diet is one of the oldest brands in the cat food field. The company was co-founded by Dr. Morris, who was a veterinarian, and Mr. Burton Hill.
The company has been producing several prescription diets since 1951. They have more than 70 years of experience in the field and they taste-test their food formulas on thousands of pets before releasing them.
Blue Buffalo
Blue Buffalo is another pet food giant that specializes in all kinds of cat food, whether it's regular healthy diets or specialized ones.
Their kidney care formula is known for being grain-free with the controlled levels of sodium and phosphorus. In addition to maintaining quality proteins in the formula, the formula also supports mobility.
Forza10
Forza10 is an American company that was founded by Dr. Sergio Canello. The company specializes in animal clinical studies and researches as well as the production of some quality animal diets.
Most of the company's ingredients are sourced from Iceland and New Zealand, which ensures a healthy and clean food free of pollutants.
FAQs
Protein in itself is an extremely essential nutrient for cats. Moderate intake of protein has no dangerous effects on a healthy cat. However, excessive protein can harm the cat's renal health significantly.
There are two types of renal failure: acute and chronic.
If you act early on acute renal failure, you can reverse its effects. On the other hand, chronic renal failure develops through the course of months or even years, so it's only manageable but irreversible.
Since the kidneys are involved in a lot of vital processes, renal failure may lead to a lot of critical complications, including:
Feline anemia
Feline cardiovascular diseases
Hyperkalemia
Metabolic acidosis
A lot of the previous symptoms are present in multiple cat diseases. That's why it's important to accurately diagnose the problem. Different diagnostic measures are taken into account, such as:
Urine analysis
Blood chemistry profile and routine blood work
Blood pressure
This depends on the brand you're using. Some renal specialized cat diets are commercial while others require a prescription.
Since you should consult a vet before switching your cat's diet, you shouldn't worry about the prescription.
Conclusion
In the end, we hope that this guide on the low protein diet for cats helps you in finding the ideal pick for you.
As you can see, renal cat food needs high-quality protein to make up for the lower concentration. For that reason, we pick Hill's Prescription Diet k/d Kidney Care Adult Cat Food as the best option.
However, if you're on a budget, you can give Blue Buffalo Natural Veterinary Diet Kidney + Mobility Support a try. Despite being highly affordable, it's composed of high-quality ingredients that taste good for most cats.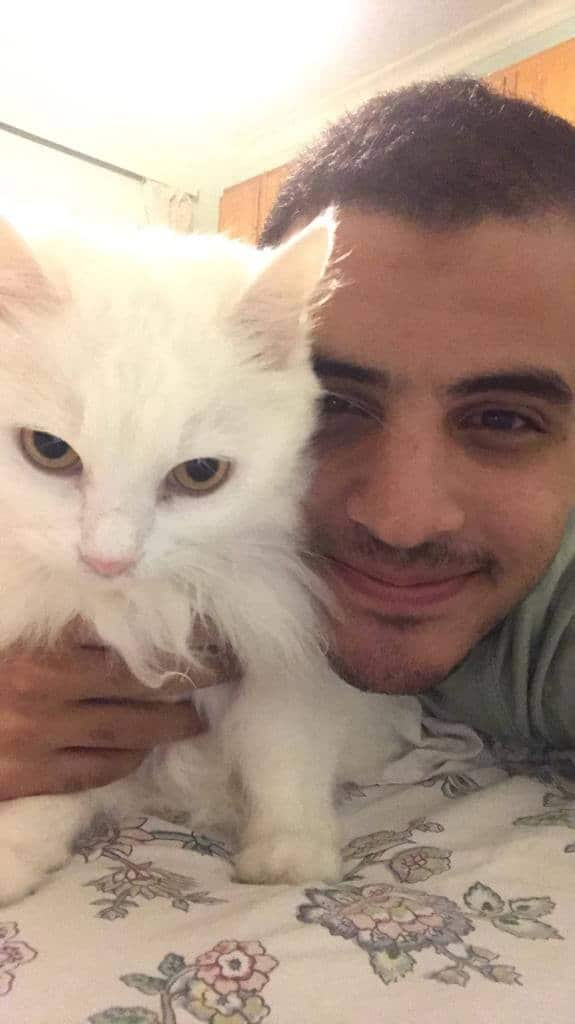 I've been living with cats since 2008 and I can confidently say I have more feline friends than humans lol. I currently live with 5 cats in different life stages; two of them are less than one year old, one is 2-ish years old and the oldest two are 9-ish years old. I've developed a strong bond with cats over the years and I'm eager to share my experience through this blog. You can learn more about my cats here.