Disclaimer: Some of the links in this article may be affiliate links; we will earn a commision, at no additional cost to you, if you make a purchase through one of our links.
Cat owners all have to suffer the same problem of cat shedding. As a cat owner, you work hard to keep your house cat-hair free, only to have your furniture submerged with fur two hours later.
You might have to schedule a grooming session every week so your cat sheds less, but this can be time-consuming and boring. Luckily, nowadays, there's an entire industry of tools available to help make grooming easier at home.
This SleekEZ vs Groom Ninja comparison article will shed light on two of the most prominent de-shedding tools in the market, giving you all of the information you need to help you decide which one to choose. Stick around!
SleekEZ vs Groom Ninja Overview
SleekEZ's tooth pattern extracts more hair from the undercoat, detangles knots, and works great on medium-long fur. However, it can be irritating to sensitive pets. Groom Ninja, on the other hand, is gentler but it doesn't remove much hair. It has an ergonomic design to ease gripping, is available in a dozen different colors, and provides a laser engraving feature of your pet's name.
SleekEZ
Design
The SleekEZ is composed of two parts. The handle part is made of poplar wood and is oval to ease gripping. Within the handle is the second part, which is a stainless-steel blade that has a distinctive wave tooth pattern.
SleekEZ's latest product, the "Professional," has a contoured shape to fit your thumbs more comfortably. This new product comes in five vibrant colors, offering more variety than the original wood design.
Performance
SleekEZ's unique wave tooth pattern allows you to pull a lot of hair. The teeth extract dead hair by the follicle without tugging, scratching, or shearing.
What's practical about SleekEZ's blade is that it piles the hair and lets it fall easily, so you don't have to take out the shedding after each stroke. You can use SleekEZ to detangle knots, even on medium or long-hair breeds.
It's worth mentioning that some pets are more sensitive than others, so you don't want to push down hard when grooming using SleekEZ.
Size
SleekEZ comes in three sizes: 2.5 inches, 5 inches, and 10 inches. Each size is for a particular coat type.
Generally, you'll want to get the 2.5-inch brush for small cats with fine fur and the 5-inch if your cat sheds a lot and has long hair. The 10-inch model is a bit overkill for most cats.
The "Professional" by SleekEZ is 5 inches and works well for short to medium fur.
Also Read: SleekEZ Vs. EquiGroomer head-to-head comparison
Price
SleekEZ presents different options in pricing ranging from $15 to $25, depending on the size of the tool. You can also get a bundle of all three sizes for around $50.
Note that the SleekEZ Professional is the most expensive of the bunch. It's also fairly costly in comparison to other de-shedding tools of the same size.
SleekEZ has a 15-day full refund policy if the tool isn't convenient for your pet. The brand also offers you a lifetime warranty!
SleekEZ Pros
Removes a large amount of shed fur from the undercoat even on medium to long coats.
Collects shed hair so it doesn't return on your pet's coat.
Lifetime warranty.
15-day full refund policy.
SleekEZ Cons
It's not convenient for sensitive pets.
Groom Ninja
Design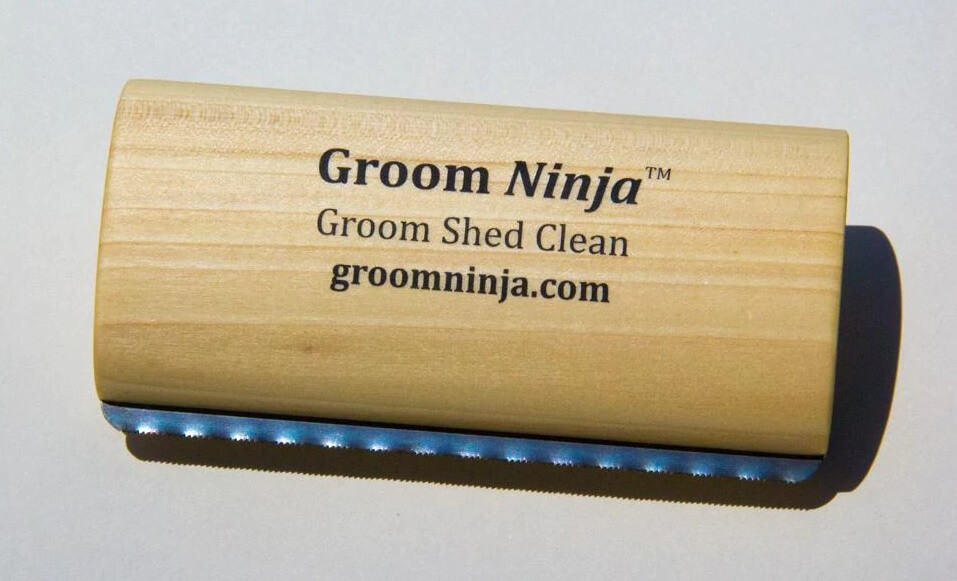 Groom Ninja's design is simple but ergonomic. It consists of two parts: a poplar wooden block and a double hardened steel blade embedded within it.
The wooden handle is shaped to fit comfortably in your hands. The shedding blade resembles a hacksaw, but the teeth aren't sharp.
Groom Ninja comes in 12 colors, including aqua blue, green, lime, red, and the original wood color. Groom Ninja also offers an added feature of laser engraving your pet's name with color filling.
Performance
Groom Ninja's hacksaw-like blade has tiny teeth that remove dirt, dander, and loose hair while still being gentle on your pet.
It works well on medium to short fine coats, but If you have a long-haired cat, you'll take more time to get a large amount of hair from the undercoat.
Groom Ninja doesn't catch removed hair, so the hair gets messy on your cat while shedding.
Size
Groom Ninja comes in three sizes: 3 inches, 5.25 inches, and 8 inches.
The small size works for cats with short fine fur. You'll want to use the medium if your cat has a long thick coat. You can use a mix of both sizes on different parts of your cat.
Also Read: StripHair vs SleekEZ extensive comparison
Price
Groom Ninja's price differs according to size and color, ranging from around $23 to $27. They also offer to engrave your pet's name with hearts or paw prints for a little under $10.
If Groom Ninja isn't suitable for your pet cat, the brand offers you a 30-day refund and a 1-year warranty.
Groom Ninja Pros
Works well on pets that hate grooming by gently removing dirt, dander, and dead hair.
Ergonomic handle for ease of use.
Comes in 12 colors and has an added feature of laser engraving your pet's name.
30-day refund.
1-year warranty.
Groom Ninja Cons
Time-consuming; you need to do multiple strokes to remove a large amount of hair.
Doesn't work well on thick, long coats.
Doesn't collect removed fur well.
Conclusion
As a cat owner, you always seek a solution for shedding. You can try and get a de-shedding tool like SleekEZ or Groom Ninja to start reducing your pet's shedding.
If you own a cat that sheds excessively and has matted fur, you might find SleekEZ more useful than Groom Ninja. SleekEZ's unique blade pattern digs deep into the undercoat and gets rid of dead hair before it falls.
On the other hand, if your pet cat hates brushing and has a short fine coat, then Groom Ninja is your best bet.
Whether you choose SleekEZ or Groom Ninja, both boast an excellent refund policy, so you're guaranteed your money back if you're not completely satisfied. Both also offer a great warranty to ensure the best bang for your buck.