Disclaimer: Some of the links in this article may be affiliate links; we will earn a commision, at no additional cost to you, if you make a purchase through one of our links.
When you think of the words separation anxiety, what's the first thing that comes to mind? It's not a cat, I can tell you for sure. Most behavioral issues immediately bring to mind the image of a devilish puppy rampaging through the house—never a cat.
Maybe it's the fact that cats are very independent and private. So unless you're actively looking for cues, you may never see how they act out. But the truth is, cats suffer from these issues just as much as dogs do. They just do it more subtly. But what if your cat freaks out every time you go out?
An enjoyable way to observe your kitty's doing while you're away is installing a pet cam. It can help you understand what triggers them or just feel good watching your companion from afar. Some pet cams also give you a way of interacting with your fur baby.
In this post, I'll be reviewing and comparing Petcube Cam and Petcube Play 2.
Petcube Cam vs. Petcube Play Overview
While all Petcube cameras come with two-way audio, night vision, and motion alert, Play 2 has a laser addition that lets you give your cat some playtime while out of the house. It also comes with Alexa built-in so you could provide online commands for your fluffball, along with a higher quality audio and video feed than Petcube Cam.
Full Comparison
The winner in this comparison will depend on what you need out of your home pet camera. You may be looking for a cheaper option, or maybe you want to have fun with your cat while you're away.
In the following section, I'll compare the Petcube Cam and Play 2 in terms of price, features, and quality.
Price
Petcube Cam is clearly intended to be the budget-friendly option of the Petcube products, so in terms of price, it definitely wins at being almost a third of Petcube Play 2's price. While writing this, all Petcube cameras are on a huge discount on Amazon.com.
Size
Since the Petcube Cam is meant to be mounted on a wall or a shelf, it's pretty small at 2.39 x 2.13 x 3.22 inches. It also comes with a magnetic foot that makes it easy for you to attach it to any metal surface.
The Petcube Play 2 stands at 3.2 inches, so it may be set on a table. It's dimensions are 3.6 x 3.2 x 3.6 inches.
Video Features
Petcube Play 2 Features
Both cameras are 1080p HD, but because Petcube Play 2 comes with a 160° ultra wide-angle view, it definitely wins this round as this means it can cover all corners of your room. Petcube Cam is not bad either at 110°, but the difference in how much you can see can make all the difference.
Petcube Cam wins the zoom round with 8x digital zoom capability, which is double Petcube Play 2's. In addition, both models have night vision.
Petcube Cam Features
Durability
Petcube Play 2 wins this round with its sleek aluminum casing and plastic top. Unfortunately, Petcube Cam is all plastic, which means it wouldn't be as durable in case Felix decided to topple his human's surveillance!
Related:
– Petzi vs. Petcube Extensive Comparison
– Petcube vs. Furbo Head-to-Head
Other Cool Features
Petcube Play 2's prominent cool feature is its embedded laser. You can move the laser by touching different locations on your Petcube app screen, and the camera will direct the laser to the site you're pointing at. This laser is the type used in computer mice and presentation pointers, so it's safe for your fur baby's eyes.
A unique cool feature—and probably my favorite about Petcube cameras—is the motion and sound-triggered notifications you get when your pet makes a particular sound. On the monthly subscription plan, you could set it up so you'd get a notice if your pet goes into a specific area, starts meowing, or makes any noise. It also records a short clip for you to check out later.
You could use this feature in the beginning while dealing with your cat's kibble heists or your dog barking his head off at the mailman, but you don't need to keep the subscription beyond that. This really seals the deal on its usefulness as a training tool since you get a chance to correct your pet's behavior on the spot.
Frequently Asked Questions
Can I set up multiple cameras?
Yes, you can set up a Petcube camera in each room of your house and connect them all to the same account through the app. The number of cameras you can set up without a subscription is limited, though.
Do I need a subscription to view the live feed?
Live video streaming doesn't need a subscription on all Petcube models, but you won't have a record of what happened throughout the day for you to check later.
What does the subscription include?
There are two premium plans with Petcube. They both include video history, intelligent alerts that tell you whether the source of the activity happening is a pet, a person, a bark, or a meow. The premium plans also come with an excellent collection of perks from other pet services providers.
Does the camera need to be plugged in?
Sadly, yes. Petcube cameras don't have a built-in battery, so you'll need to do some cable organization when you first set it up.
What can I use Petcube cameras for?
Having a pet camera can vary from being your pastime activity during your lunch break to being a life-saving alert to your four-legged baby's asthma attack!
Observe your pet's behavior while you're gone
Interrupt a bad behavior and stop it long-term
Ease your best friend's separation anxiety
Entertain or exercise your energetic and bored pet while you're gone
Conclusion
Most pet cameras have more or less the same features. Some have wider lenses, different designs with different price ranges, and some will take it a step further with a laser or a treat dispenser. The reason why Petcube stands out for me, though, is the notifications feature.
Choosing between Petcube Cam and Petcube Play 2 depends more on your budget and what you need it for. If you want to put it in ample space and want to give your cat something to do while you're away, Petcube Play 2 is definitely for you. On the other hand, if you're more focused on the budget and want to understand your cat's behavior, then Petcube Cam is all you need.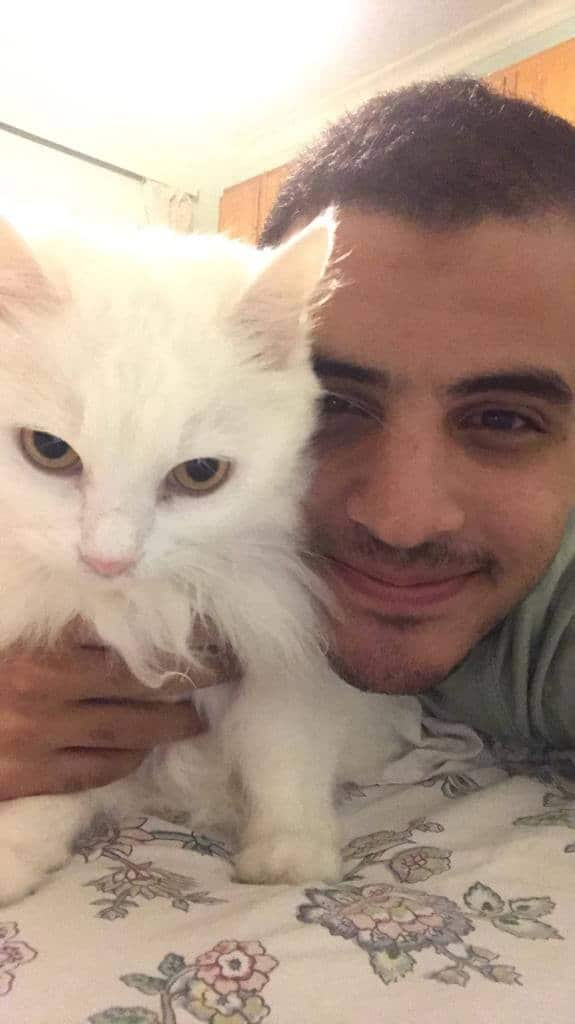 I've been living with cats since 2008 and I can confidently say I have more feline friends than humans lol. I currently live with 5 cats in different life stages; two of them are less than one year old, one is 2-ish years old and the oldest two are 9-ish years old. I've developed a strong bond with cats over the years and I'm eager to share my experience through this blog. You can learn more about my cats here.