Disclaimer: Some of the links in this article may be affiliate links; we will earn a commision, at no additional cost to you, if you make a purchase through one of our links.
We've all had these moments when we're suddenly overcome with the urge to check on our cats at home. We could be halfway across the world and find ourselves burdened with the idea that our cats might be in a seriously dangerous situation or up to no good.
Nowadays, there's a solution to this particular problem, or two solutions. The Petzi Treat Cam and Petcube Play are two products that give us the ability to check on our cats at any time and from anywhere.
Both of these products are strong contenders. So, in this battle between Petzi vs Petcube, we'll dive in deep and take a closer look at the different features that they both offer.
Petzi vs Petcube: Overview
The Petcube Play is a camera that has HD resolution that allows you to see your cats clearly and offers bi-directional audio so you can speak and listen to them. The Petzi Treat Cam has a lower resolution and supports uni-directional audio which means your cats will be able to hear you but you won't be able to hear them.
Side-by-Side Comparison
Key Features
Petzi
With the Petzi Treat Cam, you'll have four ways to interact with your cats:
See: you can watch your cats as they play and lounge around in your absence.
Snap: this option lets you take candid pictures of your cats to save and share with others.
Speak: you can say 'hello' and 'stop scratching the furniture' to your cats through the speaker.
Treat: when your cats are too adorable or just hungry, you can dispense their favorite treats easily.
Petcube
The Petcube Play enables you to:
Monitor your cats 24/7 with HD resolution and a wide-angle.
Chat with Petcube's two-way audio. You can talk to your cats and hear them meow back.
Play with your cats with the built-in pet-safe laser. You can either choose its movement or set it to auto-play and let your cats play.
Replay up to 4 hours of footage. This way you won't miss a thing your cats do.
The Takeaway
Both the Petzi Treat Cam and the Petcube Play support night vision. So, you can have access to your cats day and night.
While the Petcube supports bi-directional audio, the Petzi Treat Cam supports one-way audio. You can speak to your cats, but you won't be able to hear them meow back.
Recommended: The top Petcube alternatives on the market
Special Features
Petzi
Treat Dispenser
The Petzi Treat Cam offers a treat dispenser option. It has an integrated treat dispenser that can be activated with the touch of a button. The dispenser has a capacity of one cup to a cup and a half of small treats.
It launches the treats instead of dropping them in one place. It doesn't fling the treats strong enough to hurt anyone, but it's more like it sprays them. This could be good if you have more than one cat because the treats will be scattered around.
This option may give your cats a new source of entertainment and guarantee that they are kept fed while you're away. The Petzi usually launches from 3 to 6 treats at a time, so you may reward your cats from anywhere around the world.
There's the occasional treat jam. Some users reported that the treats got stuck in the dispenser. But as soon as they dislodged the stuck treat, the dispenser got back to its usual job.
Petcube
Laser Pointer
The Petcube Play has a play/exercise option with a laser pointer that is totally safe for your cats. While you're watching your cats, you can tap the screen and drag your finger to point the laser at anything within the frame.
Petcube also comes with a laser game that you can turn on for your cats to exercise when you're busy. It may lag a moment or two behind the video, but it's not so noticeable that you'll be bothered by it.
You should be aware that during your play sessions with the laser, the device won't have an audio recording. So, while you'll still have footage of your cats playing, you won't be able to listen to the audio.
Motion/Audio Sensor
If you decide to forgo the cloud storage option, the Petcube Play comes with a sensor that'll send notifications to your smartphone/tablet whenever it detects motion or sound.
You can turn on receiving notifications through the settings in the Petcube app. Just enable 'Motion Detection' and 'Sound Detection'.
Related:
– Petcube & Furbo: Which Brand Should You Pick?
– Dropcam vs Petcube Head-to-Head Comparison
Design
Petzi
The Petzi Treat Cam is 13.3 inches, 2.2 lbs, with a detachable white, hard plastic cover. It provides enough protection for the device that prevents any quick deterioration.
It comes with a universal mounting kit and rubber feet. This kit gives you many mounting options, so you can place the camera as needed. You can also use the rubber feet to place it on any flat surface.
It also comes with an AC power adapter that could be extended to 6 feet long. So, you're not confined to placing the device somewhere near an electrical outlet.
The Petzi Treat Cam is designed to be durable and ergonomic. It comes in white and has a cartoonish, dinosaur-like character with the word 'Petzi' in pink and 'Treat Cam' in a smaller font underneath.
Petcube
We have on the other side the Petcube Play. The 3.1-inch, 1.1-lbs gadget is shaped like a cube with rounded edges. It's available in three colors: carbon black, matte silver, and rose gold.
It also has a transparent black front panel with the camera lens placed near the top and the laser array placed near the bottom.
The Petcube is already equipped with a rubber square at the bottom that prevents it from slipping on flat surfaces. It comes with a tripod screw mount that lets you place the device pretty much anywhere.
It comes with an anti-chewable USB-C power which will prevent your cats from approaching and chewing the cord. It's about 10 feet long so you won't need to mount it next to an electrical outlet.
The Petcube Play comes in a sleek, smart design with three colors to choose from. It has an aluminum-brushed look, and its build is sturdy. The camera and laser are placed right in the middle with 'Petcube' written underneath in white.
The Takeaway
The Petcube Play is a lightweight camera that can be mounted anywhere. Its sleek design won't look odd among your furniture. Additionally, it has a sturdy frame that ensures it won't break anytime soon.
Connectivity
Both the Petzi Treat Cam and the Petcube Play are managed through a smartphone application. You don't need to be tech-savvy to set up either the Petzi Treat Cam or the Petcube Play.
Petzi
After you plug the Petzi Treat Cam, you're going to download the Petzi app on either a smartphone or tablet. The application is available for both Apple users and Android users, supporting any iOS 8 or Android 4.3 device or higher.
Petcube
For the Petcube Play, download the Petcube app on your smartphone or tablet. Like the Petzi app, it's available for both Apple users and Android users.
After you install the application, create an account and pair the device with your WiFi network. That's it. You'll have access to the device and will be able to manage its different features.
The Takeaway
The interface of both applications is user-friendly and has a nice design.
While the Petzi app is protected with 128-bit AES encryption to prevent hacking, that's not the case for the Petcube app. So, it's preferable to set up a strong password for the WiFi network to make sure that your device doesn't get hacked.
So far, neither app can pair with more than one camera.
Image Quality
Petzi
The Petzi Treat Cam has a 720 pixels resolution. It provides modest-quality streams and takes good quality screenshots. It also supports night vision, but some users have reported that the quality isn't the best.
This camera has a 110° wide-angle view, so it exhibits barrel distortion to some extent.
Petcube
The Petcube Play has a 1080 pixels resolution. This high resolution produces a clear, colorful image. You'll be able to zoom in anywhere in the frame with the 3x digital zoom feature.
The night vision video is also excellent thanks to the infrared LED present in the device.
The Takeaway
Petcube has a higher resolution, so you'll be able to see your cats more clearly. While the Petzi Treat Cam lets you take screenshots, it won't let you save videos.
The Petcube Play comes with both features. You'll be able to save your videos due to a cloud storage subscription and automatically save your screenshots to your device.
Let's Talk Prices
The cost of a pet camera isn't that far off from the average cost of security cameras.
Petzi
Ranging from $100 to $200, the Petzi Treat Cam comes in a box with a power cord, a universal mounting kit, rubber feet, and a quick start guide.
Petcube
The Petcube Play is around $200, and it comes with a power cord, AC adapter, and a quick start guide. There are additional fees that you may pay monthly if you subscribe to Petcube Care.
Petcube Care is a cloud storage service provided by Petcube. A 10-day video history is around $10 per month. For a 30-day history, it'll be $30 per month. If it sounds like a bit much, no worries. Petcube offers lower rates for annual plans.
The Takeaway
With Petcube Care, the price of Petcube Play significantly soars beyond the price of the Petzi Treat Cam. But you're under no obligation to subscribe to Petcube Care. You have the option to replay up to 4 hours of footage for free.
In Conclusion
The Petzi Treat Cam and the Petcube Play give you the chance to remain in contact with your cats. You can watch them, speak to them and take pictures of them.
The Petzi Treat Cam falls short in comparison to the Petcube Play when they're put neck and neck. Petcube offers many features that make it one of the more upgraded pet cameras in the market.
If it's important to you to be able to give your cats their favorite treats whenever you're on an errand, then you should go for the Petzi Treat Cam. Petzi can be an efficient, budget-friendly camera that helps you keep track of what your cats are doing.
With Petcube play, you get high-quality audio and video. It supports bi-directional audio, so you can talk to your cats and hear them back. You also have the laser game option to play with them.
Through the motion/audio sensor, you can receive notifications to know that your cats are around. It's also designed elegantly, so it fits right in your home.
Overall, the Petcube Play is an amazing choice if you're looking for a premium, upgraded pet camera.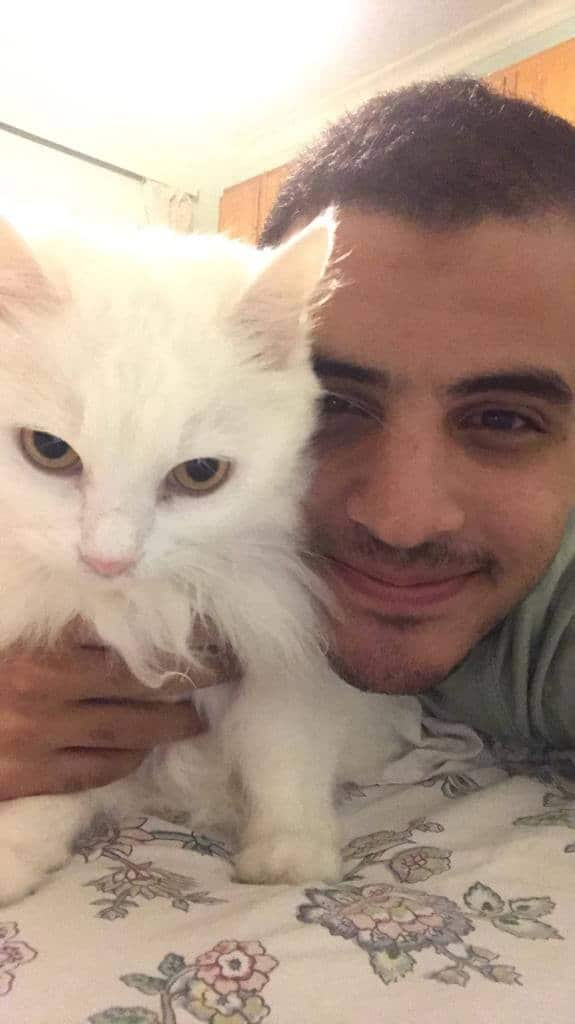 I've been living with cats since 2008 and I can confidently say I have more feline friends than humans lol. I currently live with 5 cats in different life stages; two of them are less than one year old, one is 2-ish years old and the oldest two are 9-ish years old. I've developed a strong bond with cats over the years and I'm eager to share my experience through this blog. You can learn more about my cats here.