Disclaimer: Some of the links in this article may be affiliate links; we will earn a commision, at no additional cost to you, if you make a purchase through one of our links.
Tresaderm is a combination medication that's prescribed to pets as a means of treating acute or chronic ear and skin diseases, including fungal, bacterial, and inflammatory skin disorders. Stick around until the end of this article to learn all you need to know about Tresaderm for cats.
Is Tresaderm Safe for Cats?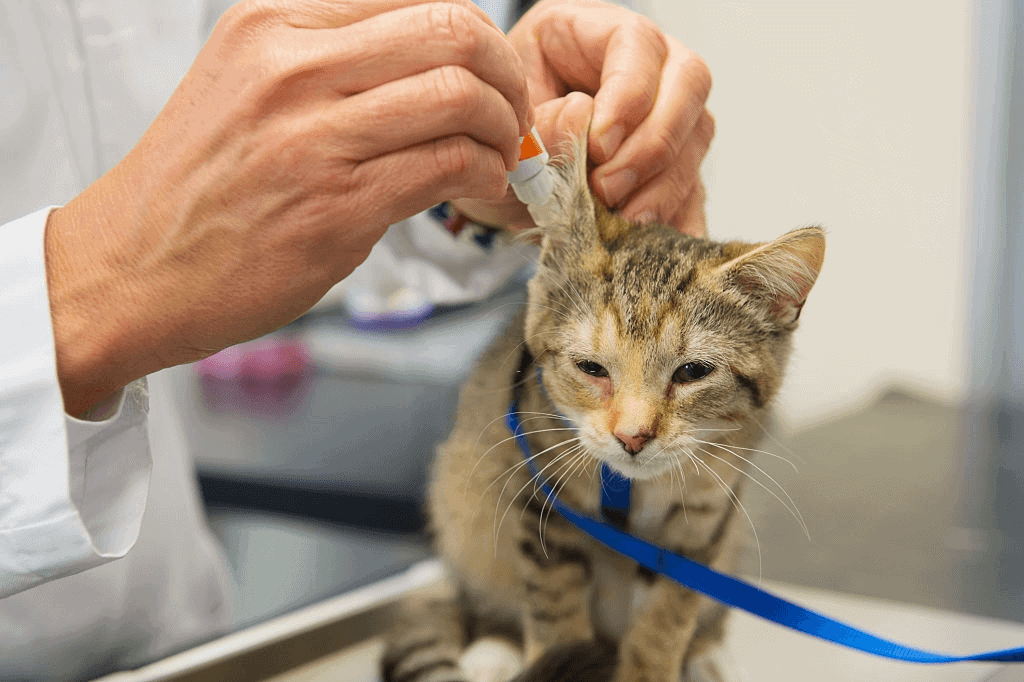 Tresaderm is prescribed specifically for both dogs and cats, so the short answer to this question is yes, it's safe for cats. However, before heading out to buy the medication for your cat, it's vital that you consult your veterinarian first to find out if it's appropriate for your pet's condition.
It's imperative to follow the dosing instructions precisely in order to ensure your pet's safety. You must not give your pet more medication than prescribed. You also can't skip doses if you wish to ensure effective medication. You should also read the label carefully to learn about storage.
Not only does Tresaderm treat the source of the problem, but it also gives your cat the relief that it needs. Tresaderm's formula is composed of three paramount components: a corticosteroid, an antifungal, and a broad-spectrum antibiotic that's effective in a wide variety of conditions.
Tresaderm's main active ingredients are neomycin and dexamethasone. Additionally, it includes thiabendazole, which is a powerful antiparasitic agent that does an excellent job of getting rid of parasites and fungi that are the cause of ear and skin infections in a short period of time.
To be more particular, Tresaderm contains 40mg thiabendazole, 1mg dexamethasone, and 3.2g neomycin. Other ingredients include glycerin, purified water, propylene glycol, hypophosphorous acid, 0.5% benzyl alcohol, and 6.5 ethyl alcohol, which are all safe for both dogs and cats.
None of the active ingredients that are used to formulate Tresaderm are dangerous for dogs or cats, but like we just mentioned, it's all about giving your pet the right dose. Also, keep in mind that the use of Tresaderm shouldn't exceed a time period of any longer than one week.
When to Use Tresaderm for Cats?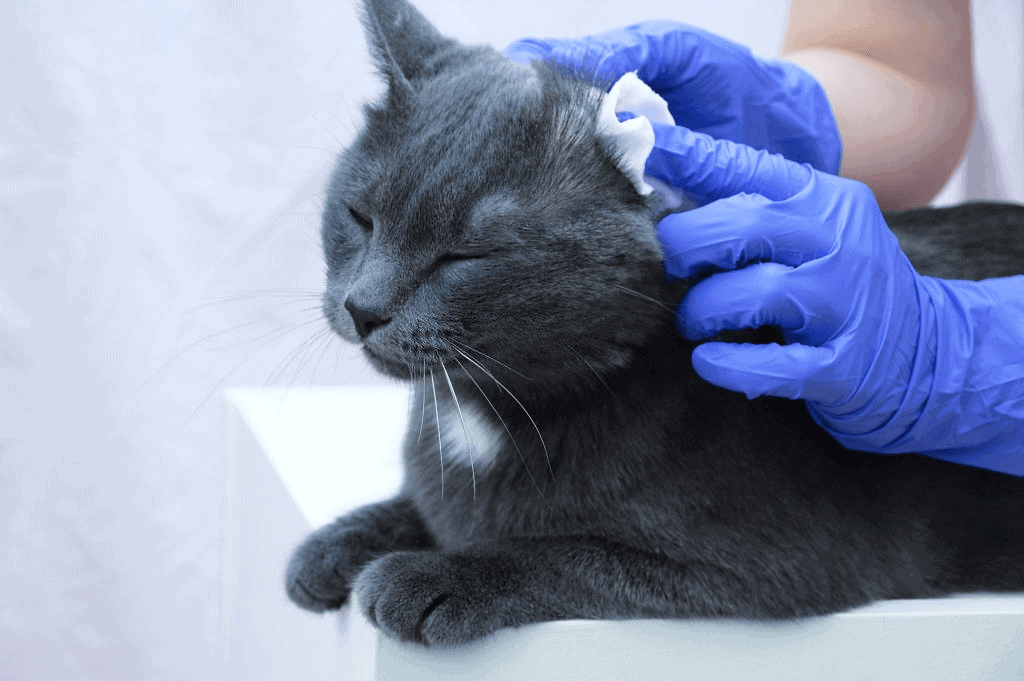 Tresadem is a dermatologic solution that's intended as a means of treating certain inflammatory, bacterial, and mycotic dermatoses and otitis externa in cats and dogs. Tresaderm is formidable enough that both acute or chronic forms of skin and ear disorders respond to its treatment.
If your cat is experiencing swelling, itching, pain, or any skin or ear-related discomfort, it's highly likely that Tresaderm would offer effective treatment and relief. Using Tresaderm is as simple as applying a few drops on your pet's skin. Keep in mind that Tresaderm isn't for use on the eyes.
Various forms of dermatosis are the result of bacteria, mainly Proteus Vulgaris, Staphylococcus Aureus, and Pseudomonas Aeruginosa. These are opportunistic or concurrent pathogens that have the ability to complicate already-existent mycotic skin diseases or otoacariasis.
The effectiveness of neomycin as an antibacterial component is very well documented, with its activity against gram-positive and gram-negative pathogens. Further, there are various studies that highlight the significant activity of thiabendazole against important dermatophytes.
Tresaderm utilizes dexamethasone, which is a synthetic adrenocortical steroid, as a means of inhibiting the reaction of the connective tissue to the injury. In addition, Dexamethasone serves as a means of suppressing the inflammatory manifestation of various skin diseases
Tresaderm combines all of the above-mentioned activities in a complementary form which can aid in controlling discomfort and in the direct treatment of otitis externa and dermatitis that are resulted from the infectious agents discussed in the aforementioned paragraphs.
Did You Know That: you can prevent your cat from licking a medicine or an injured spot on its body using those comfy cat cone alternatives.
Benefits of Tresaderm for Cats
If used as prescribed, Tresaderm will get rid of susceptible organisms that can result in skin or ear infection. After using Tresaderm, you should notice your cat starting to feel better. Further, you should begin to notice your cat's skin and ears starting to return to normal.
It's not recommended to use Tresaderm beyond 7 days, as it can impede the process of healing the wound. If you've used Tresaderm in the correct dosage but haven't noticed improvements in your pet's skin or ears after the medication is finished, we recommend contacting your vet.
Tresaderm is a very convenient medication for a lot of reasons. First of all, it's available in a very convenient drop form. Secondly, it flaunts broad-spectrum action that's capable of resolving a lot of fungal and bacterial infections, as well as relieve the discomfort and pain of inflammation.
And lastly, Tresaderm is a medication that can be utilized topically in the ears or on the skin. We feel the need to stress once again that Tresaderm is not to be applied to the eyes. It's important to keep Tresaderm stored in your refrigerator at a temperature between 36° – 46°F.
Drawbacks of Tresaderm
The side effects associated with Tresaderm are closely associated with its active ingredients. If Tresaderm is applied to an open wound, it might result in minimal pain that can last for up to 15 minutes. It can also cause redness and skin irritation when applied to the affected area.
If Tresaderm is injected or used chronically, your pet may experience some of dexamethasone's side effects. This includes increased thirst and urination, weight gain, vomiting, and diarrhea. It's also worth noting that some pets might have an allergic reaction to some of its ingredients.
How to Apply Tresaderm?
Tresaderm is to be used on your pet exactly as prescribed by your veterinarian. If you're having trouble understanding the directions, it's highly advised that you consult your vet or pharmacist for an explanation. Keep in mind that the use of Tresaderm depends on the conditions' severity.
A typical Tresaderm dose for your pet's ear is 5-15 drops into each ear twice a day. For treating skin disorders that aren't affecting the ear, you want to apply 2-4 drops per square inch, twice a day as well. Tresaderm is not to be applied for more than a time period of one week.
Tresaderm should be stored in the refrigerator at a temperature between 36° – 46°F. Make sure you do not freeze the medication. Also, Tresaderm is not to be used in the eyes and should not be used on pregnant pets. You should keep Tresaderm out of the reach of kids and pets.
Did You Know That: One reason your feline friend is discouraged to eat might be a low food bowl. An elevated cat feeding station is a common solution for this.
Precautions to Keep in Mind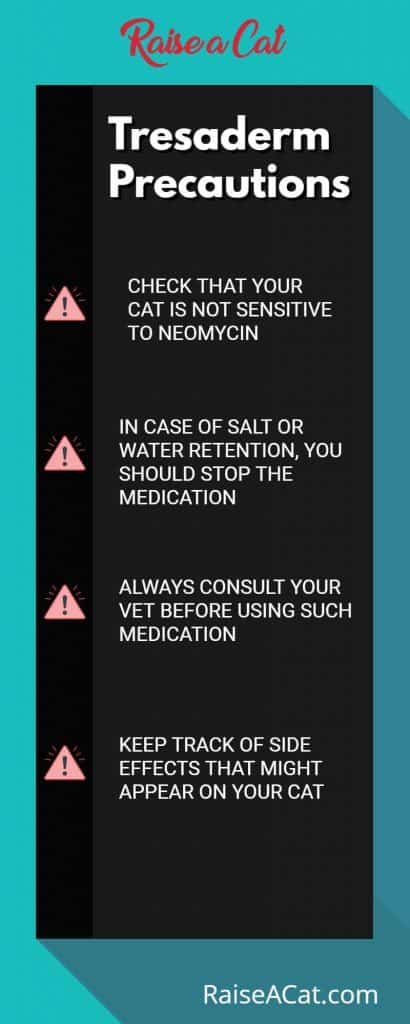 If your pet is sensitive to neomycin, then the application of Tresaderm can result in erythema of the area it's applied to, which might last for anywhere between 24 to 48 hours. This is especially true if the medication is applied to a pet's denuded or fissured areas.
It's worth noting that systematic side effects are highly unlikely with topically-applied medication, but such a possibility should always be taken into consideration. This is especially true if the use of the medication is extensive. Always consult your veterinarian before using such medication.
What's more, if you notice any signs of water or salt retention on your pet or signs of potassium excretion, treatment should stop immediately and you should visit your vet to take measures to correct the fluid and electrolyte imbalance. Signs include increased thirst, lethargy, and oliguria.
Drug and Food Interactions
Drug and food interactions are possible with non-steroidal, anti-inflammatory drugs, gentamicin, and corticosteroids. Other types of interaction may also be possible. We recommend consulting your eternalization about the medication your pet is taking prior to the use of Tresaderm.
Visitors also read: our comprehensive Hartz Cat Litter review
Frequently Asked Questions
While conducting our research for this article, we've come across a number of frequently asked questions that seem to stir up some confusion. This section attempts to answer these questions.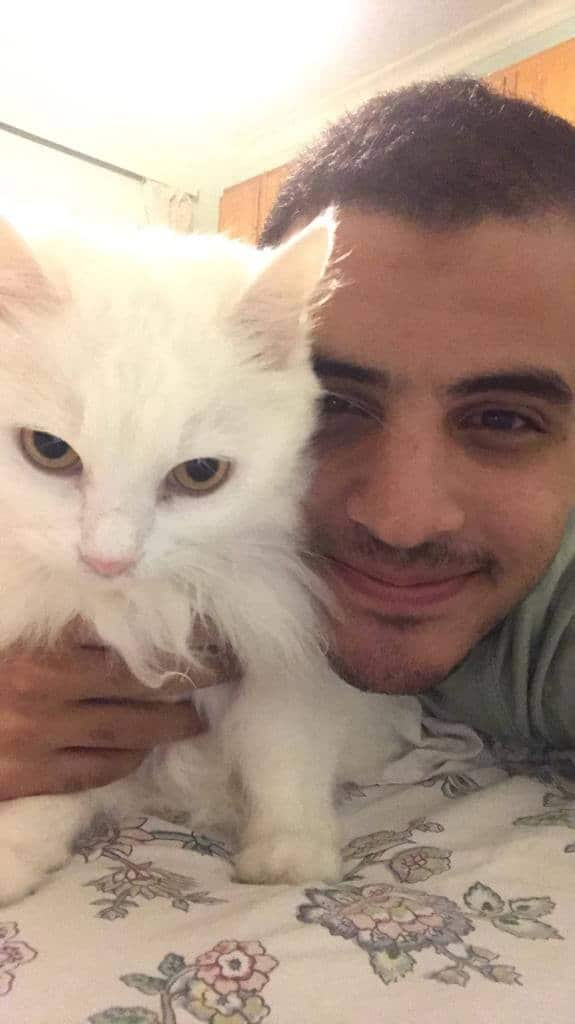 I've been living with cats since 2008 and I can confidently say I have more feline friends than humans lol. I currently live with 5 cats in different life stages; two of them are less than one year old, one is 2-ish years old and the oldest two are 9-ish years old. I've developed a strong bond with cats over the years and I'm eager to share my experience through this blog. You can learn more about my cats here.